Tel Aviv Specialty Coffee and Travel Guide
Welcome to Tel Aviv, the Middle Eastern capital of cool, where everyone seems to be getting around on two electric wheels, own a dog or both! The city that greets its visitors with delicious hummus, sleepless nights and thought-provoking street art won my heart over in no time. Although it has the reputation to be a party town, and very rightfully so, there is much more to Tel Aviv than a lively bar scene. I've discovered some of the city's best coffee, breakfast, and accommodation in the maze of local hipster hangout spots and put together this coffee and travel guide for you. Here's where to sleep, sip and refuel in Tel Aviv!
Best Specialty Coffee Shops in Tel Aviv
Apart from being a culinary hotspot and beach destination, Tel Aviv is also densely populated with coffee shops. When I ask Israelis how they like their coffee, I almost always get the same reply: dark and strong. If that is not your cup of coffee, then head to the specialty coffee shops I am introducing in this article! Although they also tend to have at least one option adapted to the general taste preferences, they offer fruity alternatives that spin the wheel of flavours.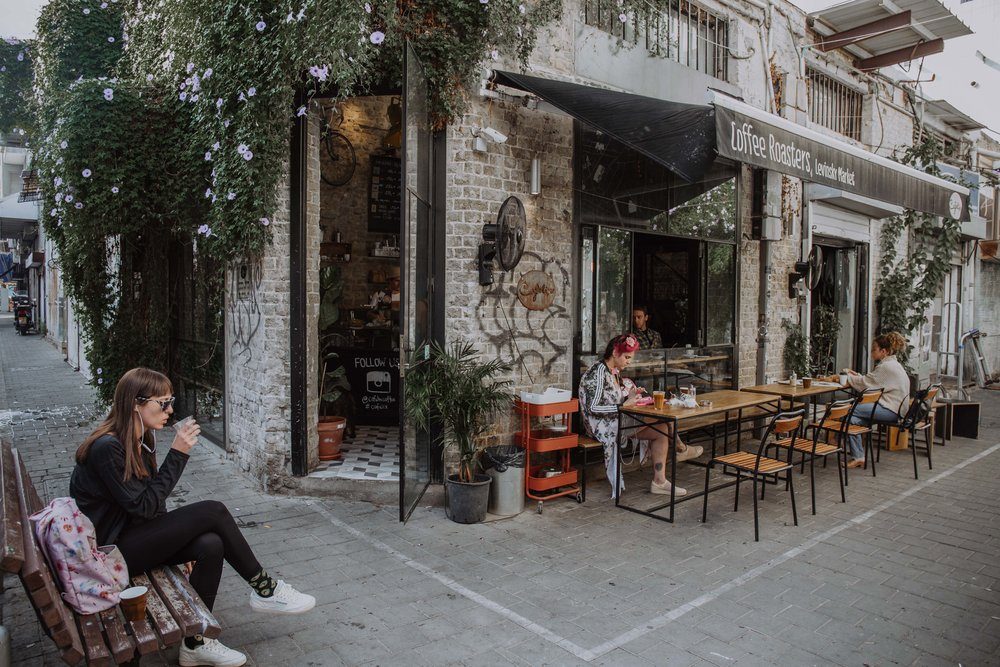 Most coffee shops in Tel Aviv have plenty of outdoor seating and working on your laptop is widely accepted. Cafelix is no exception and with three branches across town you'll very likely come across one near you at any point of time, whether you're in Jaffa, Florentin or around Dizengoff Square. Jaffa is where the first coffee shop and roastery was opened back in 2011 by the owners Phillip and Yael, a German-Israeli couple. Today, the roaster moved around the corner from the original place into a newly opened roasting facility and training space.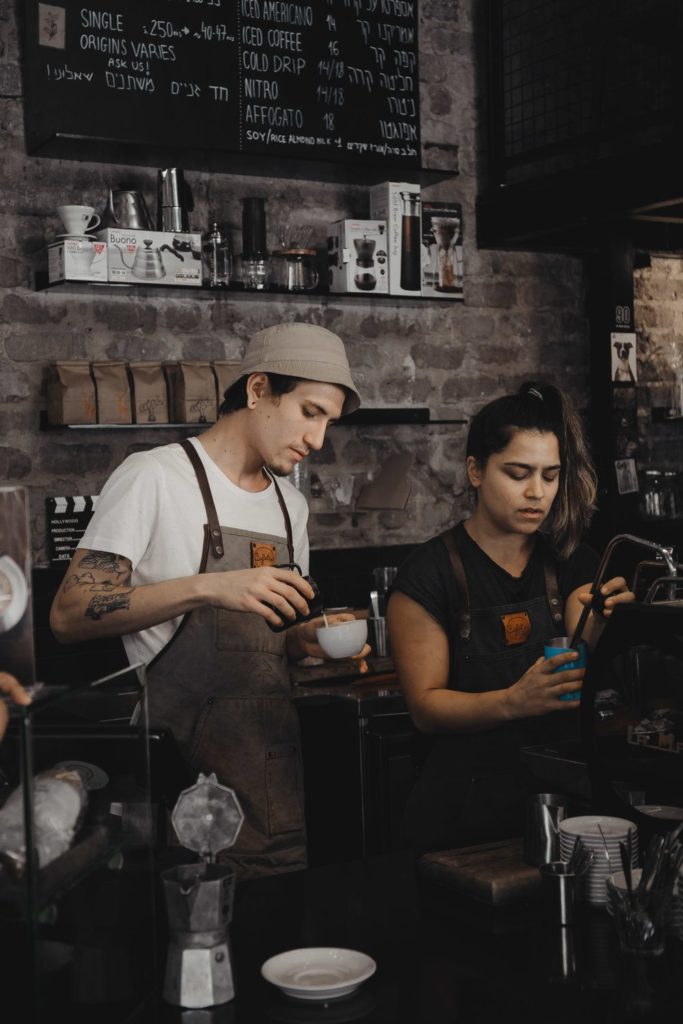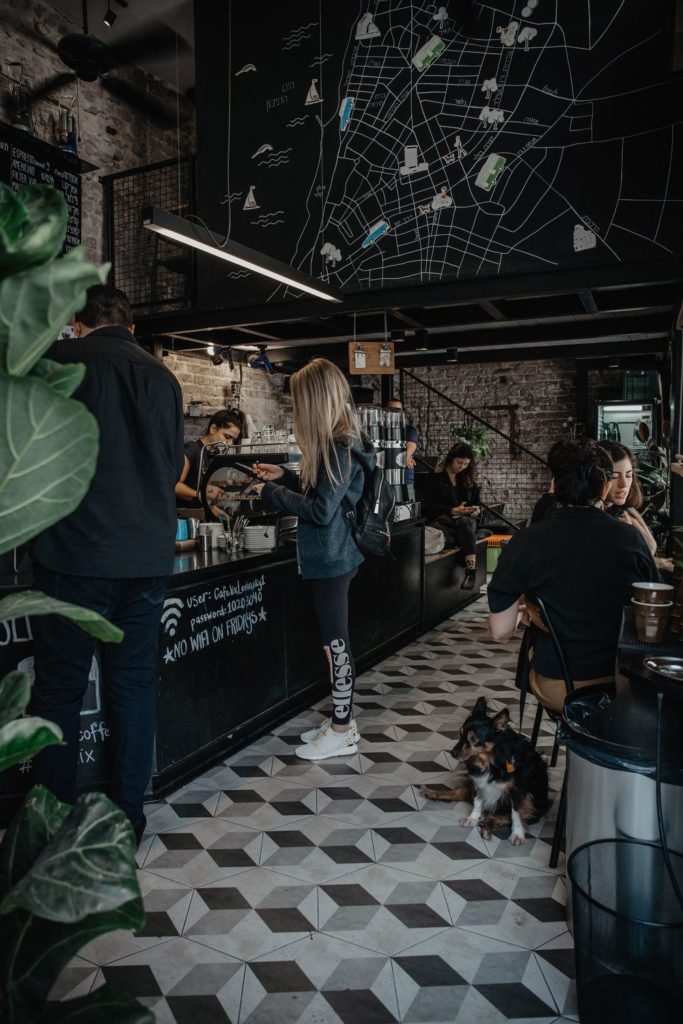 Cafelix has direct trade agreements with farmers across the coffee belt and there are two different origins in the grinders to choose from for espresso based drinks. Even though filter coffee is only ordered occasionally, a V60 and french press are sitting on the shelf just in case.
Address:
Roasting Facility, Coffee Shop and Espresso Bar in Jaffa
15 Sgula Street, Tel Aviv
Coffee Shop and Espresso Bar near Dizengoff
12 Shlomo Hamelech Street, Tel Aviv
Coffee Shop and Espresso Bar in Florentin
6 Merkhavya Street, Tel Aviv
Nahat – Microroastery & Cafe
With two house blends and seven single origin coffees Nahat has some of the biggest selection of coffee beans I've seen in Tel Aviv. Since 2015 the cafe and roastery sits right on Dizengoff Square in the heart of the city. The owners Dan Urieli and Assaf Bitton are coffee experts with more than 15 years of experience. Judging from the juicy cup of coffee from Burundi I got to enjoy here, all these years of hard work paid off!
Taking a seat on Nahat's terrace is not only recommended because of the extensive coffee menu. With views of Dizengoff square's 'Fire and Water Fountain' and the original Bauhaus-style building 'Cinema Hotel', an afternoon here seems to pass in an instance. Oh and don't miss out on the freshly baked croissants and cookies!
Address:
Dizengoff Square 1, Tel Aviv
WayCup Coffee Tel Aviv & Mikveh
WayCup Coffee have two locations in Tel Aviv and my favourite is without a doubt the one on Mikveh Street. In terms of aesthetics it's distinguishing itself from other coffee shops in Tel Aviv thanks to a mix of bare concrete walls and wooden features here and there, making it cosy and contemporary at the same time. The laptop stands and plants hanging from the ceiling add to the feeling that you've entered an urban jungle playground.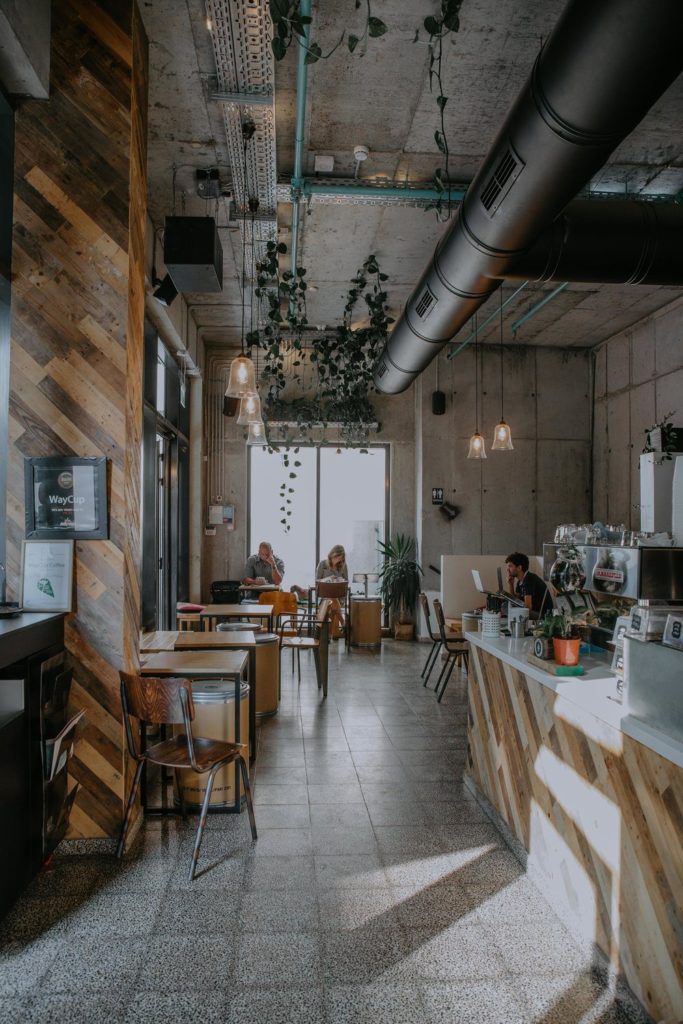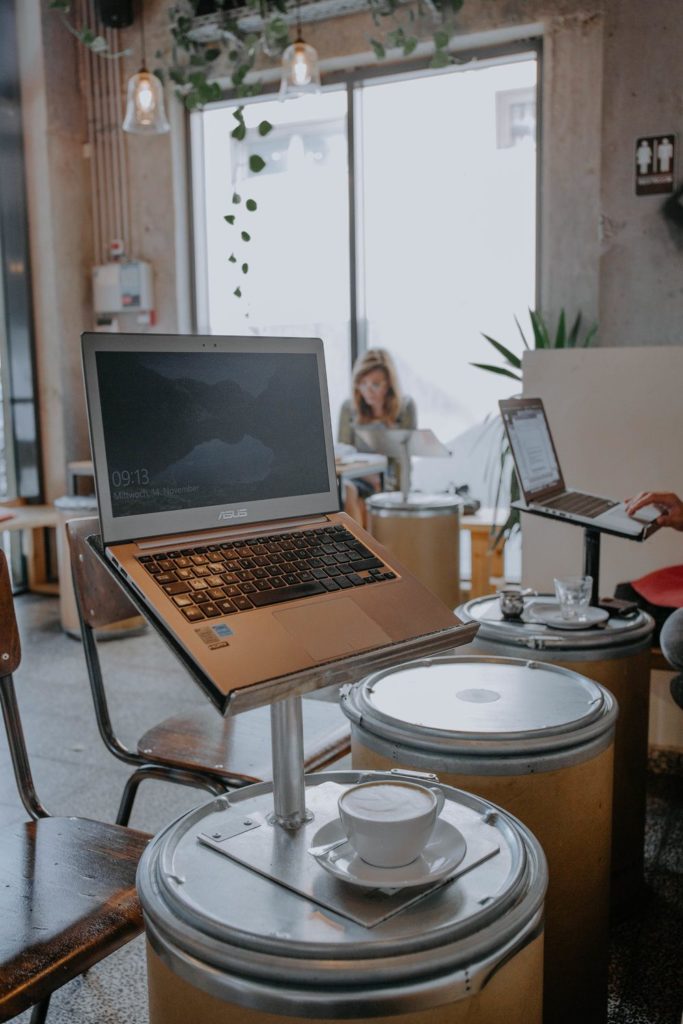 All coffee is roasted in-house at the location in Yohanan HaSandlar Street and is admittedly on the darker side, despite being specialty graded. You'll meet some of the most friendly coffee people behind the bar though and if you're looking for something different they'll go out of their way to brew you a coffee that'll make you come back. Like Yuval for example, who shared that even though espresso based drinks are the main reason people go to WayCup, the number of filter orders is growing. To accommodate those, a V60 is their filter method of choice.
Address:
Yohanan HaSandlar St 23, Tel Aviv
Mikveh Israel St 17, Tel Aviv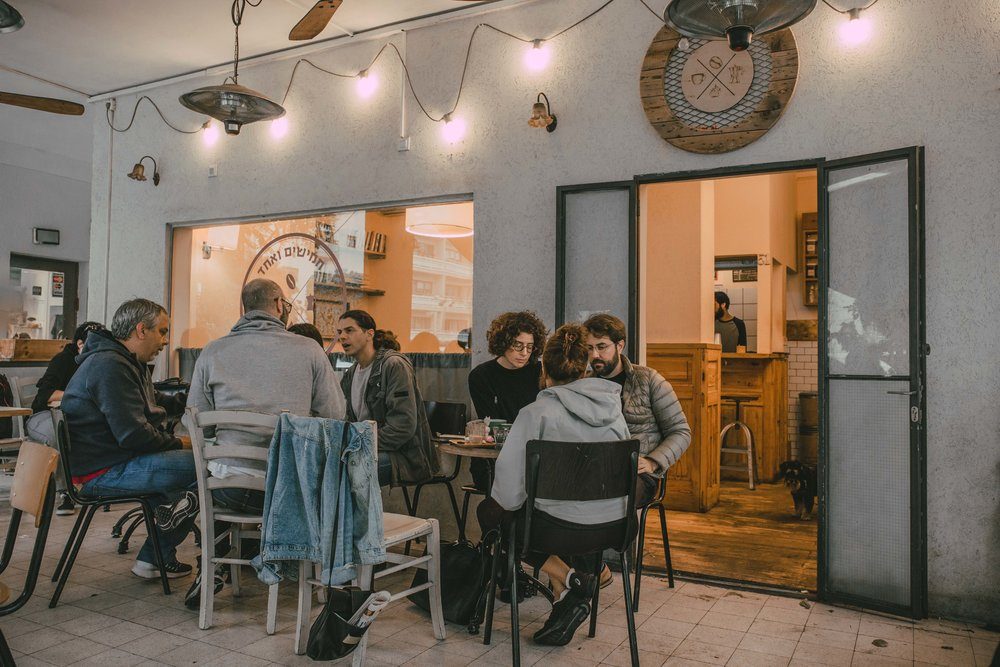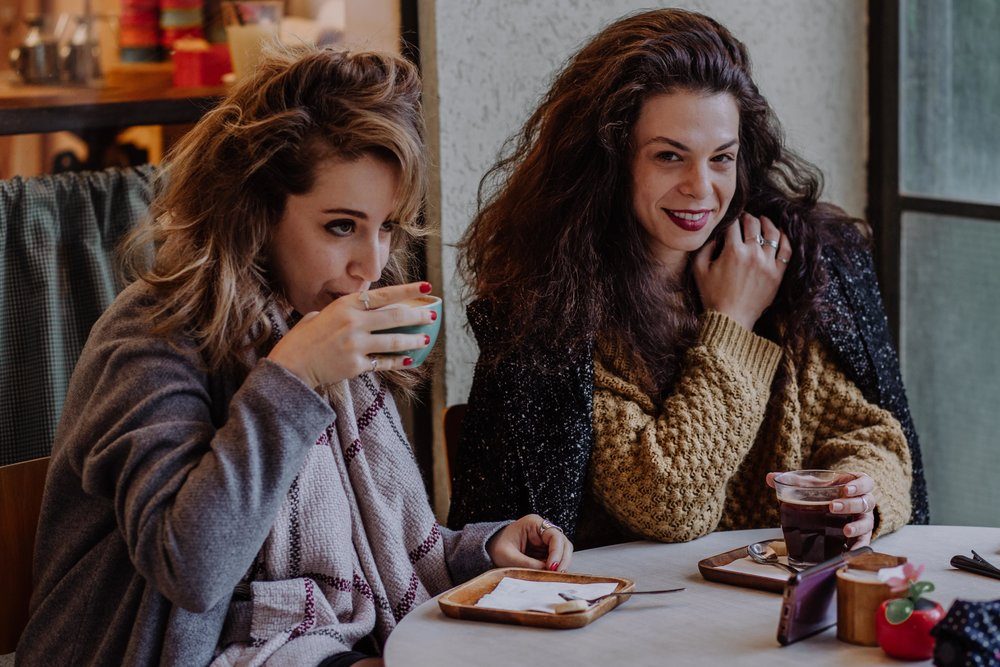 Having mentioned that filter coffee is not all too popular in Israel yet, perhaps you're wondering what might be the best place in Tel Aviv for filter coffee!? Well, the answer to that is Coffee Shop 51. No other cafe in Israel serves as many hand brewed coffees. Passionate coffee expert and owner of Coffee Shop 51 Dotan estimates they brew around 50 filters a week. Being from Berlin that doesn't sound like much, but filter coffee hasn't experienced the same break through in Israel as in other parts of the world. The cafe and roastery can also be considered a third wave pioneer. It started out in 2015 when the third wave coffee scene just started to blossom.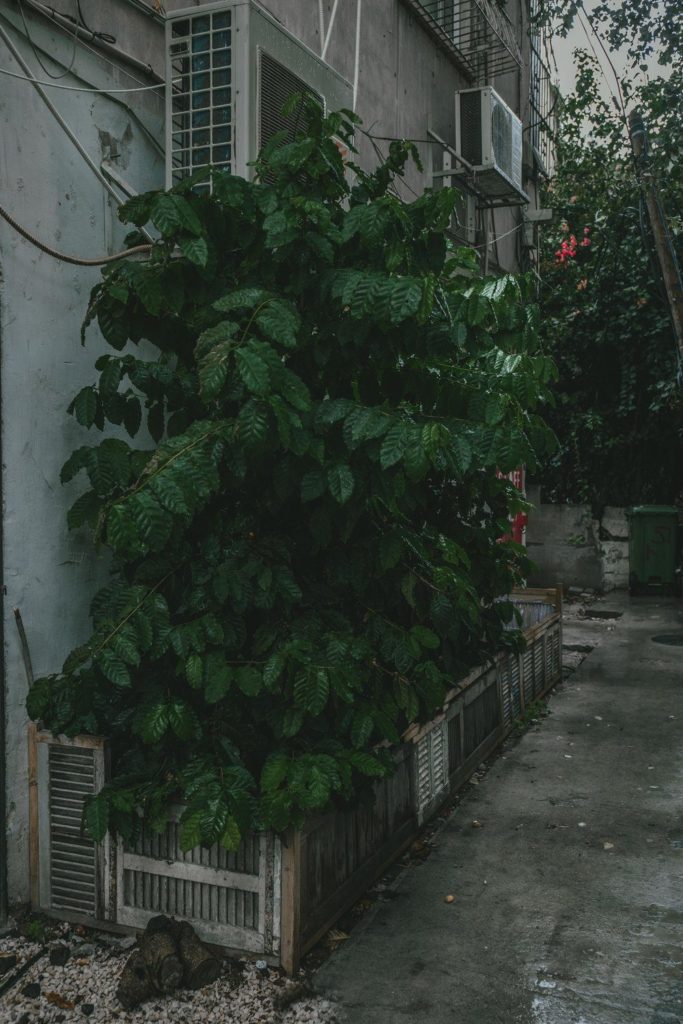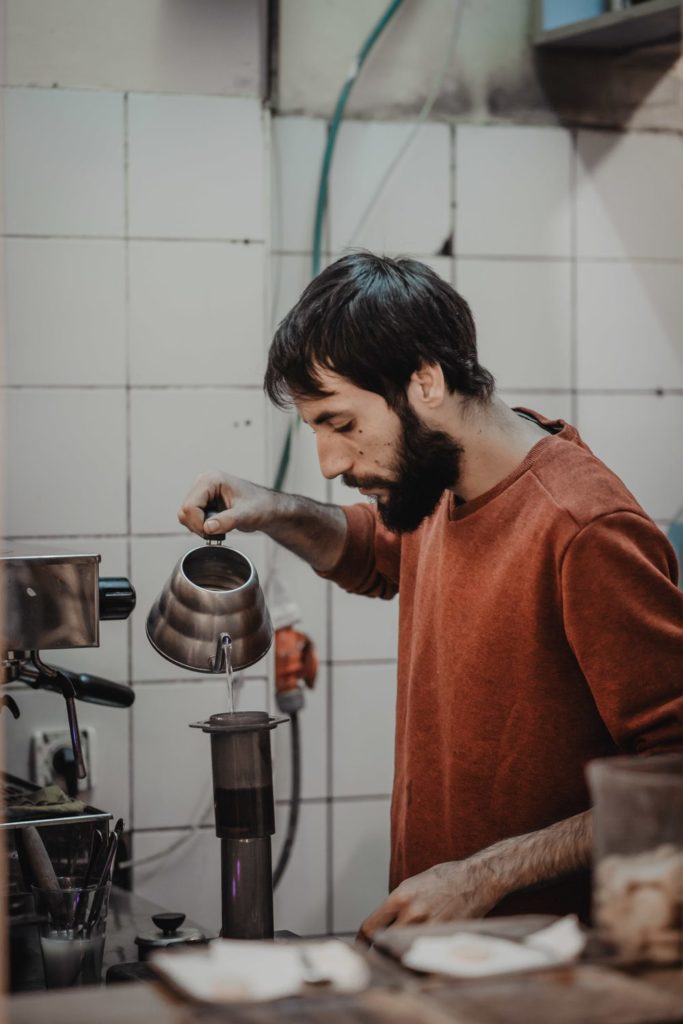 Coffee Shop 51 is a great place to train your palate if you opt for a filter coffee. There are currently 10 single origins to choose from, all roasted on site using a 2kg micro-roaster. "There are no rules about roasting coffee in Israel." Dotan tells me. This explains why all coffee shops I visited roast their own beans rather than featuring guest roasters. Dotan, who started to work as a barista right after completing the army service, received most of his coffee education abroad. He's in the process of making direct contacts to farmers and started producing third wave water, which is a novelty in Israel.
Address:
Ahad Ha'Am St 51, Tel Aviv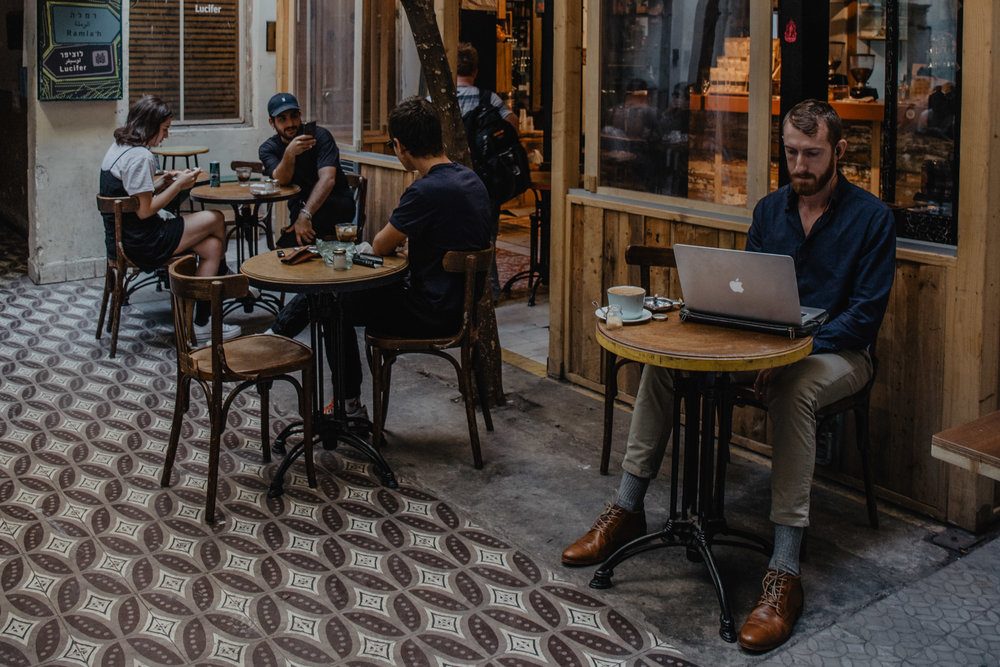 Chances are, you'll walk by the entrance of Edmond Coffee a few times before stepping through the dark hallway leading to this hidden courtyard cafe. Once you do, unique tiles, vintage furniture and lush greenery awaits you on the other side. While the coffee didn't knock me off my socks, the avocado toast sure did the trick. As all the other specialty coffee shops Edmond Coffee roasts their own beans. They do have some of the darkest roasted specialty coffee I've found in Tel Aviv, but by the second time I visited, the barista immediately recommended a single origin from Guatemala that would be closer to my personal preferences. The menu holds a few gems to be tried if you'd rather skip the coffee, like homemade kombucha and iced almond matcha latte. Cold brew, V60 and Chemex are available if a caffeine fix is what you're after.
Address:
97, Allenby St, Tel Aviv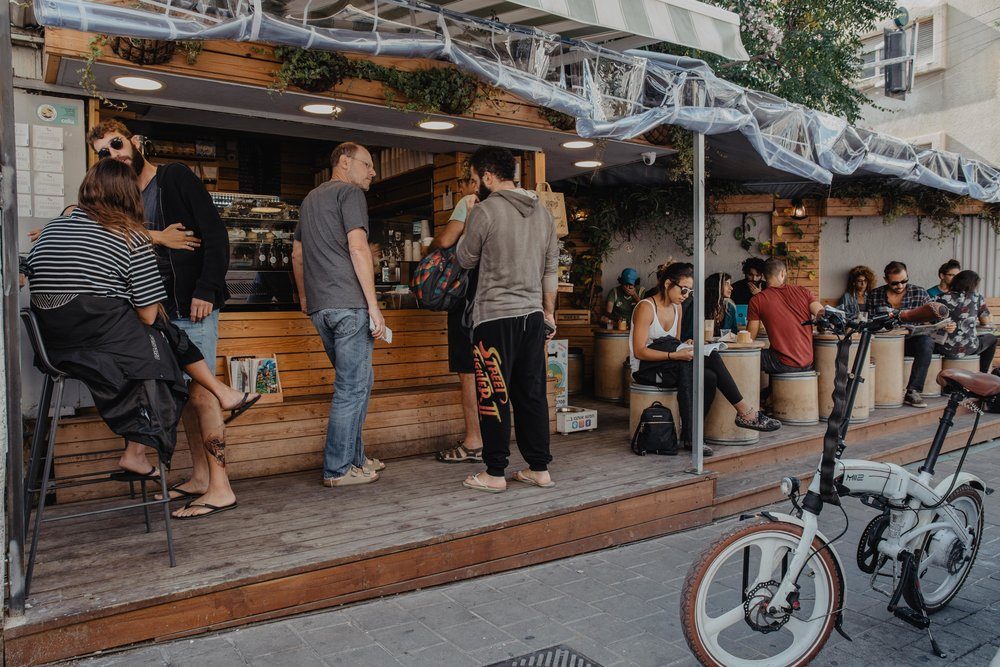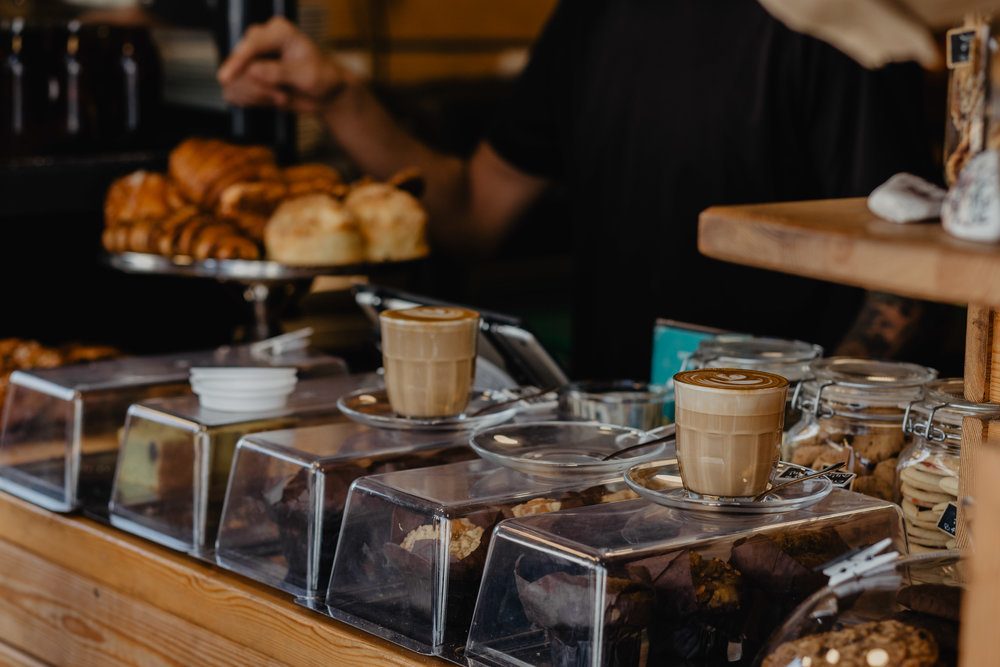 Head to Papua Cafe Tlv for a specialty coffee break close to the beach! The little wooden cabin-like coffee shop is definitely the perfect place for sunny days as it is open air, but plastic covers make sure that you can spend a rainy few minutes here as well. Two options for espresso are available and the coffee is roasted by friends of the owners specifically for Papua Cafe Tlv.
Address:
Ge'ula St 26, Tel Aviv
At Origem I stumbled upon a captivating coffee oasis that transported me straight to Brazil. Georgia and Marcelo Szporer, the dynamic duo behind Origem Fresh Coffee, infused this city with their decade-strong, coffee-fueled love affair. These passionate Brazilians, having cultivated solid bonds with top-tier coffee producers via their Feito a Grão chain, decided to chase their dreams even further. In 2017, they waved goodbye to their flourishing Brazilian venture, setting sail for Tel Aviv to share the tantalizing taste of their homeland. Step into Origem, and you'll find the air laden with the aroma of hand-roasted, single-origin beans from Brazil, enchanting your senses. As you sip your brew, indulge in mouthwatering morsels like Pão de Queijo and Brigadeiro, swaying to the soothing Bossanova beats playing softly in the background. But wait, there's more! Georgia and Marcelo's caffeinated love doesn't discriminate—they also showcase beans from Ethiopia, Kenya, Colombia, and Costa Rica, served as espresso, cold brew, or filtered coffee.
A hop, skip, and a jump from the sandy shores of Jaffa beach, nestled among the hodgepodge of treasures in the fabled flea market, there's a little-known sanctuary for those with a penchant for exceptional coffee. The birth of Ada Hanina Cafe is a tale of three amigos—Tomer Adam Lenzinger, a java devotee, and the masterminds behind Cafe Nahat—united in 2019 by their yearning for a truly remarkable caffeine fix. In a neighborhood starved for a touch of coffee flair, this trio of kindred spirits decided to concoct a potion to satiate the local craving. And thus, their micro-roastery and coffee haven sprang to life, brewing up liquid gold for all who seek it. At the heart of this cozy nook, you'll find a Spirit of Kees van der Westen machine, humming harmoniously with the eclectic tunes wafting from Tomer's DIY sound system. This quirky fusion creates an atmosphere so dynamic, it's bound to imprint an indelible mark on your coffee escapades. Ada Hanina Cafe's trusty grinder never ceases its dance, churning out two perennial favorites: the rich, chocolatey Ada Blend, and the feisty Hanina Blend, boasting a bold 30% Robusta kick. But the fun doesn't stop there. A total of eight diverse offerings grace the menu, from light to dark roasted single origins, and even a touch of anaerobic magic.
Best sleep in Tel Aviv – Florentin House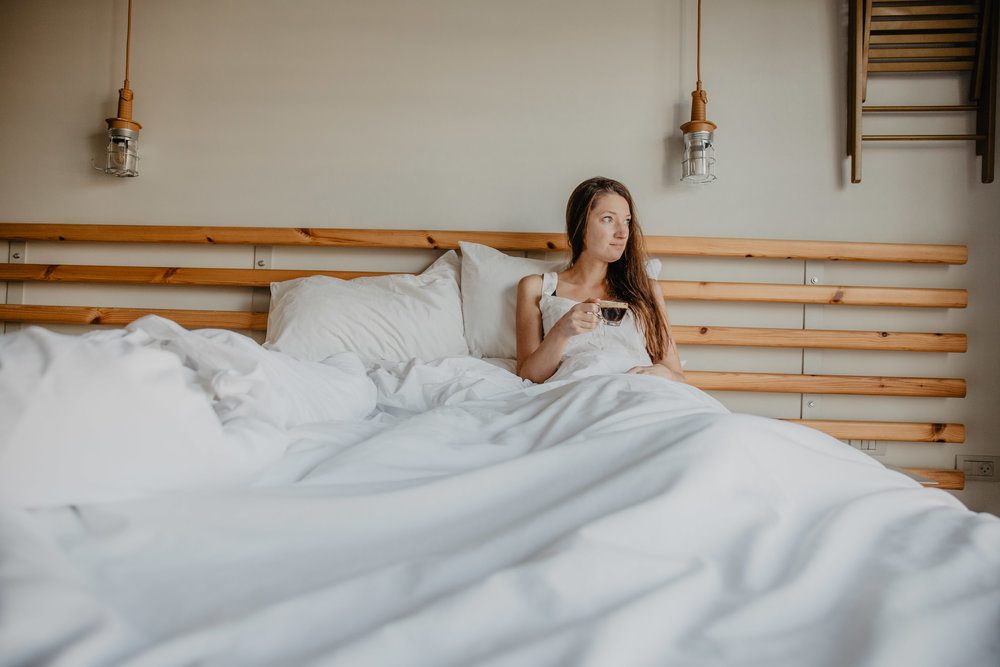 There's so much to discover in Tel Aviv that I'd definitely recommend to spend at least a couple of nights here. On my search for unique options for accommodation I came across Florentin House, a boutique hotel/hostel located in the coolest part of town. As they say: "New York has Williamsburg, London has Shoreditch, Tel Aviv has Florentin!"
Whether you're looking for a private room to call your own for a few nights or you're eager to meet other travellers in a shared dorm, Florentin House has comfortable options for either. The rooftop kitchen & saloon is a great spot to unwind after a busy day exploring coffee shops, designer stores and small galleries nearby. Being on the road a lot I appreciated the incredibly welcoming atmosphere and felt right at home thanks to comfy beddings, urban aesthetics and the authentic spirit of Florentin House. Check the latest rates and offers for Florentin House here.
Address:
6 Florentin Street, Tel Avi
Breakfast for Urbanites at Urban Shaman TLV
One of the awesome staff at Florentin House (Hi Kim! :-)) recommended visiting Urban Shaman for breakfast. As in locals I trust it made my list of places to go to while in Tel Aviv. After scouting through their creative menu I opted for the pancakes and they were divine to say the least. Apart from cold brew you'll find that coffee has been replaced with cold-pressed juices and Maca lattes. But that doesn't come as a surprise when learning that it's a place for healing and healthy living. Come here and you'll might just find your inner Shaman.
Address:
210, Dizengoff St, Tel Aviv
One of Tel Aviv's green lungs and perfect place for relaxation – Makers Green Coffee and Plants
The cafe and concept store Makers Green Coffee and Plants is just over 3 weeks old and already made it onto the pages of Israel's Time Out online magazine. While the coffee is not specialty graded, they do serve a balanced cup with chocolately finish. The coffee is an Italian espresso blend roasted by DITTA from Salerno. Come here to sit on the comfortable sofa amidst plants and flower pots for a guaranteed feel-good atmosphere. A must-try is the locally made kombucha from nearby "Golden Sun Café".
Address:
Maze St 4, Tel Aviv