Amsterdam Cafe Guide – Keep Calm and Sip Specialty Coffee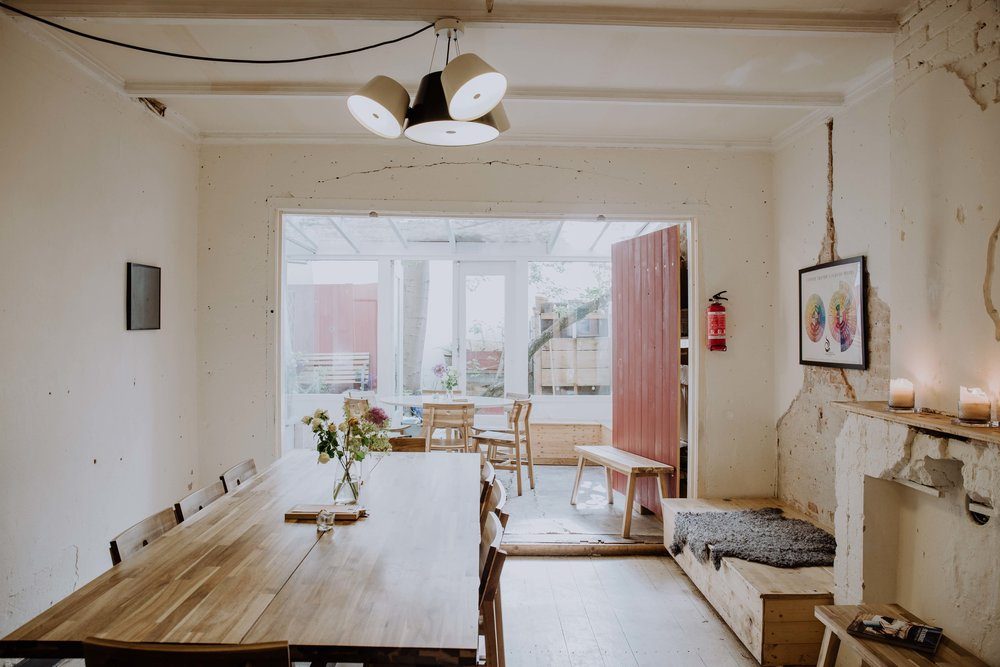 Address:
Sarphatipark 34, 1072 PB Amsterdam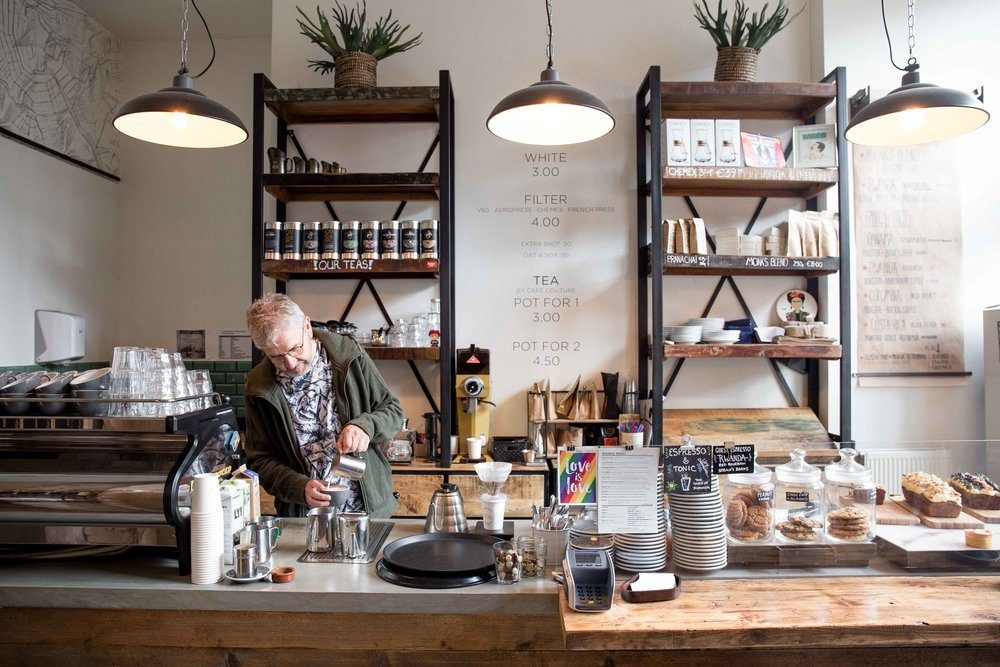 Monks Coffee Roaster is a cafe and roastery run by Patrick, an extremely friendly Irish man of many talents.  Before opening Monks in 2016 he spent a long time in Australia where he found the inspiration for creating his house blend. The coffee menu at Monks surprises with single-origin treats, such as Port of Mokha coffee from small-batch lots in Yemen. Unfortunately, it was already sold out when I visited this welcoming cafe.
Address:
Bilderdijkstraat 46, 1052 NB Amsterdam
Siebrand Van Hengel has two passions: coffee and music. In his multi-roaster cafe Black Gold he combines both into one rhythmic interplay of steaming milk and cracking vinyls. From The Barn to Drop and Amsterdam based Sweet Cup – Siebrand has a hand for selecting fine coffee roasts for his loyal customers. The predominantly wooden cafe interior makes for a cozy atmosphere to sit a while and bounce your head to the beats.
Address:
Korte Koningsstraat 13 H, 1011 EX Amsterdam
Whether it's a great cup of coffee you're after or you'd rather celebrate tea o'clock, Toki is the place to go. Having been committed to serving only specialty coffee from Berlin based Bonanza from the start, coupled with an excellent selection of loose leave tea, this Instagram darling of a café with it's marble interior is a save address for spending a cosy afternoon.
Address:
Binnen Dommersstraat 15, 1013 HK Amsterdam
The location of Lot Sixty One couldn't be more characteristic for Amsterdam. Set right by one of the many canals this corner cafe stretches over two floors with rustic wooden interior and a coffee roaster located in the basement. The coffee is nothing short of excellent, which is probably why this cafe is a crowded affair on weekends. Good thing you can find their beans in other places around Amsterdam as well.
Address:
Kinkerstraat 112, 1053 ED Amsterdam
The corner coffee shop and concept store Back to Black is run by Noortje and Inge, two passionate coffee professionials who took brewing and roasting into their own hands and created this beautiful cafe. Despite the name, this spot is a great address for purists who prefer a bold espresso as well as those who crave for a smooth, milky coffee drink.
Address:
Weteringstraat 48, 1017 SP Amsterdam
Sometimes good coffee just isn't enough. So how about an excellent wine collection, innovative gourmet dishes, and literally the best cinnamon rolls in town? 4850 has it all and the beautiful design of this cafe and gourmet restaurant hybrid is just the cherry on top of the cake. With a great selection of Nordic coffee roasters, you'll have no trouble finding a great pour-over or espresso to complement your meal.
Address:
Camperstraat 48-50, 1091 AH Amsterdam
Bakers & Roasters De Pijp
A delicious piece of New Zealandish café culture has found two outlets in Amsterdam and caters to the cravings of brunchers and lunchers with generous portions of pure delight. The Brazilian-Kiwi couple running the business works with Ozone Coffee from London and has an extensive selection of mouth-watering cakes in the vitrine, including some Kiwi classics. On weekends this brunch cafe is absolutely packed so plan in some waiting time.
Address:
Bakers & Roasters De Pijp
Eerste Jacob van Campenstraat 54, 1072 BH Amsterdam
Bakers & Roasters Centrum
Kadijksplein 16, 1018 AC Amsterdam
Public Space, located just a few meters away from the A'DAM Lookout in Amsterdam Noord, is a specialty coffee shop that is quickly becoming the go-to spot for the city's creative and innovative scene. The four founders of Public Space, David, Menno, Jacco, and Mike, came together with the common desire to create a space where everyone feels welcome. Despite a tight budget, the minimalist and modern design of the cafe is surely impressive. With a rotating selection of coffees from some of the world's best roasters, and an assortment of fine wines, there is always something new to try.
At the Hummingbird Cafe in Amsterdam, the world of coffee becomes a magical adventure. With a mesmerizing mural of a hummingbird gracing the walls, you'll be transported to a world of wonder and creativity. Owners Agavni and Kees have created a space that fosters human connection, and they've done it in style. The first Modbar in the Netherlands sets the stage for seamless exchanges between barista and guest, while a carefully curated selection of specialty coffee from roasters around the globe ensures that every cup is a work of art.
The Coffee Virus is a lab in the heart of Amsterdam where science and caffeine collide. This funky cafe is the ultimate destination for coffee connoisseurs and curious minds alike. Step inside and you'll be greeted by a mad-scientist-inspired decor, complete with beakers and bubbling brews. But the real magic happens behind the counter, where expert baristas whip up some of the most innovative coffee drinks in town. From nitro brews to espresso martinis, The Coffee Virus is a laboratory of taste sensations that will infect you with pure coffee joy!
Looking for a tropical escape from the rainy streets of Amsterdam? Coffee and Coconuts is your mini vacation in the heart of the city. This converted cinema has been transformed into a beachy oasis complete with palm trees and sandy-colored interiors. Their expertly crafted brews are made with locally sourced beans. And don't miss their scrumptious food menu, featuring fresh juices, smoothie bowls, and tasty vegan options.