A Guide to the Best Cafes Serving Specialty Coffee in Japan
When my favourite travel platform informed me about inexpensive flights to Japan, I didn't even hesitate for a second and bought my ticket. Although Japan hadn't really been on my radar, somehow I was instantly drawn to the idea to visit this country known for melting modern with traditional and wabi with sabi. So it happened that in May 2016 I would wander the roads of major cities like Tokyo, Yokohama, Osaka and Kyoto to dwell in the cultural wealth that is Japan. But not only! I had long read Volume 2 of Drift Magazine entirely devoted to the coffee culture in Japan with a focus on Tokyo and therefore expected no less of the Japanese specialty coffee scene than excellence. As my time was limited, I tried to make the most of it and combined sightseeing with cafe hopping. This guide is the result! Getting around in Japan is not always easy, but my coffee-tinerary will lead you to the finest specialty coffee and third wave shops close to points of interest.
Best Specialty Coffee Shops in Japan
Specialty Coffee Shops and Cafes in Japan
Best Cafes Serving Specialty Coffee in Tokyo
The omnipresent contrast of modern and traditional trickles down all the way to the local coffee culture in Tokyo. While traditional Japanese coffee houses Kissaten are still on Tokyo's coffee map, they are prominently visited by the older generation. The majority of youngsters and young professionals is frequenting western style cafés and frantically posts about it on Instagram. Although mainstream coffee chains enjoy popularity, the third wave movement has Tokyo fully in its grip and spreads throughout the country. But despite the difference in style and clientele, the traditional Japanese coffee houses Kissaten and the fashionable, ever emerging specialty coffee shops have one thing in common: Perfection and love for the craft! Some third wave shops even incorporate traditional elements to connect to the roots of the traditional coffee culture. As the focus of this blog is specialty only, find below some of the third wave forerunners in town.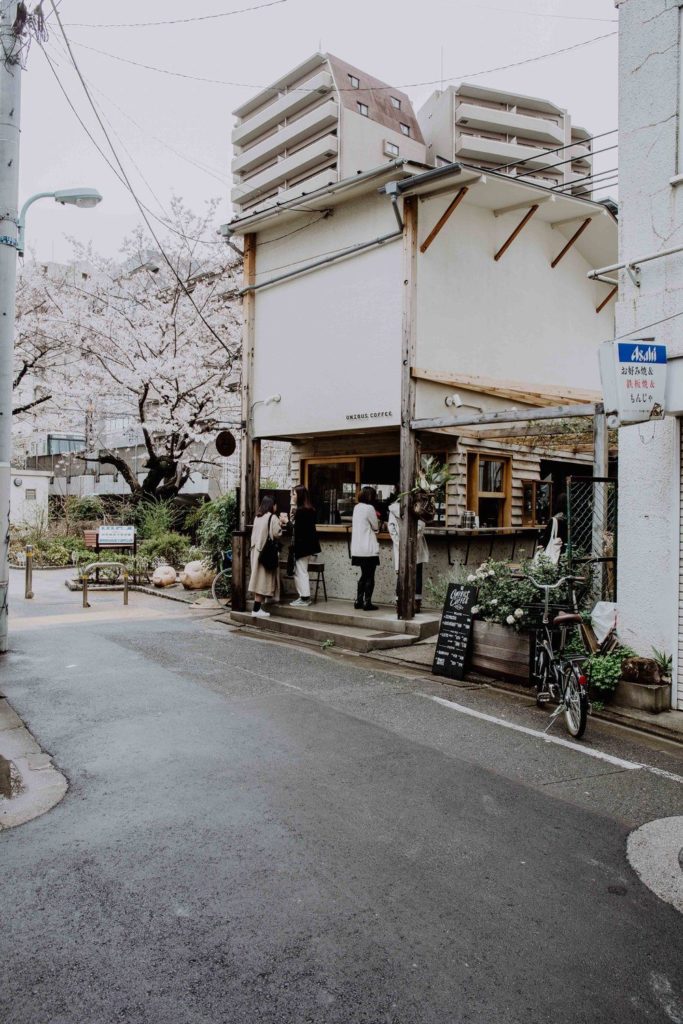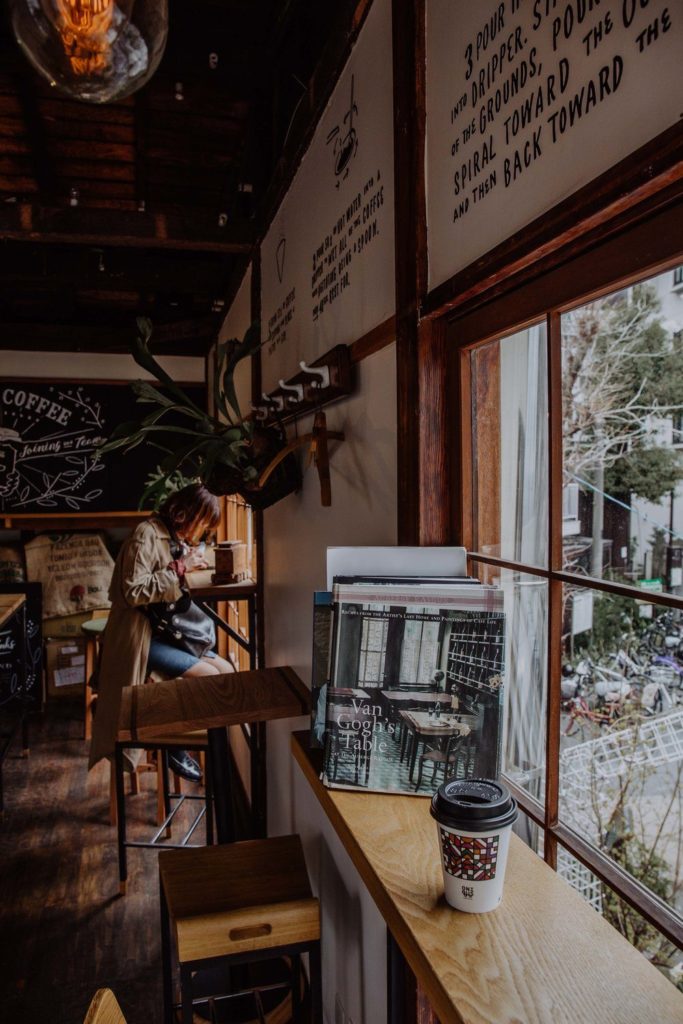 The neighbourhood of Nakameguro is not only a favourite during the cherry blossom season. A number of specialty coffee shops have secured a prime spot along the popular canal that is stretching through this part of town. Onibus Coffee is located a bit more secluded than its counterparts, next to the Nakameguro metro station, in an old, traditional Japanese house. This location is one of four branches owned by Atsushi Sakao, who is known for his passion for craftsmanship and quality coffee. There are two floors, the downstairs coffee stand and roastery, and the upstairs seating area with traditional aesthetics kept almost entirely intact.
The menu holds one espresso blend made of a natural Brazil, fully washed Guatemala and natural Ethiopia as well as single origins from Kenya and Rwanda, all roasted on a 15kg Diedrich on site.
Address:
2-14-1 Kamimeguro, Tokyo
Perhaps you've come across the infamous Omotesando Koffee when talking coffee in Japan, an absolute favourite that had shut its doors in 2015 and left specialty coffee lovers devastated. As of January 2017, Shibuya became a bean mecca once again, in the form of Koffee Mameya, which the owner Eiichi Kunitomo set up in the same location as its predecessor. This specialty shop takes coffee tasting and buying to a whole new level. Each and every client will have a file kept in store recording personal preferences and previous purchases. Koffee Mameya doesn't make it easy for you, with up to 20 single origins from different roasters to choose from. Each bag comes with detailed brewing instructions, making home brewing an easy task.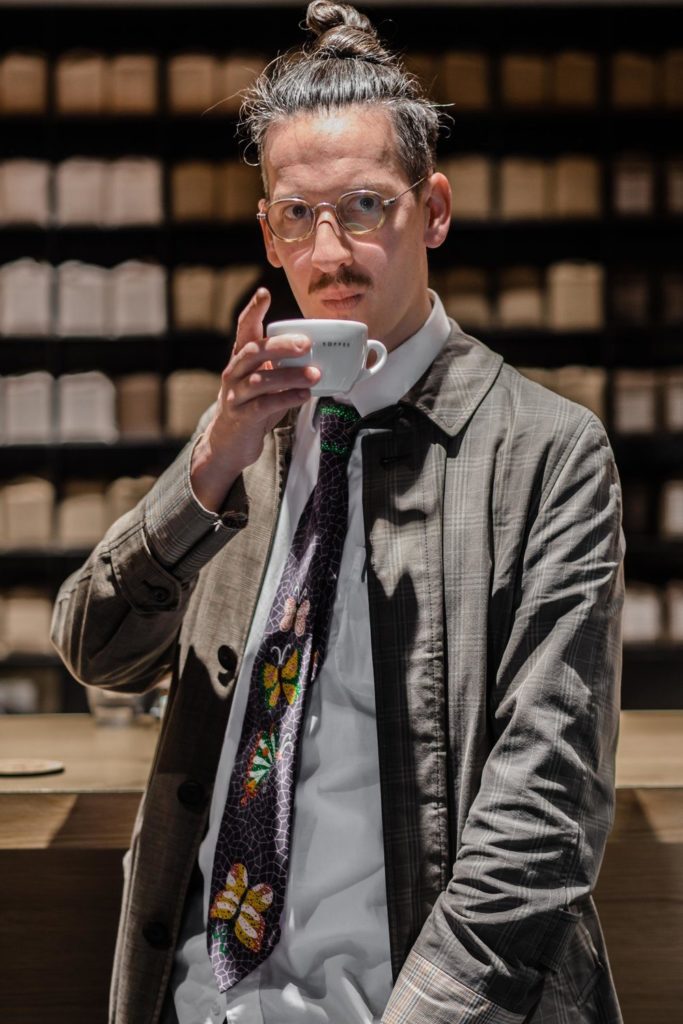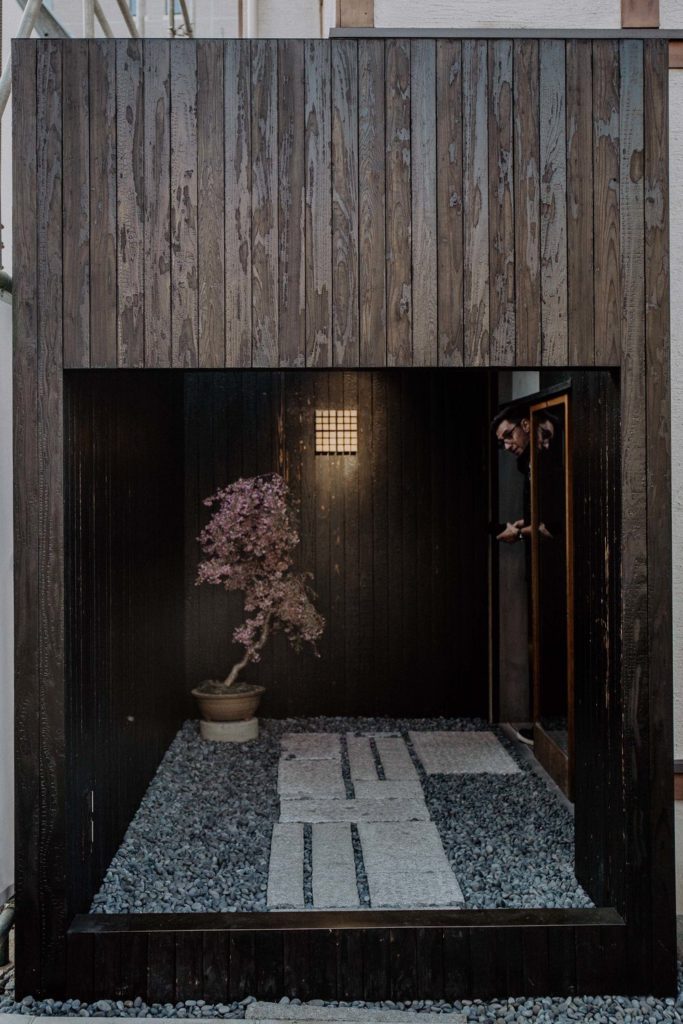 I was introduced to Koffee Mameya by Vaughan, a coffee journalist from Tokyo, who knows the local coffee scene like the back of his hand. Together we shared an excellent Esmeralda Geisha that immediately took me back to Panama with its notes of berries and jasmin.
Address:
4 Chome-15-3 Jingumae, Shibuya, Tokyo
The Roastery by Nozy Coffee
Another favourite spot to refuel when exploring the neighbourhood of Shibuya is The Roastery by Nozy Coffee. From Harajuku station it is conveniently located a 10 minute walk down Omotesando Avenue on Cat street.. This fast-paced coffee shop stands out as it serves single origin beans only, which are changed regularly and are roasted on site on a Probat.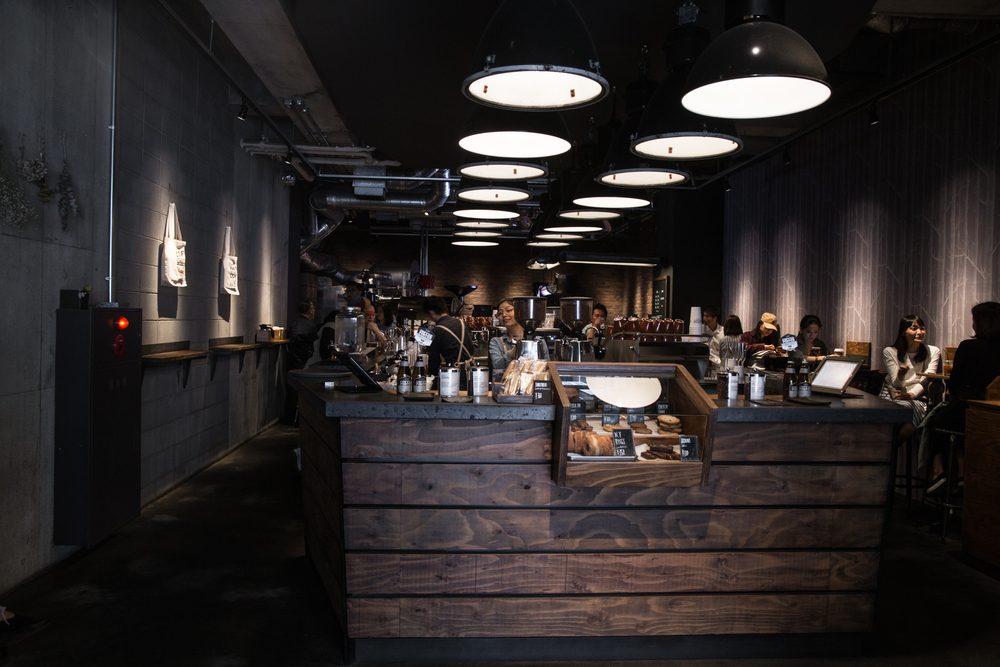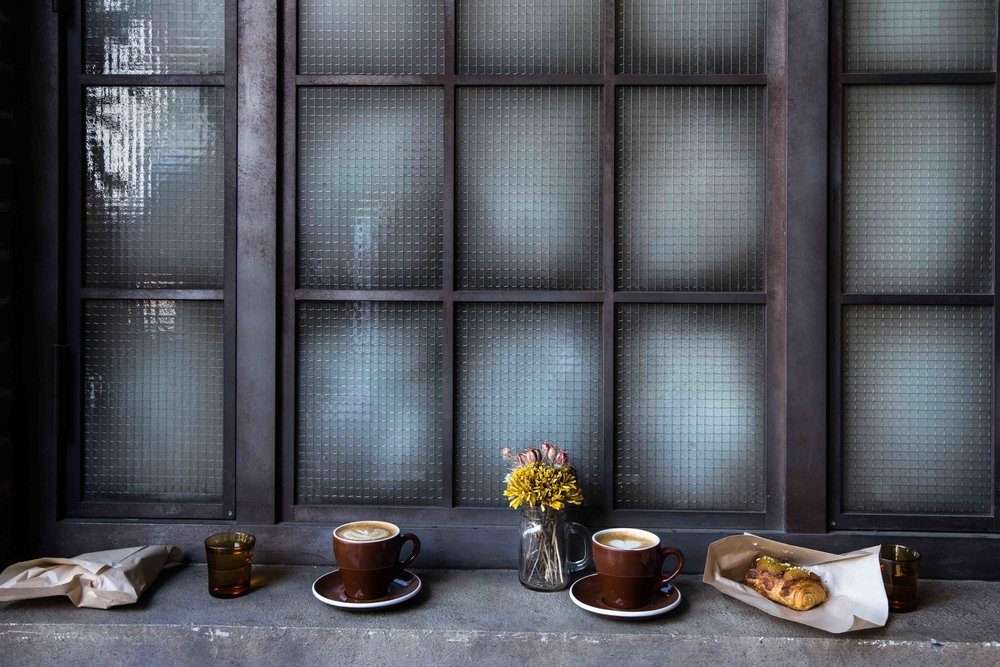 Sometimes too many cooks spoil the broth, but other times they make it better! The Roastery by Nozy Coffee is a cooperation between Nozy Coffee and Tysons & Company, each adding their expertise to the project. The result is excellent coffee paired with a distinct interior design. The counter floats like an island is the center of the establishment, only one of the many characteristics that make this place so unique, On sunny days a spacious, warehouse-styled terrace invites to linger. The menu is as simple as it is sufficient: two types of single origin beans to choose from for either Espresso, Cafe Latte or Americano. During my visit, I enjoyed both options currently in the grinder, the Costa Rica and the Honduras. The latter was my favourite, a perfectly balanced, bright and fruity brew.
Address:
5-17-13, Jingumae, Shibuya-ku, Tokyo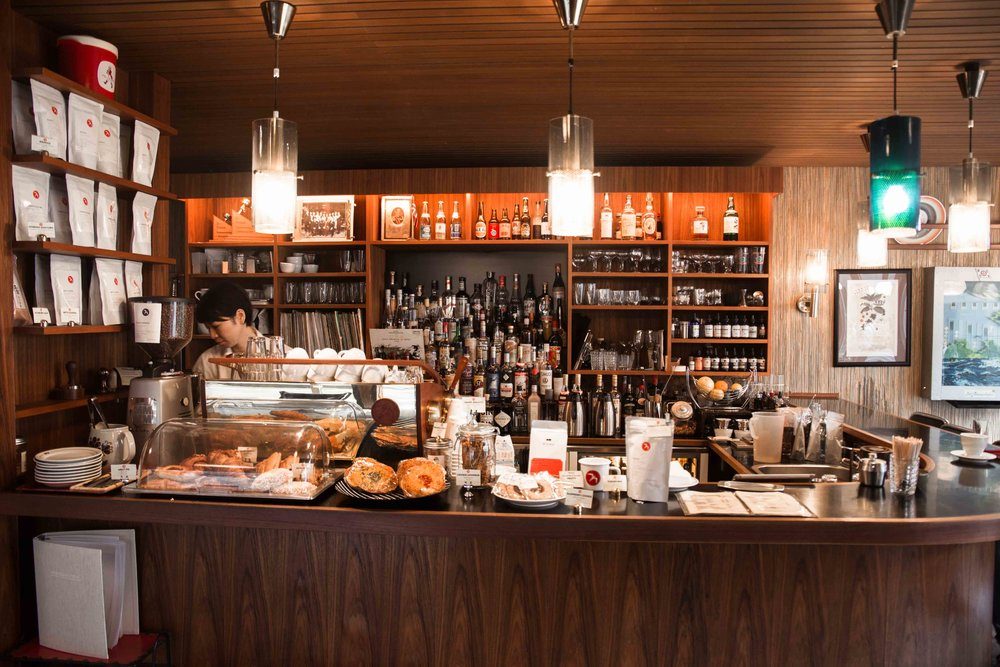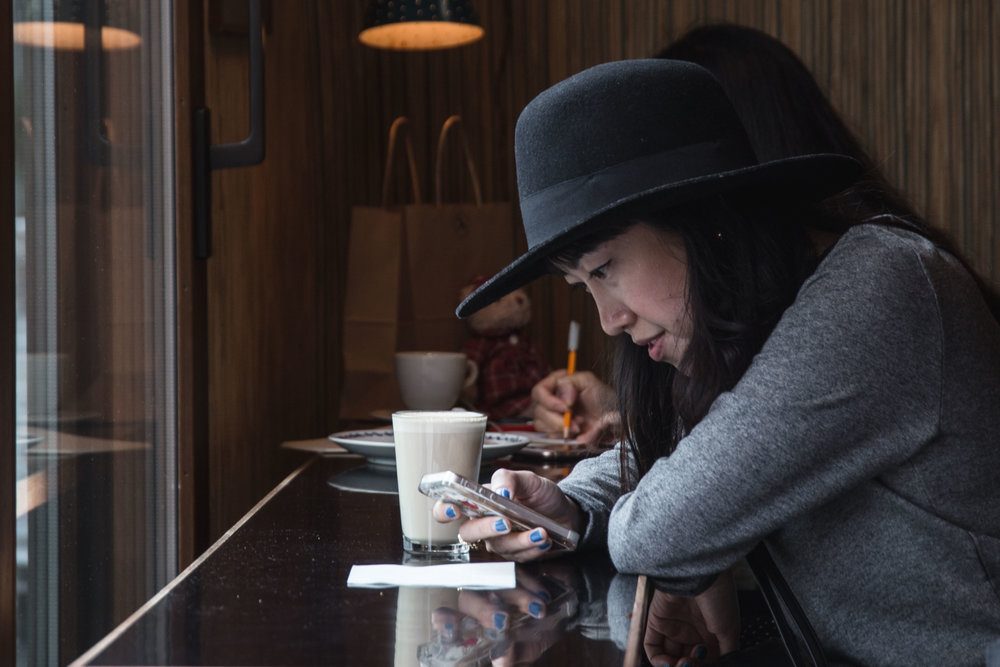 Another well known address for connoisseurs with a fable for the Scandinavian approach to coffee is Fuglen in Shibuya. The café is located close to Yogyogi Park, home to the famous Meiji Shrine, in Shibuya. Its mantra is quality coffee by day, classy cocktails by night and beautiful vintage furniture from the 50s and 60s all year round. Only the best roasters in Oslo were featured here, from Tim Wendelboe and Kaffa to Supreme Roastworks. Nowadays, Fuglen is directly roasting beans in Tokyo, supplied by the import company Nordic Approach, of which Tim Wendleboe is a co-founder.
Do pay their Facebook page a visit if you are planning to stop by, as Fuglen organise interesting events regularly, such as evening cuppings or Nordic lifestyle markets.Address:
Tomigaya 1-16-11 Shibuya-ku, Tokyo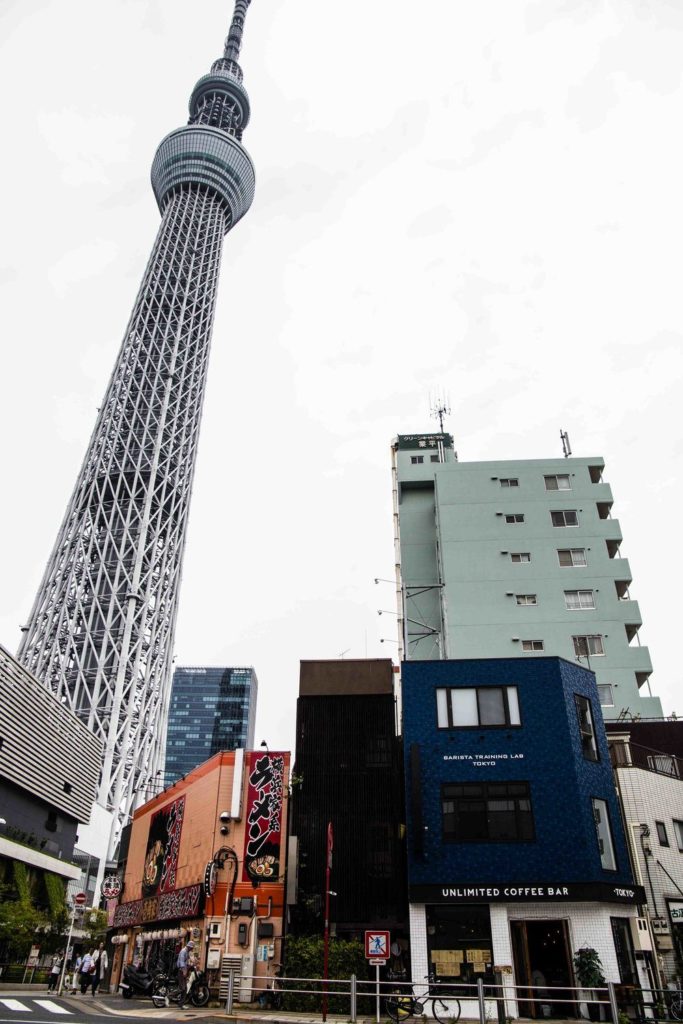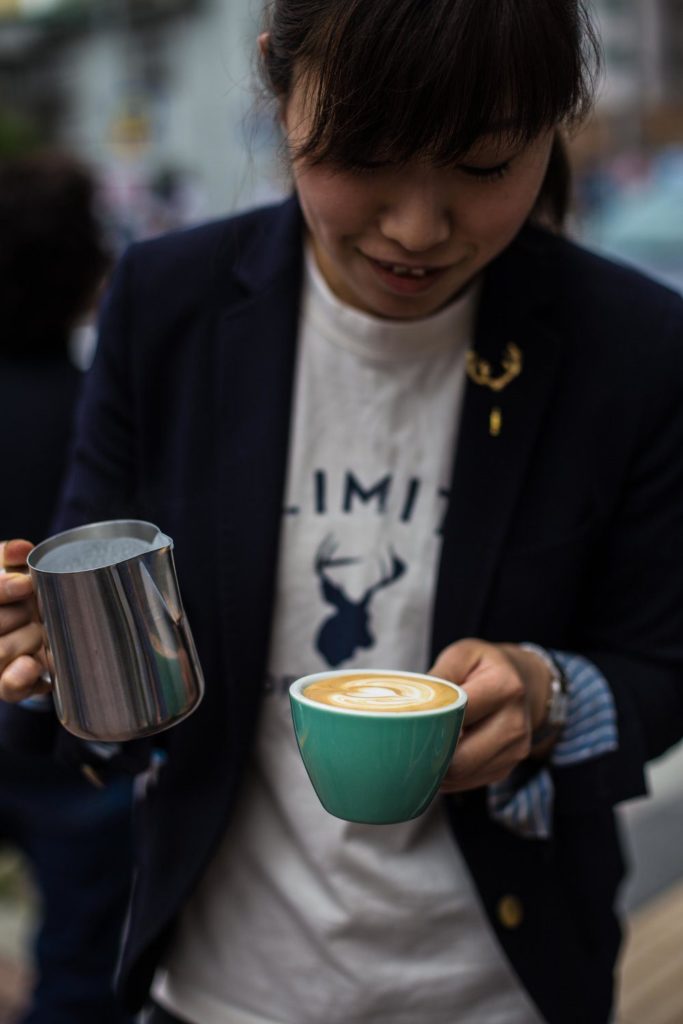 How about a trip to climb the tallest tower in the world coupled with a smooth, creamy cafe latte poured right in front of your eyes? Sounds to good to be true, I know, but Unlimited Coffee Bar is located only a stone's throw away from Tokyo Skytree and goes the extra mile to give your coffee experience a personal touch.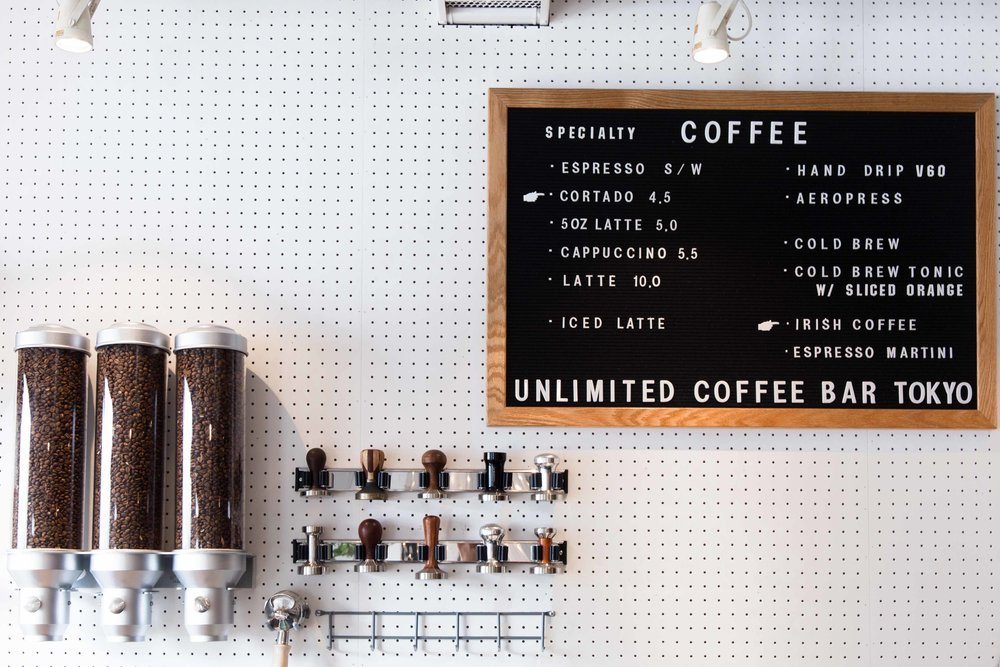 Unlimited Coffee Bar was founded in 2015 by two well-known personalities in Japan's specialty coffee scene, Daichi Matsubara is a certified judge for barista championships and Rena Hirai has many years experience as a roaster. Their expertise lead them to open a Barista Training Lab in the upstairs level of the Skytree location. Single origin is the rule here, both for espresso based drinks and pour-over. At the time of my visit they brewed Rwanda/Ruli kare, roasted in house, with notes of orange, white wine and a crisp acidity. And if you're not feeling spoiled enough, every cup of milk beverage is poured directly at your table! Once you've refueled your energy, walk a couple of hundred meters across Sumida river to get to Sensoji Temple in Asakusa!
Address:
1 Chome-18-2 Narihira, Tokyo
Allpress Espresso Tokyo Roastery & Cafe
The Kiyosumi Shirakawa district of Tokyo has become somewhat of a coffee destination. With the appearance of two big players, the Allpress Espresso Tokyo Roastery & Cafe in 2014 and Japan's first Blue Bottle roastery in 2016, it quickly gained popularity. Beforehand, and still today actually, the community specialty roastery 'Arise Coffee Roasters' was one of its kind in the neighbourhood. Nowadays, these three build a coffee-triangle with Arise, Blue Bottle and Allpress Espresso all in close proximity to each other.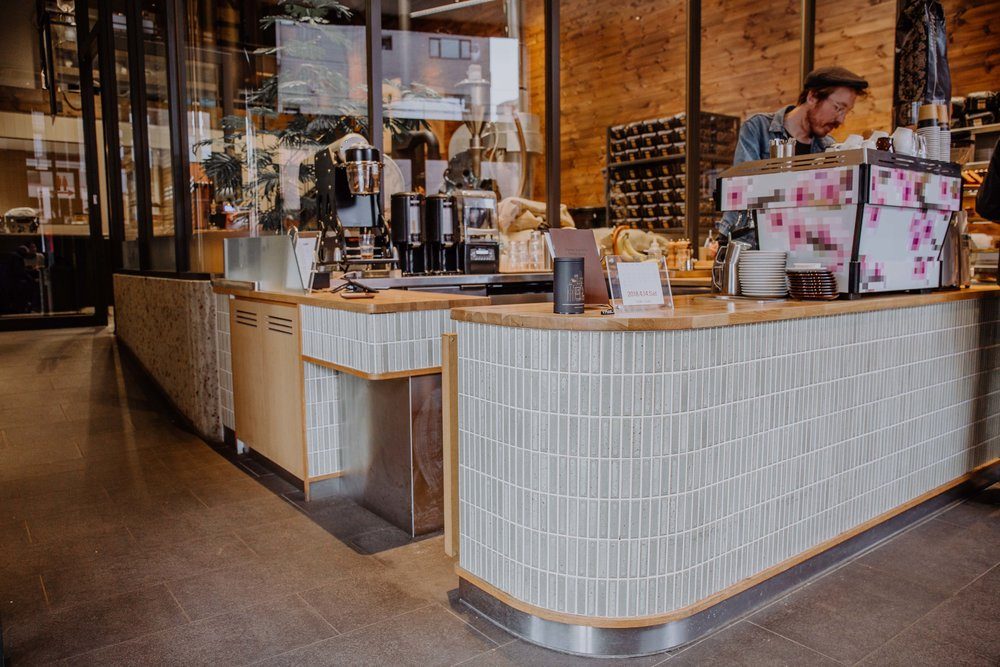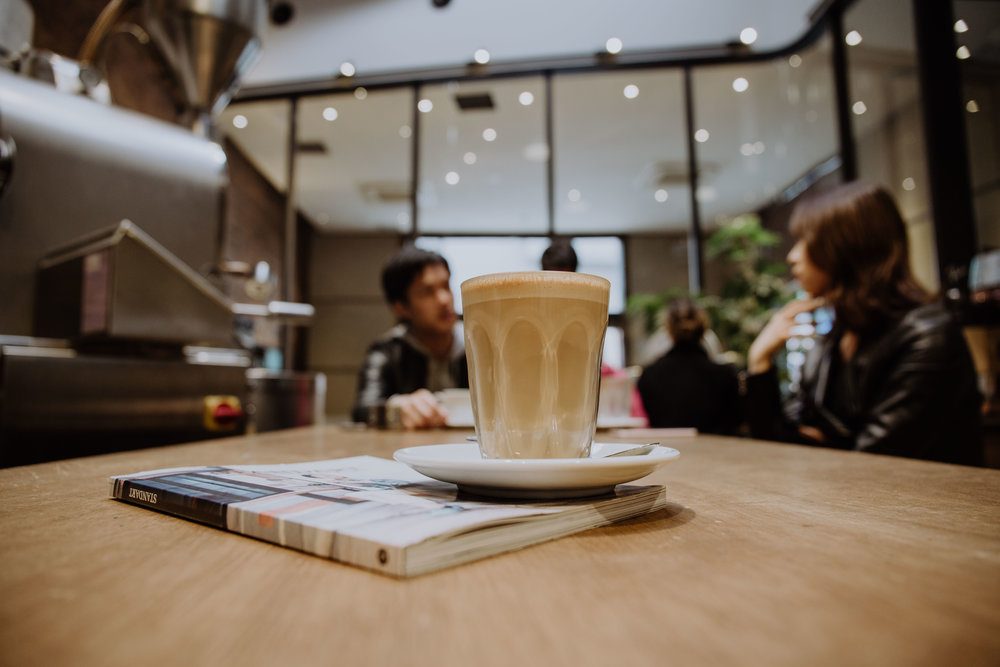 The timber storage warehouse that is home to New Zealand's favourite coffee roastery, (which started 1989 as a simple coffee cart – impressive, huh?), was carefully restored to celebrate its past while giving it a new purpose in the present. Café, roastery and training facilities are all under one roof and open for guests to learn, taste and enjoy. Their signature Allpress Espresso Blend is made up of four different origins, namely Brazil, Colombia, Guatemala & Sumatra, to create a sweet, balanced and complex brew. While it will always be on one of the grinders, the available single origin beans vary.
Address:
3 Chome-7-2 Hirano, Koto, Tokyo
Best Cafes Serving Specialty Coffee in Kyoto
While most tourists I met traveled with a RailPass in order to visit as many places as possible in a short amount of time, I went to Kyoto by night bus as it was a better fit for my budget. Needless to say my journey was not as comfortable as a trip with the JR Shinkansen bullet train would have been. It comes as no surprise that by the time I arrived in Kyoto I was in desperate need of coffee. Lucky for me, I did not only book the best hostel in town Piece Hostel Sanjo, but it also had an in-house specialty coffee shop that saved me from snoozing off in the lobby.
Drip and Drop Coffee Supply
Drip and Drop Coffee Supply was located in the basement of Piece Hostel Sanjo for several years since 2015 but has moved to a new location right by Ginkaku-Ji shrine on 12 October 2018.
The menu holds two house blends and one single origin for pour over, all roasted on site. It is a true pleasure watching the barista brewing with the highest attention to detail and concentration. Nothing is left to chance and every gram counts! A special treat was the single origin from El Salvador, more specifically from the farm Buenos Aires located in El Congo, Santa Ana, which received 85.65 point in the 2015 Cup of Excellence.
Address:
Close to Ginkakuji-michi bus station.
Drip & Drop have also opened a take-away coffee stand close to Nishiki Market. You can find it across from Ichiran in Takoyakushi Dori.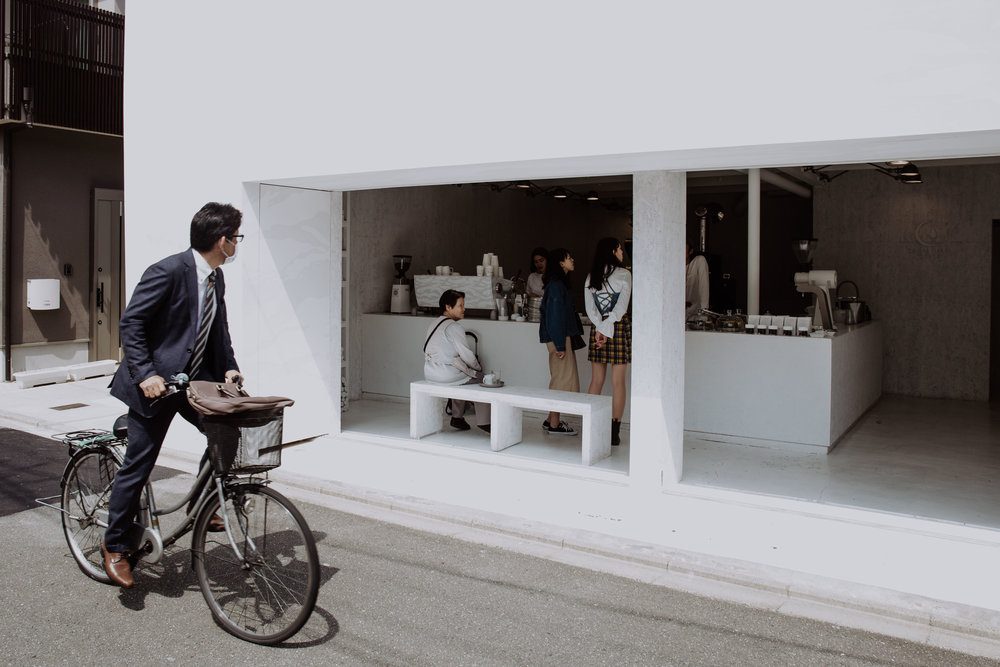 In a quiet street across from Shosei-en Garden and a 15 minute walk from Kyoto station sits the almost entirely white building that houses Walden Woods, a roastery and coffee shop without any sign or obvious branding. I'd say following the smell of freshly roasted coffee is the easiest way to find it. Something else you might be missing here are tables. The concept is as unique as it is peculiar. While the downstairs area houses the counter and roastery, the upstairs room is huge, bare and empty. What the interior is lacking is present plentiful in the coffee! Their light, single origin roast from Kenya is full of all the right fruity and colourful flavours.
Address:
508-1 Sakaecho, Kyoto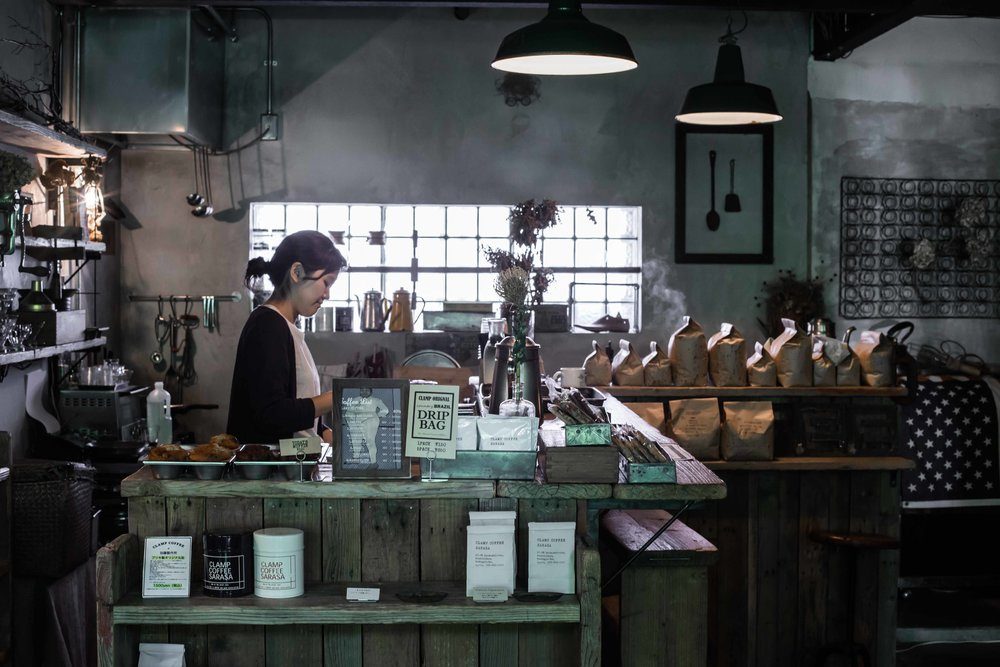 Now all this temple hopping in Kyoto can seriously wear you out. In case you find yourself near Nijō Castle and ready for a break, look for a small backyard café by the name Clamp Coffee Sarasa. If you have difficulty finding it, just follow the delicious smell of freshly roasted coffee beans off Oike Dori Street.
Clamp Coffee Sarasa is one of those magical cafés that transmits tranquility and positive vibes as soon as you enter. Forget how you normally drink your coffee, order either black or white, and choose from the latest freshly roasted specialty coffee beans according to your taste buds. You will be rewarded with an exquisite pour-over that will make you drool! For me, sitting by the window draped in leaves and watching the roaster Tomonori handpick the beans was hands down therapeutic.
Address:
67-38 Nishinokyo Shokushicho, Nakagyo Ward, Kyoto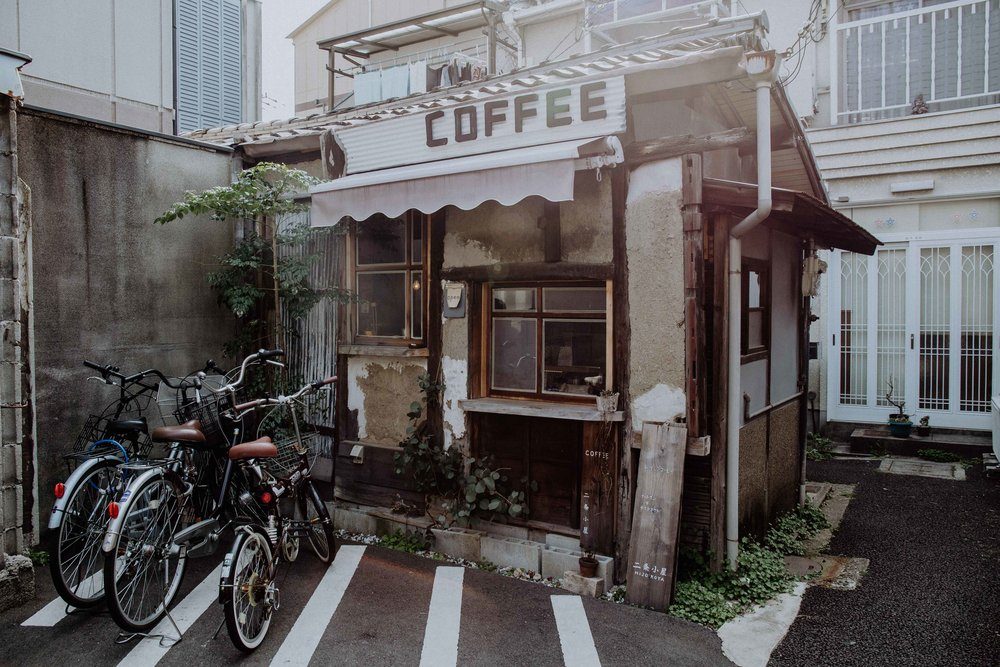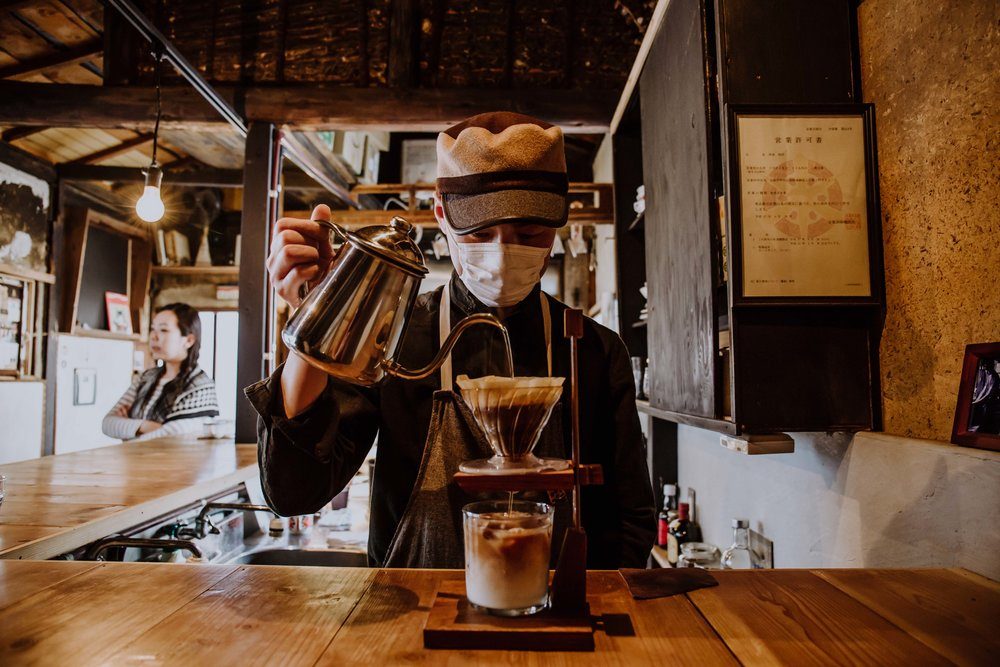 Another hidden gem near Nijō Castle is Nijo Koya. It serves drip coffee only, iced or hot, and the dedicated barista running this tiny coffee shop brews every cup right in front of his guests. Nijo Koya is considered to be a coffee stand and doesn't really fit more than a handful of people. On a little "wall of fame" I found a sticker from Berlin based roastery The Barn and while there was a language barrier keeping me from making further queries, the barista and I exchanged a smile while I pointed towards it.
Apart from the dedication given each cup of coffee, Nijo Koya stands out for its quaint, authentic interior. Come here if you're nostalgic for a rather traditional coffee experience and enjoy quietly and respectfully. 😉
Address:
382-3 Mogami-cho, Kyoto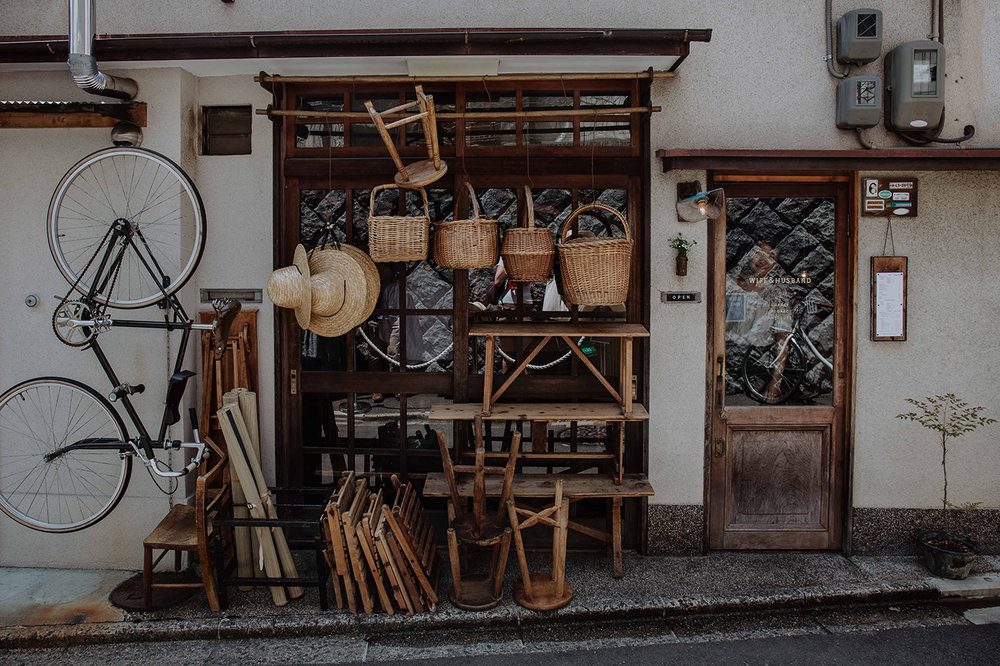 There is nothing quite like enjoying a day walking or cycling along Kyoto's river Kamo. The close proximity to its banks in northern Kyoto gave the owners of Wife & Husband, Mr. and Mrs. Yoshida, the brilliant idea to add a little extra to their specialty coffee shop. When the weather allows they will pack you a piknick and send you off with a couple of stools to enjoy your filter coffee in a thermos by the water. Even though the menu is kept simple here, there is a nice selection of specialty beans. Choose between the blend or five single origins, currently Brazil, Colombia, Indonesia, Guatemala and Ethiopia.
Address:
106-6 Koyamashimouchikawaracho, Kita, Kyoto
Best Cafes Serving Specialty Coffee in Osaka
Next stop on the route was Osaka, Tokyos younger, laid-back sister. Nowhere in Japan has it been easier to start a conversation in a coffee shop with complete strangers. I wish I had spent more than 4 days in Osaka, had I only known how fascinating it is and what an interesting amount of specialty coffee shops it had. So much to discover! But first things first, coffee lovers should definitely visit an area called "Orange street" or Tachibana-touri, where Osaka's creatives and designers have set up their cafés and shops in a battle to develop the newest fashion and trends.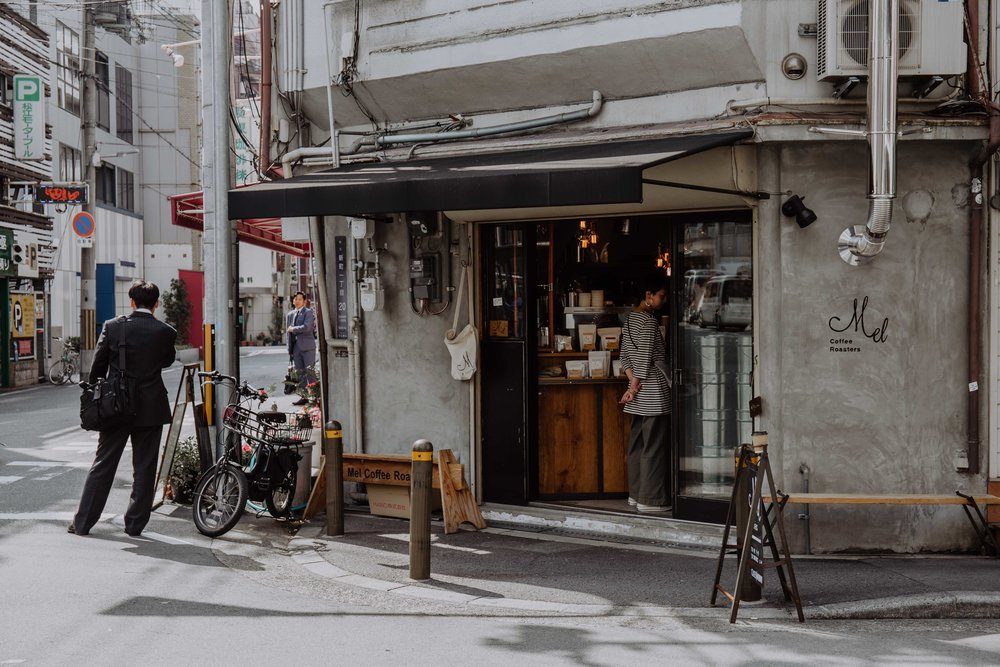 Mel Coffee Roasters is located close to Orange Street between Nishi-Ohashi and Shinsaibashi Metro station. The founders Masa and Rie opened the doors of their small café and roastery for the first time in 2016. The name is paying homage to the city where they first learned about specialty coffee, Melbourne! Before opening their own café, Masa had worked at the espresso bar Mill Pour, an Osaka third wave pioneer that opened as early as 2010. During an origin trip he met the owners of the Berlin based roastery Bonanza who sold them a 5kg Probat Roaster from the year 1968. Read more about Mel Coffee Roasters and their approach to roasting here.
Address:
1 Chome-20-4 Shinmachi
Osaka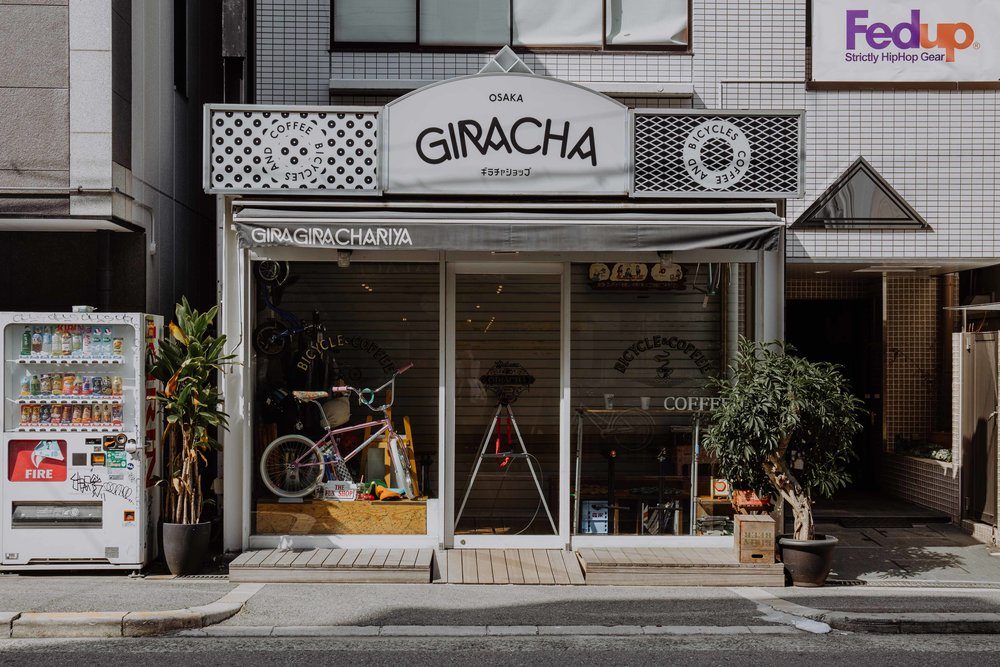 A few minutes walking from Orange street I came across Giracha Coffee, a bicycle shop with an integrated espresso bar. Which might look like a take away place could turn into hours of mingling and making new friends. The owners Sayaka Matsuse and her husband are very sociable and community minded people, who might just introduce you to somebody special you would not have met otherwise. They wanted to create an informal atmosphere that is different from Japanese style customer service in that it encourages conversation between strangers. Already the combination of bike shop and café suggests that the creative heads of Giracha are thinking outside the box.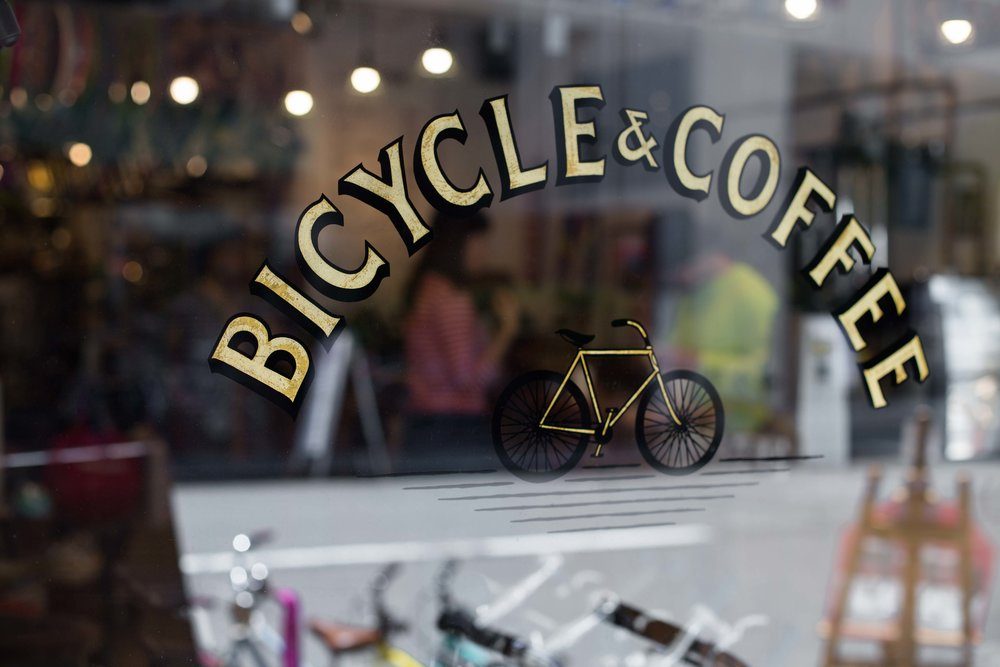 The Head Barista Taira learned his craft from none other than World Latte Art Champion and founder of the Streamer Coffee Company – Hiroshi Sawada, who has since left Japan to open up Sawada Coffee USA in Chicago. Taira himself used to work for Streamer, but when the company underwent some changes, he found his tribe at Giracha, taking Streamer beans with him. To date Streamer Coffee and Giracha are working together to provide quality coffee, which Taira brews on a compact Nuova Simonelli.
Address:
1 Chome-21-9 Minamihorie, Nishi Ward
Osaka, Japan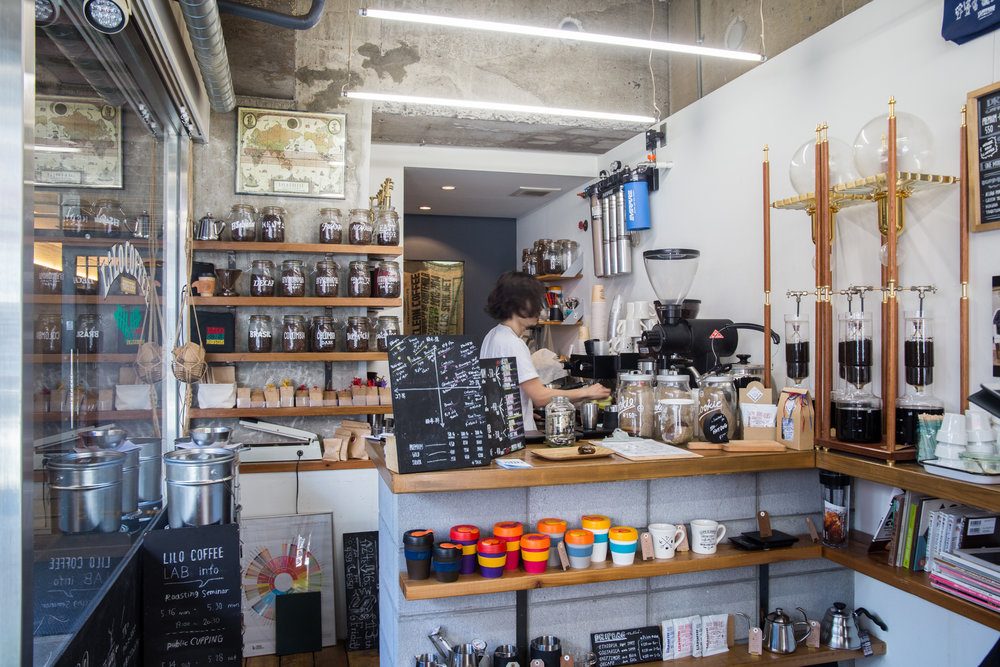 Just a five minute walk from Giracha you can find delicious and exotic specialty grade beans roasted in-house by LiLo Coffee Roasters. The coffee shop reminds a little bit of a laboratory, and it fits only a handful of people. Their motto "small is better" suits the incredible amount of equipment they managed to fit into this tiny space. It's Japanese efficiency at its best! You'll find LiLo have a house blend but take a look at the black board with an extensive selection of single origin beans available as light, medium or dark roasts. You can travel through the flavours of East Timor Kenya, Ethiopia and Nicaragua to the Dominican Republic in less than a day and choose a different brewing method every time. For all their coffee you can pick up small cards with information about origin, taste profile and recommended brewing method. Unfortunately, they were only in Japanese when I visited. LiLo Coffee Roasters do a whole lot though to inform customers about specialty coffee, among others cupping and roasting workshops as well as brewing guides.
Address:
1F Shinsaibashi M Building 1-10-28 Nishi-Shinsaibashi, Osaka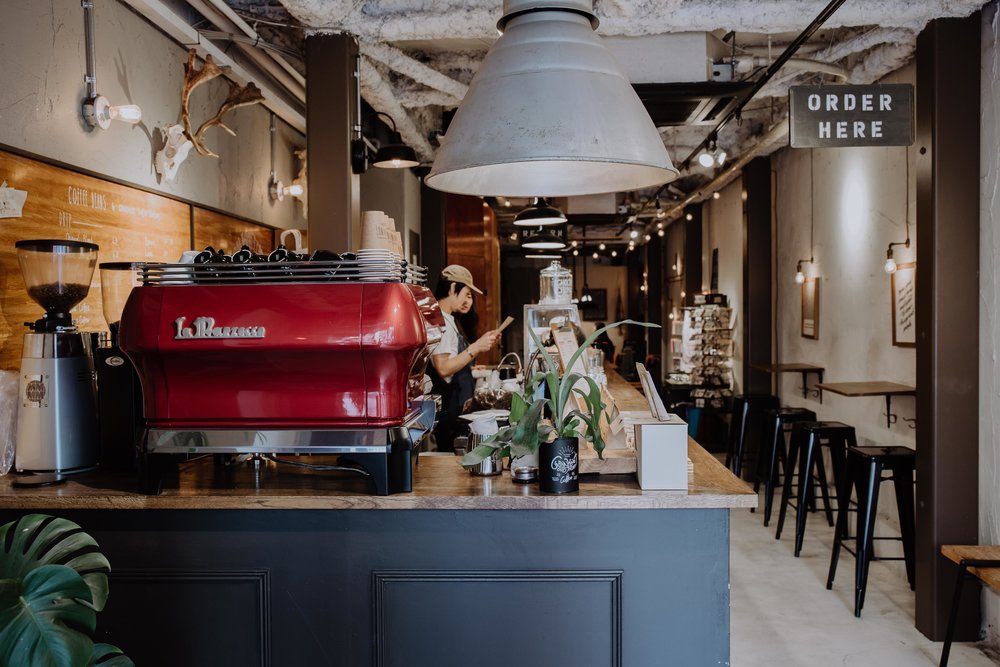 Granknot is another Osaka favourite near Orange Street that serves specialty coffee. Their credo is that "Good taste tastes good", a sentence as simple as it is complex. The same goes for the coffee shop, that brings art, industrial design, quality coffee and baked goods to the community. At the time of my visit Granknot was serving their original blend as well as single origins from Ethiopia, Brazil and Indonesia. Their specialty is drip coffee but they do make a mean latte as well. It's the perfect place to hang out at the communal table for a break from the bustling city.
Address:
1-23-4 Kitahorie Nishi-ku Osaka
Best Cafes Serving Specialty Coffee in Kofu
This is the story of a layover that turned into the most pleasant of surprises! I spent a night in Kofu on my way from Nakatsugawa to Hakone and while I had no expectations whatsoever ended up loving this relaxed town with its views of Mt. Fuji. But what made my stay extra special was the discovery of Terasaki Coffee, which is to date one of my favourite coffee shops and roasteries in all of Japan. It was founded by Ryo Terasaki and his wife Alice in 2012 when there was no light roast specialty coffee in town yet. Inspired by Nordic roasters such as Tim Wendelboe Ryo and Alice embarked on a quest to change that and opened a two-story café with a roastery and coffee stand downstairs and a seating area upstairs. I will never forget that quiet morning I spent there surrounded by vintage interior, reading magazines and sipping on that fruity brew.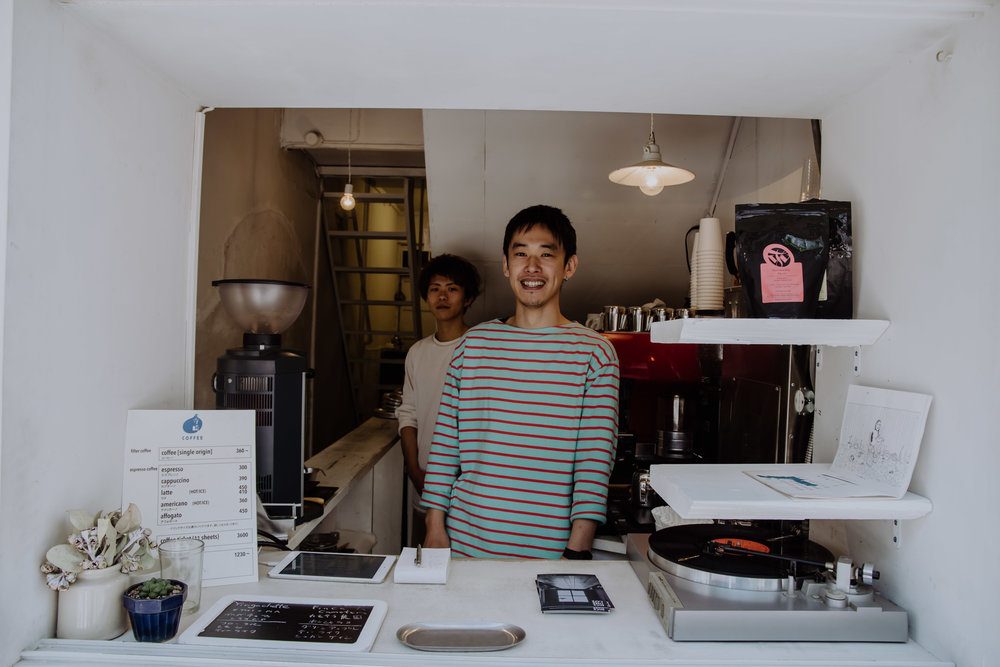 The Terasaki's have since opened a second branch in Kofu called Roji Terasaki, which means narrow road. It is located in a very old building of a small street. In this introductory video you can see why Terasaki Coffee has impressed me the way it did.
Address:
1 Chome-20-22 Marunouchi, Kofu
Best Cafes Serving Specialty Coffee in Kurashiki
The quaint city of Kurashiki is known for its preserved canal and historic storehouses dating back to the Edo period. In one of those traditional houses build more than 100 years ago and set right in the heart of the historical area of Bikan, local coffee enthusiast Bunta Okamoto has transformed his parents' shop into Yamau specialty coffee stand. He sources the beans from a local roaster, "The Coffee Bar Daiku Honmachi", in Okayama city and brews espresso based drinks on a compact La Marzocco.
Address:
5-4 Honmachi, Kurashiki
Best Cafe Serving Specialty Coffee in Nagano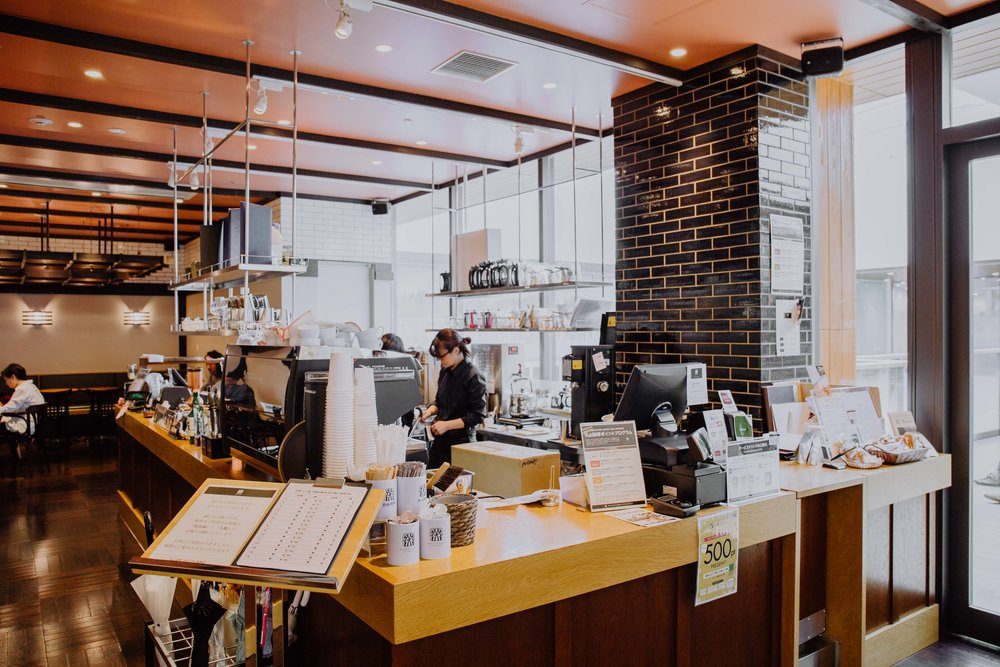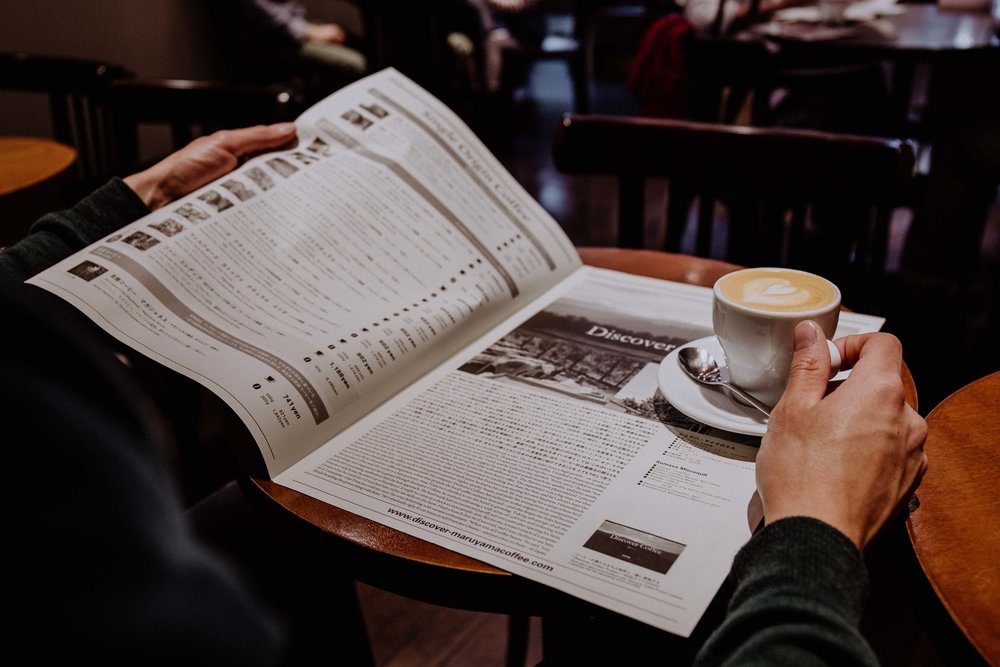 Nagano is the perfect gateway to the Japanese Alps. Known as Japan's ski resort since the 1998 Winter Olympic Games were held here, it is surrounded by some of the countries' highest peaks. Nagano prefecture is also the birth place of Mareyama Coffee, a specialty coffee roastery that was founded in 1991. Today they bid on the top lots during Cup of Excellence auctions, have had several national barista champions among their ranks and opened branches in major Japanese cities such as Tokyo and Kyoto. The Nagano city branch is conveniently located in the main station making it an easy target whether you're passing through or staying for a while. The bean menu is extensive and appears in the form of a newspaper with origin stories and detailed information about the farms. It is probably the most extensive and transparent presentation of available coffee beans I've ever seen. Here you'll find professionalism at its best!
Address:
Nagano main train station
Best Cafe Serving Specialty Coffee in Nikko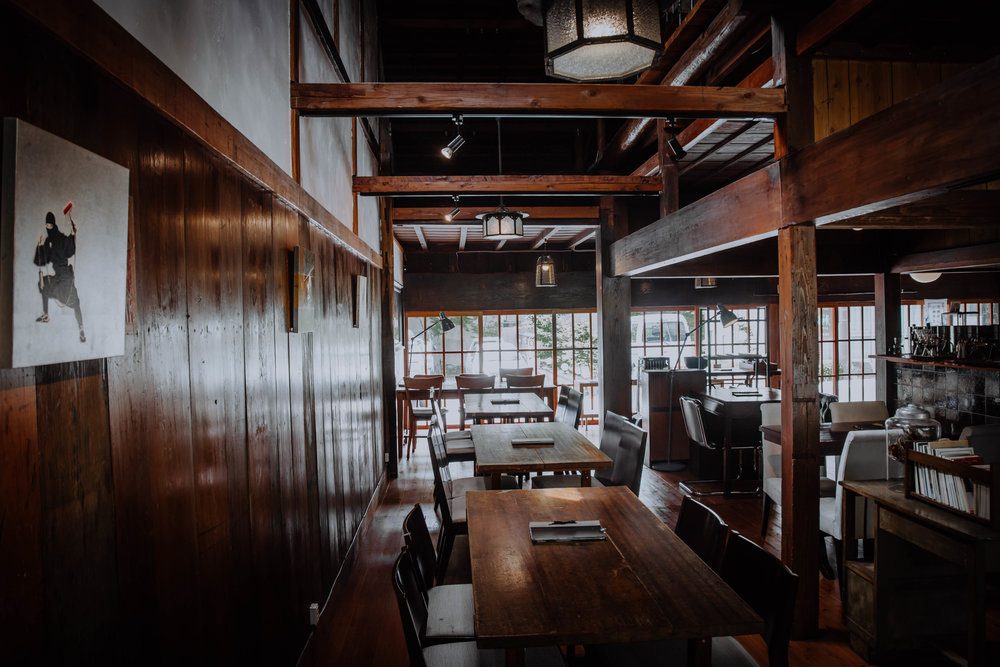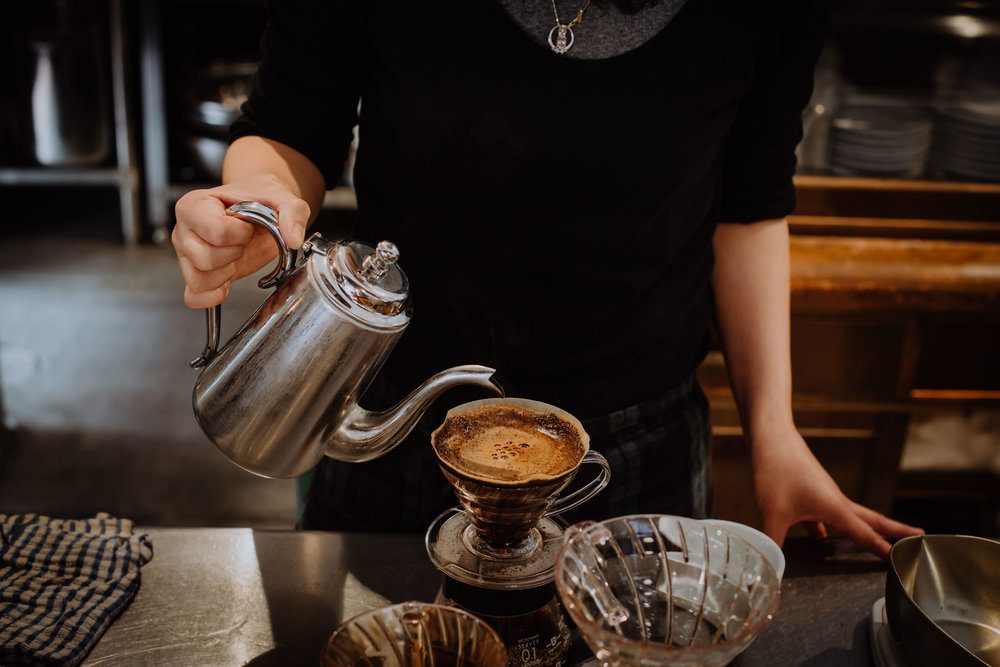 Nikko is best known for its shrines and temples, with the famous Toshogu Shrine at the heart of this world cultural heritage site. Whether you're heading to Nikko for a day from Tokyo or stay in the area to visit its surrounding national park, a trip up here is well worth it in any case. Not lastly, because the town is famous for cheese cake! For specialty coffee and a sweet treat Nikko Coffee is the place to go. It was born out of a love story with coffee that began as early as 1999 in the nearby city of Kanuma. Since then, the tiny café Kyo-Cha-An has turned into a service company with three Nikko coffee houses in the region, one of which is located in walking distance to main attractions and right nearby Nikko Tamozawa Imperial Villa Memorial Park. The café and roastery brews filter only and is a great place to refuel and linger before or after your temple expeditions. Watching the barista skillfully brew a pour over with a gooseneck kettle was almost putting me in a state of meditation.
Address:
3-13 Honcho, Nikko
Best Cafe Serving Specialty Coffee in Kamakura
Kamakura is just a day trip away from Tokyo and a great destination for temple hikes or wind surfing at the seaside (or both). Pass by Mill Coffee & Stand on your stroll to Kamakura Zaimokuza Beach to try their chocolately blend, perhaps in a flat white with home made almond milk?! Mill Coffee & Stand features "I don't know coffee roaster" as their main bean supplier. For those who come hungry, all cakes and sandwiches are homemade and delicious.
Address:
5 Chome-14-18 Zaimokuza, Kamakura