Visit Munich's Top Cafes for Specialty Coffee
When I drank myself through Munich's coffee scene I was particularly impressed with these cafes listed here as they shine with locally roasted beans, carefully crafted concepts and passionate baristas. Overall, the number of specialty coffee shops in Munich cannot be compared to major coffee capitals such as Berlin, but that does not mean the quality isn't top notch. Let's start in Munich's Glockenbachviertel, a neighbourhood that attracts the youngsters and the hipsters for its fashionable bars and funky shops.
Man Versus Machine Coffee Roasters

Please don't ask for a Latte Macchiato when you enter Man Versus Machine, it's not on the menu and it never will be. Keep it simple and order a Flat White, Espresso or decide on one of the filter options, for there are plenty. Whether you prefer Aeropress, the Syphon, V60 or Kalita, you can't go wrong! Man Versus Machine uses only specialty grade coffee beans freshly roasted on site. Conny and Marko are the power couple behind Man Versus Machine and spent years renovating and remodeling their first coffee shop in the Glockenbach district.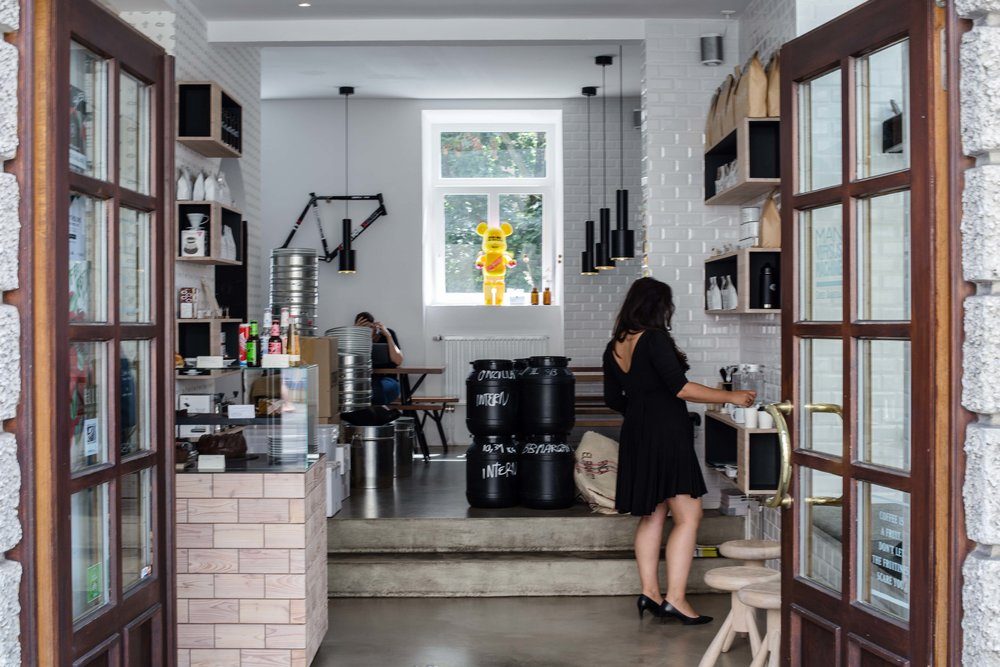 Man Versus Machine is partly working with Nordic Approach, a company known for their high quality green beans and transparency. Usually there are four to five different type of beans to choose from. What's interesting is the fact that Man Versus Machine develop a roasting profile for each coffee that works for both, espresso and filter. Their focus is on light to medium roasts only and the coffee beans are rotated according to their complexity. More complex coffee is rotated quite frequently whereas a less complex one will stay on the menu for a while longer. I loved the variety of beans and certainly think that Man and Machine, in this case baristas David and Maxim and a La Marzocco Strada, are working together perfectly. For those of you who are not able to come to Munich to watch this battle of perfection first hand, do not worry, you can find Man Versus Machine beans also in cities like Berlin or London.
Address Glockenbachviertel:
Müllerstraße 23
Munich, Germany
Standl 20

The cafe Standl 20 is located in a cabin like house at Elisabethmarkt, a relaxed and authentic market in the heart of Schwabing. Toni Lohde und Johannes Bayer are the creators and coffee experts who opened Standl 20 in May 2015. Johannes is also the beanius behind JB Kaffee coffee roaster, currently based in Dachau. It goes without saying that JB Kaffee is what you'll be drinking here. Choose between two kinds of espresso beans or a total of 11 coffees for filter. The house blend is a regular for espresso, a light roast with low acidity and a full body that is pleasant even for those who are new to the third wave.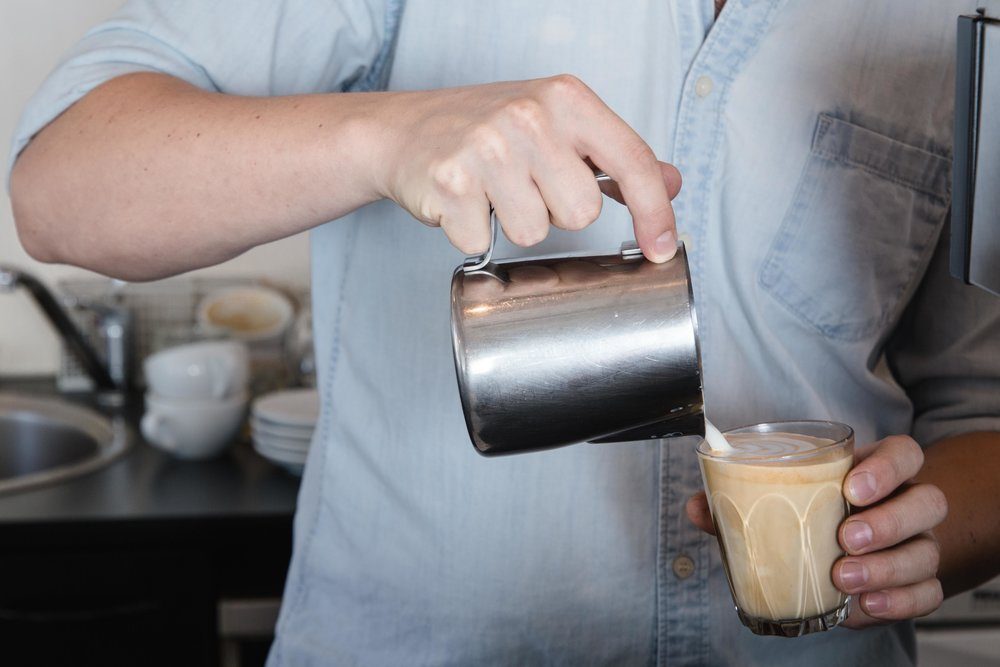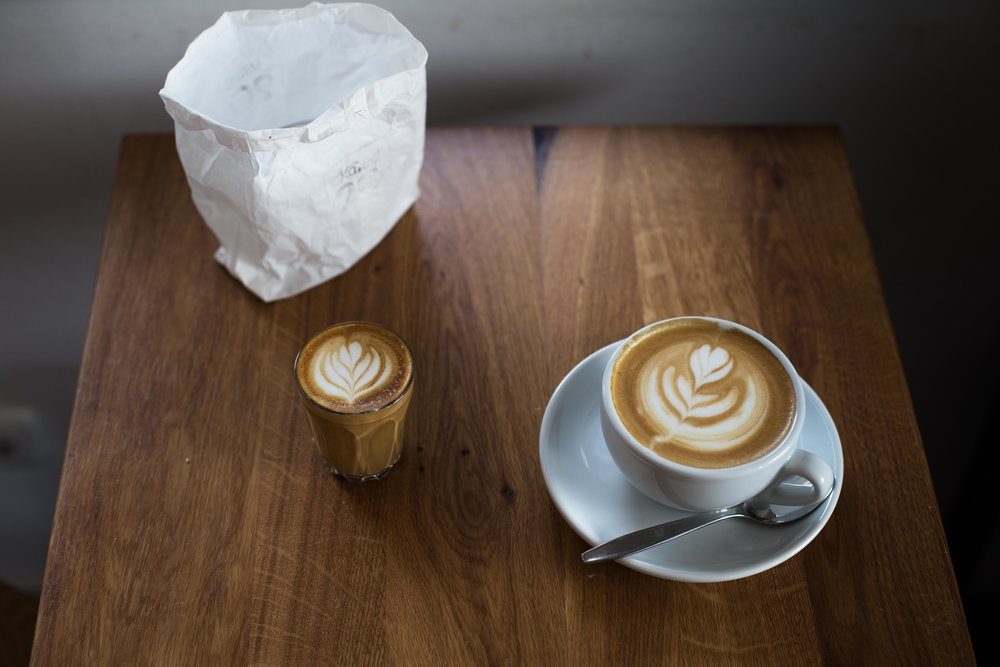 As some of you know, I am addicted to a good cup of coffee as much as to taking pictures of one. At times I do get weird looks for taking out my camera at a coffee shop and pointing it at my cup, but not so at Standl 20. Paul, the cheery barista on duty that day, had all sorts of ideas for a great photo. So I ended up staying for a while, really taking in the cosy atmosphere and eyeing up the warm wooden design. But I am not the only one with an appreciation for Standl 20's feel-good vibe: in 2016 the cafe was awarded a Fizzz Award for the most creative cafe concept in Germany.
Address:
Markt auf dem Elisabethplatz
80796 Munich
Germany
Even though the cafe gangundgäbe has been around since November 2015, it took four years until I finally paid a visit. I am not usually so behind the times when it comes to scouting a city's best coffee shops, but I am so happy I finally discovered this neighbourhood cafe. Here you can indulge in a variety of coffee blends as well as single origins and pair them with delectable pastries that melt in your mouth. This is the ultimate coffee haven for connoisseurs seeking a sensory escape.
Café Blá, nestled between Deutsches Museum and the Isar river, offers a fusion of simplicity and Nordic calmness with delicious tasting experiences on top. It is owned by Stephanie Bjarnason, who combines her French and Icelandic heritage to create a unique coffee experience rooted in the Nordic roasting culture. Enjoy their unique blend that has a fresh and fruity taste with a velvety finish or sample different brewing methods and single origins for a change of flavor.