Best Cafes of Georgetown, Penang – The Pearl of the Orient is a coffee lover's paradise
Georgetown, Penang, is a coffee destination I always like to return to. Even more so after my last visit in August 2019, when I discovered absolute gems like Ome, Le Petit Four, Lunabar and Norm. If you pay Penang a visit and go to any of these cafes, you'll stumble upon a small but passionate community of coffee lovers that is incredibly welcoming. Apart from the kind people, each cafe stands out for something different. Let me tell you what makes these coffee shops so special!
Ome by Spacebar Coffee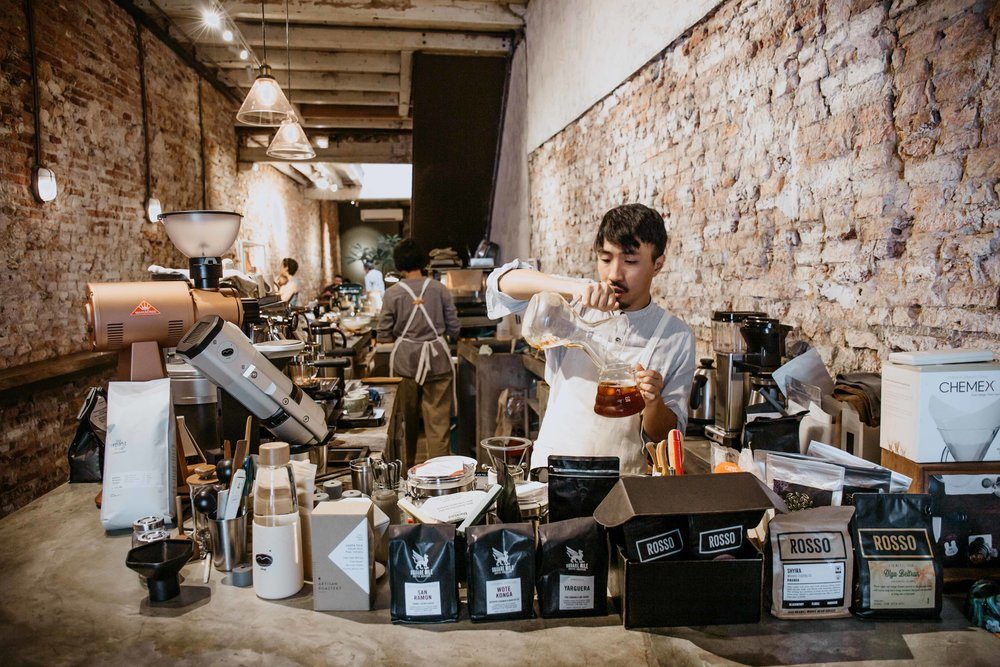 The Spacebar duo Jo and Shean have been rocking KL's coffee scene with pop-up brewing before grabbing an opportunity in Georgetown to open their first permanent cafe. They started out sharing a space with 'Awesome Canteen', located on the ground floor of Sekeping Victoria in Victoria Street, where I visited them for the first time back in 2016. I still have very fond memories of the pour over Geisha from Kotowa in Panama (from the same coffee farm I visited a year before in Boquete) that they were brewing at the time. In August 2017 the cafecionados ventured onwards to open a new coffee shop just a few blocks away, where they have been brewing some of Penang's finest coffee since. Ask for their special selections of espresso or filter roasts and I'm sure you'll find something that suits your palette.
Before venturing into coffee, the duo spent a lot of time in coffee shops themselves, Jo in KL and Shean in London. This experience paid off, as 'Ome' has everything a coffee lover could desire – from an exquisite coffee menu, a variety of brewing equipment and beautiful interior to the perfect playlist. In the mornings their granola bowl was a great draw. Thankfully, they plan to stick around Penang for a while and after that, who knows? For sure they are already brewing some innovative ideas for the future!
Address:
New address of Ome by Spacebar Coffee:
No 1, Lorong Toh Aka
10100 Penang
Norm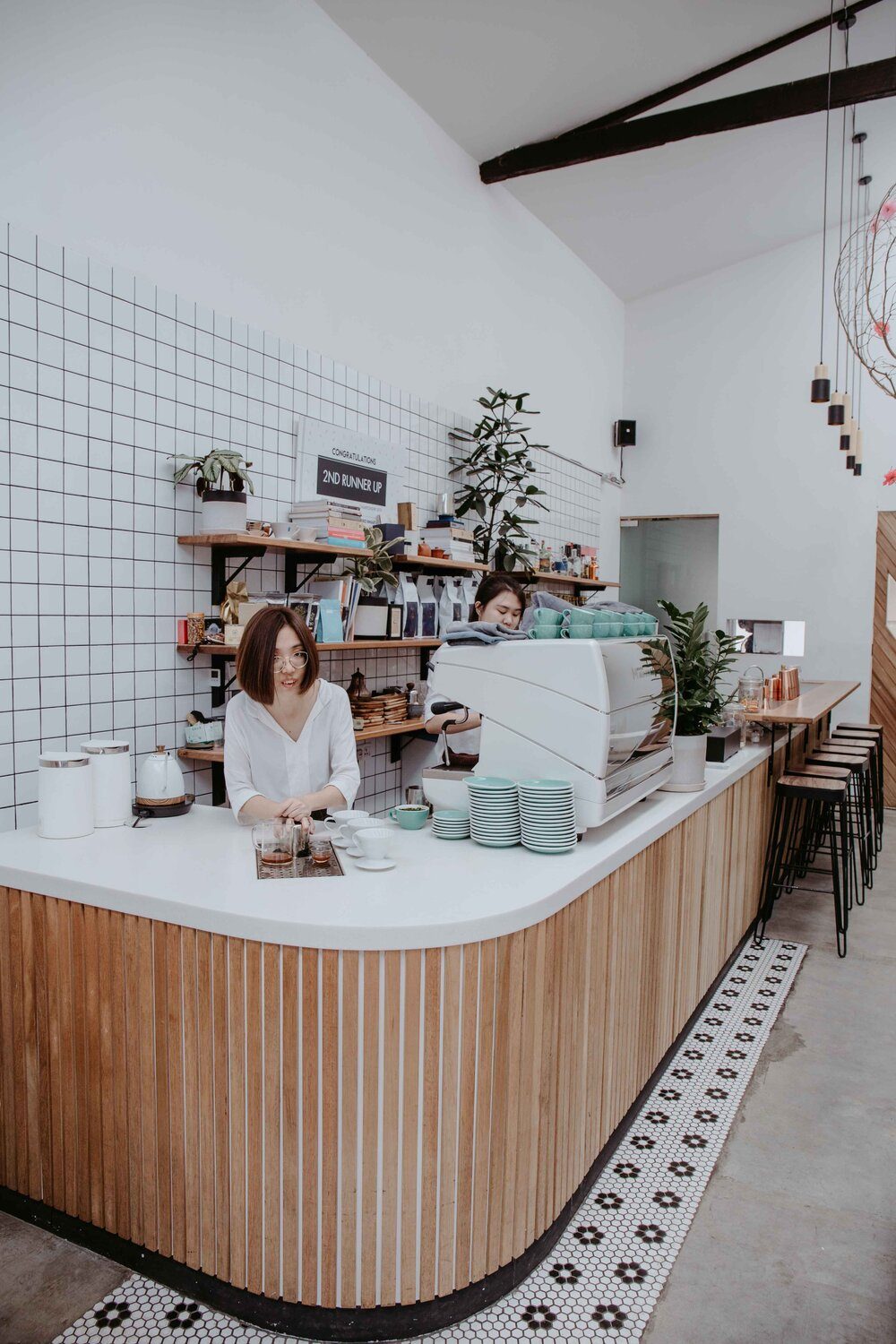 If you're dreaming of living in a world were good coffee is the norm then you're one step closer! The owners of Norm are offsprings of Macallum Connoisseurs and want to make this utopia a reality. Their well thought out, minimalist space opened in October 2018 and is buzzing day and night ever since. The house beans for espresso are nicely balanced with a hint of acidity. Pair it with the specialty of the house – homemade waffles – or tiramisu and I promise you won't regret it!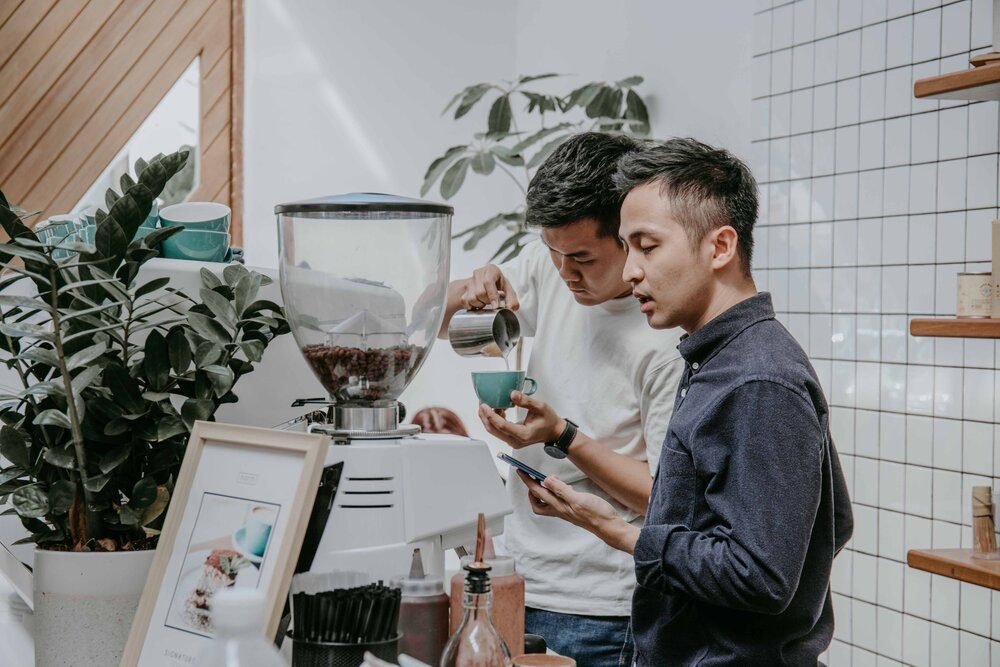 Address:
260c Lebuh Carnarvon
10100 George Town
Penang
Le Petit Four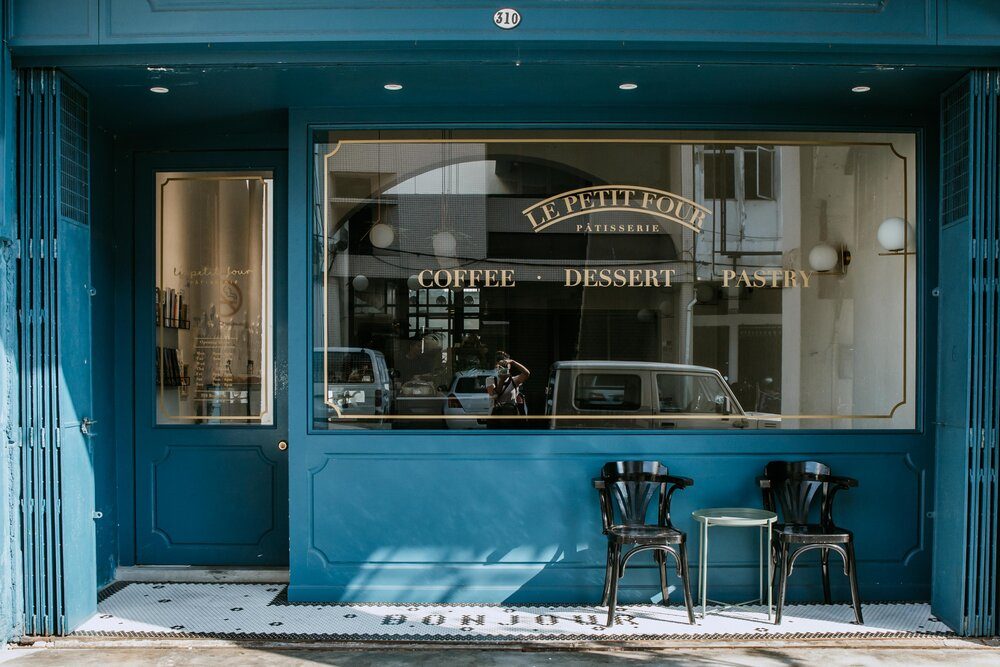 Coffee and pastries are kinda my jam! If you're like me then you absolutely must try the crispy croissants and pain au chocolate at Le Petit Four. The owner has graduated from pastry school in Paris and her creations are nothing short of what you'd expect from an authentic French patisserie. And I'm not saying this to butter up! The setting in one of Penang's numerous historic shophouses is adding to the unique flair. We're talking marble counters, Parisian chairs and concrete walls – the perfect mix and match! The Kuala Lumpur based roastery 'the roast things' is contributing juicy coffee beans to round up the excellent menu.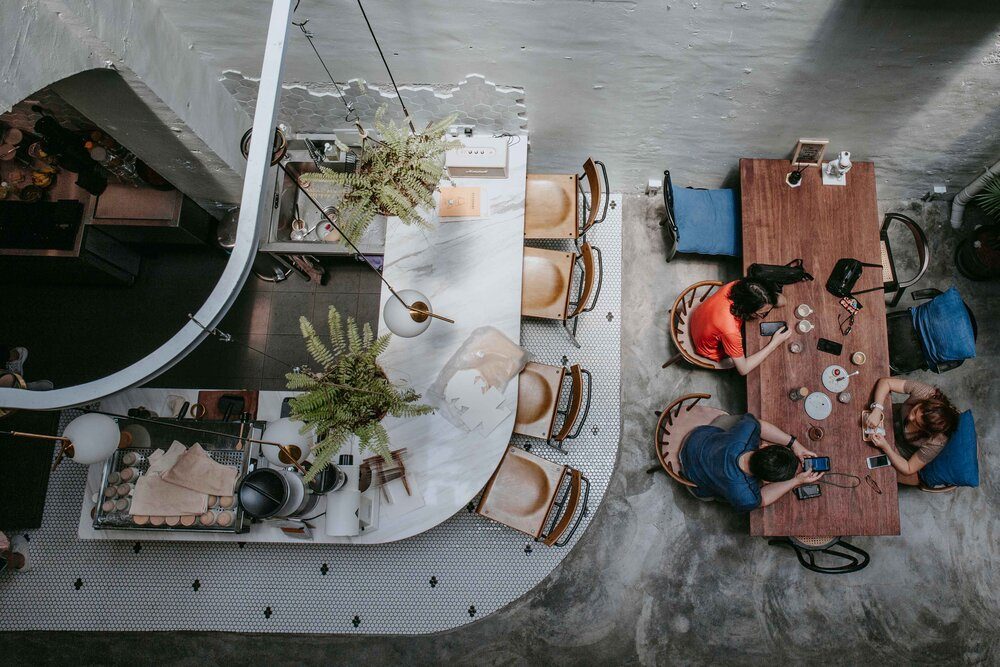 Address:
310, Lebuh Pantai
George Town, 10300
Malaysia
Lunabar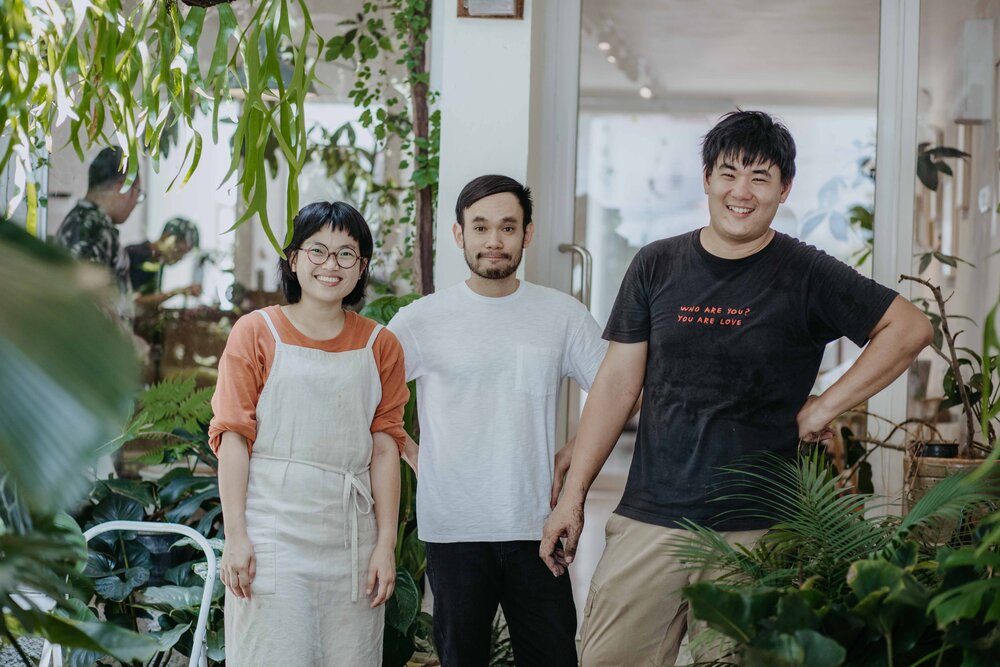 Lunabar came highly recommended! No matter who I talked to, every coffee lover in Penang told me to check it out – and it became very obvious why! The cafe, roastery and urban jungle is run by the friendly trio Jasmine, Dennis and Tan Wei Ming. It's a green, cosy spot set in a residential area of Georgetown. The in-house roastery Tongue Mission in the back room is cracking beans that are brewed by capable hands either as pour-over or espresso.
Co-owner Jasmine has written an informative article about the Hainanese coffee culture in Malaysia and how it compares to the third wave for Perfect Daily Grind. It's a great read and will help you to understand the local way roasting and brewing coffee.
Address:
12, Jalan Clove Hall
George Town, Malaysia
Macallum Connoisseurs
Set in a former factory building, Macallum is a roastery, cafè and coffee academy that opened in January 2015. Although a bit of a walk away from the historic center of Penang, it is conveniently located along Lim Chong Eu Expressway.
I spoke to Fong Lim, who used to co-own Macallum and told me about his vision to support young people in their careers as they move from brewing to roasting coffee. The training and roasting rooms looked highly professional and are separated from the cafe only by glass windows. The brewing station is located in the middle of the building, surrounded by different seating options. This set-up turns Macallum into Penang's coffee hub with open plan brewing and roasting to the highest standard.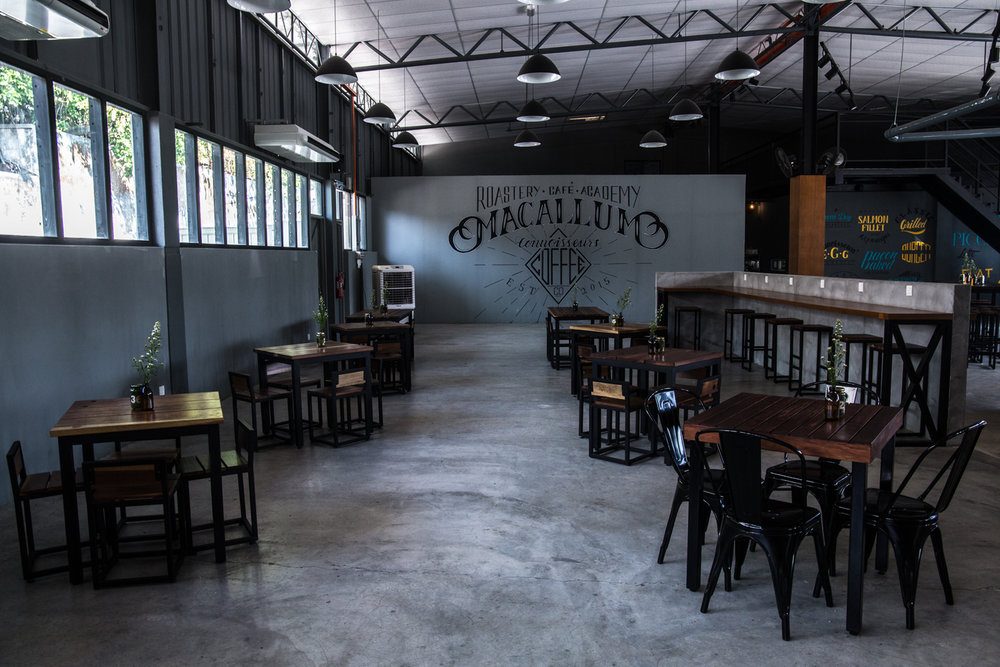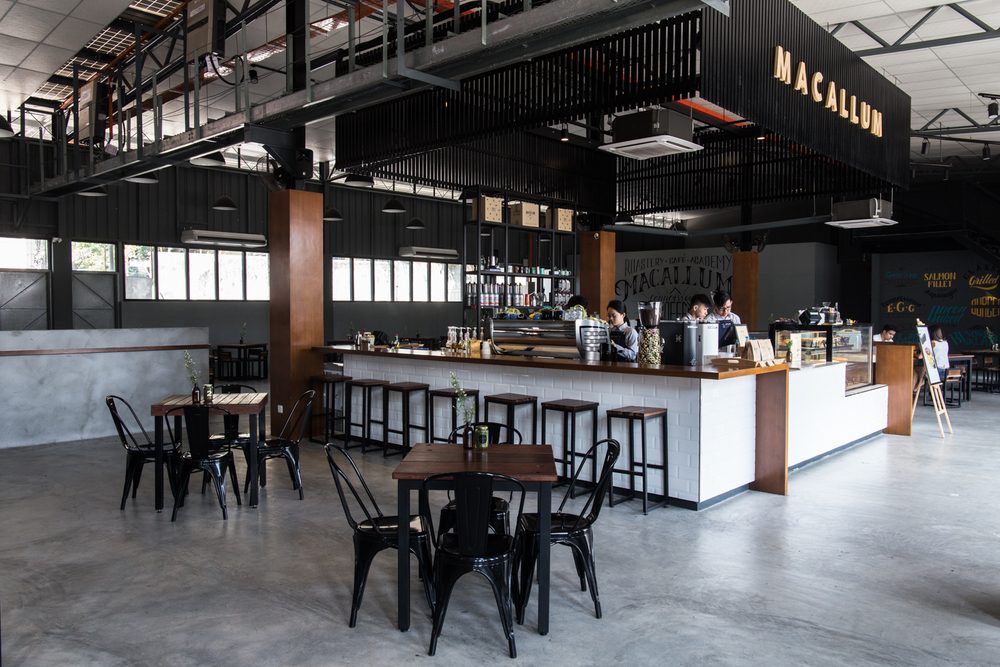 Delicate flowers decorate the rustic wooden tables that are spread around the ample space. In the morning only a few places were occupied. It was amazing to see how it filled up quickly with locals working nearby during lunch hour though. The soul of this old factory building still remains intact, thanks to the industrial design accentuated by concrete floors, exposed lighting and a brick counter.
The staff were dedicated to brew each and every cup to perfection. The house blend is a medium-dark roast with Brasil Fazenda Parasio, Ethiopia Yirgacheffe Mocca and Guatemala Antigua Pacaya Estate. After giving it a try I also ordered a piccolo latte from single origin Costa Rica Amapola Tarrazu. I loved the natural sweetness and creamy body and it was my preference among the two, although I am pretty sure that the locals would strongly disagree with me. Fong Lim mentioned that most customers are so used to the dark roasted, bitter Kopi that they drink in their coffee shop around the corner, that they find medium roast coffee too weak or tasteless. Hence, the staff at Macallum try their best to slowly accustom people by handing out samples of their delicious drip coffee, a single origin from Kenya that has very fruity flavours and high acidity.
Address:
No 1, Gat Lebuh Macallum
Penang
Malaysia
The Alley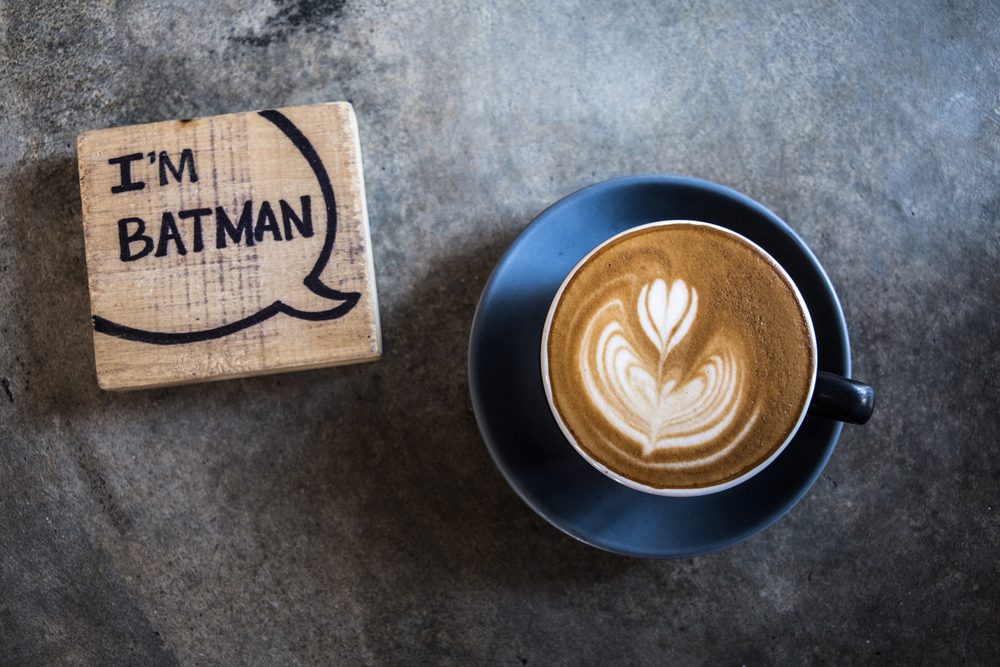 Take a seat, have a coffee! Oh, and while you're at it, how about some Churros or a Cronut? The Alley has it all! Open since 2013, this place is like a little boy trapped in an old man's body. In this case, the old man being a beautiful historic building that used to be a Chinese shop.. (In fact, you must look twice to find the cafe.) And the young boy being the fun and playful interior that keeps coffee lovers entertained. Keep an eye out for the barista barometer in the window, and you're in the right place.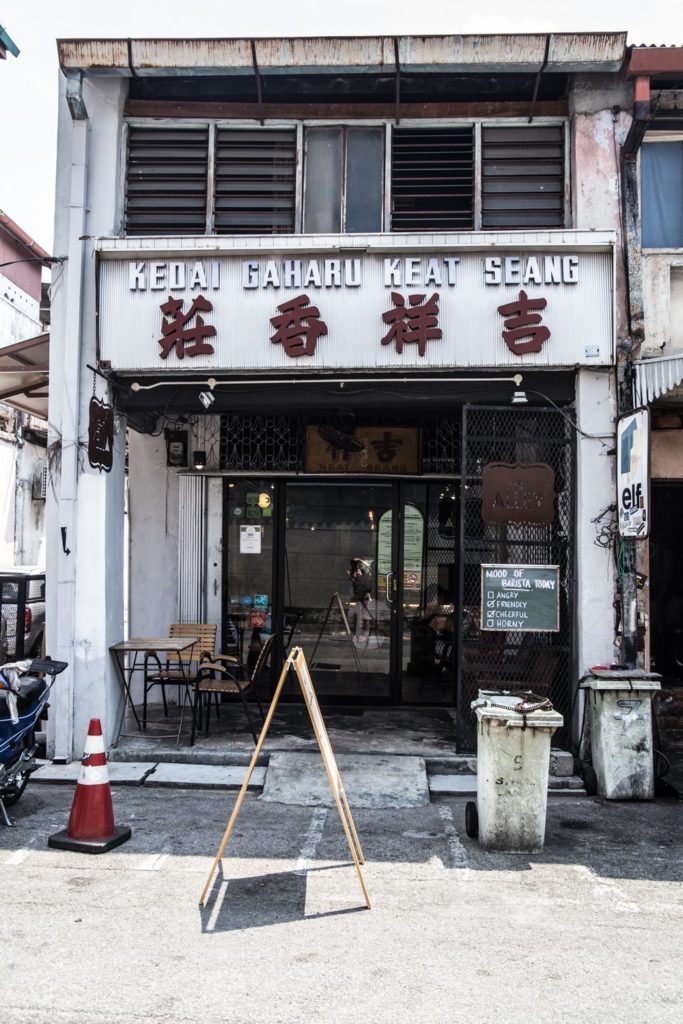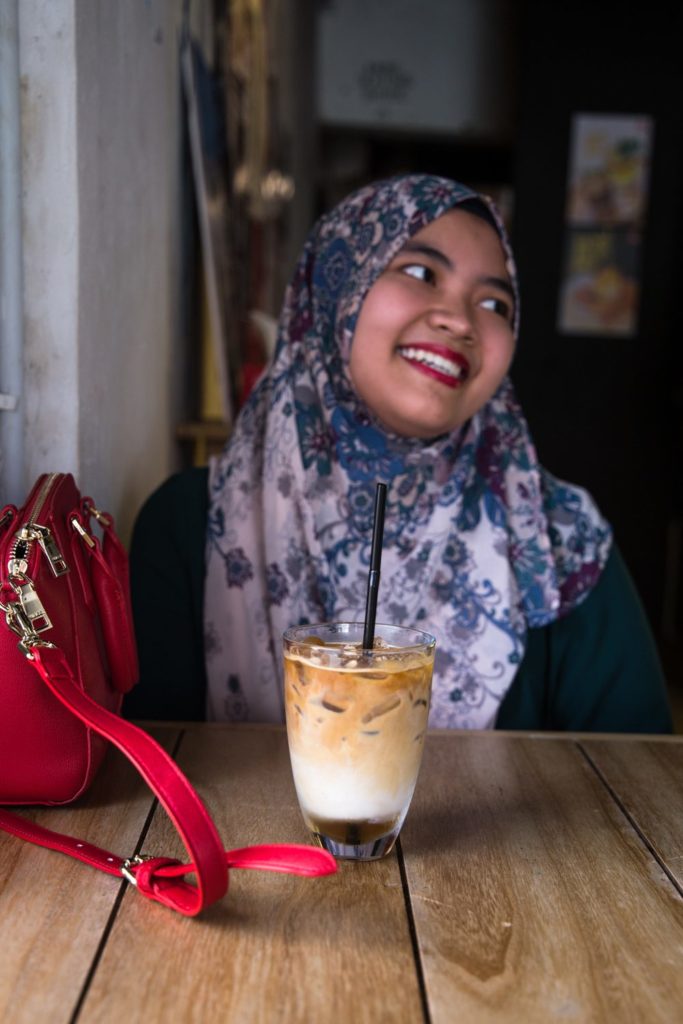 The Alley changes the blend every half year. Currently, they are brewing "The Defender", medium-dark with beans from Brazil, Colombia and Nicaragua on a Synesso. The roasting profile is being decided on site in Penang but the beans are roasted in Kuala Lumpur. Their refreshing specialty for the hot season is SPRO'n Tonic, espresso with tonic water.
Address.
5 Stewart Lane
Penang
Malaysia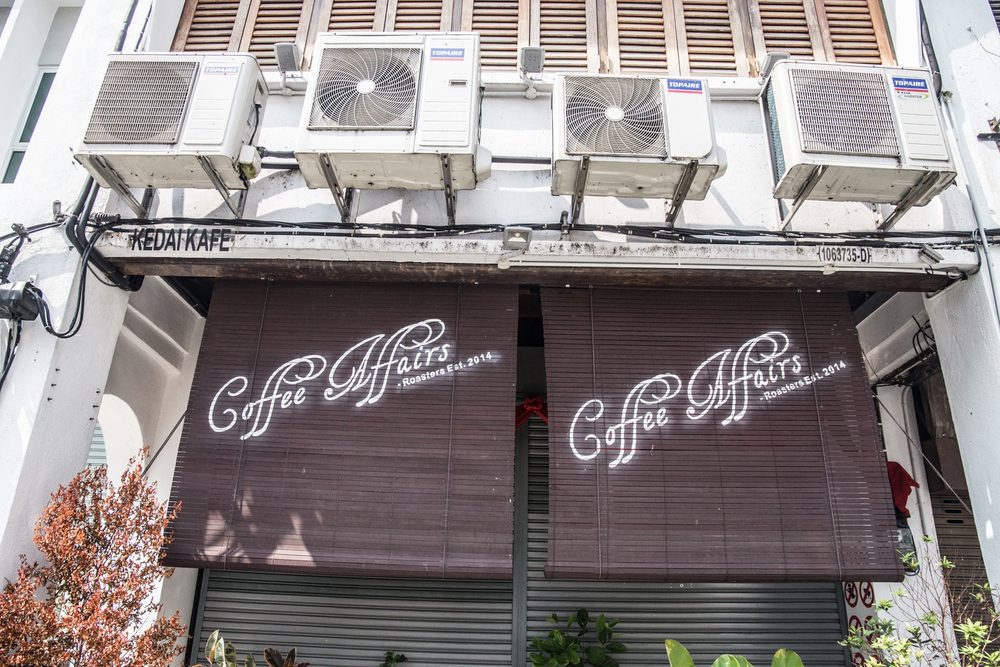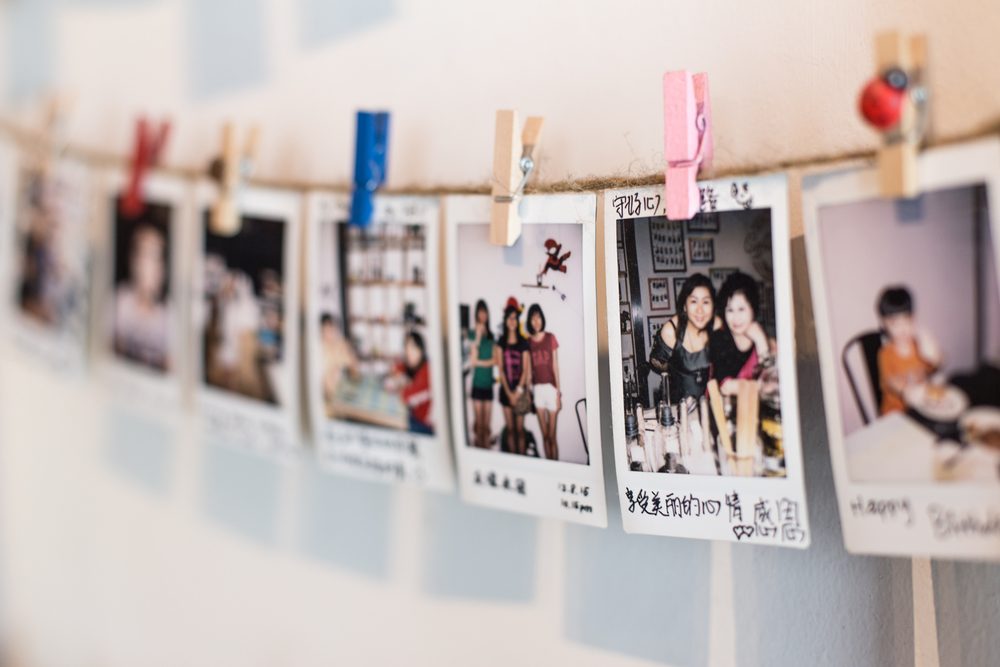 Not only a cafe but also a roastery, Coffee Affairs is a cute place to get a cup of specialty coffee in Penang. While the branch in Old Town opened in 2014, they just started a second branch at Forest Kitchen. The owner learned about coffee in South Korea and supports other coffee shops in Penang to lift their quality standards.
The choice for pour-over is endless, including single origin beans from Brazil, Costa Rica, Colombia, Guatemala, Sumatra and Jamaica to Ethiopia and Kenya. For practicing latte art the baristas are huge fans of Dritan Alsela, whom I met a couple of months back. He is a real icon in Southeast Asia and an inspiration for young coffee professionals.
Address:
21 Lebuh Bishop
Penang (Georgetown)
Malaysia
Wells Cafe
125 Jalan Timan
10150 George Town
Wells Cafe in Penang's Georgetown is a caffeinated oasis that's sure to light up your taste buds! These roasting gurus have mastered two distinctive styles: Traditional Japanese and Modern Nordic. With the former, you'll taste more sweetness and body, while the latter brings out intriguing flavors like floral and fruity. Their brew bar is the perfect spot to experiment with these styles and try out new blends. Whether you're an experienced coffee connoisseur or a newbie, Wells Cafe is sure to make you feel right at home.