Discover the best cafes serving specialty coffee in Bangkok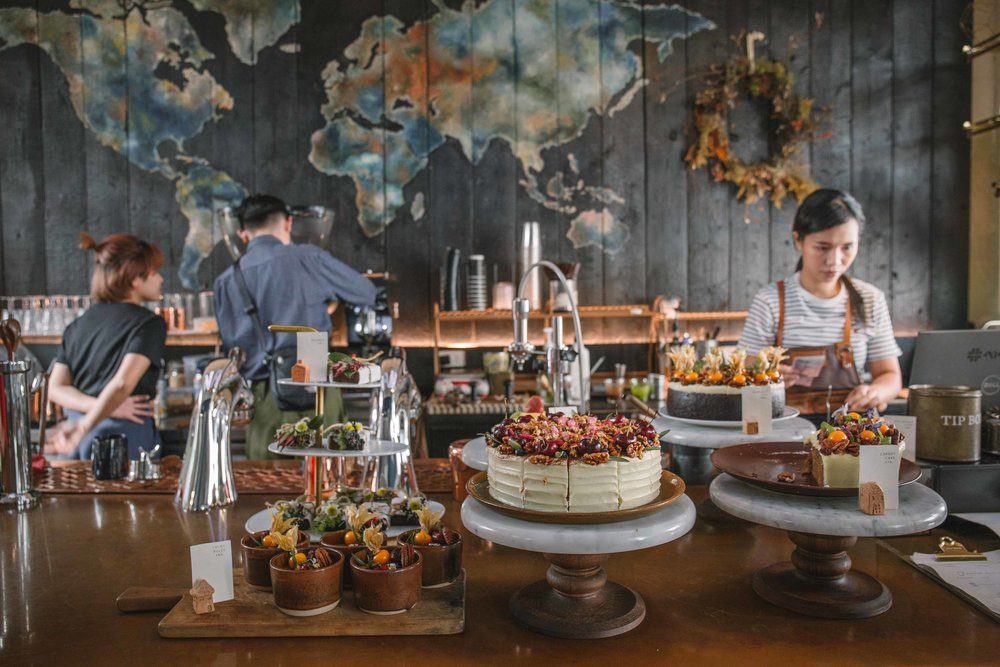 Bangkok and I go way back. In 2011 I moved to this city that never sleeps as an exchange student and it's been close to heart ever since. When I started working in specialty coffee Bangkok became an even more exciting destination. The local cafe scene is thriving and while new and innovative cafe concepts keep popping up, I also see the already existing ones constantly moving or improving. If you're visiting Bangkok for the first time, you'll find vibrant neighbourhoods well beyond Khao San Road. My favourite districts for visiting cafés are Ari, Phaya Thai, Sukhumvit, Silom and Sathorn. There are also a couple of wonderful cafes in Chinatown close to Hua Lamphong station. In this article I want to take you on a little journey to Bangkok's most exciting neighbourhoods and their specialty coffee shops.
As a little side note, importing coffee from other parts of the world is pricey in Thailand due to heavy tariffs. Most cafes you'll visit feature coffee beans from Northern Thailand, either as single origin or as part of a blend. To add a bit more complexity to the cup many roasters blend Thai coffee with beans from Ethiopia, Brazil or Colombia.
My Favourite Cafes for Specialty Coffee in Bangkok, Sorted by Neighbourhood
What Sukhumvit lacks in tourist attractions it makes up for with a maze of alleys packed with cosy restaurants and cafes, rooftop bars and great shopping. One could easily spend a month getting lost in the Soi's, stumbling from one place to the next, only to find some of the best coffee and dining the city has to offer. Sadly, the legendary street food vendors of Soi 38 have been forced to relocate in order to make room for yet another condominium complex. There is not a lot of street food left in Sukhumvit, but Terminal 21 and EmQuartier have pretty good food courts. The specialty coffee shops not to be missed are:
Nestled in the vibrant core of Bangkok, amidst skyscrapers reaching for the heavens, Kaizen Coffee emerges as an urban sanctuary defying convention. Resembling a fierce warrior standing its ground, this 100 sq.m. haven radiates strength and determination. With its contemporary design, industrial-chic ambience, and unrivaled coffee and roasting techniques, it's no surprise Kaizen has etched its name into Bangkok's coffee landscape.
Established by Arnun Wattanaporn, this emblematic specialty coffee hub infuses Sukhumvit with a taste of Australian coffee culture, including a penchant for satisfying breakfasts. So, venture into Kaizen Coffee for an unparalleled experience and savor the best of both worlds – Bangkok's energetic spirit and Australia's rich coffee heritage.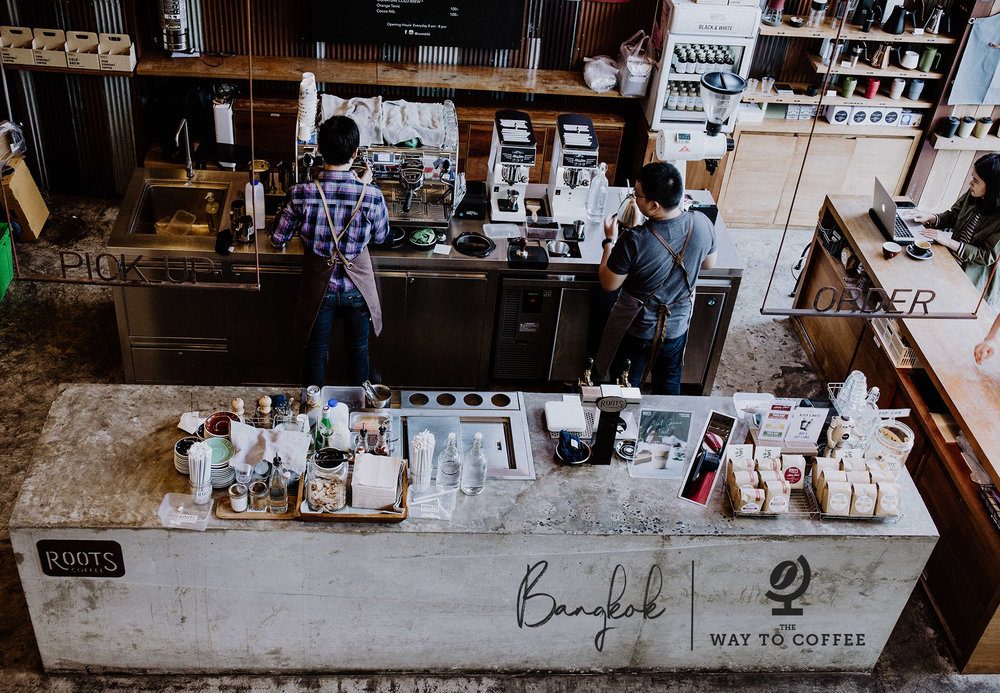 Roots is arguably one of Bangkok's finest coffee roasters. It is located in the concept mall The COMMONS. While there is certainly no lack of shopping malls in Bangkok, The COMMONS stands out for its community approach and the plentiful outdoor seating where you can hang out even if you don't shop anything. I had the opportunity to go on an origin trip to Northern Thailand with the head roaster of Roots, which you can read about here, and saw first hand that Roots has a long term mission to raise the quality of coffee in Thailand. Roots have opened up a second location in Sathorn.
Address:
theCOMMONS, Thonglor 17, Bangkok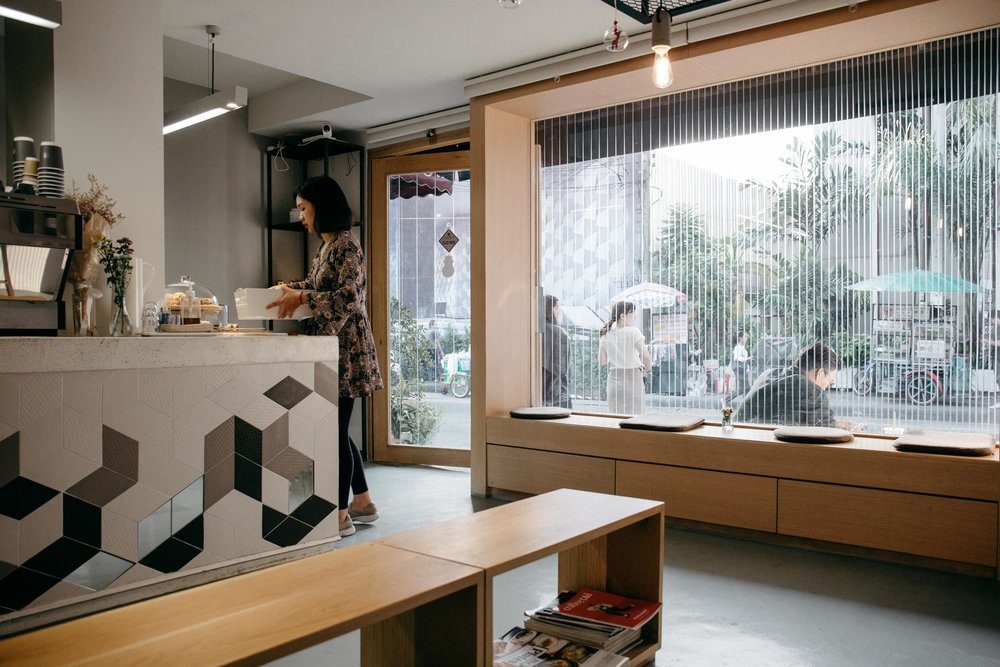 You'll find the owner Thanapong hand grinding your single origin beans for filter coffee. For espresso they blend four different origins to produce a balanced cup. Beautiful space and a relaxed atmosphere guaranteed!
Address:
25/8 Soi Sukhumvit 16, Bangkok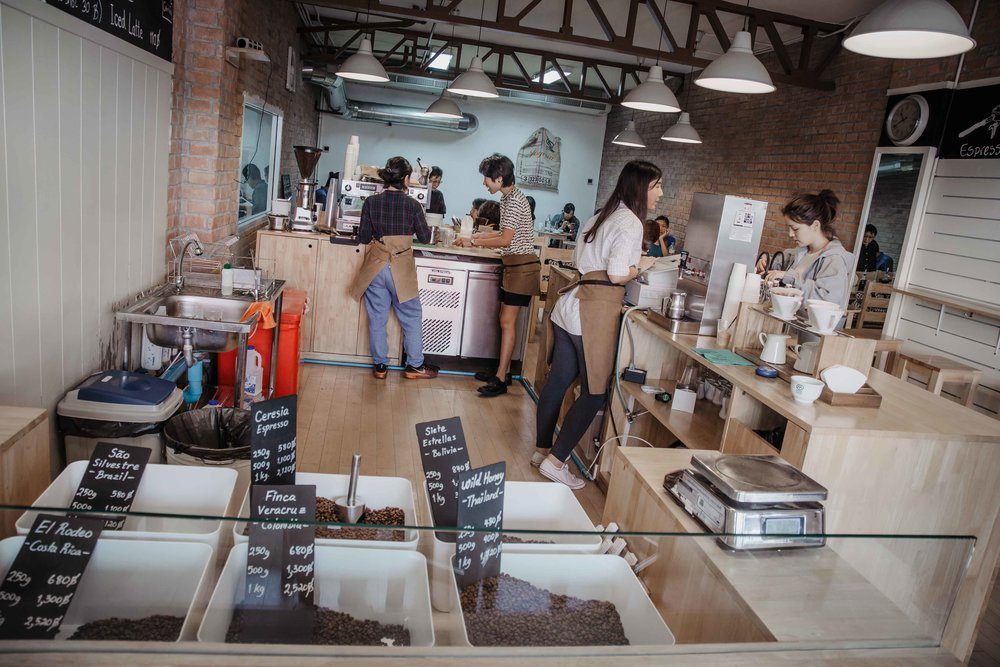 Ceresia have a great selection of single origin coffees from across the coffee belt. Watch the roasting action on site through the giant glass window.
Address:
593/29-41 Sukhumvit Road Soi 33/1
Roast at EMQuartier and The COMMONS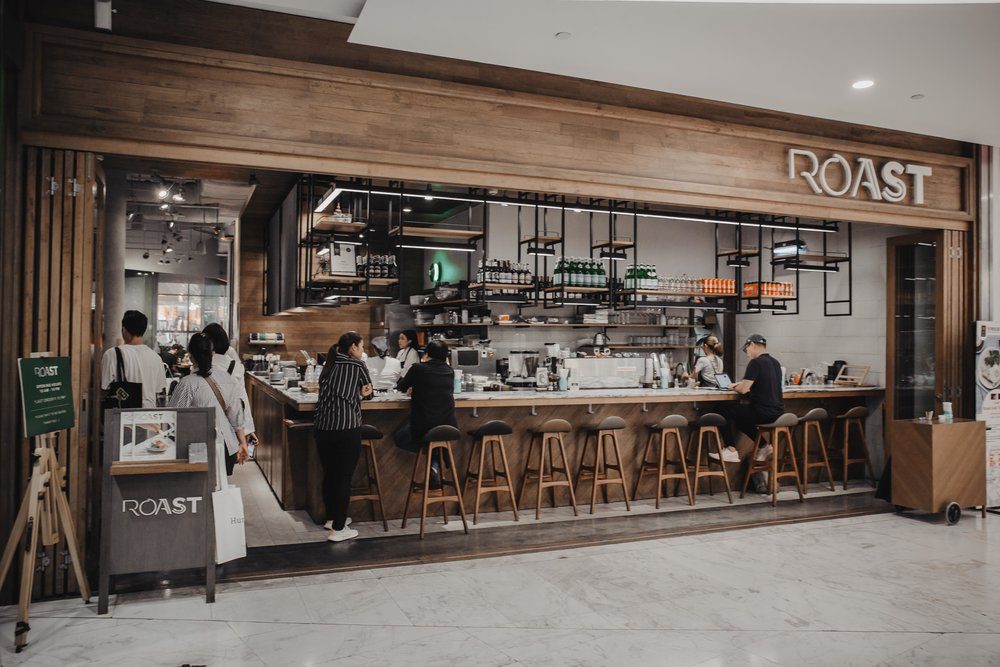 This haven for brunchers, lunchers and diners has two locations in Sukhumvit, one in the shopping mall EmQuartier and one at the concept mall The Commons.
Address:
1 Helix Building B 693 695 Sukhumvit Road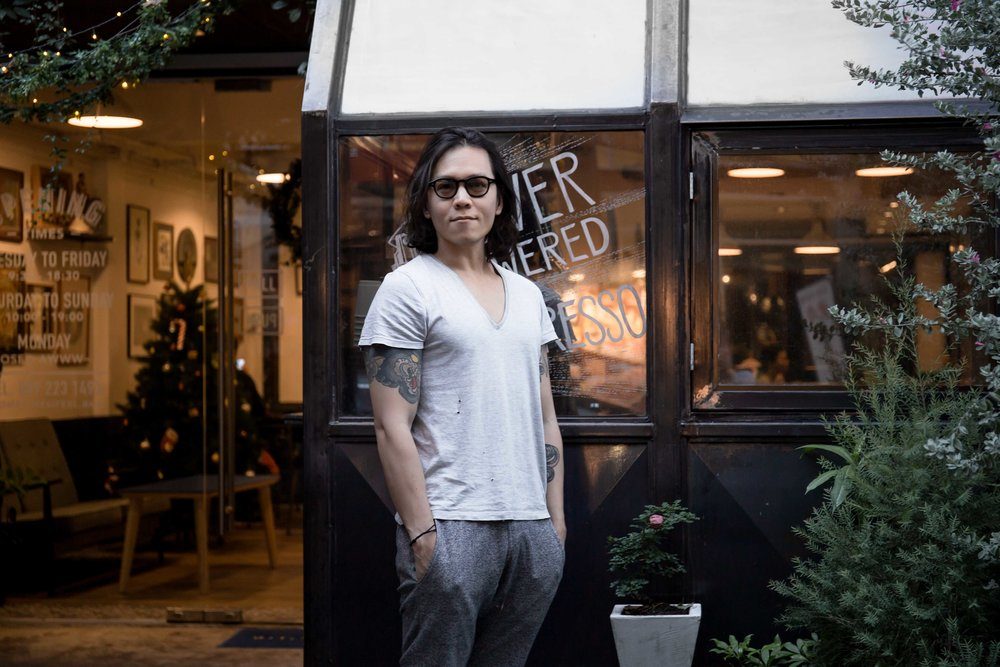 The best address for signature drinks in Sukhumvit! The owner Jay, his wife and best friend have opened up the cafe in autumn 2018 and design drinks inspired by flavours to be found in coffee beans. Their mission is to extract these flavours by adding a little extra. The coffee shop features multiple roasters and a variety of single origins that rotate every two to three weeks.
Address:
5/1 Sukhumvit 31, Bangkok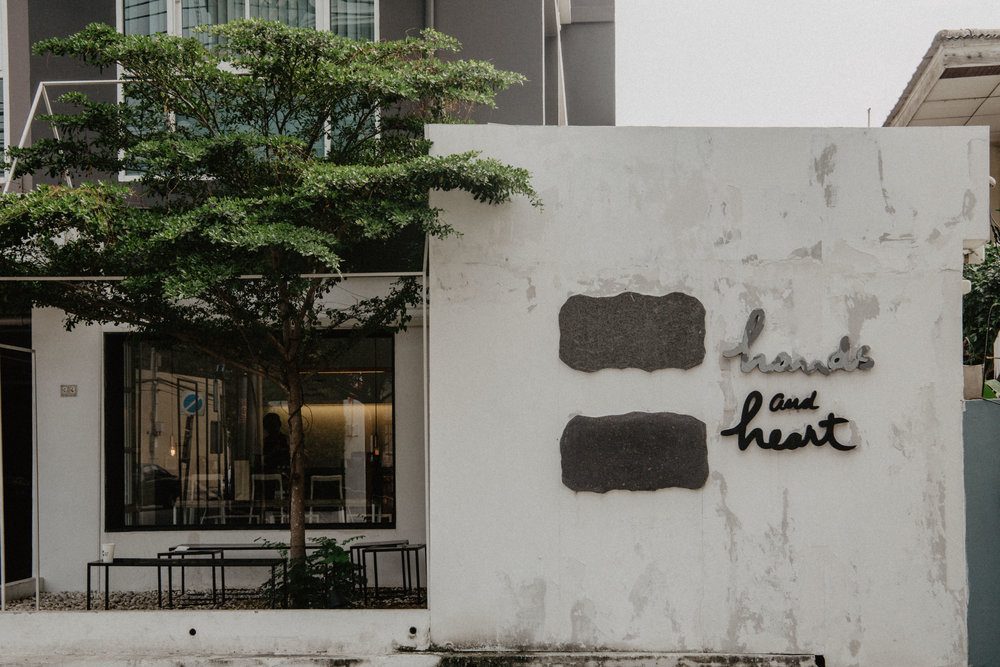 Minimal design, hand grinding and drip coffee. This Instagram darling is a popular choice for cafe hoppers and stands out with its all white interior.
Address:
33 Sukhumvit 38 Alley, Bangkok
Cozy micro-roastery café in Ekkamai that has been around for as long as 2013. It is known for dedicated baristas and a solid bean selection. The coffee of the house 'big whale' is a medium roasted blend of Thai and Brazilian coffee, whereas the seasonal blend tends to be on the fruitier and lighter side. Lovers of pour-over can choose between a single origin from Thailand and an imported coffee – currently Costa Rica.
Address:
Soi Sukhumvit 63, Bangkok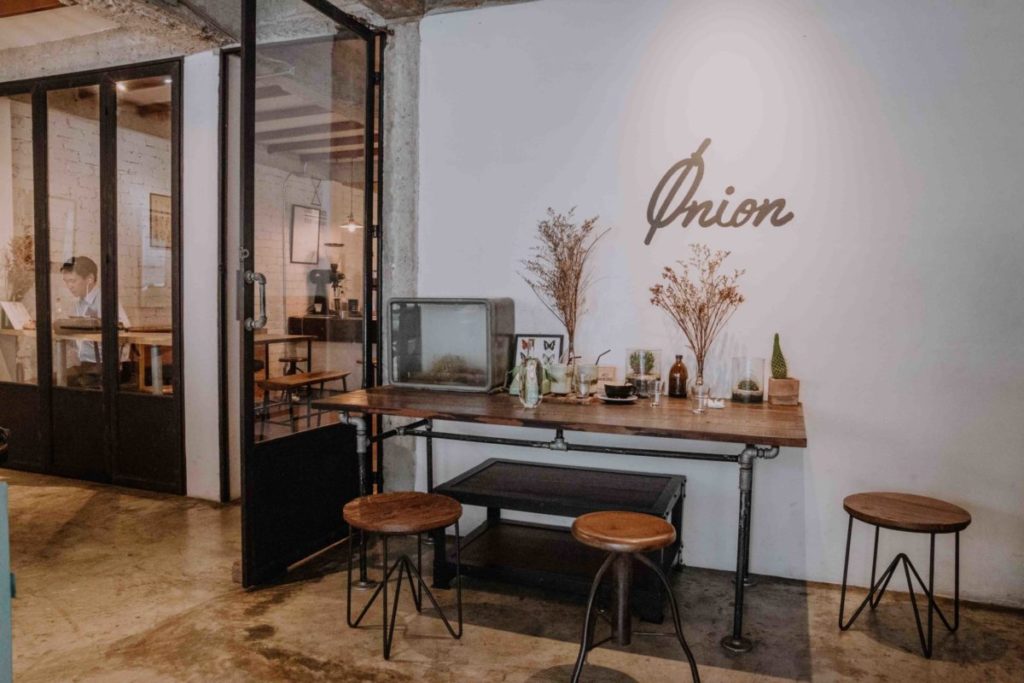 Tucked away in a quiet neighbourhood alley, Onion is sharing the space with a multi-label store in Ekkamai. It's a super cosy cafe with great food, coffee and local vibes.
Address:
19/12 Sukhumvit 63 Alley, Bangkok
La Mesa Coffee Co. is a neighbourhood cafe that is collaborating with a local roastery to bring you two delicious espresso blends. The Lobo Blend boasts flavours of dark chocolate and hazelnut. The Barrio Blend is spoiling your palate with hints of orange and a rich chocolately flavour. The owners Gary and Michelle created a New Mexico inspired space to bring a piece of Gary's heritage to Bangkok. Mayan Mocca and strawberry infused cold brew are just a few of the treats on the signature menu.
Address:
7 2 Sophon Alley, Bang Na, Bangkok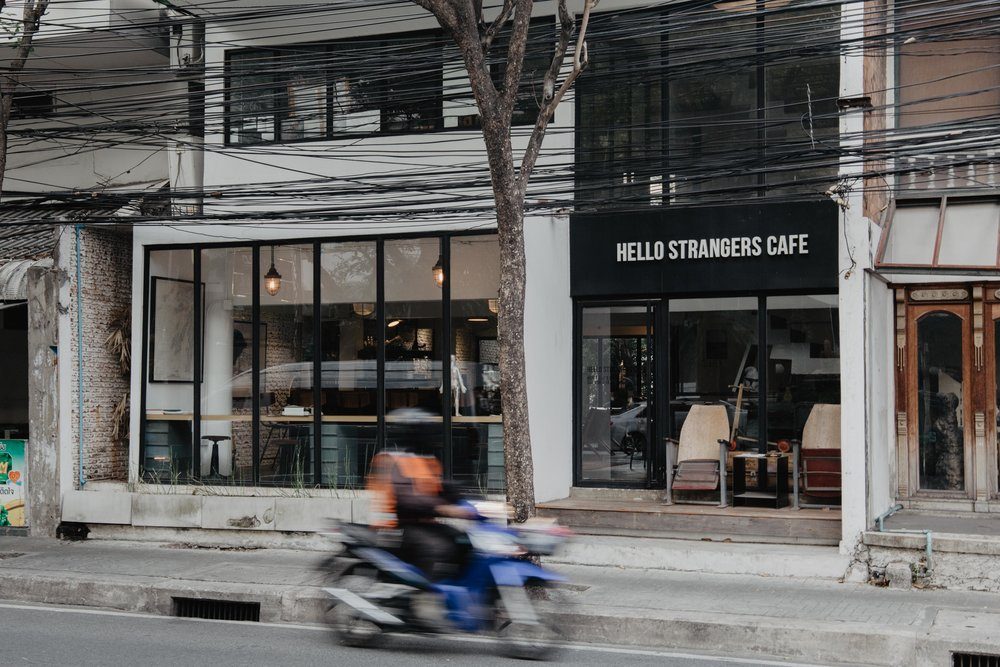 Creative space serving beans roasted by Ristr8to from Chiang Mai. Great for working on your laptop.
Address:
61/ 45/39 Sukhumvit 26 Alley, Bangkok
Best Cafes in Silom
The financial district of Bangkok might seem like a jungle made of office buildings at first, but if you venture far enough, you'll stumble upon art galleries, Hindu temples and great coffee shops. Strolling down Pan Road and visiting the Kathmandu Photogallery is a must when in the area. Around the impressive Sri Mariamman Temple you'll feel teleported straight to India, only to be reminded by local street food vendors that you're actually in Bangkok. Silom is a neighbourhood that can be described as beautifully diverse. As the sun sets it starts bustling with market and food stalls appearing in an instant, and during the day the following coffee shops are a great draw.
A must for those who appreciate minimalist design. This coffee shop in deep greys and sleek blacks has two grinders, one house blend made of Brazil, Colombia and Thailand and a guest blend with specialty coffee from local roaster friends.
Address:
Saladaeng 1, Bangkok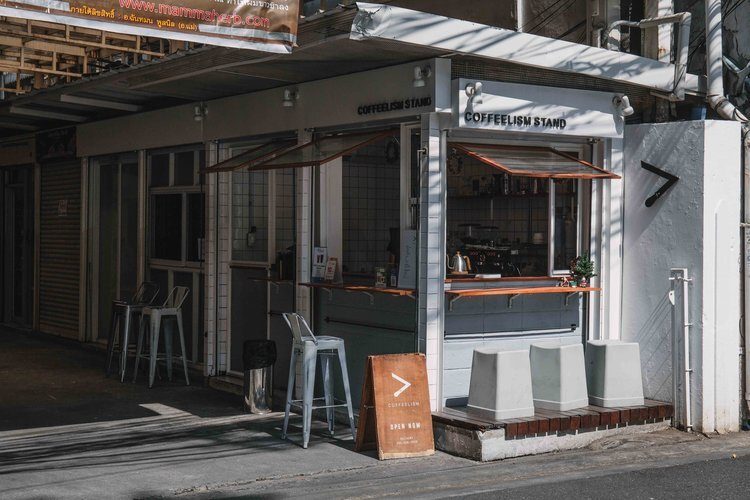 Hip little coffee stand preparing nice brews for affordable prices. Caught the baristas practicing latte art when I passed by. They're very passionate about coffee and are using a specialty grade blend.
Address:
Sathorn Soi 8, Bangkok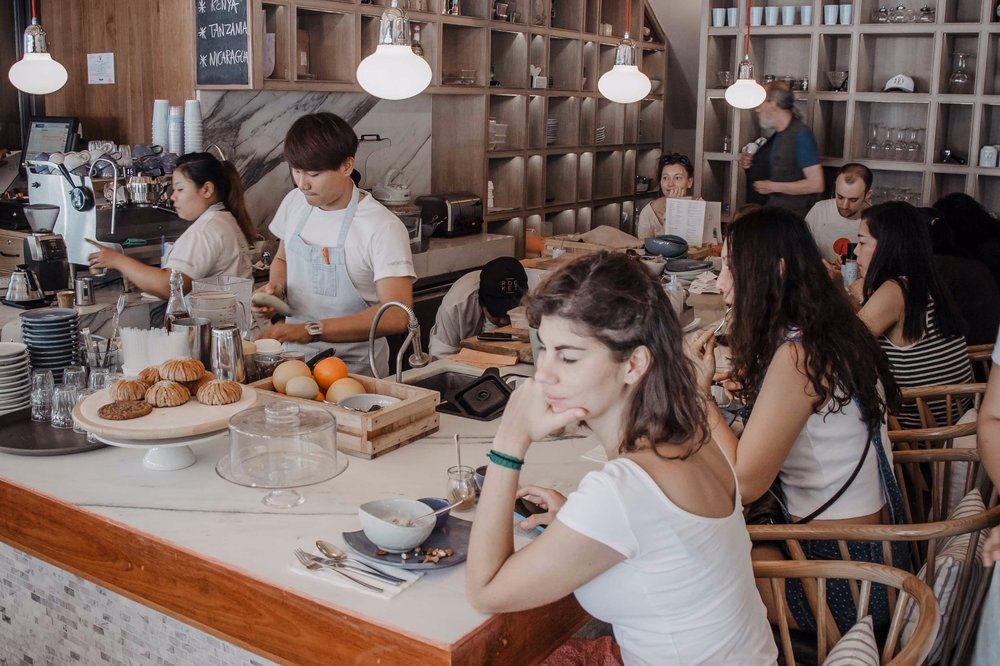 All day breakfast and single origin coffee from Colombia, Ethiopia, and Thailand. The Western style brunch menu is great, but be prepared for Western prices as well. This is one of two branches in Bangkok.
Address:
149 Soi Sueksa Witthaya 2, Bangkok
Luka Café exudes warmth and solace, soothing both taste buds and souls alike. This charming shophouse, brought to life by four siblings, has blossomed into a local treasure, boasting a vibrant and snug atmosphere. Luka's menu pays homage to Western comfort food, enhanced by a sustainable touch.
Embracing local ingredients, each dish is meticulously crafted from scratch, prioritizing freshness and tantalizing flavors. Catering to the discerning palates of both coffee enthusiasts and tea devotees, Luka offers an exquisite selection of specialty beverages.
Best Cafes in Sathorn
Sathorn can be described as the laid back older sibling of Silom, slightly more grown up but equally diverse and interesting to discover. While it is a center for business and high-rise buildings, there are just as many residential areas in this neighbourhood that are often overlooked by visitors. Get lost in the alleys, immerse yourself in the local way of life and refresh at these specialty coffee shops.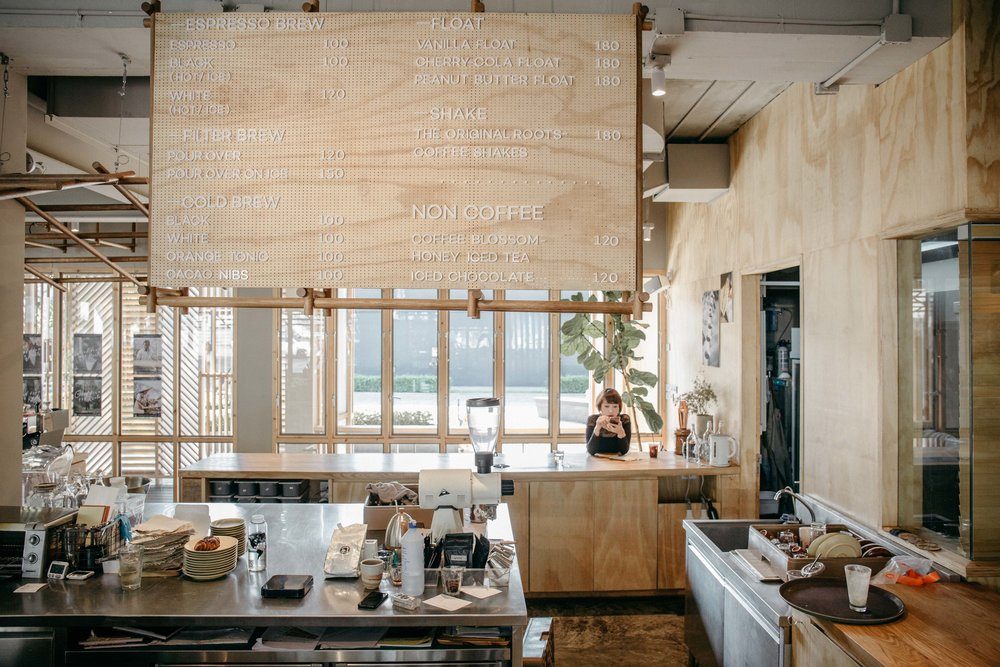 The Sathorn branch is Roots's second location in Bangkok but their first dedicated café.
Address:
33,31 Bhiraj Tower at Sathon, Bangkok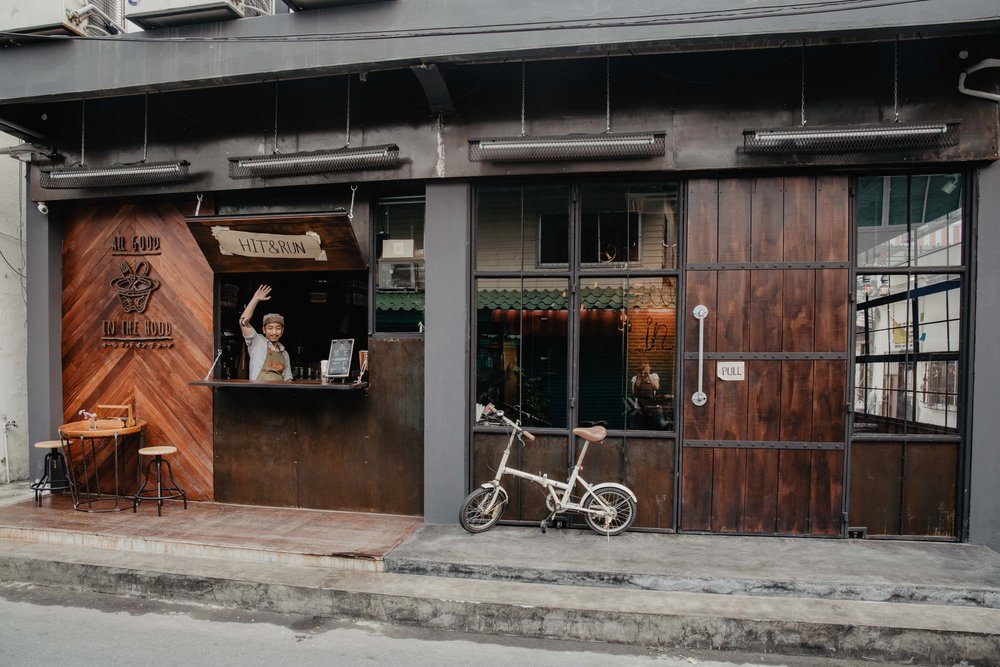 Adjacent of All That Bangkok Hostel, this neighbourhood coffee shop is a great place to venture to. It is right in the middle of a residential area and local life will pass by while you sip on nitro cold brew.
Address:
14 Soi Sathon 11, Bangkok
Recommendations for accommodation in Silom and Sathorn
Bangkok Marriott Hotel The Surawongse – If you want to bathe in luxury and in a rooftop pool with incredible views of the city then this is your place! → Booking.com
Kessara Hotel – I was really impressed with the grounded elegance of this country home style hotel in the heart of Silom. → Booking.com
Warm Window Silom – Beautifully decorated hostel for the budget conscious traveller that is refreshingly spacious and spotless clean. → Booking.com
Best Cafes in Chinatown
Bangkok's Chinatown is a maze of alleys, temples and market stalls. Yaowarat Road is at the centre of this historic neighbourhood and a great starting point for venturing deeper into the craziness. Between temples and traditional shop houses you'll find some neat coffee shops. At dawn Chinatown transforms into the land of plenty with some of the best street food stalls that Bangkok has to offer.
Embark on a sensory journey as you relish the fusion of Danish coffee culture and Thai warmth in the heart of Bangkok. Located along the nostalgic Charoen Krung Road, La Cabra unveils an enchanting blend of Scandinavian brewing artistry within a district steeped in history. This charming café, the first international outpost of Copenhagen's renowned La Cabra, elegantly harmonizes Nordic-inspired design with an inviting atmosphere.
No matter your preference, be it a robust espresso or a delicate filter coffee, La Cabra caters to all with a daily offering of two distinct coffee beans. Immerse yourself in this delightful marriage of coffee traditions from Denmark and Thailand, all in one alluring and cozy sanctuary.
Talat Noi, renowned for its vibrant street art and rich history, provides the perfect backdrop for a leisurely stroll. As you wander through this enchanting neighborhood, why not pause for a moment to savor a cup of coffee at Mother Roaster? This coffee shop emerges as a captivating hideaway. Helmed by a 70-year-old barista virtuoso, Mother Roaster delivers mouthwatering drip coffee, guaranteed to satisfy even the most discerning caffeine enthusiast.
However, Mother Roaster's enchantment goes beyond its exquisite brews. Situated in a time-worn abode, the shop is surrounded by a fascinating collection of forsaken auto parts, evoking an edgy and unparalleled atmosphere.
Passion for coffee and Japanese culture unite at Ports Coffee in Bangkok. Nestled within a refurbished heritage building in the charming Tha Tien district, this cozy café radiates a welcoming atmosphere.
Delight in the signature Dirty, a heavenly concoction of expertly blended coffee and velvety milk froth. For those seeking a serene workspace or study nook, venture to the second floor where an abundance of natural light creates an ideal setting for concentration and creativity.
Recommendations for accommodation in Chinatown
The Unforgotten B&B – Charming bed and breakfast with traditional, wooden interior that carries a hint of nostalgia. → Booking.com
Norn Yaowarat Hotel – Great choice for travellers who seek comfort but are on a budget. The hotel has dorms as well as private rooms. → Booking.com
Hostel Urby – Urban style hostel with the perfect location by the river! I loved the terrace and unique style here. → Booking.com
Walden Home Cafe
451 Somdet Chao Phraya Rd
Bangkok 10600
If you happen to wander through the quaint, vintage streets of Klongsan, you might just discover a delightful hidden gem – the Walden Home Cafe. As soon as you enter, the enticing aroma of specialty coffee will envelop you, evoking a cozy and familiar atmosphere reminiscent of hanging out at your best friend's cozy pad. The decor, featuring warm orange lighting and relaxing tunes, perfectly complements the cafe's chic blend of classic and rustic elements, a reflection of thw owner Khun Dit's personal touch.
Best Cafes in Chit Lom
Chit Lom and Phloen Chit have probably the highest density of shopping malls and luxury hotels per square meter. It's not surprising that the two specialty coffee shops in this neighbourhood are also located in shopping centers. The area is filled with expats in business attire as it houses a number of embassies. The are a few local markets, food stalls and restaurants around, but most of the establishments are high-end.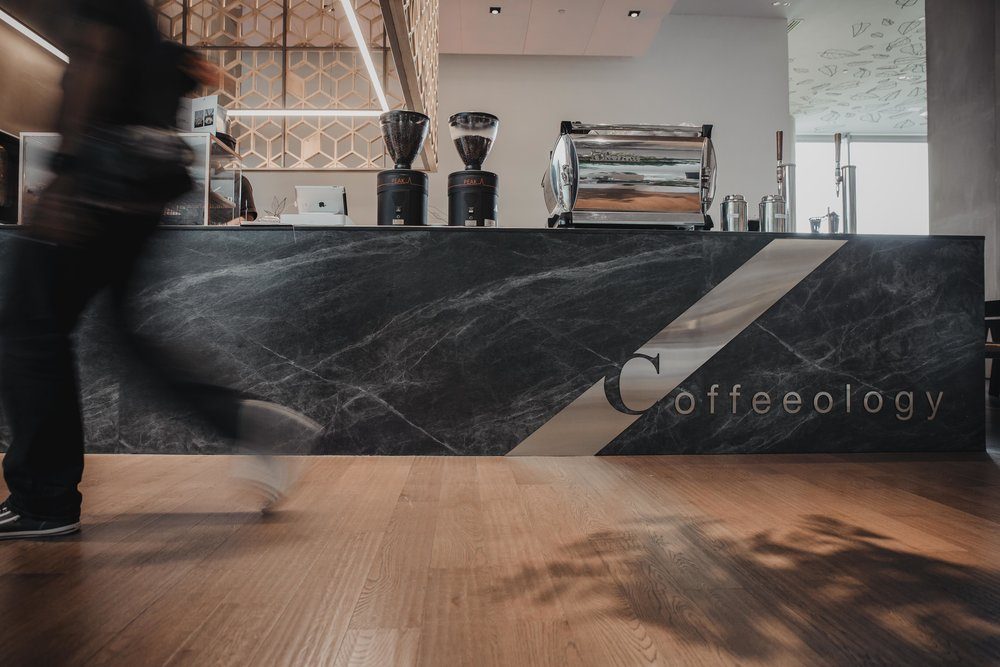 Coffee shop located in the Central Embassy mall with a one-of-a-kind counter. The owner has a coffee plantation in Chiang Dao and serves his coffee at Coffeeology. The farm is illustrated on the walls and with lots of imagination you can transport yourself there. Come here for a true seed to cup experience.
Address:
Central Embassy, Phloen Chit Rd
Best Cafes in Siam
Did I say Chit Lom has the highest density of shopping malls? Siam is definitely competing for that title, but shopping here is slightly more affordable, apart from the luxurious Siam Paragon. There is always something going on at Siam. From the BTS station you'll see crowds of people pressed against a stage on most days, even though you'll probably never figure out why they are there. Siam is also where to find the Bangkok Arts and Culture Center (BACC), which has different exhibitions going on that you can visit for free. Two great specialty cafes are to be found here, one in Siam Discovery Shopping Mall and one in the BACC.
I+D Style Cafe x Brave Roasters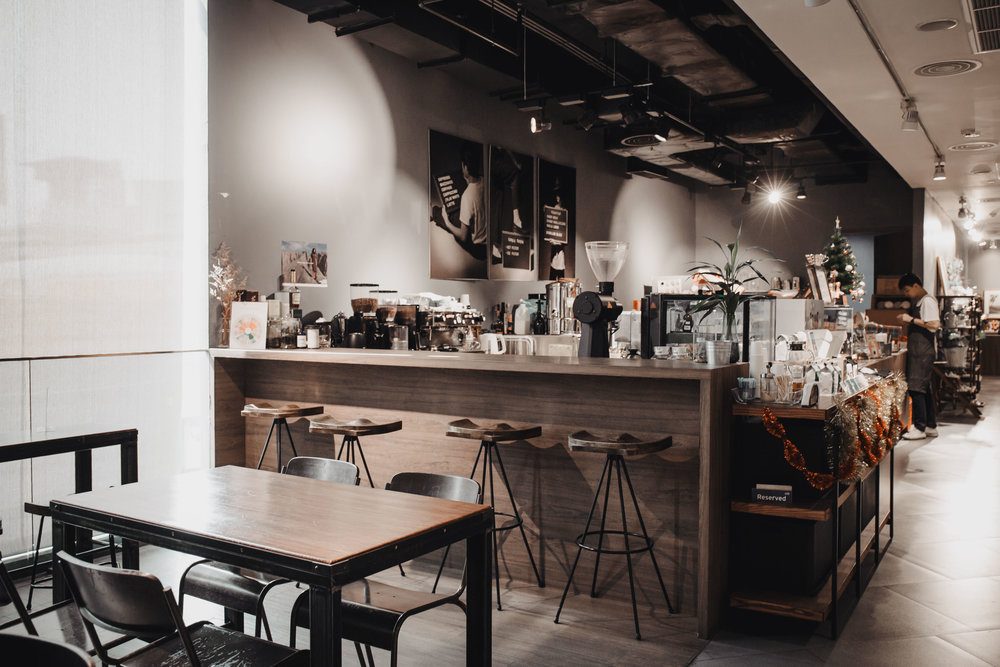 A branch of Brave Roasters located on the third floor of the shopping mall Siam Discovery. Come here to escape from the hustle and bustle of Siam square and fuel up with some great coffee. Don't hesitate to whip out your laptop to get some work done in this quiet cafe.
Address:
Siam Discovery, 194 Phaya Thai Rd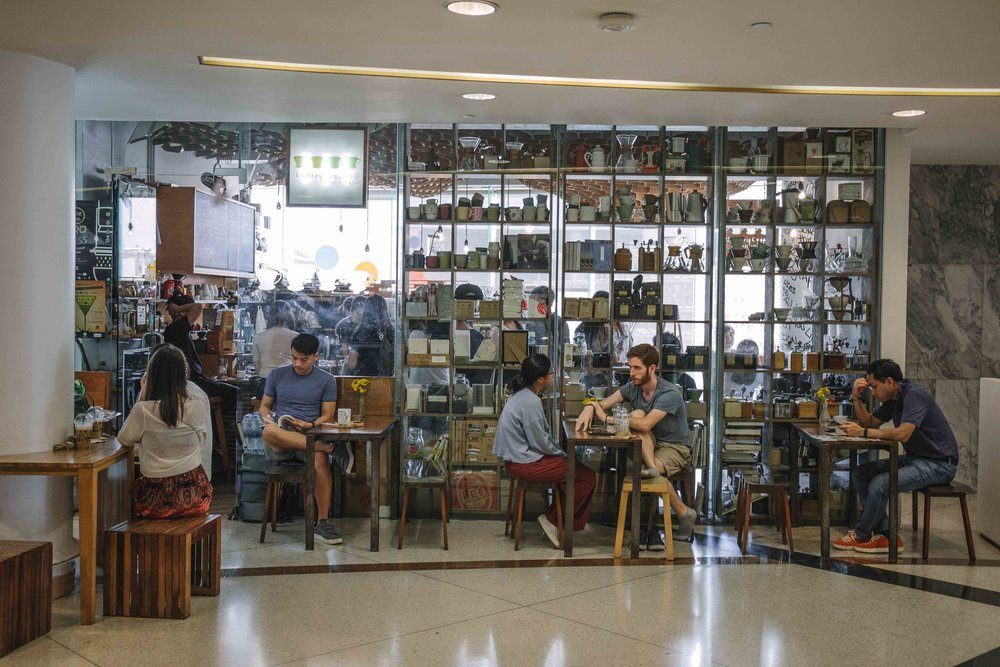 This little pour over only cafe is located on the ground level of the BACC (Bangkok Arts and Culture Center). It's a must for drip coffee lovers as the owners a really passionate and knowledgable about their craft. Different single origins to choose from, both from Thailand and abroad. The honeycomb interior ceiling gives it a nice, cosy touch.
Address:
located inside BACC, 939 Rama I Rd
Best Cafes in Phaya Thai
In recent years the neighbourhood around Phaya Thai and Ratchathewi BTS station has seen more and more designer hostels popping up in small alleys amidst local houses, markets and restaurants. Close to Phaya Thai is where I used to live when I studied in Bangkok and I always stay here when I return, partly for nostalgic reasons, but also because some great cafes and restaurants are to be found in the area. Nowadays, these following specialty coffee shops make the Phaya Thai neighbourhood even more attractive.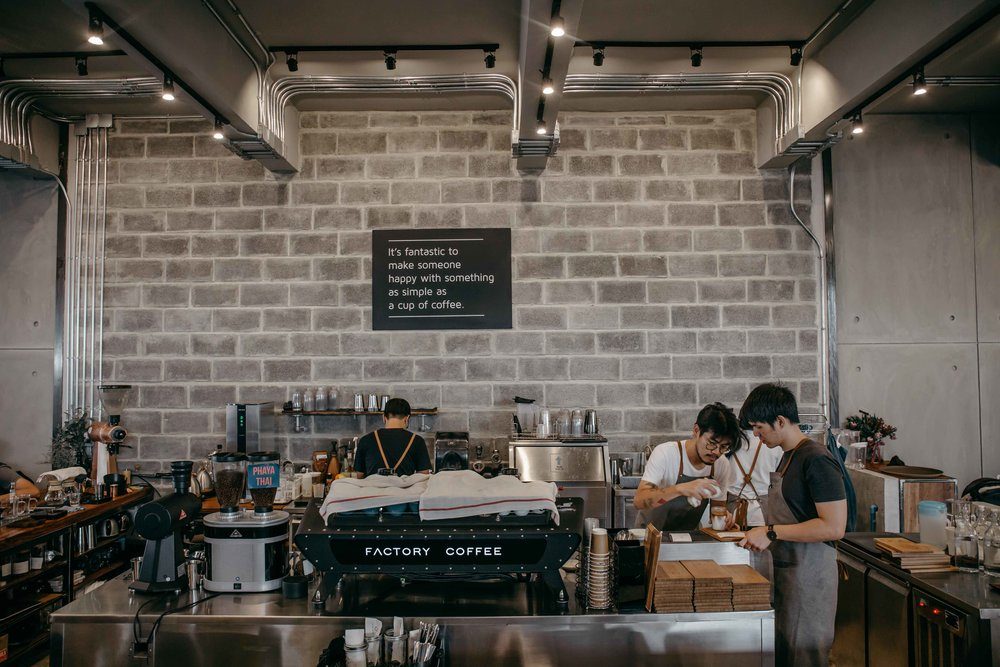 Third time's definitely a charm! After moving for the second time in the Phaya Thai district Factory has found a permanent space next to the Airport Link station that does its grandezza justice. The specialty coffee shop run by Thai Barista Champion Athip Archalerttrakool brews hand roasted coffees and boasts a delicious signature drink menu. You can buy their roasts to hand grind and brew at home.
Address:
35/18 Phayathai Rd, Bangkok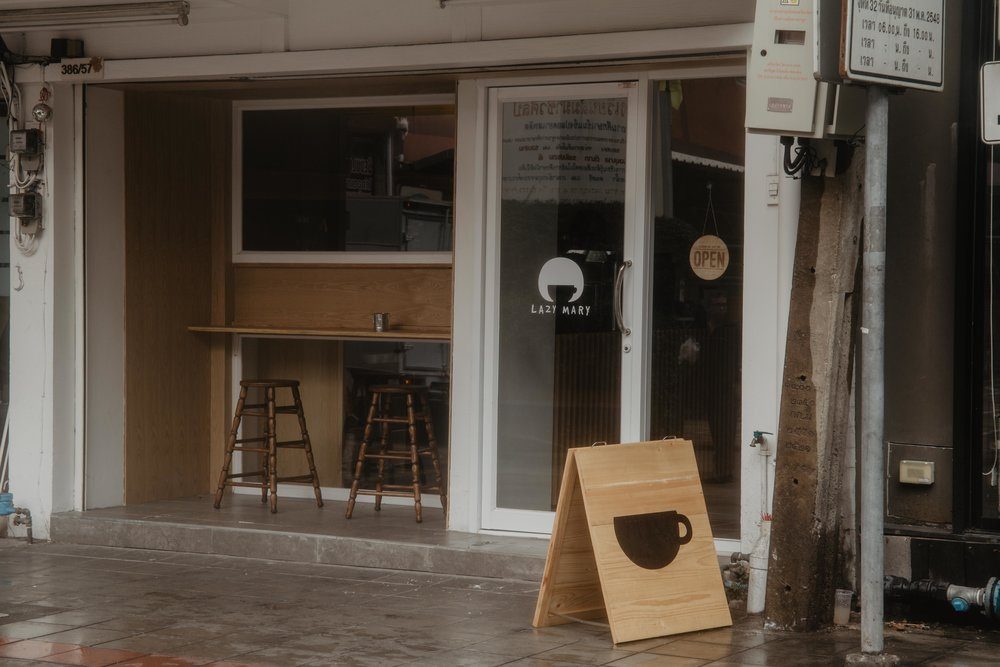 Lazy Mary a chill cafe located in a small alley hiding from the busy main road, yet easily reachable by foot from the BTS. As it is quiet, it's a good spot to get work done and spoil yourself with some specialty coffee and homemade baked goods while your hitting the keyboard.
Address:
386/57, Soi Phaya Nak
Best Cafes in Ari
Siam has long lost its hipster crowd due to the commercialisation of the area. Where did they go you ask? To Ari, an area that has developed at a slower pace than other parts of Bangkok. From local street food to chic restaurants, Ari offers something for every budget. Last but not least, these cafes serving specialty coffee make Ari the place to be!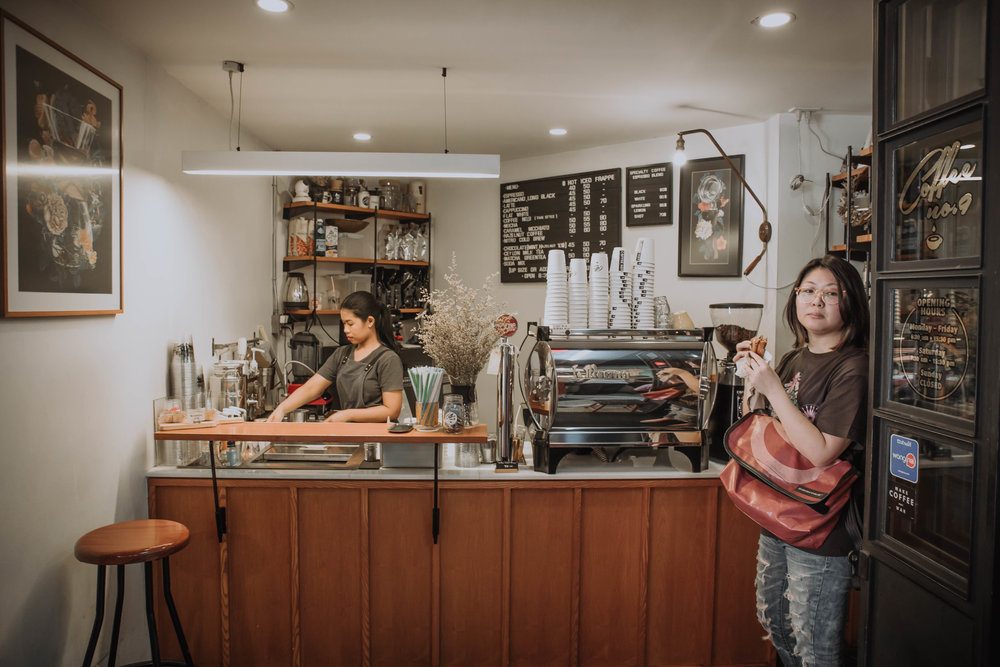 Coffee No. 9 is a popular takeaway cafe in the Ari neighbourhood. Their nitro cold brew is very refreshing on those hot Bangkok summer days.
Address:
1199 Soi Ari 1, Bangkok
FabCafe (former Laliart Cafe)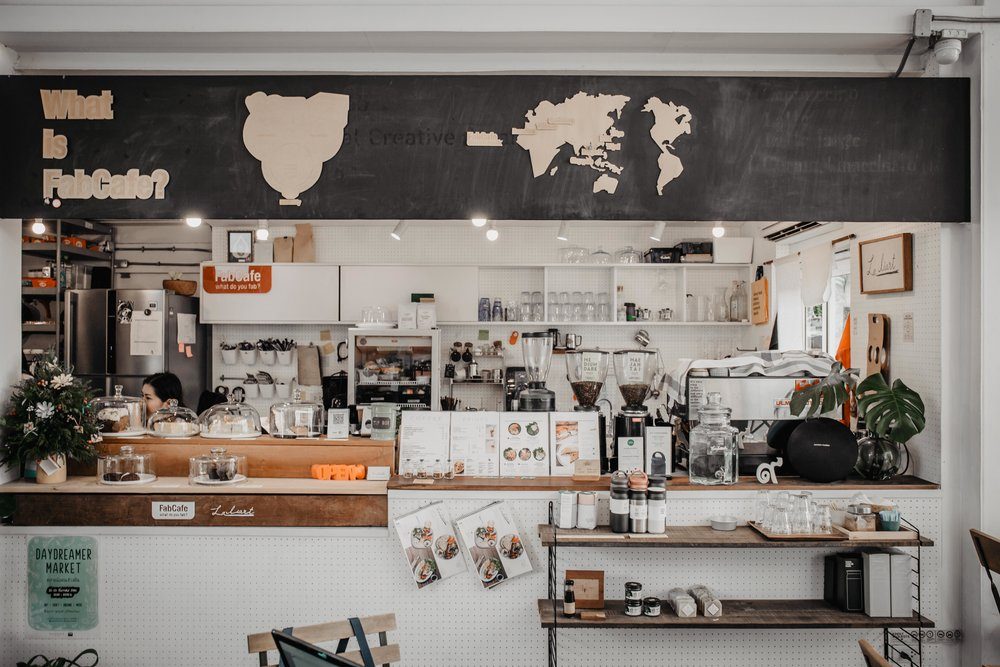 FabCafe is a concept cafe serving excellent brunch and lunch options. It's a quiet and airy space perfect for working. Infact, there is a designated space for guests to use laptops. The coffee is equipment is top notch, but the result in your cup really depends on who's serving it.
Address:
77/1 Phahonyothin Rd, Bangkok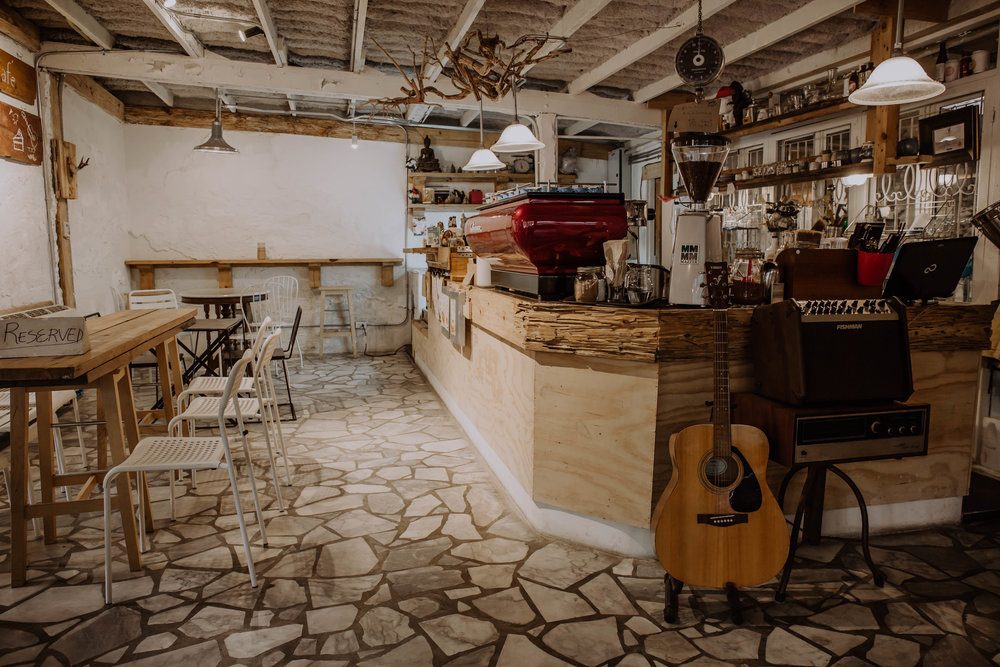 Porcupine is best described as a homey little hideout that is definitely in chill mode. Great place to relax with a solid cup of coffee.
Address:
48 Phahon Yothin 7 Alley, Bangkok
Best Cafes near Lat Phrao
Nana Coffee Roasters' salmon-hued brick building stands out like a bright star amidst the dreary Praditmanoonthum main road. The coffee house is always packed to the rafters – and not just because of its bold brews. Owners Warong Chalanuchpong and Kanda Thochampa are famed baristas in the Thai coffee scene, having won various championships. Their brewing and roasting skills are unparalleled, as evidenced by their gleaming Modbar modules, Siphon columns, and Nitro Cold Brew taps. The monthly-changing Signature Menu is a testament to their expertise.
Red Diamond Specialty Lab
235 Soi Yothin Phattana 3
10240 Bangkok
Best Cafes in Phra Khanong
Walking into Karo Coffee Roasters is like stepping into a world where tigers roam free and the air is thick with the irresistible aroma of freshly roasted coffee beans. The headless tiger that adorns everything from the takeaway cups to the coffee packaging is a nod to the owner, Karo Iyash's love for Yantra tattoos with a Buddhist flair. With connections to renowned coffee farmers and an unwavering dedication to quality, Karo has created a haven for coffee aficionados and everyday folks alike. Don't forget to try their secret recipe cinnamon buns that taste as delicious as they look!
Explore More Cities in Thailand