Chiang Mai Specialty Coffee and Cafe Guide
I've been amazed by the large number of high quality coffee shops in Thailand. First Bangkok completely blew my mind and made me drink enough coffee to last a lifetime, now Chiang Mai has me feeling dizzy with its wide choice of creative coffee shops. I can't help but continue my quest to try them all and feature the best ones here, so you don't have to overdose!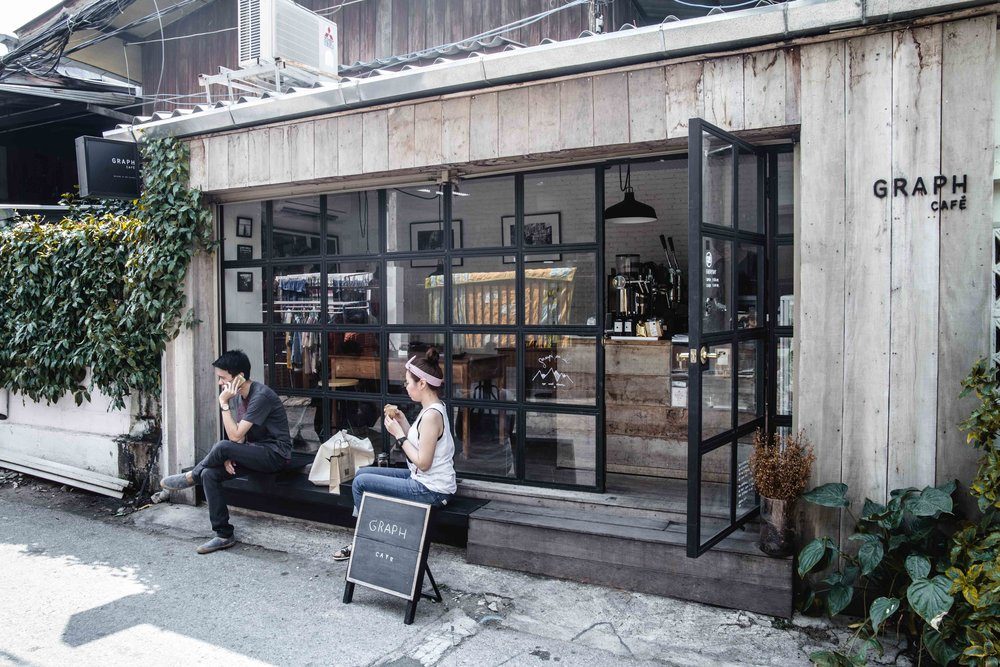 While Thailand is not exactly known for coffee compared to big exporting countries such as Brazil or Vietnam, it has its fair share of specialty coffee farms in the Northern provinces which produce balanced coffees mostly cupping between 85 and 89 points, with a few outstanding ones cupping above 90 points. I wrote an article about Thailand's progress in producing specialty coffee for those of you who'd like to know more. What makes Chiang Mai a particularly interesting location for coffee enthusiasts is the fact that the actual farms are located just a few hours drive from the city, some easily accessible for visitors. All specialty coffee shops I feature here proudly brew and some roast Thai beans and occasionally invite a prominent guest country into a blend.
Chiang Mai has 50+ Specialty Coffee Shops. To make it easier, I narrowed them down for you.
Recommendations for accommodation in Chiang Mai
The Earth Hotel – This Contemporary Boutique Hotel close to Nimman is perfect for urban explorers that like to reside in style. → Booking.com
The Wing Boutique Hotel – Set in the heart of the Old City close to temples and attractions this long time favourite is a safe bet for a comfortable stay.  → Booking.com
Hongkhao Village – This gorgeous Lanna-style Boutique Resort is set in a peaceful garden with swimming pool. → Booking.com
137 Pillars House – My recommendation for the ultimate luxury experience. Stunning suites set in a historical building surrounded by a dreamy garden.→ Booking.com
Best Designed Specialty Coffee Shops of Chiang Mai
After leaving Chiang Mai I knew, my Instagram feed would never be the same again (unless I come back here, which I did eventually). I've encountered such a vibrant community of coffee and design folks pushing each other to be innovative and cutting-edge – and this is true for both the design of the food and drinks menu as it is for the interior design. Chiang Mai's creative coffee bubble is one that is active online as much as offline. While coffee shops bring exactly the right playground for photographers and design lovers to the city of Chiang Mai, Instagram is where it'll all be showcased.
The Baristro at Ping River
The Baristro at Ping River opened up in January 2018 in the North of Chiang Mai and is masterpiece by Thanit Suvanish. He's been revolutionizing Thailand's coffee scene one coffee shop at a time. With 5+ cafes opened in Chiang Mai he is spreading his love for design paired with good coffee all over the country. Apart from an impressive following on Instagram, Thanit has a hand for unique flavour combinations and innovative interior concepts that he expresses not lastly through an extensive signature drink menu to be found in all of his cafés. Thanit loves Minimalism and strongly considered how all elements would interact with each other in the café.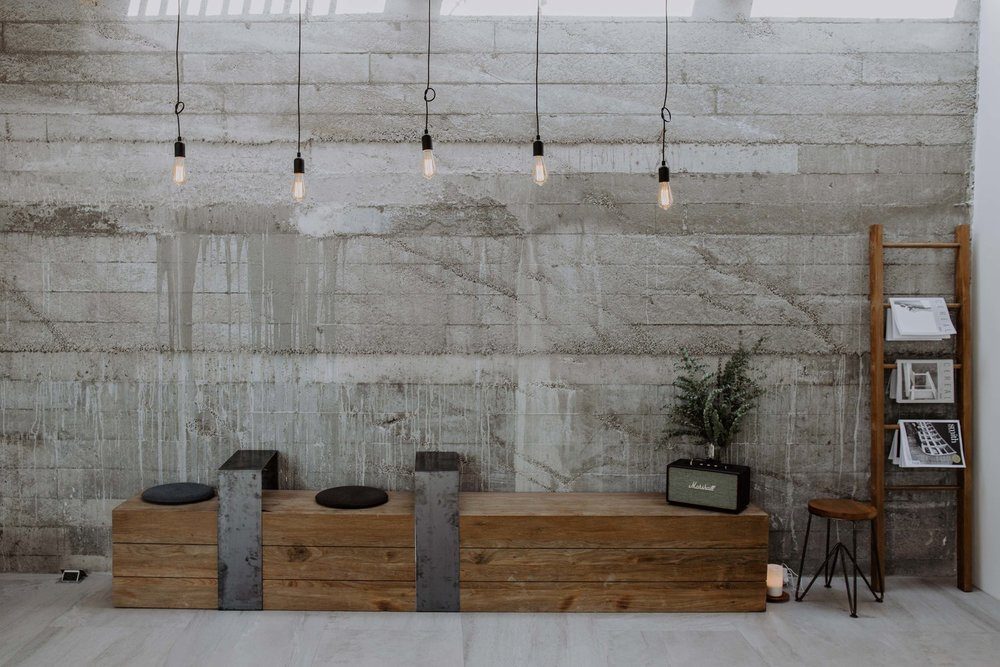 Its bare concrete walls harmonize well with the vintage feel emitted by some of the objects placed around the open space. The counter and coffee equipment are all too familiar as they come in the same immaculate white as seen at the Nimman location. What really makes The Baristro coffee shops stand out for me is that the design appears effortless and simple, and yet every detail is set up to fit in the picture as a whole. The location by the river guarantees a relaxed coffee break, whether you decide to stay inside or make use of the outside garden.
Address:
62 Patan Road
Chiang Mai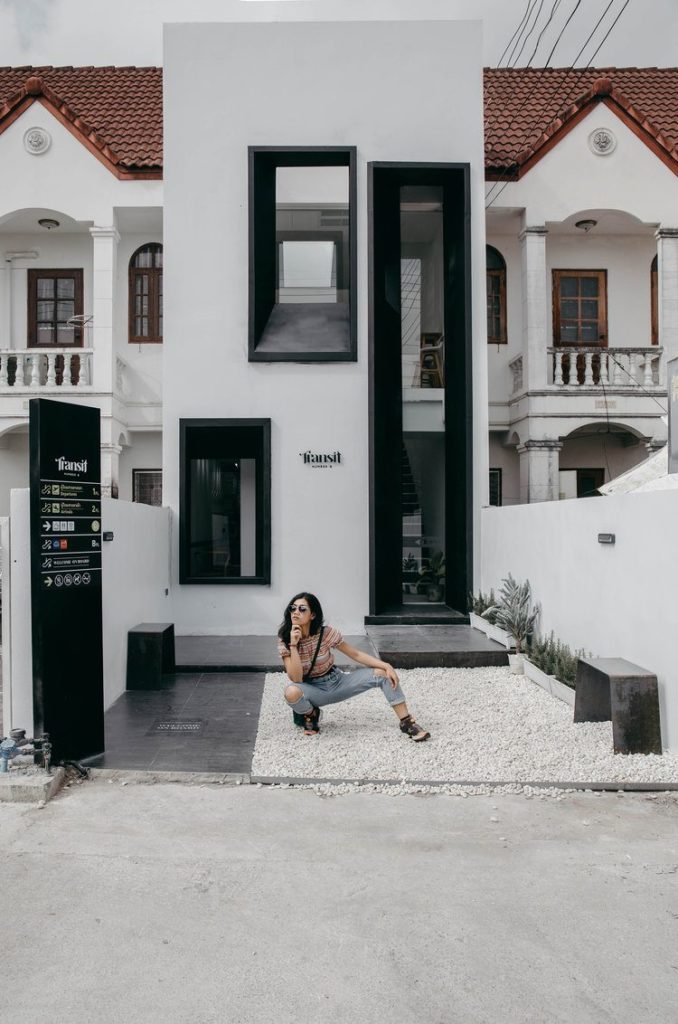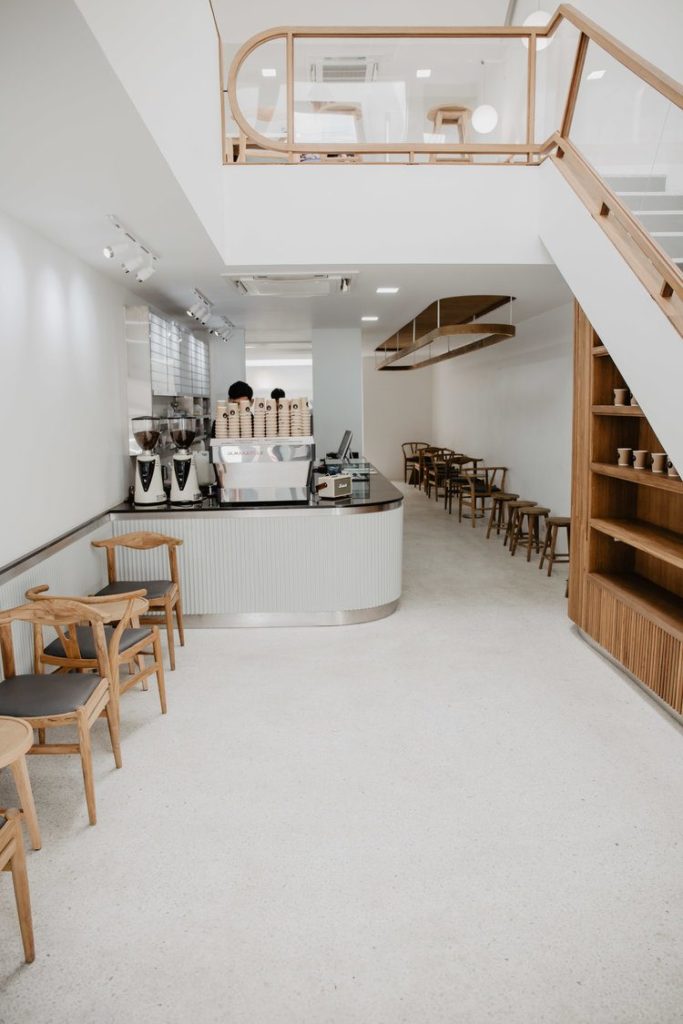 This guide would not be complete without the latest creation of The Baristro founder Thanit Suvanish. Transit Number 8 was inaugurated in December 2018 and is the sleekest of all his projects. Thanit's fable for minimalist and white-washed design found a new outlet with this coffee shop located in a residential neighbourhood close to Chiang Mai's Airport. The proximity to the city's major transportation hub certainly served as an inspiration for the 'transit' theme. From the staircase that resembles an escalator to the rooftop window allowing a glimpse at the sky, every detail has been carefully planned. The sound of the passing planes makes it feel, as if one was sitting at the airport of the future. You'll find a selection of medium and dark roast coffee in the grinders to make your stop-over here as delicious at it is eye-pleasing. Being a transit passenger has never felt more elegant.
Address:
56/19 Soi Muban Khumkhon Phing 2
Chiang Mai
The Barisotel by The Baristro
The Barisotel by The Baristro, a space almost entirely kept in white, is housing the boutique hotel Barisotel and spacious coffee shop in the Nimman area. Bouquets of flowers and single green leaves set accents here and there, as do the wooden legs topped with marble table boards. Otherwise the white walls and tiles set the perfect plain background for photographing the sophisticated drinks and deserts. If you feel inspired and would like to hold a private photo shooting here, it is possible for a small fee. The second floor is predestined for this. Be prepared for crowds of tourists bringing cameras and all sorts of accessories though as this location is definitely an Instagram favourite. Prepare yourself for Charcoal Latte Creamcheese, Pink Panther and B Americano.
Address:
7/2 Soi 9 Nimmanhaemin Road
Chiang Mai
If I would make a home for myself at some point, I would like it to look a lot like Graph Café. It embraces you with soft colours and vintage interior, plays the right soundtrack to put you in a coffee coma and feeds you home-made cookies. At least this is what happened to me.
It is a tiny space fitting something like ten people. The smaller the better for me, as I love an intimate atmosphere that makes you feel part of something. A communal table encourages to socialize with those around you and the occasional sounds of coffee grinding and steaming milk remind you that you are not yet in heaven. I don't want to leave! Can I move in please? I promise to drink a minimum of 20 cups a day! No chance, but I might camp outside tomorrow morning to be the first one to get in.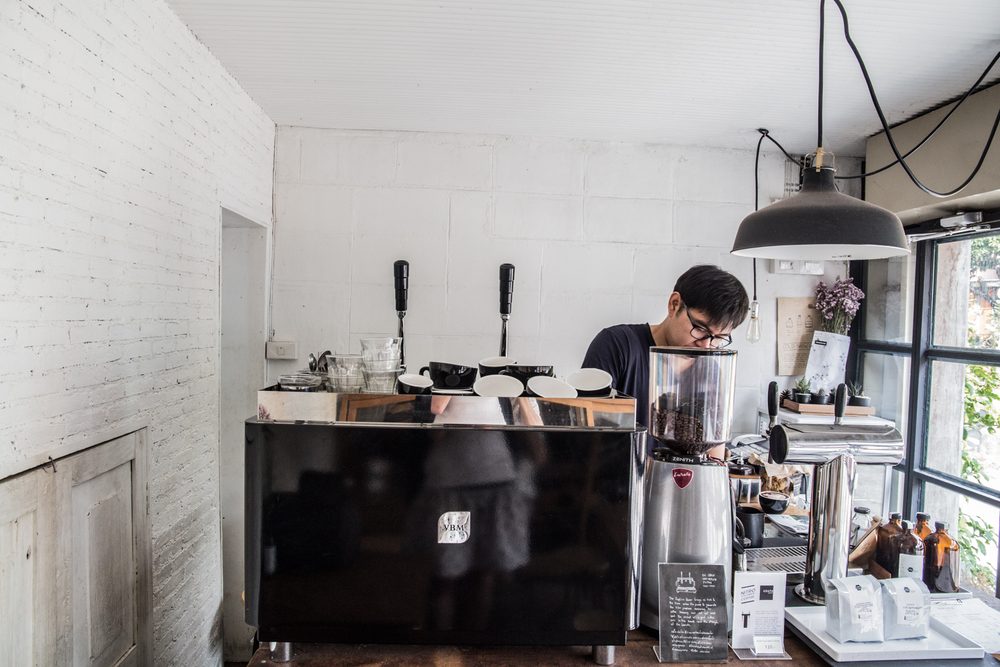 Graph Café is enchanting coffee lovers of Chiang Mai since 2014. Over the years they've specialized in cold brew and signature drinks. The latest edition to the Graph family was the opening of a coffee shop in the concept shopping complex One Nimman. Each and every Graph cafe is different, but the quality is top notch throughout. This location in the Old Town is currently closed but see below the ones that are open.
Graph Old Town (currently closed)
Address:
Ratvithi Lane 1
Chiang Mai, Thailand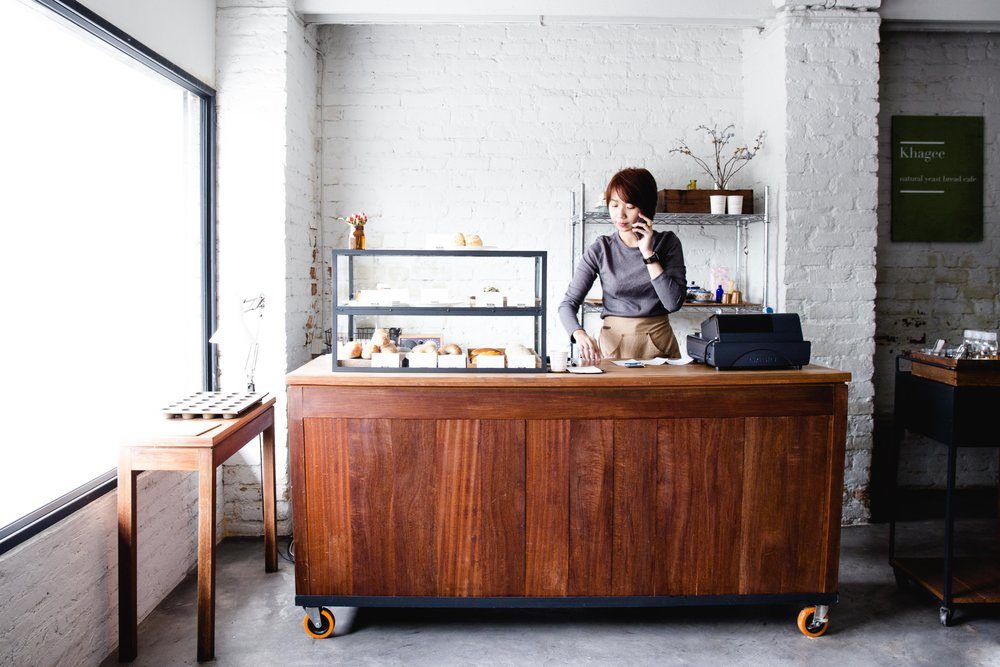 Khagee is Thai for green, which is exactly how this coffee shop feels – like a breeze of fresh air in the forest on a hot summer day. Miki from Japan and her husband Thames opened this café/bakery by the banks of Ping River just east of old town Chiang Mai. It is nestled into the ground floor of a historic two-story building and sets a tranquil mood with minimalist interior design and soft, foresty colours. Their signature is great coffee coupled with freshly baked goods, such as carrot cake, bagels and melon buns. Coffee enthusiasts will be excited to find a La Marzocco Strada pulling the shots here.
Address:
Chiang Mai-Lamphun Soi 1
Chiang Mai, Thailand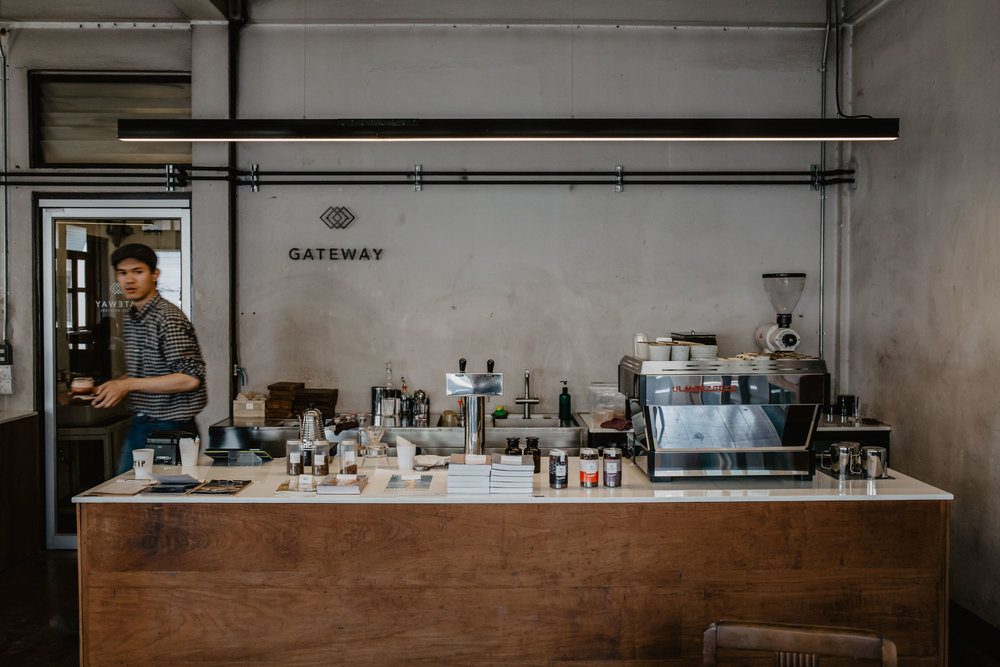 Set in a rustic old building a few steps away from Tha Phae Gate, Gateway serves excellent specialty coffee and signature drinks. I felt an all too familiar coziness when climbing the steps to the second floor café and soon found out why that was. This coffee project is operating under the Graph umbrella and shares some of the unique vintage features I had already fallen in love with at Graph Cafe. There is a nice selection of beans available at Gateway, including the cold wood' house blend, a Thai single origin from Doi Chiang and a Thai single origin from Huay Chomphon. However interesting these sounded, I was too intrigued by their signature drink 'Apollo'. It is a cold brew stirred with strawberry, honey lime and lemon. And because I can never resist anything baked with green tea, I also opted for the matcha-cheesecake with white chocolate. It was a match made in heaven.
Address:
50300 Chang Moi Rd Soi 2, Tambon Chang Moi
Chiang Mai, Thailand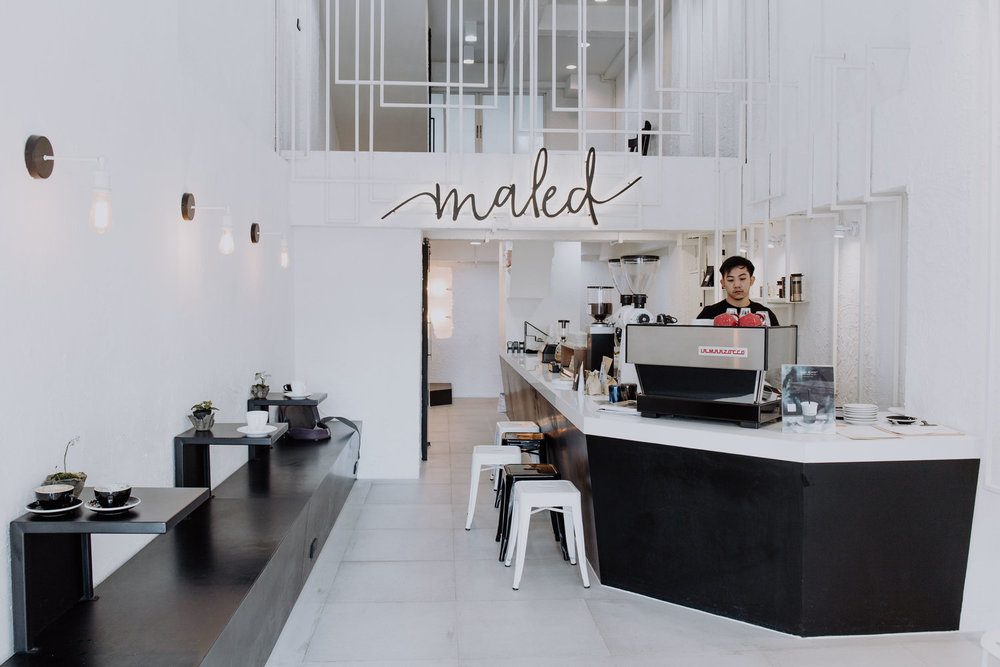 Maled Coffee Roasters is a coffee shop and roastery run by Fuu Kao Paanratee and located close to Chiang Mai University. She created an otherworldly white space with black interior setting visual accents on bare walls. It's minimalism at its best! Despite the combination of black and white, Fuu wasn't going for an elegant look. She wanted Maled to be simple and practical. This showcases in the design of a rather pragmatic seating area with high functionality. Signature drinks such as the 'Jelly Black' and 'Blue Moon' are adding another dark twist to the heavenly cubicle.
Address:
18, Soi Sanam Bin Kao 8
Chiang Mai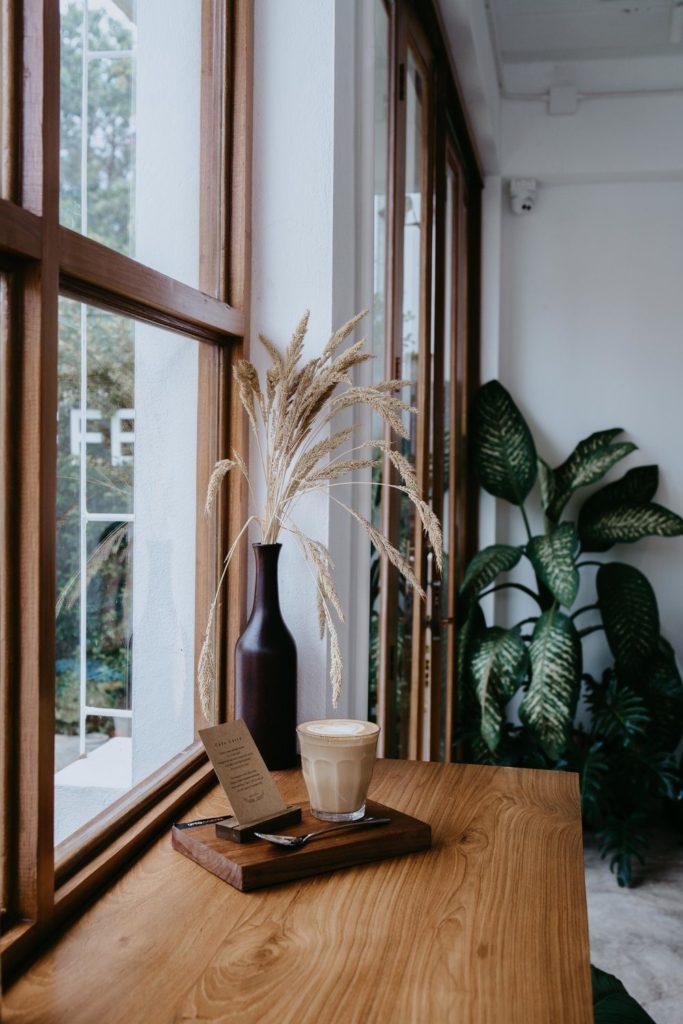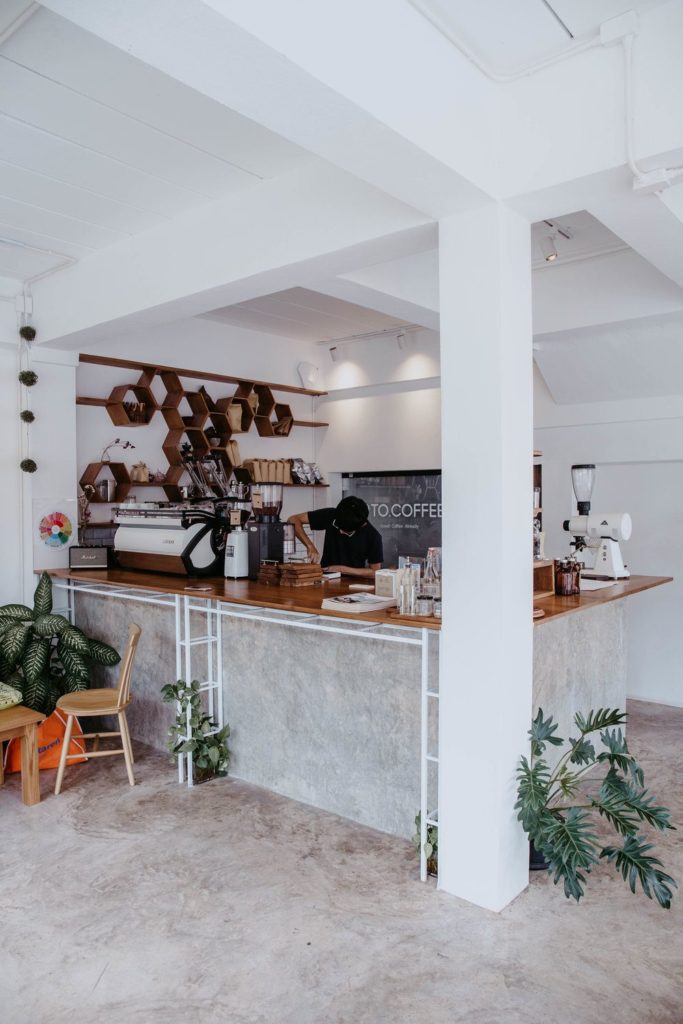 While there is surely no lack of cafés in Chiang Mai's old town, up.to coffee nonetheless came as a nice surprise when it opened up in March 2019. Situated close to Ta Phae Gate it is a refreshing and eye-pleasing spot for quality coffee. Beans are provided by Omnia Cafe & Roastery and shots are pulled on a fancy La Marzocco LEVA. The signature drink menu is filled with mouthwatering refreshments like the Orange Freshpresso or Dripsion Fruit made from cold brew coffee. The café look is a nice choreography of white washed walls, warm wood and greener than green plants.

Address:
10/5 Moon Muang Soi 5
Chiang Mai
Where Latte Art Enthusiasts Go to Drink Coffee in Chiang Mai
Roast8ry LAB has professionalism written all over it. With its location in Nimman district (short for Nimmanhaemin road and surroundings) it has long become a tourist attraction and the number one spot for latte art in Chiang Mai. The owner and World Latte Art Champion 2017 Arnon Thitiprasert gained experience in the coffee industry for 4 years in Australia before opening up Ristr8to in 2011. One year later the first beans were roasted in the back of the cafe, in 2013 and 2014 Ristr8to continued to perfect their brewing techniques, went on to win national latte art championships and started competing internationally too.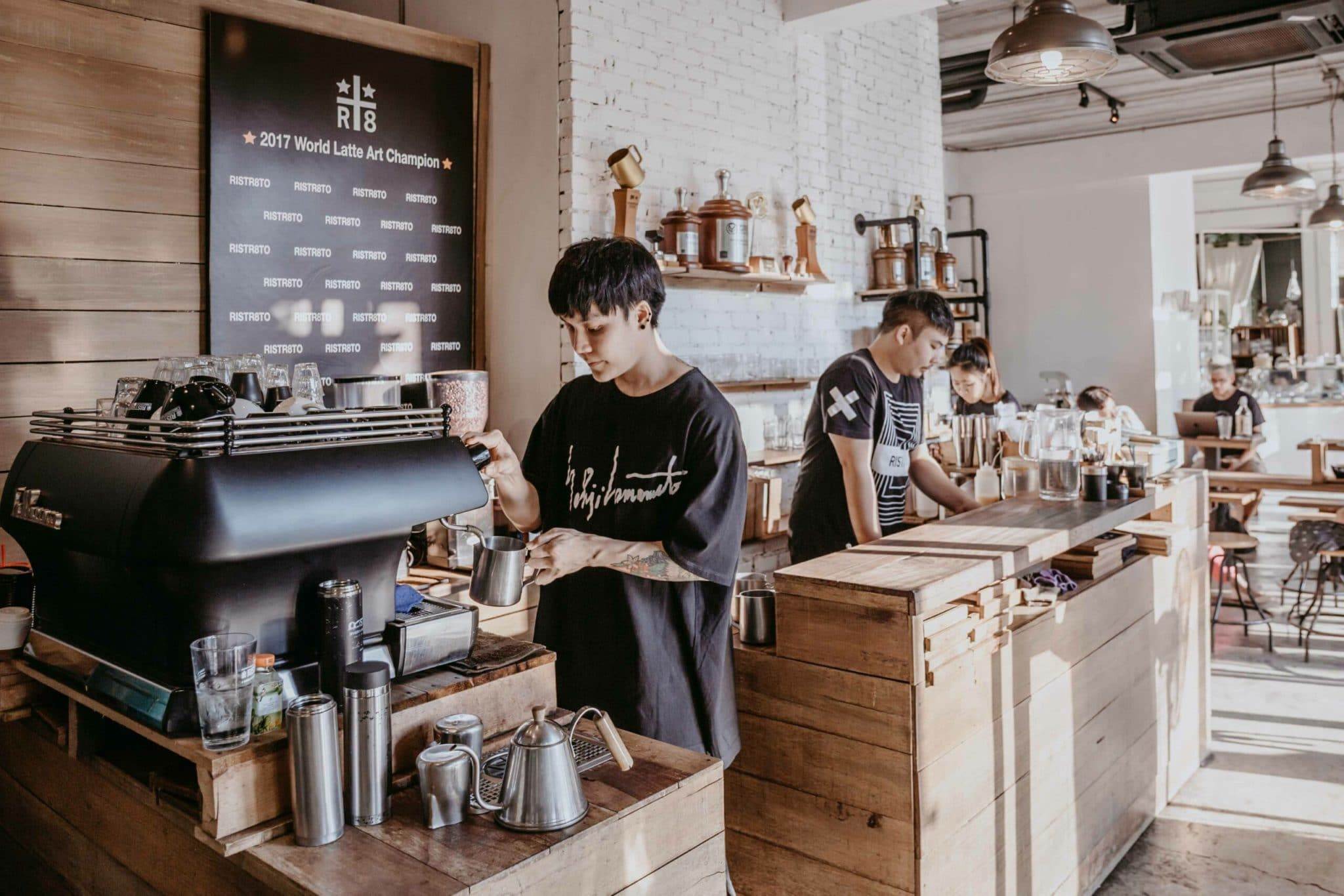 The unique cult concept café has been renamed Roast8ery but continues to spoil coffee lovers with endless options and signature creations.  The menu is plentiful, informative and leaves no coffee craving unfulfilled. If you don't know a drink by name the description will tell you every detail of its preparation. All coffee served is graded "specialty" and single origins are available from across the globe for drip coffee. Espresso based options can be prepared with their own blend of 40% Thai, 30% Mexican and 30% Colombian beans.
Address:
5/3 Nimmanhemin Road
Chiang Mai, Thailand
Sip & Relax – Best Neigbourhood Cafes in Chiang Mai
Cottontree Coffee Roasters
Cottontree Coffee Roasters was born in 2015, when the couple Ton and Fai merged the English translation of their Thai names into one while pondering over how to call their first coffee shop and roastery. The warehouse structure housing Cottontree is based in Green Hill Place, a condominium behind Maya shopping mall in the Nimman area. What makes Cottontree stand out is the industrial feel coupled with warm wooden tones and features. All furniture is hand made by Fai's father. Ton and Fai wanted to create a space to breathe and unwind, hence you'll find high ceilings and plenty of green plants. The roaster occupies a designated space behind glass windows in black frames. And it wouldn't be a Chiang Mai coffee shop if there wasn't a nice selection of photogenic signature drinks on the menu along with your regular espresso or filter based favourites.
Address:
45/38 M.5 T. Chang Phueak
Chiang Mai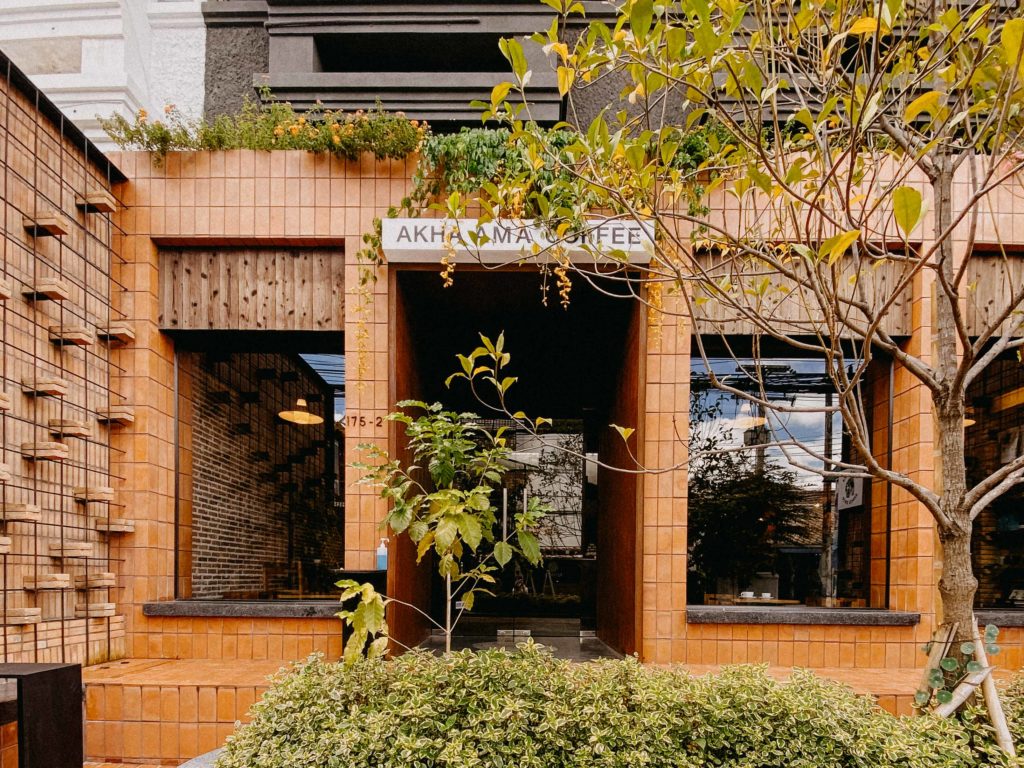 Now Akha Ama Coffee is an interesting one. While at first sight it is a well designed, hip coffee shop close to tourist attractions in Chiang Mai, there is much more behind it than meets the eye. As the logo suggests, Akha Ama is a social enterprise that seeks to empower the local hill tribe community of the "Akha" living in Northern Thailand.  The coffee collective that is Akha Ama represents more than 20 families from the Maejantai village, who joined forces to increase the social and economic return for their main source of income: farming.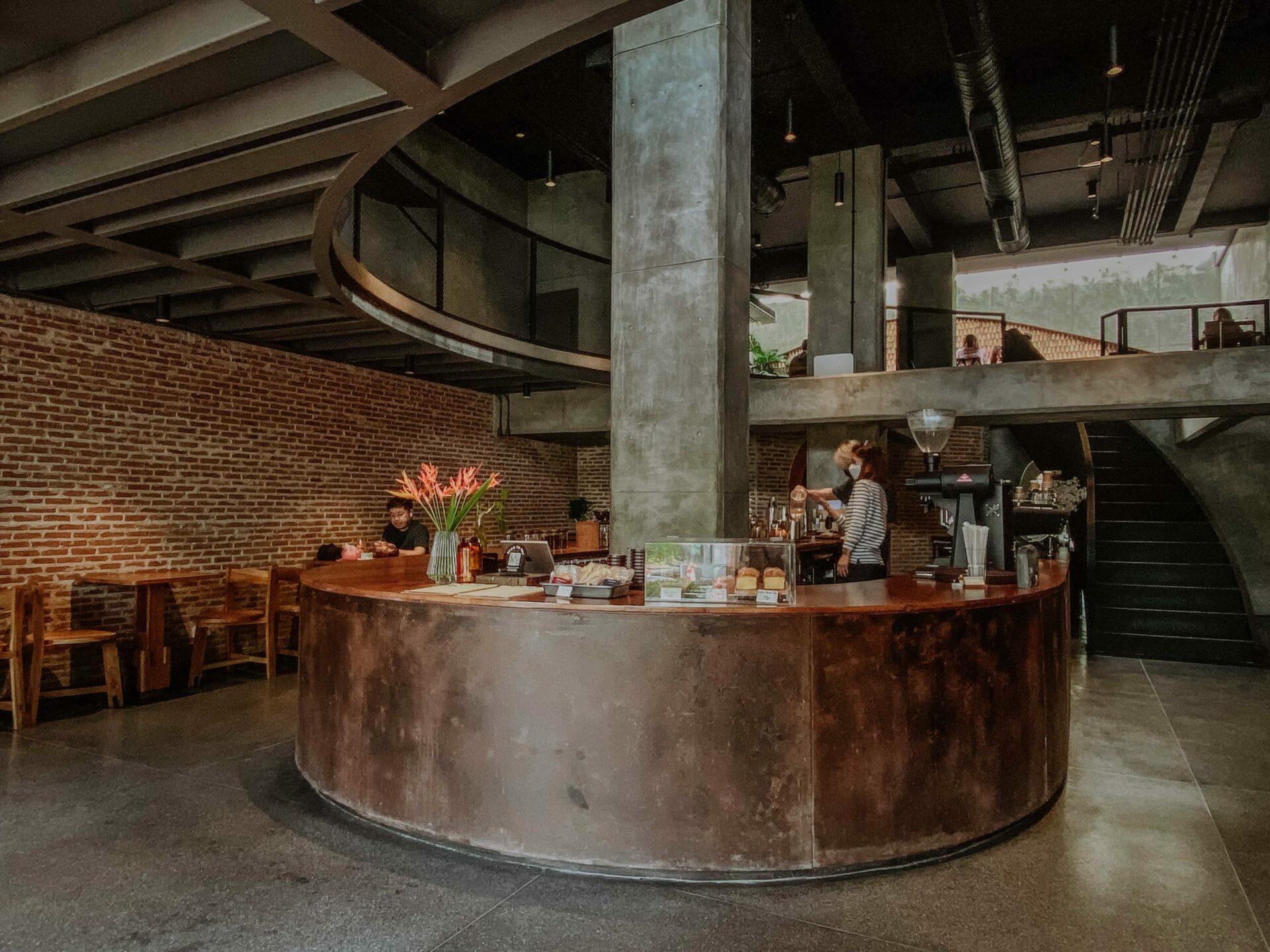 The founder of Akha Ama and face of the community is Lee Ayu, who launched the project in March 2010. His aim is to operate Akha Ama as a sustainable, fair trade, organic coffee brand that grows, processes and roasts high quality coffee. The brand is supported by no other than Stumptown from Portland and Lee Ayu travels back and forth between Thailand and the US to improve his skills and grow his business.
Address:
175 Rachadamnoen Road
Chiang Mai
Thailand
A Day in Chiang Mai Coffee Brew
The compact 'A Day in Chiang Mai Coffee Brew' is located a bit outside of the old city walls but is well worth the extra mile. Wooden furniture, a brick wall and vintage items all mingle nicely to give this place a unique atmosphere. As signature drinks have become the norm in cafés all over Chiang Mai, you can expect to find innovative items on the menu here as well. The iced latte, for example, is prepared with five different kinds of milk from New Zealand, making it extremely creamy. The house blend used to prepare it comprises beans from Thailand, Costa Rica and Brazil to add citric as well as nutty flavours to it. If you feel overly caffeinated, try their 'Autumn Day', a refreshing signature drink with lemon and orange, guaranteed coffee-free.
Address:
107 Ragang Rd, Chiang Mai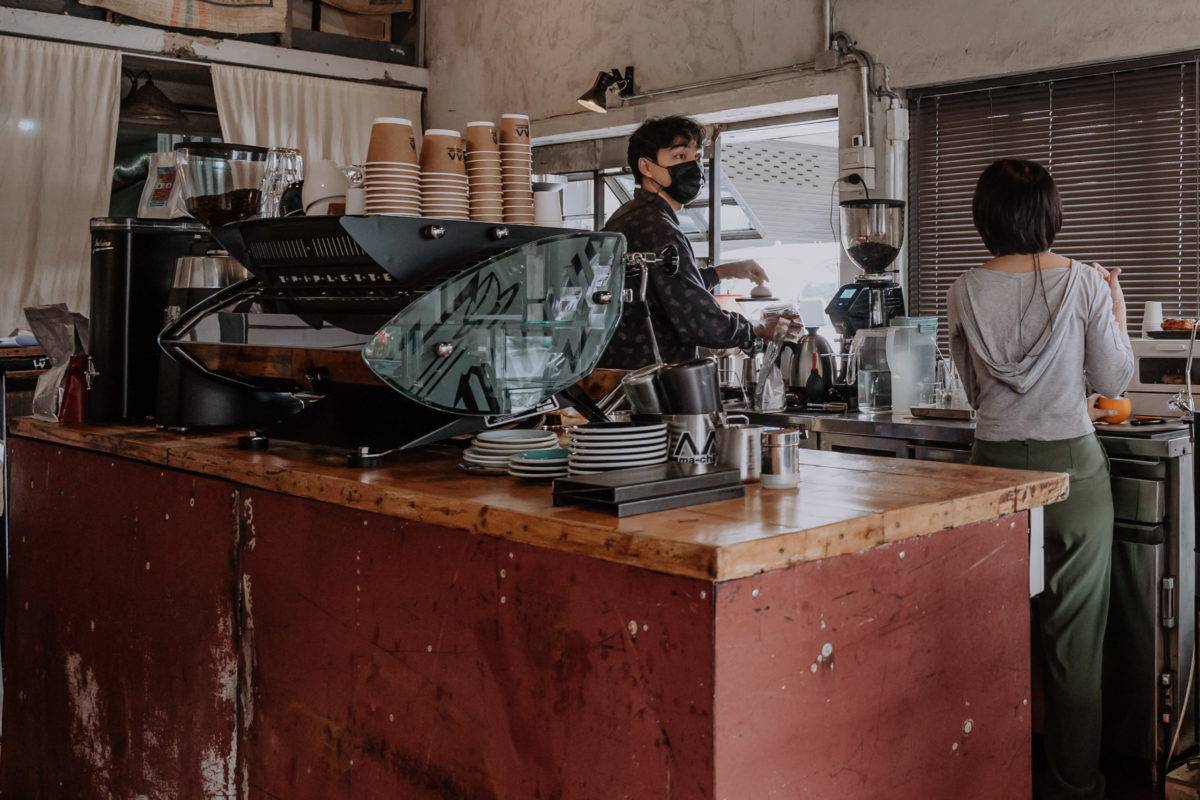 As the name suggests, this is your place if you are in need of some relaxing close to Chiang Mai's Old Town. The couple Kuk and Add opened Ma-Chill in December 2014 and serve excellent coffee from Northern Thailand. They also take roasting into their own hands. Their cold brew selection is impressive.
Address: Sridonchai Road
Chiang Mai, Thailand
Nine One Coffee could best be described as my second living room. The friendly baristas are highly skilled and make everyone feel very welcome. The atmosphere is cosy and the single origin coffee is consistently satisfying. Nine One Coffee is a project launched by Wullop Pasananon. The self-taught farmer and roaster is growing organic coffee just outside of Chiang Mai and has slowly build a little coffee empire. While starting out with a single shop in the Nimman neighbourhood, he's since branched out north and is counting four cafes by now.
Address:
Nimmana Haeminda Rd Lane 11
Chiang Mai
Best Cafes for Cold Brew and Drip Coffee in Chiang Mai
Best Cafes Serving Specialty Coffee with a View
Coffee & Spirits in Chiang Mai
90+ Specialty Coffee in Chiang Mai
Best Specialty Cafes to Work From in Chiang Mai
Explore More Cities in Thailand