Pakt Coffee Kit – Portable Coffee Maker
This is a sponsored post. All reviews and opinions expressed in this post are based on my personal view.
If you're a coffee enthusiast like me and are spending a lot of time on the road, hopping from Airbnb to Airbnb, you'll know how rare it is to come across a place that has a coffee setup allowing to brew a quality cup. Needless to say, I've developed an interest in portable coffee makers suited to my nomadic lifestyle. When Pakt introduced the Pakt Coffee Kit on Kickstarter promising barista quality coffee on the go, I was intrigued. I received a sample of this sleek travel brewer, took it with me to the beautiful island of Koh Phangan, Thailand, and put it to the test.
Travel Coffee Brewer for the Modern Nomad
Whether you are frequently lodging in hotels and Airbnb's, or your ideal vacation is spent in a camper van or at a campground, as long as you have access to electricity the Pakt Coffee Kit is a great travel companion. Experiencing lockdown and closure of indoor spaces has increased our love for the great outdoors, many of us are noticing a shift in priorities. Brewing on the go as become hugely popular in the coffee community as of late, creating a greater demand of portable coffee makers – and the Pakt Coffee Kit is without a doubt a great contender. You can safely carry it onto an airplane, both in hand luggage or carry on, and you will never have to settle for anything less than a great tasting cup of coffee while on the road.
This article contains affiliate links to Amazon. As an Amazon Associate I earn from qualifying purchases.
The Pakt Travel Coffee Kit is jam-packed with utility. It holds an electric kettle, a dripper, a coffee mug and a container for your coffee beans. The material feels durable, smooth to the touch and of superior quality. Stacking the components on top of each other from large to small, it all fits neatly together and is stored in a practical zipper case. For convenience, a metal filter and a ground scooper are included as well. While I appreciate the intentional design and how compact and efficient the coffee kit is, I do have some concerns regarding its weight as I love to travel light. The whole setup weights around 1800 grams. As coffee beans, scale and grinder are not yet accounted for, I am looking at approximately 2,5 kg of luggage just for my coffee equipment. Is it worth carrying the load? Let's find out.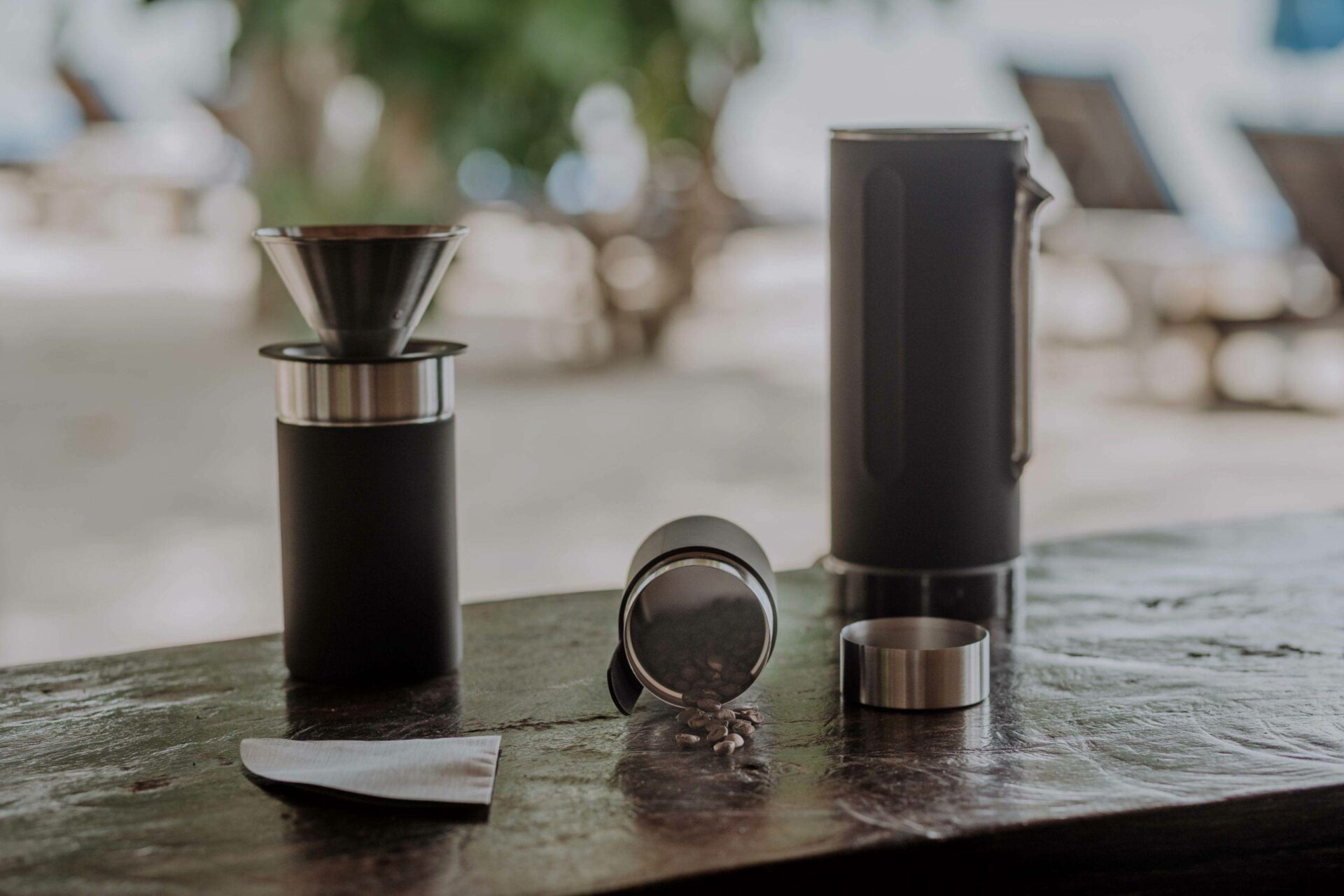 Looking at each component in more detail, the kettle is the largest member of the pack. To be on the safe side, it can comfortably be filled with up to 400 ml of water. There are fill lines inside the kettle for reference in case you don't have a scale handy. You can set the water to boil by pressing the little round button. The LED light circling around the base of the kettle will light up once you do. The kettle turns off automatically when your water comes to a boil,. You can use the aforementioned LED light as an indication as it will turn off as well. The kettle is heating water relatively quickly and without making too much noise. I let the water sit for a minute before pouring but that is my personal preference. When the time comes, just lift up the kettle from the base and pour directly by holding onto it. Although no gooseneck kettle, the spout is designed in a way that you can achieve a nice pour with a little practice. Be careful not to touch the silver piece leading to the spout as it is hot. Otherwise, the silicon body of the kettle can be touched comfortably right after boil. Though I did notice that it becomes  too hot to handle if brewing in larger batches.
Next in line is the double-walled stainless steel travel mug. It has a capacity of 355 ml or 12 oz and fits perfectly into the kettle for storage. It also collects your brew while pouring. Simply place the dripper on top, add either a paper filter or the stainless steel mesh reusable filter that is part of the kit and you're good to go.
The reusable metal filter is not only practical but also environmentally friendly. I poured delicious, full-bodied coffee by using it. The only minor annoyance is that it is not as flexible and adaptable as a paper filter. Hence, it tends to awkwardly stick out of the dripper.
Last but not least the air tight coffee jar is a handy accessory nested inside the mug. It holds around 150 grams of whole beans. The whole gear is just a beautiful affair and it is truly satisfying how well each item fits in the case without any rattling.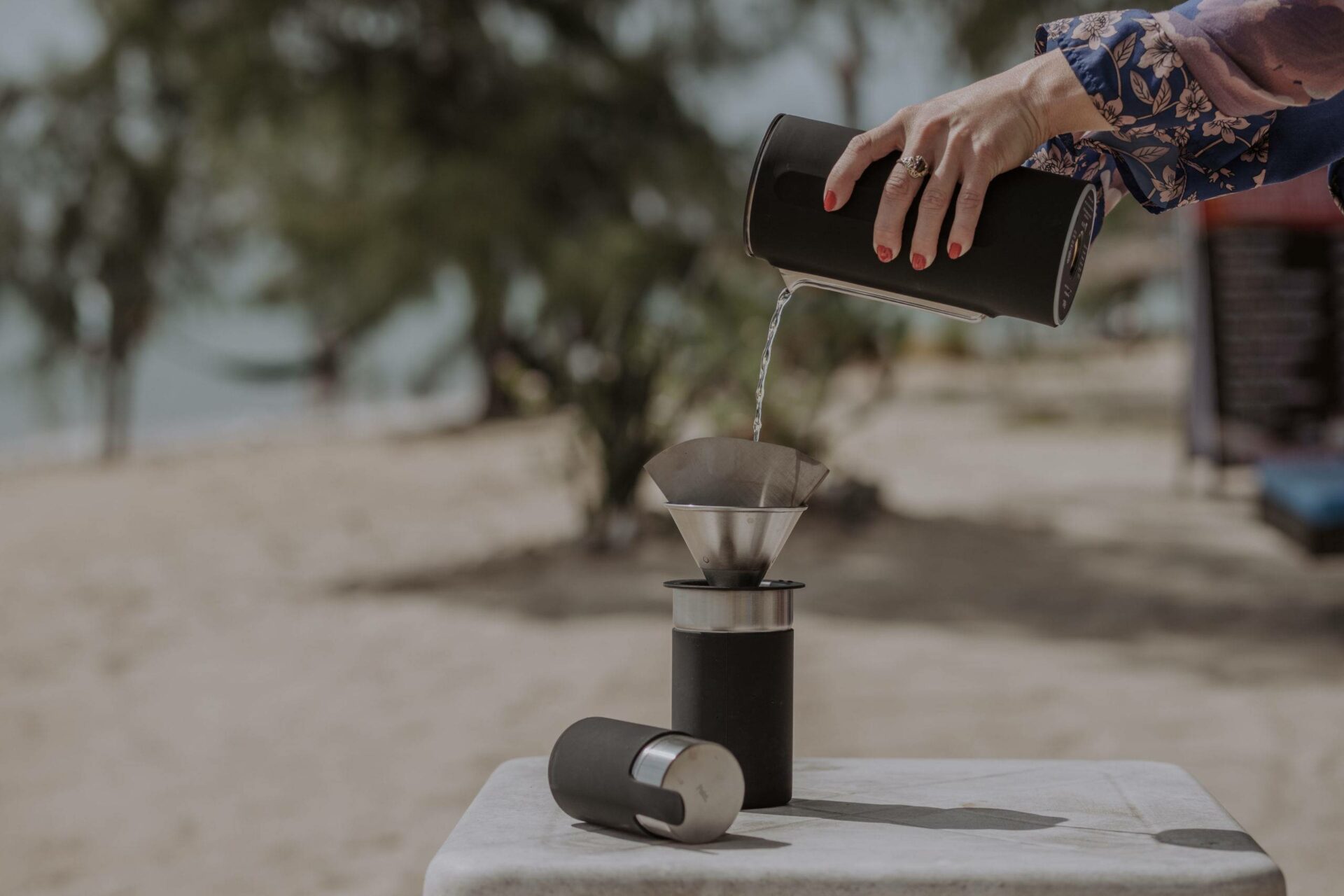 I had such a great time testing the Pakt Coffee Kit. I took it with me to the seaside where a little beach bar gave me access to a plug. As a thank you I prepared a delicious pour over for the owner using a bright, acidic light roasted coffee and a brew ratio of 1:15. I also tested a ratio of 1:16 but found it didn't accentuate the fruity and acidic qualities of the coffee as well. Here's the recipe I used:
13 grams of ground coffee
195 grams of water at 96 degrees Celcius
30 seconds bloom time
2 minutes total brew time
First off, thoroughly rinse the metal filter, mug and kettle before using it for the first time. I brought my a coffee scale to weigh both the coffee grounds and water. After adding 195 grams of water to the kettle and bringing it to a boil, prepare 13 grams of ground coffee. I used my Comandante grinder at 18 clicks as I always freshly grind my beans with a manual coffee grinder.
After placing the filter on top of the mug, fill it with ground coffee and add 45 grams of water for the bloom. After 30 seconds, slowly add 50 grams of water in a circular motion. Repeat twice more until all the water is used up. Enjoy all the flavours!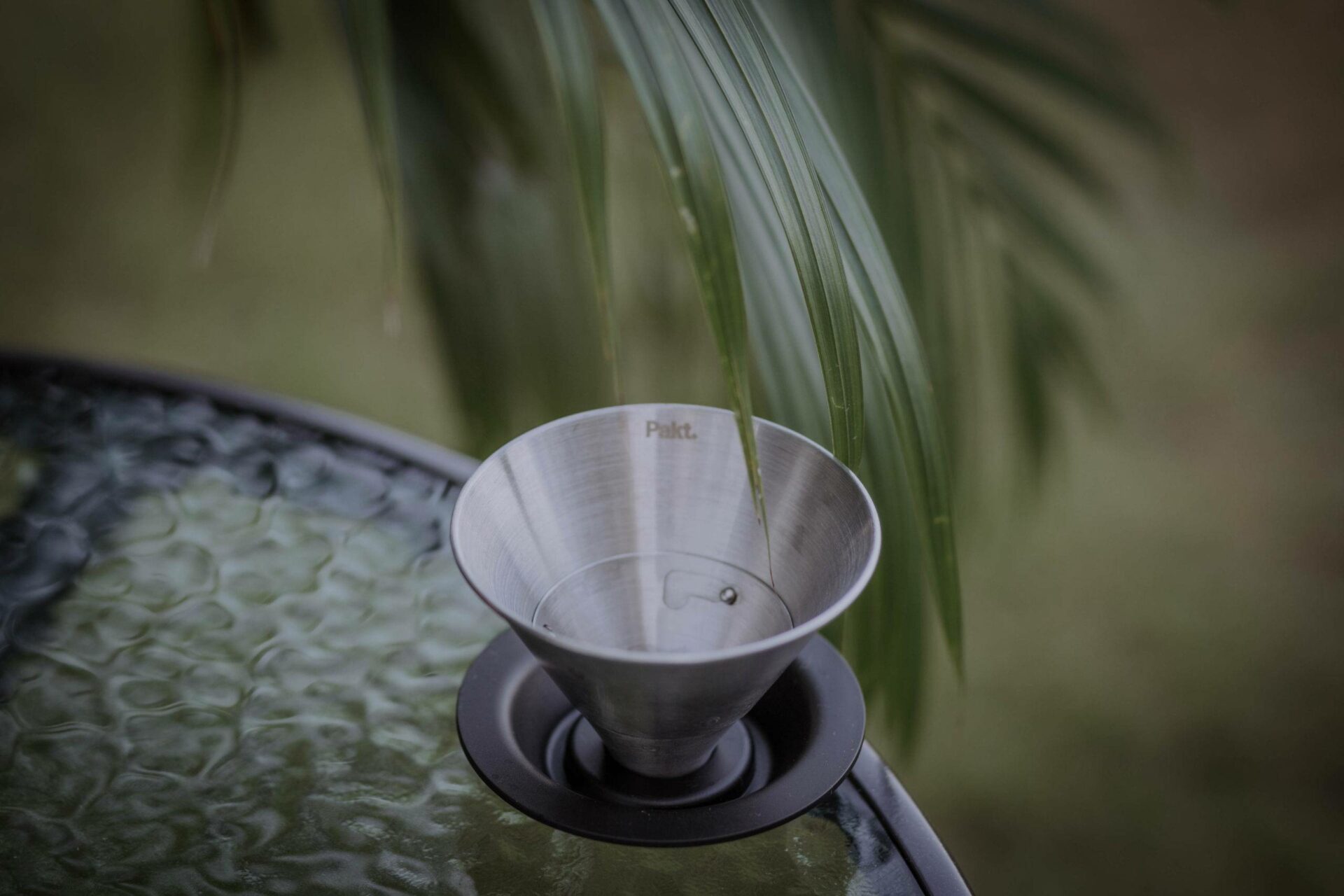 Overall I was pleasantly surprised by the stunning and practical design of the Pakt Coffee Kit. Knowing that it gives access to great coffee wherever you are really puts a coffee lovers mind at ease. The pouring experience is smooth and once I found the ideal coffee to water ratio, the brew turned out absolutely fabulous. The main drawback for me is the weight. But having experimented with the brewer I enjoy it so much that from now on I will hold a special place in my luggage for it. If you are curious about this product you can find more information here.
More Brew & Tool Guides for Hobby Baristas and Professionals