Find the Best Coffee Scale in 2023 for Accurate Brewing
Brewing coffee at home can become a serious obsession, I know it has for me. Discovering recipes created by barista champions or other coffee crazy folks and trying them out is my kind of Sunday Funday. While some people like to eyeball how much coffee grounds and water they use for a brew, I am definitely team accuracy. Hence, I always have a coffee scale handy for when my caffeine cravings kick in.
If you're in the market for a coffee scale, there are a few key features to look for: The best coffee scales are quick and easy to use, with an interface that's simple to read and understand. They should also provide accurate readings without delay and be designed to withstand water damage. Additionally, a built-in timer can make brewing coffee even easier.  Whether I brew espresso or pour over, weighing coffee beans and water during the brewing process has become a habit that has considerably improved my cup of joe. If you are getting serious about brewing coffee, it is high time to put down that scoop and find the best coffee scale in 2023 to up your game.
Jump straight to the review of my favorite coffee scales:
Why I Recommend Using a Coffee Scale for Brewing
When I walk in a coffee shop and see that the barista is weighing every single dose of espresso on a coffee scale before pulling a shot, I know I'm in good hands. Once an espresso is dialed in, it is imperative to ensure the results are consistent and every guest gets the same quality brew by weighing the dose and output. Very similarly, it takes that kind of accuracy at home to brew the same tasty cup of coffee day in day out. Whether you like to experiment with different brew ratios or you want to reproduce a recipe that works for your selection of beans, a coffee scale will help you to stay on point and measure the exact amount of coffee and water needed to get there.
What if you are trying out a new coffee and your recipe or go-to brew ratio isn't producing the desired flavors? In that case you can easily experiment by adjusting different parameters and keeping track of the changes by using a coffee scale and timer. While you could just wing it, you'd never really know what change made the difference and how to reproduce it. To learn more about the benefits and importance of using a coffee scale, visit my article here.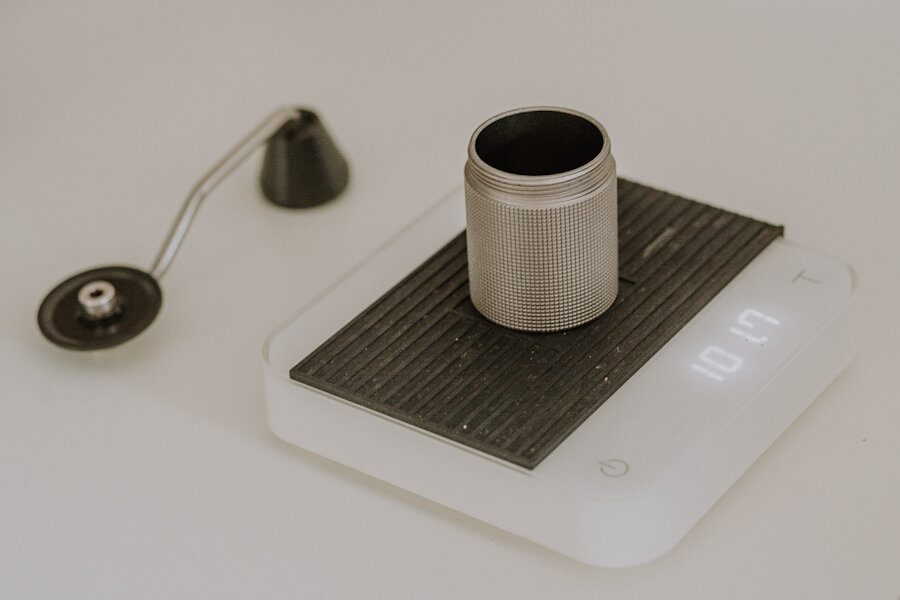 This article contains affiliate links to Amazon and the Seattle Coffee Gear Affiliate Program.
As an Amazon Associate I earn from qualifying purchases.
What Type of Coffee Scale is Right for You?
The first thing to consider when deciding on a coffee scale is simply put its size. Will your scale fit on the drip tray of your espresso machine? For filter, consider whether the scale has the right size to fit your brewer. Essentially, a coffee scale needs to have a weighting function (duh) ideally with an accuracy of 0.1 grams, a tare button to reset to 0 and a digital display. You need to be able to read the scale well, so  make sure that the display is of good quality. Additionally, some scales come with a timer. Also, accidents happen: will your scale survive it if coffee or water accidentally spill over it? Nowadays, there are a range of models available, from simple to smart, which can be overwhelming when trying to find the coffee scale that is right for you. Here is a break down of what kind of coffee scales are available to help you decide:
BUDGET-FRIENDLY OPTIONS
Very simple no frills digital scales that include a tare function, like the GreaterGoods Digital Food Kitchen Scale with 1 gram or 0.1 ounce accuracy, are your most budget-friendly option. When using it as a coffee scale, make sure its size is a fit for your brewing device and use your smartphone as a timer. While this type of scale is not accurate enough for espresso brewing, some hobby brewers find it does the job for pour-over coffee. In this price range, scales have a relatively slow response time and are not waterproof, which can cause problems when spilling hot water while brewing on the scale.
WHEN TIMING IS EVERYTHING
A digital coffee scale with timer like the OXO 11212400 Good Grips 6 Lb Precision Coffee Scale, is more popular with hobby brewers as they measure from 0.5 or 1 gram up in tiny 0.1 gram intervals. Despite the improved accuracy, espresso brewers will find the response time is still too slow to use this type of scale for espresso brewing. But having a built-in timer is a convenient feature for pour-over lovers to experiment with different extraction times.
FOR THE ENVIROMENTALIST ESPRESSO LOVER
Another great option is a functional and portable coffee scale with timer that can quickly be recharged via USB-C like the Timemore Black Mirror Digital Coffee Scale. Unlike with the previous models, forget about stocking up on AAA batteries and enjoy a more environmentally friendly option. This coffee scale measures in 0.1 gram increments for highest precision and comes with an integrated timer for total control of your coffee brewing process. It is slim enough to fit on the drip tray of many espresso machines and responsive enough to pull a precise shot of espresso.
SMART AND WATERPROOF COFFEE SCALES FOR PROs
Last but not least, smart coffee scales such as the Acaia models Pearl, Pearl S, Pearl 2, Lunar or the ultralight Pyxis with 0.01 gram sensitivity, are popular options for professional use due to extreme accuracy and little to no lag time for both pour-over and espresso brewing. The Acaia models are water proof, beautifully designed and connect via Bluetooth to an app on your smartphone to calculate brew ratios, track your brews and save recipes. Different smart scales come with different functionalities, but what they have in common is a higher price tag and the fact that users more often than not experience problems when trying to connect the scale to their phone or simply trying to use the app for what it was built to do.
Coffee Scales Best Suited for Pour Over on Amazon
Coffee Scales Suited for Espresso and Pour Over on Amazon
My Picks for Best Coffee Scale in 2023
Brewista Ratio Pour Over Coffee Scale
Whether at home or on the go, I use the
Brewista Ratio Pour Over Coffee Scale
for brewing. As I'm frequently experimenting with coffee to water ratios, this coffee scale with timer is the perfect fit. It has an option to set a desired brew ratio and measures in 0.1 gram intervals as soon as the sensor detects a minimum weight of 1 gram. The display responds quickly, the scale is portable and light.
A point of advice here: the built-in timer will only start once you have set your brew ratio, have placed your brewing device on the scale, hit tare, and weighted your coffee grounds. It then calculates the desired amount of water for you. Depending on whether you chose "A" for automatic timer or "M" for manual timer, the timer starts either when the scale detects water hitting the coffee bed or when you hit the timer button. Once you have done this process a couple of times it becomes intuitive, but if you are in a hurry using your smartphone as a timer instead will get you there faster. It might be a limiting factor though, that this coffee scale only gives the option to choose between a brew ratio of 1:14 and 1:20.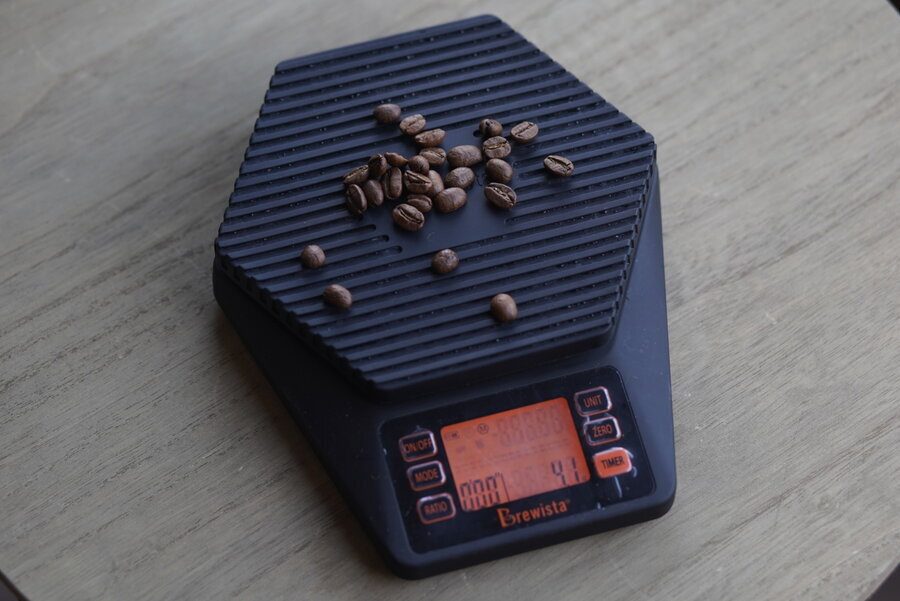 Overall, I really like using the Brewista Ratio Pour Over Coffee Scale. It helps me to be consistent when brewing and I take it everywhere with me, even when I go on a hike. The fact that you can charge it by USB makes it super convenient. There is an icon on the display that shows how much battery life is left.
Timemore Black Mirror Coffee Scale
The Timemore Black Mirror Coffee Scale is a beautiful device with simple but efficient functionality. A built-in timer and tare function, coupled with instant responsiveness, are at the heart of its features and make pour over as well as espresso brewing a breeze. Look out for the 2020 model with auto time and tare functionality when you make a purchase!
Even though the scale is bigger than for example Acaia's Lunar model, it's usable on most espresso machines and at the same time more cost-effective. The fast responsiveness, neat design and precise measurement in 0.1 gram increments make the Timemore Black Mirror a solid choice both for espresso and pour over.
Hario V60 Drip Coffee Scale
The Hario V60 Drip Coffee Scale is a reliable device that was designed for hand dripping. It has all you need to pour a perfectly accurate drip coffee, from a tare function to a timer. You can measure weight and brew time simultaneously, as both indicators are visible on the display. Note that the timer does not start automatically, just press the Start/Stop button to get it going. This neat entry-level scale without complicated frills is powered by two AAA batteries. While it is not waterproof, it can handle a few tiny droplets here and there.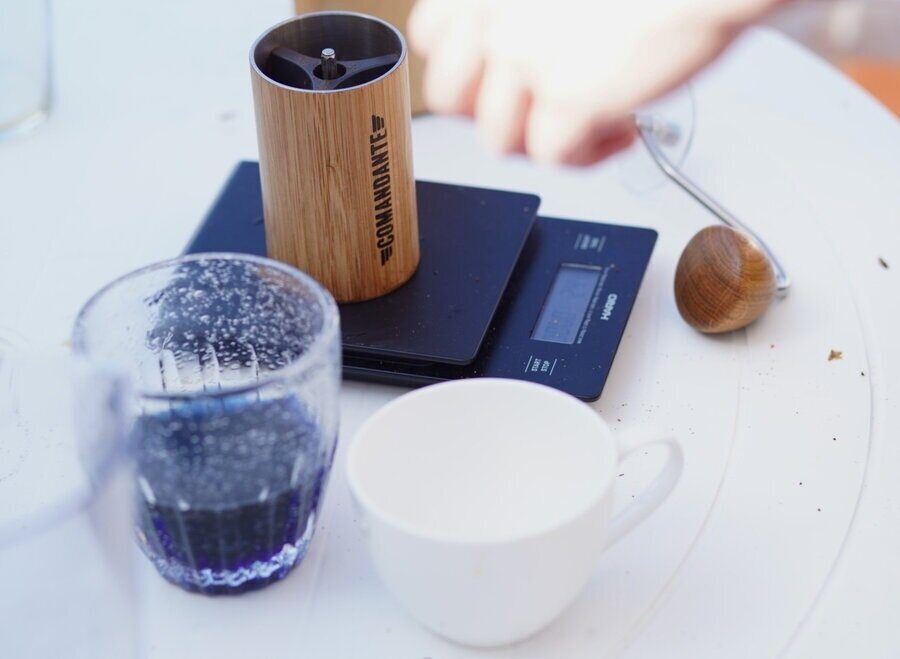 The display accuracy shines between 2 and 200 grams, when it measures in 0.1 gram intervals. From 200 to 500 grams the scale measures in 0.5 gram intervals and between 500 and 2000 grams it measures in 1 gram intervals. While the incremental increase works well for pour over, it does make precisely weighing espresso rather difficult. If you add a portafilter with ground coffee to the scale, it will likely surpass the 200 grams threshold, meaning you won't be able to measure in steps of 0.1 gram. The Hario Drip Scale is not designed to fit on the drip tray of an espresso machine either and is not known for responding instantly. But then again, that is not what it was build for. If you stick to manual brews only, the Hario V60 Drip Coffee Scale is a great, budget-friendly choice.
Aside from the Brewista Ratio Pour Over Coffee Scale dedicated to filter coffee, Brewista have launched the water resistant Smart Scale II specifically for espresso with an accuracy of 0.1 grams. Designed to fit under most group heads of espresso machines, it comes with a silicone mat to protect it from heat and water. No need to worry if you accidentally spill a few drops of liquid on the scale, its nano-coating effectively repels water. Six convenient weighing modes, five for espresso and one for pour over, ranging from fully manual to auto-tare and auto-timer, make your daily espresso dial-in and prep a breeze. The Brewista Smart Scale II is an affordable and compact choice for espresso brewing that offers you a lot of functionality.
Timemore Black Mirror Nano
If you're an espresso lover, the Timemore Black Mirror Nano scale, an update of the Timemore Black Mirror, is highly recommended. Made with high-quality plastic and metal, it looks and feels sophisticated. A lot of thought has gone into the design, particularly when it comes to the display and overall size. The tilted display makes it easy to read the data even when the scale is placed under a portafilter. This is also true for when a larger brewer, such as the Chemex, is placed on top of it. It goes without saying that you can use the scale for both espresso and drip. But when it comes to brewing espresso it's where this coffee scale with timer really shines. The small size allows it to fit onto the drip tray of pretty much any espresso machine. I've been using it for the past few months and I have to say I'm impressed. It's fast and precise when measuring increments of 0.1 grams. Depending on your brewing method you can chose between three modes: standard, pour over and espresso. The auto-time and auto-tare functions are particularly for espresso brewing.
Smart, chic and extremely precise – the Acaia Pearl,  Acaia Pearl S and Acaia Pearl 2 are great entry models to discover the world of Acaia coffee scales. While the Lunar and Pyxis models are especially interesting in professional settings, Pearl is an absolute favourite in the home brewer community. Although it is the most affordable coffee scale in the Acaia line-up, I should warn you that the price tag is considerably higher than that of an average kitchen scale. But in the case of Acaia, you get what you pay for, and that is an extremely durable scale that shines with accuracy and many useful features. Auto-tare? No problem. Auto-timer? You got it! And there is so much more it can do. Connect your coffee scale to your smartphone via Bluetooth, let the Acaia app calculate your brewing recipe and monitor your real time flow rate. The Pearl and Pearl S have the same dimensions, but the latter has a larger max capacity of 3kg instead of 2kg.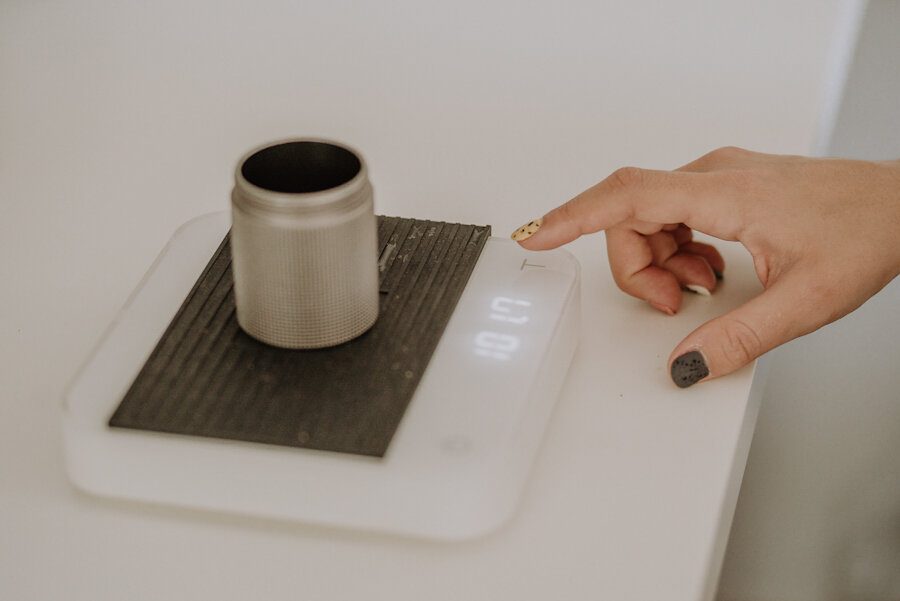 The Acaia Lunar is something like the Ferrari among coffee scales. With an incredible 20 milliseconds response time and high sensitivity not a single drop will go unweighted. Coupled with a compact size and water resistant aluminium casing, it is the perfect fit for any espresso machine. 
This Acaia coffee scale responds to even the slightest weight changes but gives you the option to change the sensitivity setting if needed. It is jam pact with other functionalities, such as six different weighing modes, auto timer and tare function. As a barista you'll be able to fully customize your work flow and it even saves your last setting, so that you can start right where you left off the previous day. The Acaia Lunar thrives in a professional setting but is also a great tool for dedicated hobby brewers. Needless to say, it is the best espresso scale out there.
Is Buying a Coffee Scale Worth it?
To brew a good tasting cup of coffee you need to know how much water and how much ground coffee to use.  Instead of guessing and hoping for the best, a scale will allow you to be precise and nail your brew recipe to the gram. If you ask me, buying a coffee scale is absolutely worth it, especially considering there are a lot of budget friendly options available that won't break the bank and still do the job.
The accuracy of the coffee scales plays an extremely important role in the preparation of espresso. This is because each additional gram of coffee increases the extraction time by approximately 2 seconds. Increasing the number of grams thus also increases the TDS value. In coffee, the TDS value reflects the degree of extraction of the coffee as well as the number of dissolved solids in the water. Simply put, it is the amount of substances or soluble solids, from organic substances to minerals. This increases the strength of the espresso and decreases the extraction percentage, which ultimately impacts the taste of the espresso. Every tenth of a gram that you exceed above or below the coffee dose will have a slight effect on the strength, extraction time and extraction percentage. The more precise you are, the more consistent the shots will be and the better the taste. If great tasting espresso is what you're after, investing in a good quality coffee scale with impeccable accuracy like the Timemore Black Mirror Nano is a must!
More Brew & Tool Guides for Hobby Baristas and Professionals