Discover the Best Manual Coffee Grinders in 2023
If you are looking for the best hand coffee grinder in 2023 to brew a delicious cup of coffee at home, sit back, relax, and simply scroll down. I've embraced my inner coffee geek and reviewed nine portable burr coffee grinders ranging from entry-level to high-end so you can easily find the manual coffee grinder that is right for you. Starting off strong with my Top 5, this article also features a few budget friendly, hobbyist and vintage hand held coffee grinders.
Why is Using a Quality Hand Coffee Grinder so Important?
One of the golden rules when tipping your toes into the world of specialty coffee is to freshly grind your coffee beans with a quality hand crank grinder just before brewing.
Coffee is a delicate product that needs to be handled with care in order to preserve its flavors and aroma. Pre-ground coffee has already lost many of its aromatic qualities by the time you buy it and continues to do so while sitting on your shelves. Whole beans, if stored in an airtight container and ideally consumed between 5-7 days and 4 weeks after the roasting date, keep all that deliciousness locked inside that would otherwise escape before the coffee has a chance to land in your cup.

For an even extraction, coffee grounds need to be evenly sized and shaped. A quality coffee hand grinder will produce the precise and consistent grind you need to brew a tasty cup of coffee at home.
My recommendation for getting the most out of your morning coffee is to buy specialty grade coffee beans in small batches, freshly grind with a quality manual grinder before each brew, and adjust the grind size to your brewing equipment.
What Kind of Coffee Hand Grinder is Best?
What kind of manual grinder is best for your depends on the purpose for which it will be used. For espresso drinkers, the grinder must be precise, especially in the very to medium-fine range. Even the smallest fine adjustments should be possible, so paying attention to the number of microns each adjustment steps adds is important. Filter coffee drinkers, on the other hand, are not interested in fineness, but rather whether the grinder still delivers consistently good results in the medium-coarse range.
When choosing what manual burr grinder to buy, the key features to consider are the quality of the burrs for grind consistency, the grind settings as well as its capacity and portability. Depending on your budget, there are excellent options available on the market from entry-level to high-end and premium.
Materials and Handling
The body and base of most hand coffee grinders are made of stainless steel, plastic, glass, wood, or a combination of these. Pay attention to the length and shape of the handle as this impacts how portable the grinder is. While it is important for the grind experience and overall feel of the grinder to consider what material the body and handle are made off, you want to pay extra attention to the material used for the burrs. You have the option between ceramic and steel burr sets, the latter being the sharper and more efficient choice, whereas ceramic burrs tend to produce a lot of dust.
While producers often emphasize the burr size, this refers to the outer ring diameter, which can be misleading, depending on how big the distance is from the outer ring to the cutting edges. The measurement of the cone diameter delivers a fairer comparison of the actual burr specifications. Hence, burr size will not be a decisive factor in this article. Opting for a well-engineered hand crank coffee grinder that comes with quality burrs will significantly improve the taste of your coffee.
Capacity
Each hand held coffee grinder has a different hopper and basket capacity, which is important to consider when you want to brew larger quantities of filter coffee at once. If you end up grinding in batches because your hopper is too small, the first round of coffee grounds waiting in your brewing device will start losing flavor while you're grinding the remaining coffee, which is not desirable.
Grind Settings
To customize your brew, adjusting the grind size to the brewing device is crucial. Will you be brewing coffee with a french press? Will you need to produce a fine grind suitable for turkish coffee or espresso? To brew coffee with a variety of different coffee makers, you need a handheld coffee grinder that caters to your needs. Keep in mind that hand grinding your beans for espresso is a lengthier job as fine grinds require more effort and take longer to produce than coarser filter grinds. In this case, a bigger set of burrs will get the job done faster.
This article contains affiliate links to Amazon. As an Amazon Associate I earn from qualifying purchases.
Entry Level Manual Coffee Grinders on Amazon
High-End Manual Coffee Grinders on Amazon
Premium Hand Coffee Grinders on Amazon
My Top 5 Manual Coffee Grinders in 2022
Timemore C2 – Best Budget Hand Grinder
In my opinion the Timemore C2 is the best budget hand step-grinder out there. It comes with a decent set of 38 mm stainless steel conical burrs and provides a consistent grind for an affordable price. Turning the crank is a smooth and fast affair for medium grinds.
Capacity
The hopper capacity of this handheld coffee grinder is approximately 25 grams, depending on the size of the beans. The dimensions of the body are 147×52 mm and the handle is 159 mm long. In total the grinder puts just around 435 g on the scale.
Materials
The Timemore Chestnut C2 comprises a combination of aluminum, stainless steel and plastic parts. To describe this manual burr grinder from head to toe, both the ground catcher and the upper body are made of a mixture of aluminum and plastic, providing good grip and overall aesthetics. The handle is made of aluminum as well as plastic and has good ergonomics.
Grind Settings
To adjust the grind setting Timemore supplies users with a dial and click mechanism that can be operated when removing the bottom catcher. Even though the manufacturer suggests 6-12 clicks for espresso, this is not the grind adjustment where the C2 shines. Once you hit the 15-24 click range for Pour Over or 25-27 clicks for French Press you'll be rewarded with a smooth and speedy grinding experience and satisfactory particle distribution. While this hand crank coffee grinder does produce a noticeable amount of fines when comparing it to high end models, it is performing great considering its affordability.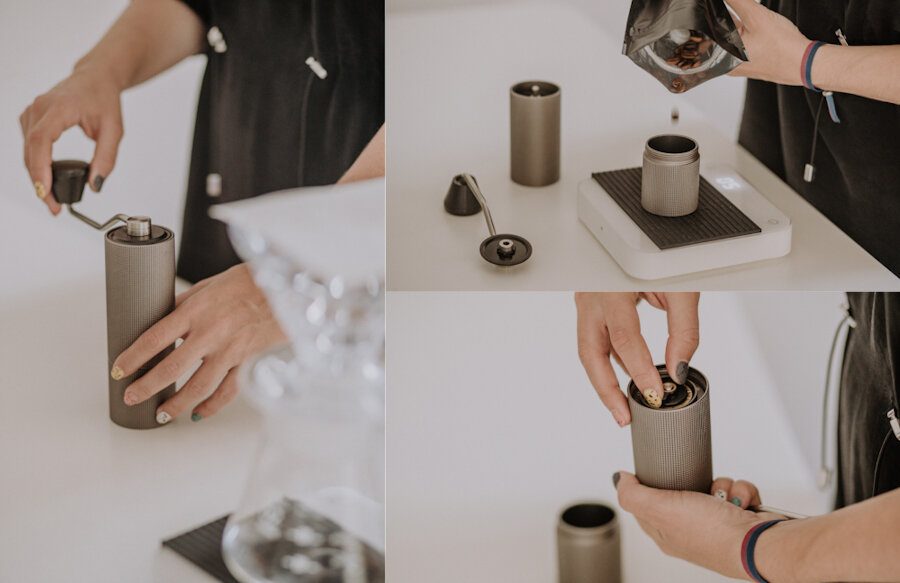 My Conclusion
The Timemore C2 hand grinder is great value for money and unbeatable in its price range. Despite having some plastic parts, it feels robust and sturdy. I find the design to be aesthetically pleasing and, as someone with smaller hands, really appreciate the non-slip grid pattern of the housing. To sum it up, if you are just embarking on your home barista journey, you can't go wrong with this entry-level manual grinder.
Comandante C40 Nitro Blade – Best Premium Hand Grinder
I've recently traded my first ever manual coffee grinder, the Porlex Mini, for a Comandante C40 Nitro Blade to step up my home barista game. While the price for this beautifully designed coffee grinder is definitely premium, it's the ultimate choice both for home brewers and professionals. Comandante grinders are built to last, well-engineered with attention to detail, and famous for an incredibly even grind from ultra-fine to coarse.
Capacity
The hopper and glass jar at the bottom both comfortably hold 40 grams of coffee.
Materials
The high quality parts of the Comandante handheld coffee grinder are mostly made of stainless steel, apart from the finish layer that is laminated on top of the body, the wooden knob on the handle, and the glass jar that catches the grinds. It features a couple of 100% food save plastic parts too, such as the lid. When grinding, the grip is good, but having small hands means I struggled a little with the smooth surface. Since using the custom made Comandante rubber band my grind experience really improved.
The glass jar fits perfectly on the top of the grinder so that no beans can bounce out when filling the hopper. It did happen to me that the glass jar dropped while I was grinding and shattered into a thousand little pieces, so be extra careful that you screw it on tightly before grinding your beans. The backup jar included comes in handy at this point.
The real stars of the show are the stainless steel conical burrs that produce an outstanding particle distribution. Comandante doesn't talk about the outer burr size, as it gives no information related to the performance. Their burrs are engineered to deliver the perfect mix of grind performance, speed, efficiency and ease of grinding.
Grind Settings
To adjust the grind size, the extensive clicking mechanism allows you to brew anything from espresso to french press, all the way to cupping bowls. You are likely to adjust your grind size by setting the 3-pointed dial somewhere between 5 and 35 clicks, but the number of available clicks extends well beyond that. There is a helpful illustration at the bottom where the click mechanism sits to show you what direction to move towards depending on whether you're after a finer or coarser grind.
To fine-tune your grind further, Comandante developed the Red Clix axle, which doubles the number of settings. Every click on the standard axle increases your particle size by 30 microns, whereas the Red Clix axle offers steps of 15 microns.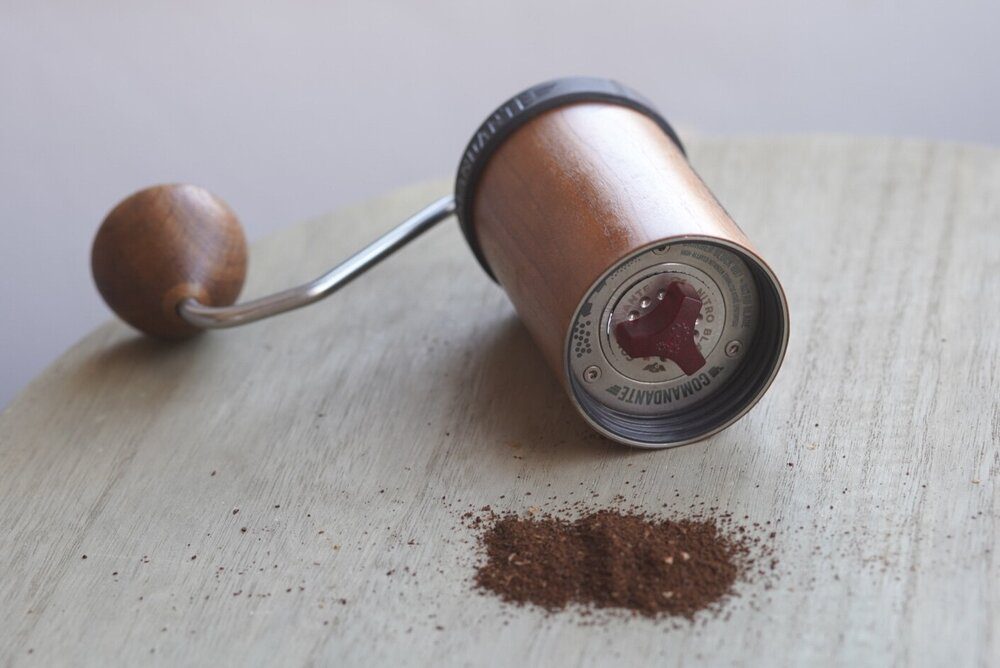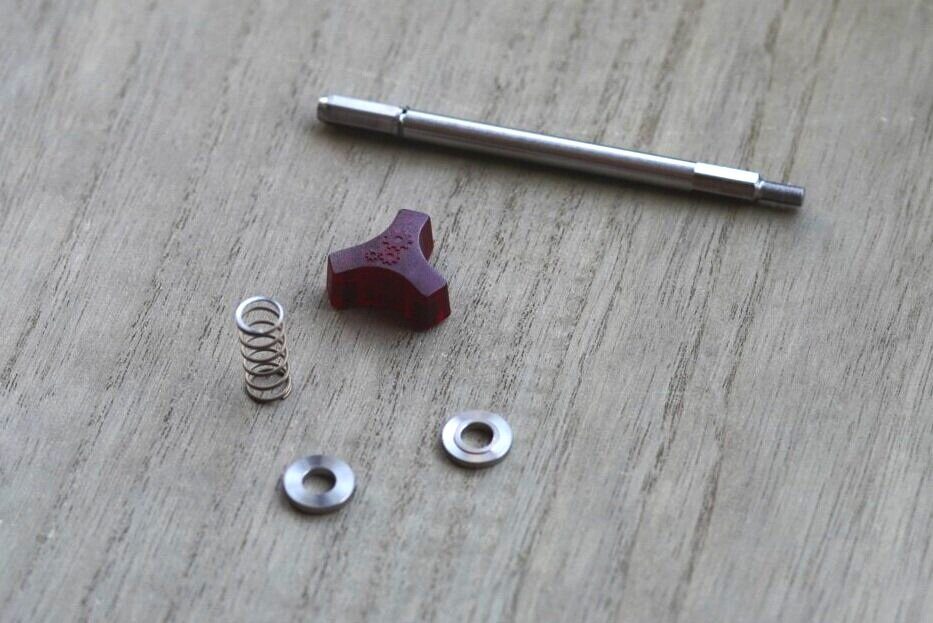 My conclusion
The Comandante C4 Nitro Blade excels most of the manual grinders in this line-up, both price-wise and performance-wise, and meets the requirements to extract all the right flavors of high-quality specialty coffee. If you're already familiar with the world of specialty coffee and want to take your brews to the next level, then this is the grinder for you! It is suitable for both hobby and professional use and will last you a lifetime if well taken care of. You can find more information on the Comandante website.
1Zpresso JX – Best Cost-Effective Hand Grinder
If you are looking for a fast hand crank coffee grinder that will satisfy your need for a consistent grind and doesn't break the bank, your best bet is the 1Zpresso JX Manual Coffee Grinder. It's one of the fastest of all the hand held coffee grinders I've reviewed and is a bit more slim than the Comandante grinder, which is nice for portability and ergonomics. It gets points for sharp and durable conical burrs that guarantee excellent grind efficiency.
Capacity
The hopper up top will hold a solid 30-35 grams of beans.
Materials
The majority of parts are made from stainless steel, including the conical burrs. When holding it, the 1Zpresso JX feels sturdy and durable. A rubber sleeve ensures a good grip while grinding. The best way to clean it is with a cleaning brush, which is luckily included. All parts are quickly disassembled if you need to do a thorough cleaning.
Grind settings
The 1Zpresso JX Manual Coffee Grinder covers a wide range of grind settings. It is easy to dial in and offers a great spectrum of adjustment levels to find the sweet spot for your coffee. It can work for espresso but isn't ideal. If you are an espresso lover the 1Zpresso JX-PRO Manual Coffee Grinder with a total of 40 adjustment levels, each click shifting the grind by precisely 12.5 microns, is the better choice for you.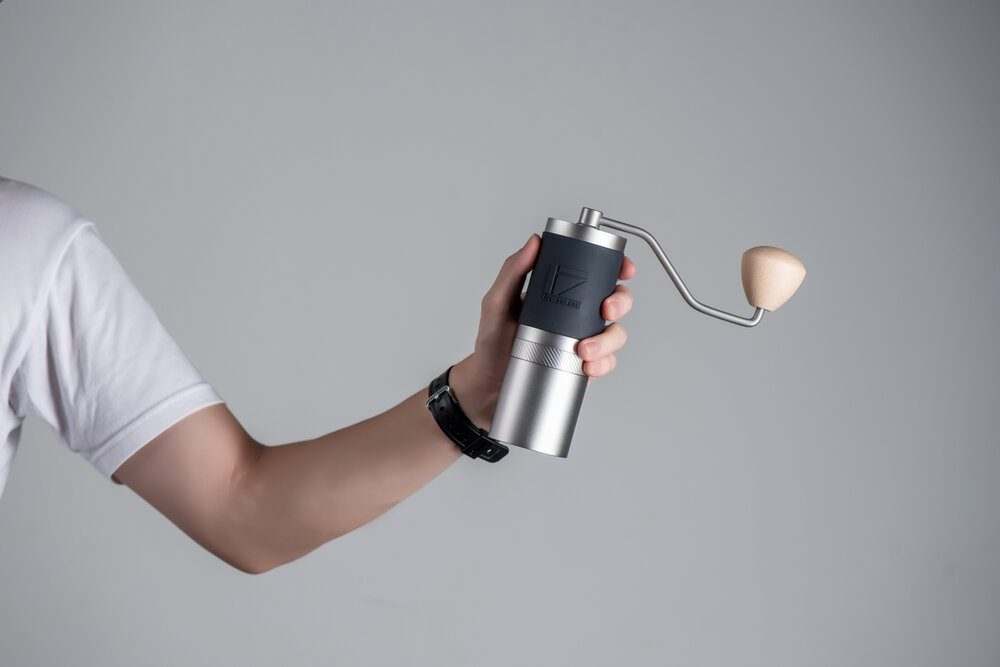 My conclusion
The 1Zpresso JX is a high-end, well-engineered hand coffee grinder. Grinding with it is a breeze and the grind consistency is remarkable for its price range. A solid choice for true coffee lovers!
1Zpresso K-PLUS Manual Coffee Grinder – Best All-Rounder
The 1Zpresso K-Plus has a lot going for it. Due to its clever design, unique burr set and useful accessories, it confidently joins the ranks of premium manual coffee grinders. Some of its highlights include an outer adjustment wheel, a twist and open magnetic grind catcher and an extremely smooth grind experience. 
Capacity
The 1Zpresso K-Plus features one mighty grind catcher. It's magnetic and opens with a simple twist, which is much faster than screwing a bean jar on and off, as is the case with most other grinders. Depending on the bean size the top can be comfortably filled with 35 to 40 grams.
The bean jar is a bit more flexible thanks to the featured spacer ring. It's a neat little extra, which allows you to adjust its size. It comes in handy when you're traveling as it allows you to reduce the length of the grinder. But that is not all. The bundle includes a practical blind catcher for careful dosing and easy releasing of coffee grounds into almost any portafilter.
Materials
This hand grinder is being crafted from a mix of materials, namely wood, polycarbonate, silicone, stainless steel and aluminium alloy. It definitely looks and feels premium. To make sure you have the best possible grip the body was slimmed where you're holding the grinder.
The two rubber rings that are included further improve the hold. A set of 48 mm heptagonal stainless steal conical burrs ensures a speedy and smooth grind experience. For reference, it takes me approximately 1 minute to grind 18 grams for espresso.
Grind Setting
Now onto one of my favourite features of this hand grinder: the external adjustment ring design for easily setting the grind size. Gone are the days of having to crank down to zero and click backwards every time you want to change your grind settings. Each step is an adjustment of 22 microns. A total of 160 different stepped adjustments are available. Dialing in your grind setting has never been easier. It reliably produces even grinds suitable for espresso, pour over and cold brew.
My conclusion
If you're in the market for an all purpose manual grinder that comes with a bunch of useful tools, then the 1Zpresso K-Plus is a great choice. It has a few additional accessories up its sleeve, such as a brush, blower and cleaning brush for easy maintenance. Extra points to the 1Zpresso team for throwing in a travel case for portability.
Timemore Chestnut G1 Manual Grinder – Best Craftsmanship
The Timemore Chestnut G1 coffee grinder is a stunning pro-level grinder. As the winner of the Reddot Design Award 2017 it'll look great on your shelves. But does it perform as well as it looks? You can either buy this manual grinder with stainless steel burrs or titanium coated burrs. The 38mm stainless steel titanium coated burrs sound promising and are almost cutting the grinding time in half compared to Timemore's entry-model Chestnut C2. Let's take a look at the grinder in more detail.
Capacity
The hopper has a maximum capacity of 30 grams. You can safely load it with 25 grams no matter the size of your coffee beans.
Materials
The upper body and inside of the basket are made from aluminum alloy, whereas the handle and burrs are made from stainless steel. A walnut wood handle knob and walnut wood wrapping of the basket nicely complement the metals.
The connection of the jar and upper body is made through a click mechanism. While it does feel firm and steady and is a little quicker than the screw mechanism that most other grinders use, I couldn't help but wonder whether it would loosen up over time. The Timemore Chestnut G1 grinder comes with a practical brush which is recommended to use for cleaning.
Grind settings
A metal step adjustment wheel allows you to define your grind size. The titanium coated burrs are great for fine to medium grinds, whereas the stainless steel burrs struggle to get your grinds to the fineness a great espresso shot requires. In any case, Timemore recommends starting at 6 clicks to prevent the grindstones from touching. When dialing in the grinder I couldn't help but notice that the steps between clicks are quite significant.
My conclusion
If you're getting more serious about brewing coffee at home and design, as well as ergonomics, are important to you, Timemore's Chestnut G1 is a great option. This manual coffee grinder will most definitely cater to your needs if you're into pour-over. For espresso lovers, I recommend considering the slightly more pricey stainless steel burrs coated with titanium. A word of caution for professionals: you might experience that the steps between grind settings are too significant for fine-tuning your grind.
On a Budget? Popular Entry-Level Hand Grinders That Won't Break The Bank
The
Porlex Mini
was the first manual coffee grinder I purchased when I started getting more serious about coffee in 2015. As I was on the road most of the time, this well-built lightweight proved to be the perfect travel companion.
While there's a detectable spread of particle sizes, which in my opinion is inevitable in its price range, I've brewed some tasty coffees on the go with this grinder. Porlex did release an update, the
Porlex Mini II,
which comes with a newly designed burr set. I haven't had a chance to test it yet, but it is said to grind beans easier, faster, and more evenly than the original.
Capacity
The hopper capacity is quite limited with maximum 25 grams of coffee. If you regularly brew larger batches of filter coffee, this is not the grinder for you. But if you're a lone wolf like me that is brewing one cup of coffee at a time then it'll do just fine. Depending on your recipe you'll get enough coffee grounds for 1-2 cups out of a single run.
Materials
The housing of the Porlex Mini is made from stainless steel and comes with a lid. A smart little detail I really like is the rubber ring around the body that not only makes for a better grip but also allows you to attach the handle to the side of the grinder when you store it away. Its spring-loaded ceramic conical burr set is made from Japanese clay and can easily be cleaned using a soft brush. Overall this hand crank coffee grinder feels long-lasting and its compact size makes for an easy-going and speedy grinding experience.
Grind Settings
By removing the grind catcher you'll be able to adjust your grind setting with a number of clicks on the three-legged star at the bottom of the body from anywhere between fine and french press coarse.
My conclusion
The Porlex Mini is a durable coffee hand grinder and a budget-friendly choice for aspiring home baristas. It's particularly handy for traveling as well as outdoor brewing as it is nicely portable. It even fits into the body of the AeroPress.
The grind adjustment wheel makes finding your favorite setting easy. That being said, you'll likely encounter some grind inconsistencies the coarser your grind setting, which is a normal occurrence with entry level grinders. If grind uniformity in medium to coarse grinds is something you value most in a grinder, take a closer look at the next high-end options.
This Hario Skerton Plus is an improved version of its predecessor Skerton, which looks exactly the same. It's a handy coffee grinder that will last you a long time if you take good care of it. It is equipped with a burr stabilizing plate that helps keep the center shaft in place for a more consistent grind. I recommend it for its affordability, volume, and easy usability in day to day life. Considering the low price point the lack of consistency when grinding coarsely is somewhat acceptable.
Capacity
If you brew in batches then the volume of this hand grinder will satisfy your needs. The hopper up top will hold about 75 grams of beans and the glass jar at the bottom will hold up to 100 grams of ground coffee.
Materials
All of the metal used to build this grinder is stainless steel. The burrs are made from ceramic, this way they won't rust as can happen with metal burrs. They also don't affect the taste of your coffee. The bottom part is made out of glass and comes with a silicone pad that will protect the glass from breaking, but also your wooden table or counter from scratches.
The top is covered with a soft lid to keep the beans from popping out. After grinding, you can save the ground coffee in the glass if needed as it comes with a lid as well. All parts are easy to disassemble and completely washable. For cleaning the burrs a toothbrush will do the trick. 
Grind settings
The Hario Skerton Plus allows you to adjust your grind settings with a locking piece and a little thumbscrew under the handle that enables you to regulate the distance between the burrs. It's a trial and error activity. I prefer a click system as it is more precise and enables you to recreate a previous grind setting more easily. 
The consistency is really quite good for finer grinds but gets less reliable the coarser the grind. If you are planning to use it for a coarser grind setting needed for brewers like the Chemex, you might want to take a look at the Skerton Pro which achieves better results with coarser grind sizes.
My conclusion
The Hario Skelton Plus is a reliable hand coffee grinder for a low price. It's nicely designed, not too heavy, and comes with ceramic burrs. The drawbacks of this hand held coffee grinder are a lack of consistency with coarser grinds and the difficulty to recreate grind sizes as there is no clicking mechanism in place to help you remember previous settings. Having small hands I also found the ergonomics to be somewhat lacking.
Best Lightweight Hand Grinder For Traveling
Orphan Espresso FIXIE Grinder
Idaho-based Orphan Espresso, the innovators behind the popular Lido 3 grinder, launched a new ultralight travel hand grinder in 2020 with a focus on portability. On top of being a lightweight, the OE FIXIE is equipped with a durable set of hardened steel conical burrs and a one-of-a-kind system of disks and tuner shims to adjust the grind size. But is the grind as smooth as the feel of its carbon fiber finish? Let's find out!
Capacity
The FIXIE manual hand grinder holds 50 grams of coffee in the hopper and 30 grams in the grounds cup. It is worth noting that instead of an opening up top, the hopper is filled with beans through a side opening in the body. The grind catcher will do the job well, but trying to funnel in the beans by hand will likely turn into a hit and miss situation.
Materials
Giving praise where praise is due, the FIXIE is extremely sleek and robust at the same time. It packs a variety of different materials. The body feels super smooth thanks to a carbon fiber finish. The turning handle is made of carbon fiber as well, whereas the seal system is made of silicon. The cup, which cracks open and closes with a little twist, is made of titanium. Top and bottom bearing plates, drive disk and top assembly nut are made of anodized aluminum.
As for the three FIXIE disks – one for fine, one for medium and one for coarse grinds – they are made of DELRIN®, while the shims are made of teflon. The steel conical burrs can very easily be removed for cleaning by simply taking off the handle. But this means they just as easily fall out when adjusting the grind, which brings me to my next point…
Grind Settings
The FIXIE hand grinder uses spacers for grind adjustments. By taking off the handle and stacking FIXIE disks and shims on top of each other, you can adjust your grind size from fine to coarse. The way that works is a bit counter intuitive, as finer grinds require a higher stack of disks and shims.
The FIXIE disks have marks to recognize which one is for fine, medium or coarse grinds. Understanding the system takes some getting used to, but once you have found your ideal combination of disks and shims, the grind size will be easy to replicate.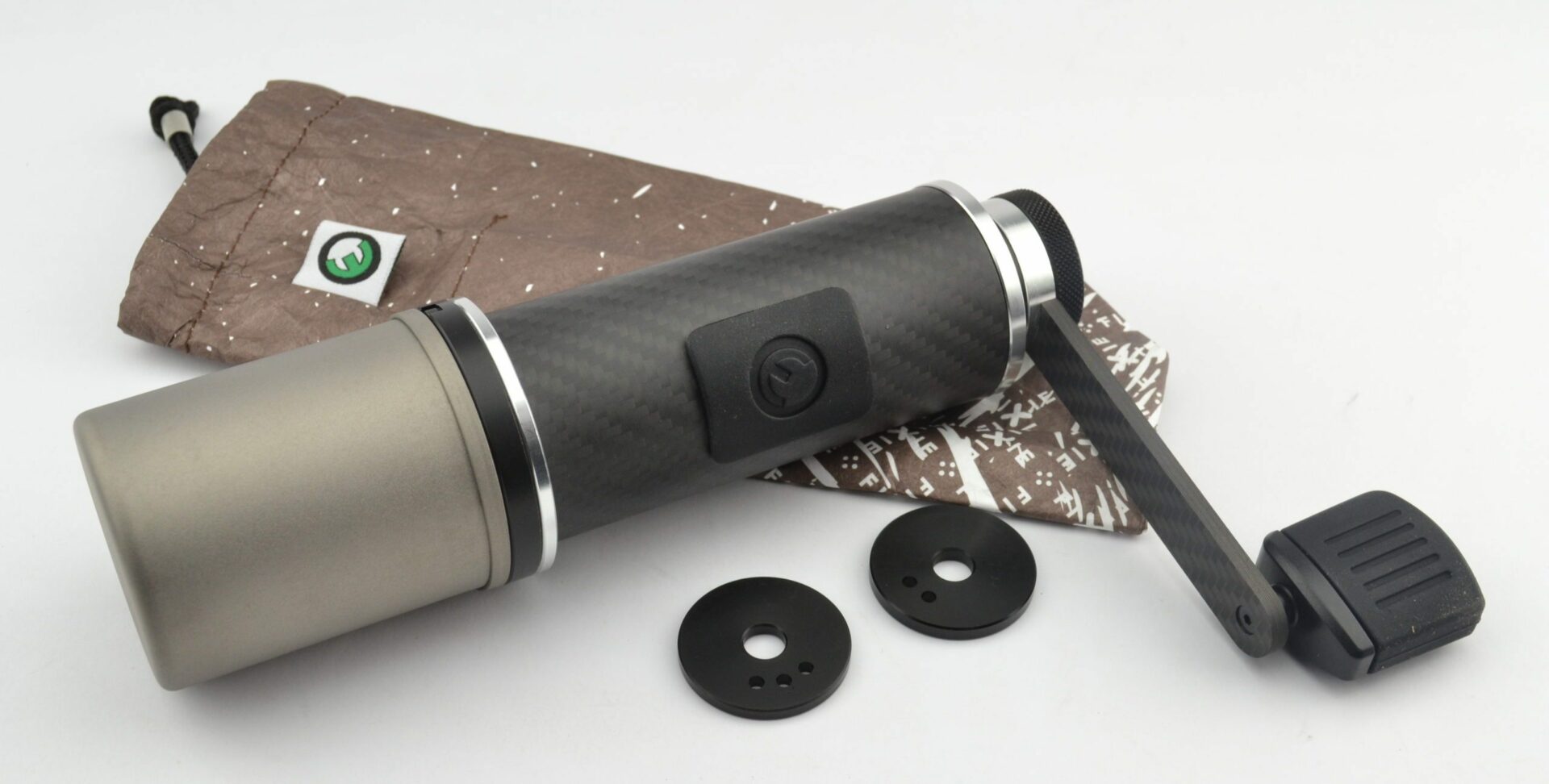 My conclusion
The OE FIXIE is a great hand grinder for coffee lovers who like to travel light and pretty much stick to the same grind size most of the time. The grind adjustment system is not exactly straight forward and takes some fiddling and getting used to. For fine to medium grinds the FIXIE performs very well, but going coarser you will notice minor inconsistencies in the particle sizes.
The grind speed improves as you break in the burrs, but starts off at about one minute for 30 grams of medium ground coffee. This handheld coffee grinder comes with a bag that has a little practical pocket for the handle and a box for the disks and shims.
Last But Not Least… One For The Vintage Lovers
Kalita Coffee Mill KH-3 Retro one
Last but not least I wanted to include the Kalita coffee Mill KH-3 in this list to introduce you to an entirely different style of hand coffee grinder. Most of the manual grinders look pretty sleek and modern these days, but the Kalita KH-3 brings an old fashioned feel to the table that reminds me of my grandmother's coffee mill.
This is a unique grinder in that most vintage coffee grinders are bulky and quadrangular, whereas this model is round, which makes it much nicer to hold firmly while grinding. I can see why it is so popular in Japan! You do need a bit of patience when using this grinder, so if you're into the slow coffee movement it will fit right in with that concept.
Capacity
The hopper up top holds about 35 grams of beans and the bottom part holds 55 grams of ground coffee.
Materials
In line with the retro design, the materials are made out of wood and iron. This hand crank coffee grinder has a wrought iron hopper on the top and comes with a wooden jar. Take note that there is no lid that protects your coffee beans from bouncing out while grinding. As goes with any hand grinder in this list, if you want to clean it, do so with a brush.
Grind settings
If you want to adjust the grind settings you have to take the handle off and adjust the thumbscrew, which is a bit of a gamble, to be honest. After that, you put the handle back up and start grinding. Reproducing the same grind setting time and time again is difficult with this grinder as there are no clicks to keep track of it. It does a fairly decent job for fine to medium grinds. But when grinding coarser, it reaches its limit.
My conclusion
Are you looking for a robust vintage hand grinder that will look nice on your kitchen counter and gets the job done? Then the Kalita coffee Mill KH-3 Retro is a great choice for you. 
Frequently Asked Questions about Manual Coffee Grinders
Are Hand Coffee Grinders Better than Electric Grinders? 
Manual coffee grinders are the ultimate tool for home brewers who want more control over their coffee-making process. Not only are they simpler and more affordable than electric grinders, but they're also more portable. This makes them the ideal option for coffee lovers who are always on-the-go. The best part? The quality of your coffee is directly linked to your own energy and the grinder setting. This creates an immersive and rewarding coffee-making experience, as you can experiment with different settings and techniques to achieve the perfect grind for your brewing method.
However, it's important to note that the finer the grind, the more time-consuming and challenging the grinding process can become. This is particularly true for espresso enthusiasts who require very fine grinds for their shots. Grinding each dose by hand can become a tiresome process, so it's worth considering an electric grinder if you're looking for a faster and more convenient option.
That being said, if you're looking for an electric coffee grinder that doesn't break the bank, the Timemore Grinder Go is a great option to consider. It's compact, portable, and has a range of settings that allow you to achieve the perfect grind for your brewing method.
In conclusion, while electric grinders may be a popular choice, manual coffee grinders offer a unique and rewarding coffee-making experience that's worth considering. If you're interested in learning more about the pros and cons of manual versus electric coffee grinders, be sure to check out our in-depth article on the topic.
How do I clean and maintain a manual coffee grinder?
Disassemble: Carefully take apart your grinder, following the manufacturer's instructions. This usually involves removing the handle, the top nut, and the grind adjustment piece to access the burrs.

Clean the Burrs: Use a small brush (a soft toothbrush can do the trick) to gently clean the burrs. Brush away any residual coffee grounds, making sure to reach into all the nooks and crannies.

Clean the Grinder Body: Use a slightly damp or dry cloth to wipe the inside and outside of the grinder body. Avoid using water directly on the grinder to prevent damage to the metal parts.

Reassemble: Once all parts are clean and dry, reassemble your grinder.

Regular Maintenance: Repeat this process every few weeks, or more frequently if you're grinding dark roast beans, which tend to be oilier and can leave residue more quickly.
How do I prevent static and mess when grinding manually?
Keeping the process of grinding coffee clean and static-free is a common concern among coffee lovers, especially when using manual grinders. Here's how you can manage it:
Water Droplet Technique: Also known as the Ross Droplet Technique, this method involves adding a few drops of water to your coffee beans before grinding. The water helps to reduce static electricity that causes coffee grounds to stick to the grinder. Using a fine mist spray bottle is ideal.
Wait Before Opening: After grinding, give the coffee a moment to rest before opening the grinder. This allows any static charge that may have built up during grinding to dissipate.
Grind Slower: Grinding at a slower pace can also help minimize static. The friction from fast grinding can contribute to a static charge.
Choose the Right Grinder: Some grinders are more prone to static than others. If it's a constant issue, you might want to consider getting a grinder with anti-static materials.
Regular Cleaning: Keeping your grinder clean can also help to reduce static. Coffee oils can build up over time and contribute to static build-up.
What are the pros and cons of ceramic vs steel burrs in manual grinders?
Ceramic burrs maintain their sharpness for an extended period, ensuring a consistent grind size. Unlike metal, ceramic does not conduct heat easily, meaning it won't cause your coffee beans to overheat during the grinding process, which could negatively impact flavor. However, ceramic burrs are more fragile and can chip or crack ore easily than burrs made of steel.
Steel burrs are robust and less likely to chip, lending them a degree of durability that ceramic burrs lack. Steel burrs often grind beans quicker than ceramic due to their sharpness and strength. While they offer certain advantages, steel burrs can be more expensive than ceramic ones and may dull more quickly over time, affecting the consistency of the grind.
More Tool Guides for Hobby Baristas and Professionals