Chemex Coffee Maker – How to use the Chemex like a Champion
You want to find out if the Chemex coffee maker is the right brewing equipment for you and how to make delicious coffee using the Chemex? Then look no further! In this brew guide I share why it is my favorite coffee maker, practical tips as well as the best filter options for brewing with the Chemex, and an exclusive recipe developed by a barista champion.
This article contains affiliate links to Amazon. As an Amazon Associate I earn from qualifying purchases.
Why the Chemex is My Favourite Coffee Maker
Brewing a Chemex coffee is like a calming ritual for slow mornings or relaxed afternoons. It is a wonderful celebration of coffee and all its manifold flavours, which is one of the reasons why the Chemex is a favourite pour over method. It has a timeless and simple design and produces a clear cup that highlights the sweetness of the coffee you are brewing. Unpleasant bitterness has almost no chance to run through the thick Chemex filter. The Chemex is made of high-quality glass that is heat-resistant and imparts no flavors of its own. And on top of all these amazing qualities, the Chemex is also the most beautiful coffee maker of all time and is a great addition to any kitchen or living room. It might take some practice at the beginning, but once you get the hang of it brewing coffee with the Chemex is effortless. Just follow the recipe in this article and you'll have your Chemex coffee ready in no time.
The Design of the Chemex – A Work of Art
The Chemex is the kind of coffee maker that is repurposed in the most creative ways due to its timeless design and elegance. Whether its turned into a vase or a lamp hanging from the ceiling, the opportunities to make use of it seem endless. The Chemex was designed well before filter coffee was cool again – in 1941 by the German scientist Peter J. Schlumbohm to be precise – but is hardly ever missing on the shelf of a third wave coffee shop today. Although simple, the glass flask with wooden collar and leather tie radiates pure sophistication. The neck part also keeps you from burning your fingers. The hourglass shaped vessel has not been altered since its invention. Its purposeful design is so noteworthy that the Chemex became part of the permanent collections at the Brooklyn Museum, Corning Museum of Glass and the Museum of Modern Art in New York.
Form and Function of the Chemex – Stay at Home Coffee Maker
One very likable characteristic of the Chemex Coffee Maker is that it's made from only three simple, everyday materials: Pyrex glass, wood and leather. It looks like it came straight out of a laboratory and certainly deserves a permanent place on your kitchen counter. While in my eyes it's an advantage that the Chemex isn't made of plastic, it's definitely not an easy travel companion. If you're planning a hiking or camping trip, the Chemex is not the ideal coffee maker to carry with you, as its glass flask is fragile and could break in your luggage. It is also a bit too bulky to fit in a cabin bag. If you travel frequently and want to brew coffee on the go, the AeroPress would be the better option.
The hourglass shape on its own doesn't really do much for the flavor of your coffee, that's where the Chemex filters come in. But did you know that it helps to cool down the coffee after you've finished brewing? I often see coffee folks giving the Chemex a swirl to reduce the temperature of the coffee faster.
The Essentials – What you Need to Brew Coffee With the Chemex
The essentials are the Chemex coffee maker and the Chemex filters. You can buy the classic Chemex series in different sizes – either 3 cup, 6 cup, 8 cup or even 10 cup. The 6 cup Chemex is the most popular option. I also recommend using a manual coffee grinder, gooseneck kettle and scale. As ground coffee is losing aroma in as little as 30 seconds, it is essential to freshly grind your beans every time you brew yourself a coffee. A gooseneck kettle gives you greater control of how much water flows and lets you be more precise when it comes to pouring water over the coffee grounds in your Chemex filter. To follow the recipe in this brew guide a coffee scale will come in handy. It will allow you to precisely weigh how much ground coffee and water you are using for your pour over.
What Filters to Use for Brewing Chemex Coffee
If you are learning how to use the Chemex to brew delicious coffee, I recommend using Chemex bonded filters. They are approximately 20-30% thicker than conventional filter paper and their special fibre prevents oils, bitter elements or coffee grounds from getting into your coffee when brewing. As a result, coffee from a Chemex tastes particularly aromatic, nuanced and clean. Filters come prefolded and in three different shapes: square (for 6-8 cups), round or circle (for 6-8 cups) and half-moon (Chemex 3 cup filters). Even though the square and round filters have different shapes, they function exactly the same way. Whether you prefer one over the other is merely a matter of aesthetics. You may also choose between bleached and natural Chemex filters. The latter will be more environmentally friendly, as its naturally brown coloured and the filter paper only turns white through an oxidizing cleansing bath. Despite the difference in colour, rest assured that they both consist of the same laboratory-grade paper.
For those of you who are not a fan of single use paper filters and want to reuse Chemex filters instead, there is another option! The Barista Warrior Pour Over Coffee Filter is made from durable stainless steel and can be reused time and time again. The micro-filtering holes let more oils through than a Chemex filter, which creates a fuller body in your cup. It fits the classic Chemex coffee maker in 6, 8 and 10 cup sizes. Whether you prefer a stainless steel filter over a paper filter really depends on your personal preference. Personally, I prefer the aromatic and clean cup that the Chemex paper filters produce.
Lastly, CoffeeSock have developed an eco-friendly, reusable Chemex cloth filter made from organic cotton that can last up to a year. It is designed to preserve the most subtle flavors of highest grade coffees.
How to use the Chemex Step by Step
Chemex Recipe by Thai Barista Champion Athip Archalerttrakool
During a recent visit at Factory, one of Bangkok's best coffee shops, the Thai Barista Champion Athip Archalerttrakool prepared a delicious coffee using the Chemex. He shared his Chemex recipe with me so I can tell you guys all about it in this brewing guide. Athip prepared a single-origin coffee from PangKhon, a coffee region near Chiang Rai, with black honey processed coffee beans of mixed varietals. The flavors to be expected in the cup were orange, sugar cane, and black tea.
Chemex Brew Guide Approved by a Champion
Recipe:
20 grams of coffee
280 grams of water at 93 degrees Celcius
Brew time 2:30 minutes
Athip weight 20g of beans on a scale, ground them coarsely, and let us smell the sweet aroma of the freshly ground beans. The gooseneck kettle he used is from Brewista. It features a gooseneck spout and temperature control perfect for brewing pour-over. The digital display reads the actual temperature of the water, which enabled Athip to heat the water up precisely to 93 degrees. For this Chemex recipe, he was using a brew ratio of 1:14 which translates to 280g of water (plus a little extra for rinsing the filter before brewing) and 20 grams of coffee. The brewing time is 2:30mins.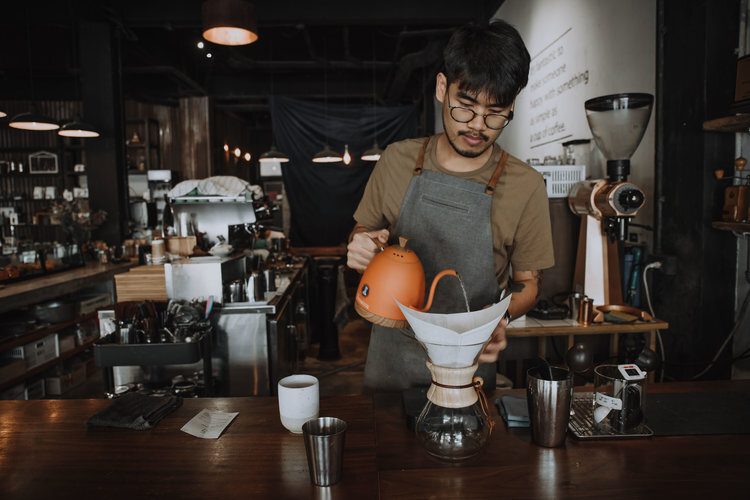 First things first. After placing the Chemex filter in the flask Athip rinsed it with hot water to eliminate any unwanted paper taste while warming up the caraffe at the same time. The water was then discarded.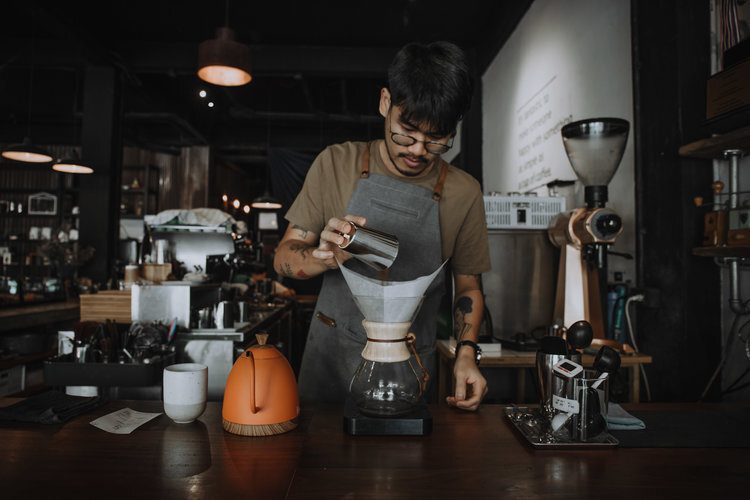 Next up he poured the ground coffee into the Chemex filter followed by double the amount of water, which he gently poured in circles starting from the center moving outwards. He waited a bit over 30 seconds to let the coffee 'bloom', before continuing to slowly pour water in circular motions, taking breaks of a few seconds in between pours.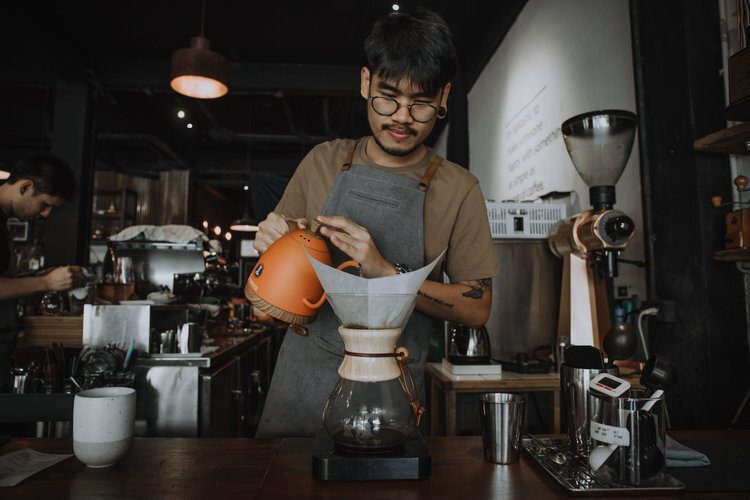 After all of the water dripped through the grounds Athip discarded the Chemex filter. Thanks to the strength of the filter you can remove it without spilling any coffee grounds in the process.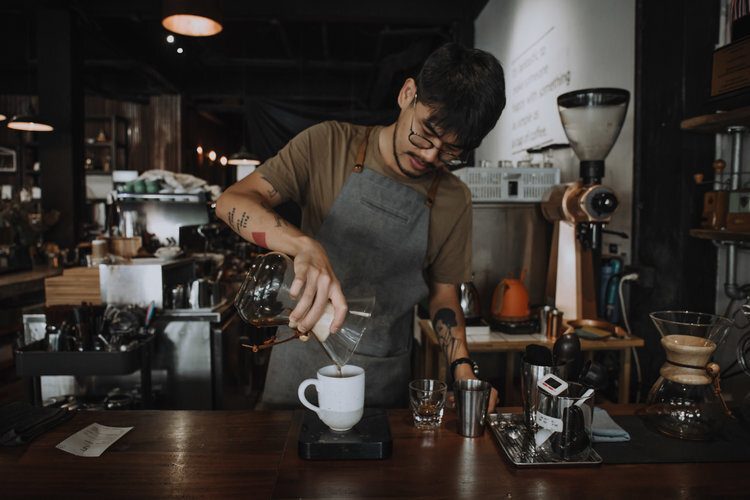 Due to the shaped spout of the Chemex, Athip was able to pour the coffee in the cup without spilling a drop. We enjoyed the fruity after taste and modest acidity of his brew. Notes of black tea were very present in the cup and I tasted the orange flavour more clearly after the coffee had cooled down a bit.
Chemex Coffee to Water Ratio
The Chemex coffee ratio used for this recipe is just one of many options. While 1:14 is always my go to brew ratio to test new waters, or in this case coffees, different circumstances and beans require different coffee to water ratios. If you like stronger coffee, then a brew ratio of 1:12 will give you exactly that. This means that for every 1 gram of coffee you will use 12 grams of water. If we adjust the brewing recipe above accordingly, this translates to 240 grams of water for 20 grams of coffee to make a more concentrated brew. This is also a great coffee ratio to use if you're brewing on ice. Another popular coffee to water ratio for the Chemex is 1:15. Here we use 300 grams of water for 20 grams of coffee. When testing different coffee to water ratios for the Chemex, 1:15 at times caused astringency and slight bitterness in my cup. Which brew ratio works best depends a lot on how you like your coffee. Give different recipes a try to find what suits you taste buds.
More Brew & Tool Guides for Hobby Baristas and Professionals