Best cafes and specialty coffee shops in Barcelona – Bean there done that
What a city! Every time I come to Barcelona I am wondering why am I not already living here!? The second biggest city after Madrid is blessed with beautiful weather, nice beaches and stunning architecture as far as the eye can see. On top of that the food is amazing and don't even get me started on Barcelona's coffee scene! Cafes and specialty coffee shops in Barcelona are plentiful and scattered across what can only be described as an urban playground. This time around I did some in depth exploring of all the brewing and pouring – and let's just say, I'm impressed! Here are the best Barcelona cafes I found.
Cafes and specialty coffee shops in Gracia
SlowMov

Describing SlowMov in one word is impossible. It's a coffee shop, a roastery, a project, a movement, a think tank and a community space all in one. Two passionate individuals are behind it, Carmen and François, with support from Paris based roastery Coutume. It is also one of the few places in town that has a roaster (Giesen) on site. I was told it's quite difficult to obtain a permit for those in Barcelona.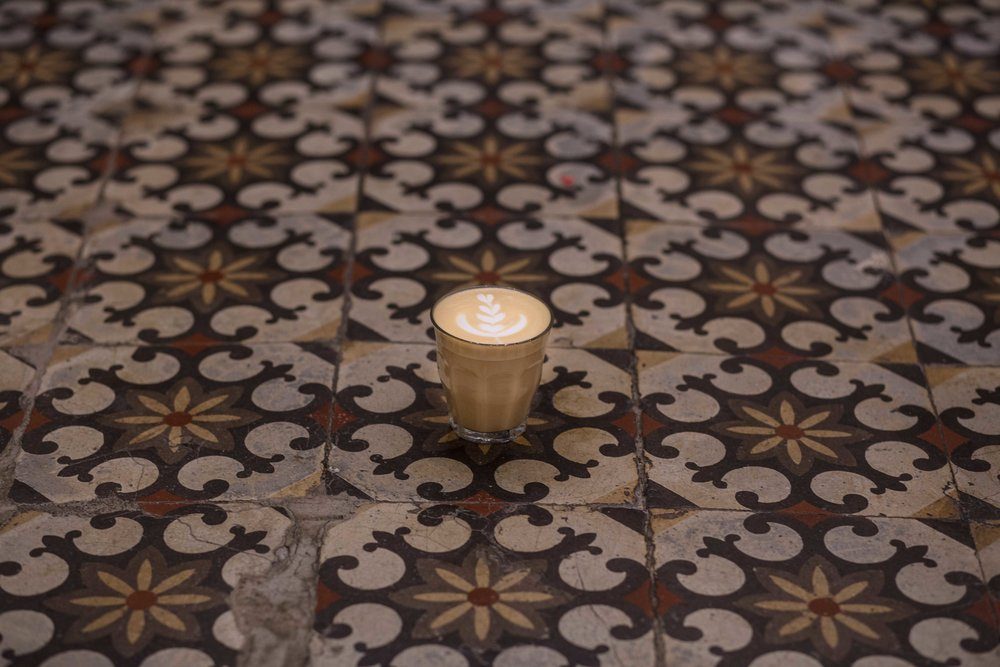 The majority of beans roasted by SlowMov have been imported by Coutume, Carmen tells me, as she is sipping on a Cortado in the cute courtyard out of a back door. It is quite a busy day for her, but she takes the time to sit down with me anyways. This is what SlowMov is all about, slowing down, staying in the moment and consuming responsibly. Her appreciation for specialty coffee was born while working in the gastronomy in Paris, while another great inspiration shaping her project was a trip to Ireland, where she came across the sustainable tourist guide "Slow Dublin". Needless to say that apart from espresso, you'll also encounter slow coffee at SlowMov. From Chemex, Aeropress, V60 to a French Press, the choice is yours to make! But the movement doesn't only care about quality coffee. The packaging for the coffee beans is biodegradable, all produce is local, seasonal and organic and everything is prepared with the utmost attention. The café is also designed in a way that encourages interaction, thanks to a large communal table and the lack of a counter separating barista and guest. Come in, leave your watch at home and get lost in the moment!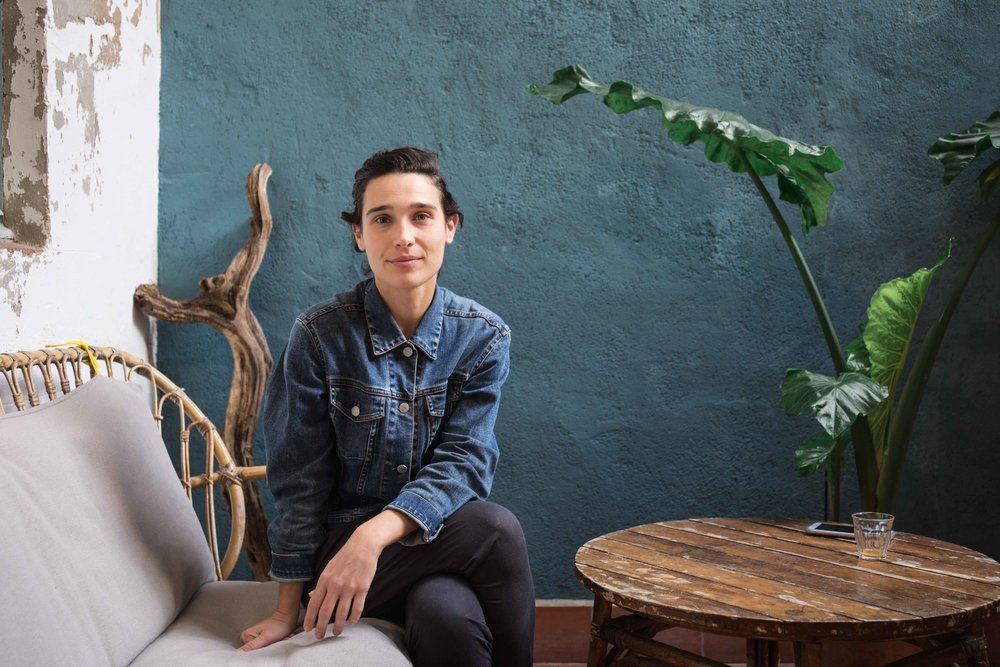 Address:
Carrer de Luis Antúnez, 18
Barcelona, Spain
Syra Coffee

Syra Coffee is a small take-away spot that first opened in October 2015 and relocated within Gracia neighbourhood in June 2017. The owner Yassir, who is an architect by profession, created the cafe as a passion project. The well thought out design of this place alone is a great draw, but I would also come back just for the delicious brew. Syra has a cooperation with San Agustin coffee roasters, who I had previously encountered on a trip to Palma de Mallorca, and served a washed Honduras La Rosa for espresso. Yassir has also opened a second Syra coffee bar following the same minimalist and compact approach in Eixample close to the metro Girona.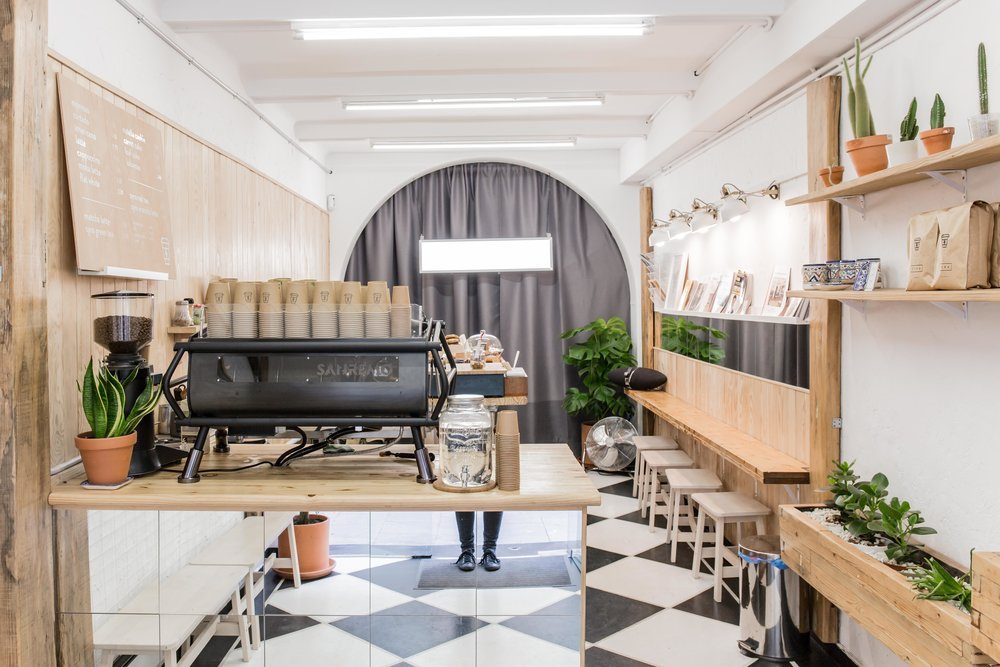 Address Gracia:
Mare de Deu dels Desamparats, 8
08012 Barcelona
Address Eixample:
Passatge del Pla, 11
08009 Barcelona
Cafes and specialty coffee shops in Eixample
Roast Club Cafe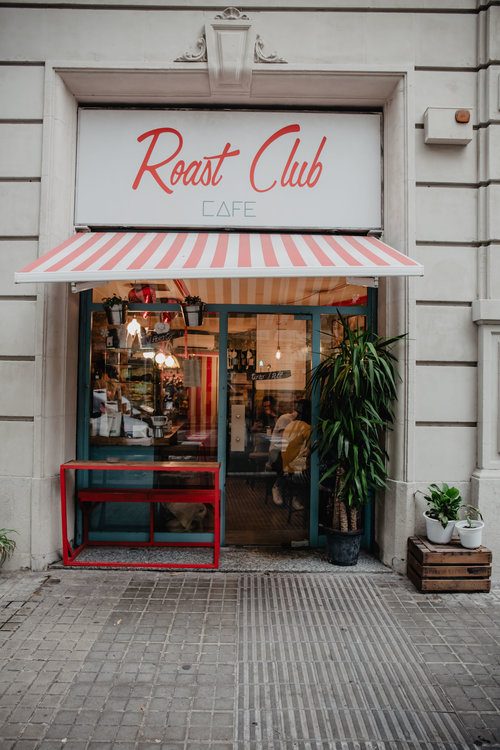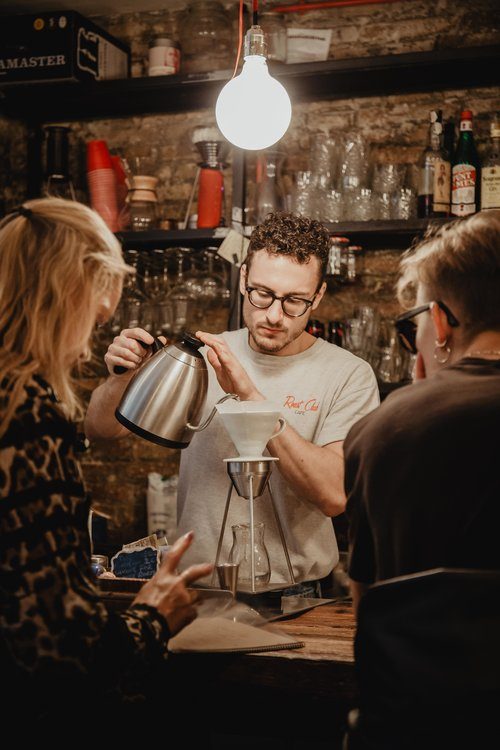 Roast Club Cafe have just celebrated their 2nd birthday in the neighbourhood of Eixample. It is a project by Iker Zago from Italy, who has poured all his passion for coffee into the small café. During breakfast and brunch hours it fills quickly, but guests are encouraged to share tables when possible. The atmosphere is extremely friendly and the guys working the bar have a nice word for everyone who enters however busy it may get.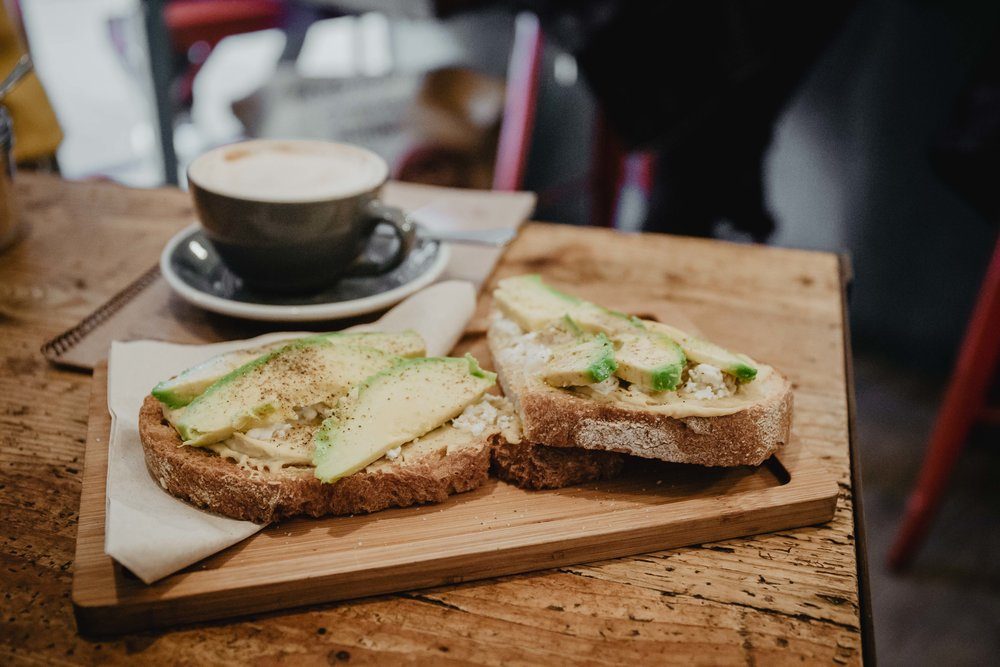 Healthy power bowls are a specialty of the house, as are bagels and tostadas with clever toppings. But what would breakfast be without coffee, am I right?! The Roast Club surprises guests every week with a different guest roaster. At the moment Lippe Kaffe from Oslo are making an appearance, as have La Cabra and Ditta Artigianale in the past. From next month the cafe is joining the club of roasteries, when they start taking roasting into their own hands.
Address:
Carrer de València 143
08011 Barcelona
La Masala Cafe

La Masala Cafe is a tranquil breakfast and brunch spot in the La Ribera/Sant Pere area of Barcelona. The brunch menu holds a number of different vegetarian sandwiches and tostadas that are freshly prepared upon ordering by co-owner Alejandra. Yoghurt with musli is another available breakfast option! All coffee is espresso based and brewed with single origin beans by Nomad. Alejandras partner Kunchok, who is Tibetan, is not only great behind the La Marzocco, but prepares a genuine Masala Chai as well. Cosy up on their couch and enjoy!
Address:
Carrer d'En Mònec
6, 08003 Barcelona
Cafes and specialty coffee shops in El Raval
Nømad Every Day

The internationally renowned roastery Nømad is no secret, but did you know it has three cafes scattered across Barcelona? Nømad Every Day is one of them, located in El Raval, and feels like a breeze of fresh air during a hot summer day thanks to it's ample setup. As it is more of a take-away shop the filter menu is limited to batch brew and dripper. The cold options are plentiful and include a sophisticated nitro affogato. Needless to say the seasonal coffees are of excellent quality! Come here every day or try one of the other Nømad cafes in Barcelona.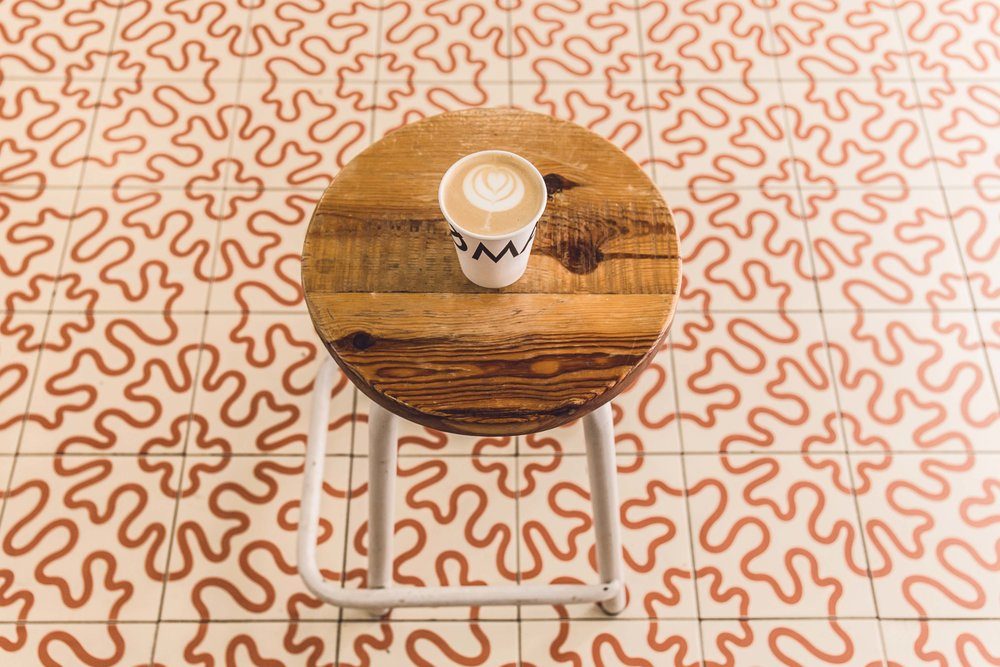 Address Nømad Roaster's Home:
Carrer de Pujades, 95
08005 Barcelona
Address Nomad Nømad Every Day (closed)
Carrer de Joaquín Costa, 26
08001 Barcelona
Address Nømad Lab & Shop:
Passatge de Sert 12
08003 Barcelona
Departure Coffee

10 years ago there used to be a carpentry at this very place, where Xavi and Raquel have opened the huge wooden doors of their cafe in June 2017 to coffee and art lovers. Tucked in a small alley of El Raval district, Departure is a café far from the hustle and bustle, yet right in the center of Barcelona. In terms of coffee as well as philosophy of life they found themselves to be aligning with the roastery and coffee shop SlowMov, their choice of beans for espresso. When it comes to filter the two want to keep an open mind and rotate both national and international guest roasters. For the moment Departure is hosting Puchero Coffee Roasters based in Valladolid.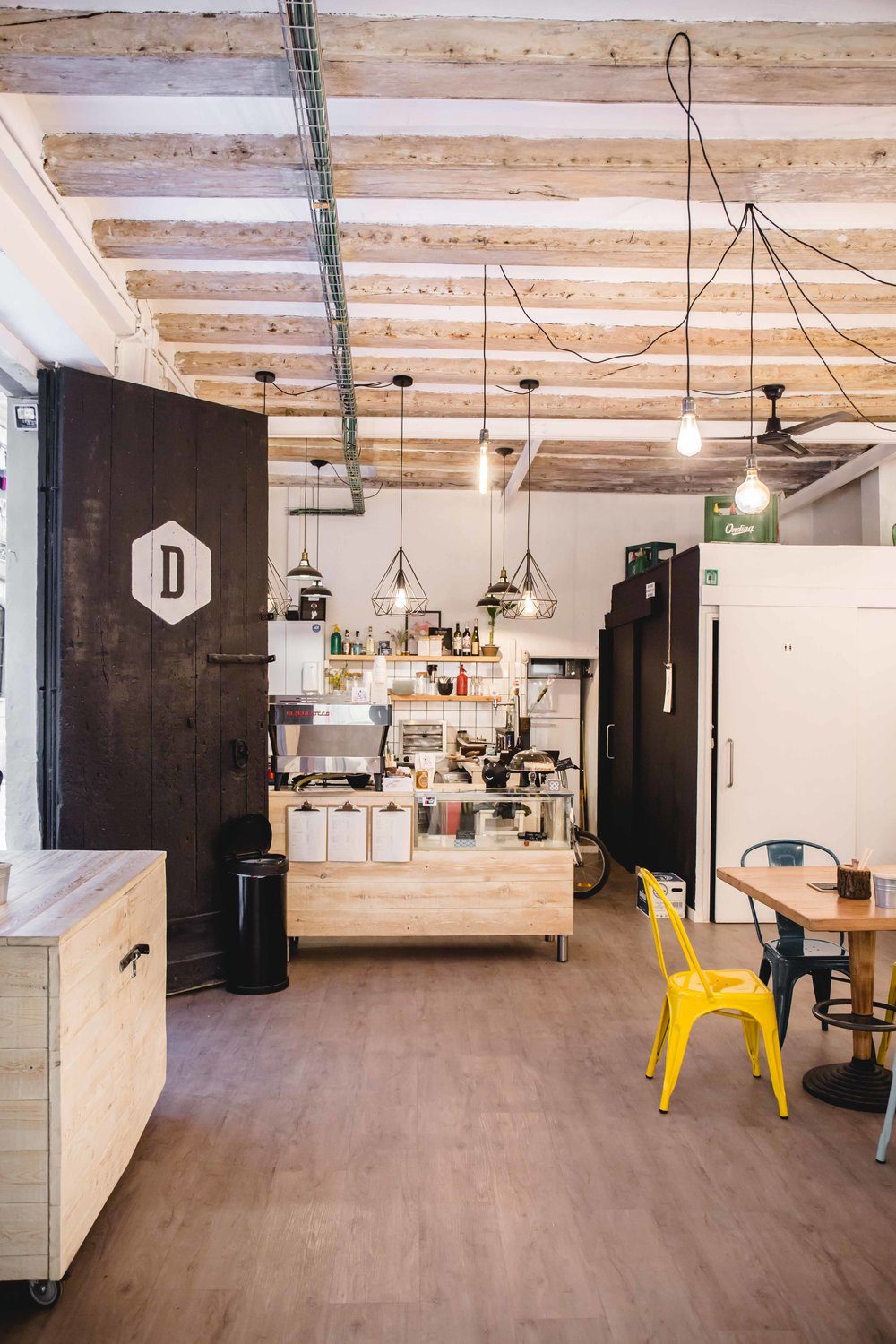 Before launching their own project, Xavi and Raquel have been researching the specialty coffee scene in Europe for two years. The preparation paid off and by combining this experience with personal preferences they managed to create a unique concept space with soul and character. The art displayed is changing every few weeks, accompanied by concerts and other events.
Address:
Carrer de la Verge, 1
Barcelona, Spain
Cafes and specialty coffee shops in Les Corts
Hidden Café Barcelona


Not so hidden anymore and definitely one of Barcelona's favourite cafes. In the residential area Les Corts a passionate bunch of cafecionados are running Hidden Cafe just a few minutes walk from the shopping mall L'illa Diagonal. They roast their own coffee in Casteldelfs, the same town where Rightside Coffee Roasters is based. It is a great spot for working on the laptop and the coffee is top notch.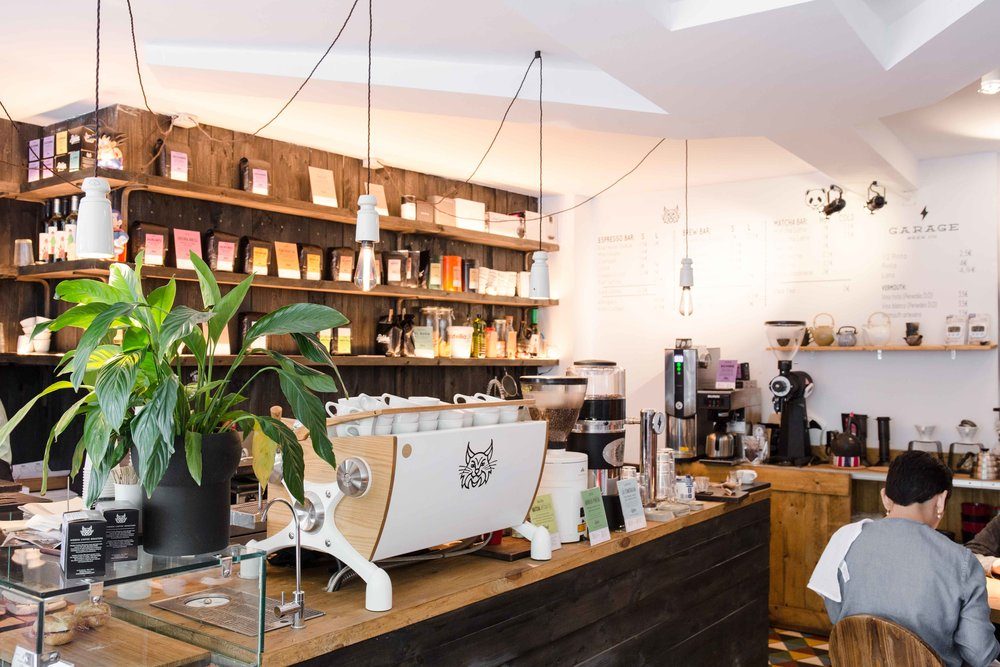 Address:
C/ Constança esquina Déu i Mata
Barcelona, Spain
Cafes and specialty coffee shops in El Fort Pienc
Three Marks Coffee

Two Marco's and one Marc make up the three co-owners of Three Marks Coffee. The specialty coffee shop opened up in August 2018 and is the first cafe of its kind in the neighbourhood of El Fort Pienc. It is their philosophy to bring quality coffee to the people of the Barrio and their aim to create a community space for them to enjoy it. The ample two-story café certainly has all the right features to be exactly that! Lots of natural light and a simple yet sophisticated interior design make this place a great hang-out spot.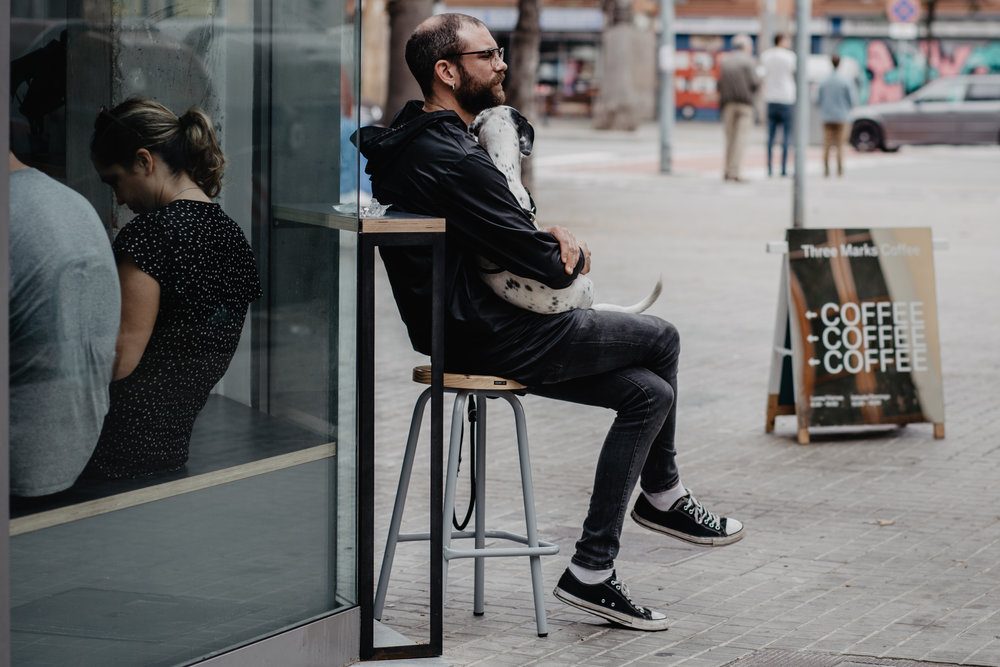 Although the roasting is done by Three Marks Coffee themselves, they do invite guest roasters to have more variety in the grinders. Two of the owners have worked at Barcelona's most renowned roastery Nomad before. The ties are still strong – Nomad is currently available for filter coffee. For espresso Three Marks Coffee will invite you to explore the flavours of two single origins, Ethiopia and Guatemala.
Address:
Carrer d'Ausiàs Marc, 151
08013 Barcelona
Cafes and specialty coffee shops in Poblenou
Little Fern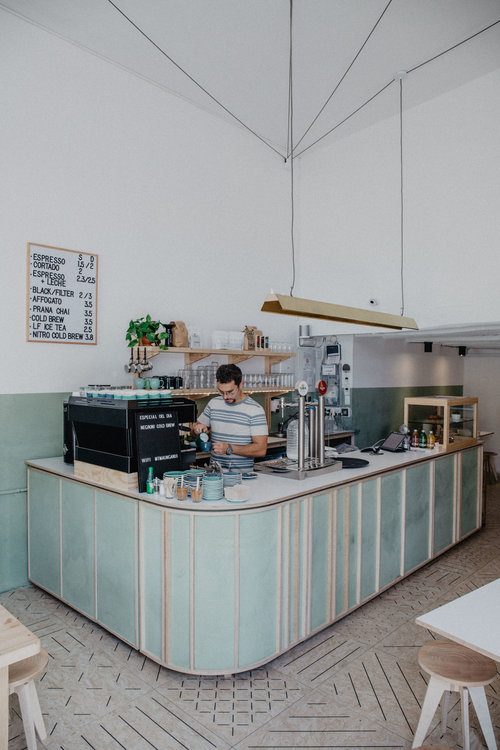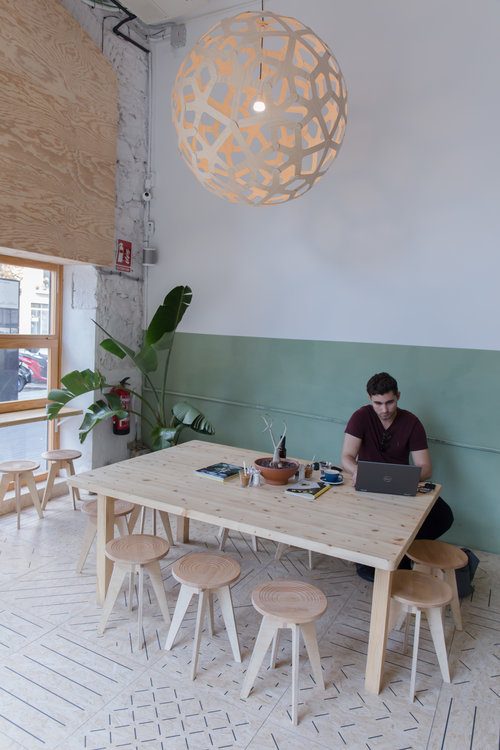 In Poblenou industrial realities and remains mix with innovative ideas and new developments. In a matter of years the neighbourhood became Barcelona's creative hot pot and a coffee lovers paradise. Since May 2018 Poblenou has its very first New Zealand inspired brunch cafe, making it an even more desirable destination. Judit from Hungary and her husband Jay from New Zealand made quality their highest priority. Having worked in the yachting industry beforehand they had to deal with crazy demands on a daily basis. This experience has shaped them to set the highest standards for their own endeavors.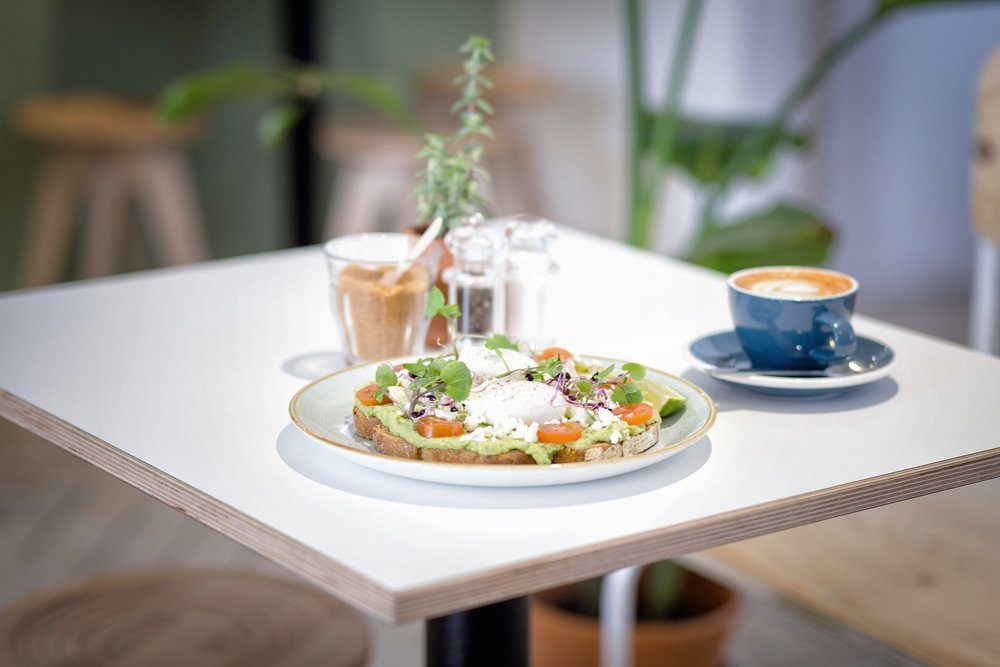 Poached eggs on avocado toast with goat cheese and cherry tomatoes, yum!
All time Kiwi favourites such as Cornfritters are as much part of the menu as innovative creations like Kimchi pancakes or toasted sourdough with goat cheese, figs, honey, truffle oil and rosemary. It goes without saying that apart from mouth-watering brunch dishes, you'll also find some of the best coffee Barcelona has to offer! At Little Fern Cafe Nømad is the roaster de la casa both for espresso and filter. The combination of great music, food, coffee and service make this the best brunch cafe in Barcelona!
Address:
Carrer de Pere IV, 168
08005 Barcelona
SKYE coffee

The warehouse office space Espacio 88 for architects houses one of Barcelona's most iconic spots to grab coffee: the SKYE Coffee truck. The 1972 Citroën HY matches marvelously with the pulse of the industrial area that is Poblenou. SKYE brew exclusively coffee roasted by Right Side and are also the organizers of the Barcelona Coffee Festival.
Address:
Carrer de Pamplona, 88
08018 Barcelona