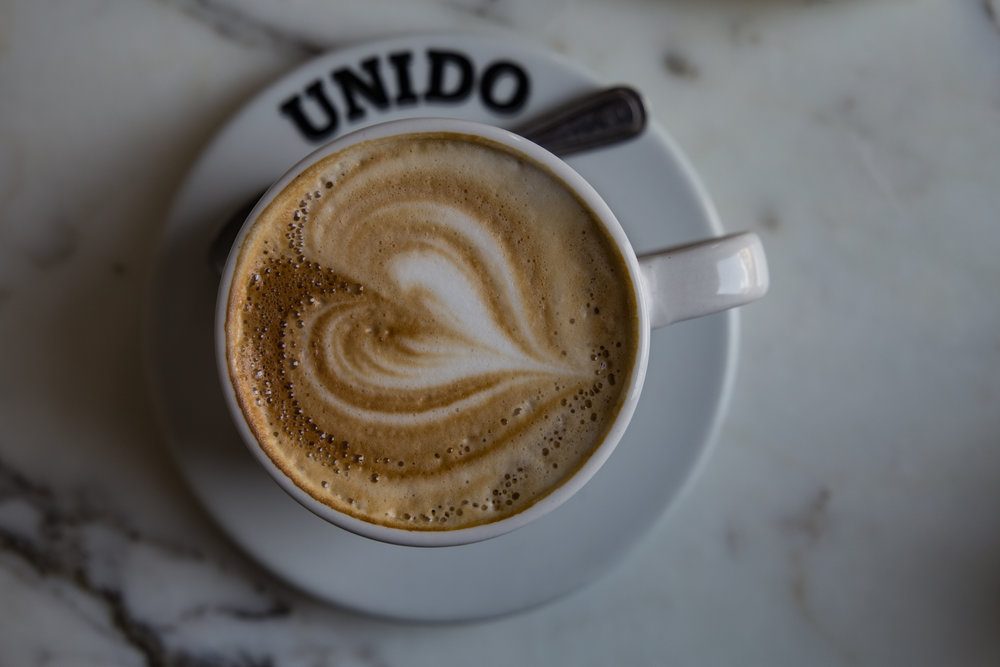 It is not as straight forward as one would think to find specialty coffee places in Panama City. Although Panama is well known for its excellent coffee, I was quite surprised to find out that the specialty coffee scene has just started blossoming a couple of years ago and still the majority of the population drinks industrially produced coffee.
Thankfully, a friend of mine pointed me towards Café Unido, a local coffee shop and roastery that sells coffee in four locations across Panama City. Unido was founded by three friends who had the vision to establish a specialty coffee culture in Panama and bring people together who share a passion for coffee while having a positive impact on communities in the coffee growing regions at the same time. Unido take their social responsibility very seriously and only work with sustainable coffee farms that share their values. Also, 10% of all income generated goes back to the communities to support social projects.
What amazed me was the traceability of the coffee. While it can be difficult to cooperate with a single coffee farm as a coffee shop located in Europe due to the high quantity of beans necessary to make the import profitable, the founders of Unido visited the two main coffee regions, Boquete and Volcán, to meet the farmers directly, taste the coffee and select the best quality for their shops in Panama City. To date, they work with six coffee farms, four from Boquete and two from Volcán.  One of the farms they cooperate with, Hacienda La Esmeralda, is located at an altitude of 1,400-1,700m and is home to the world famous Geisha that was awarded best coffee worldwide from 2004 to 2007 (it can be enjoyed at Unido for 7$ a cup).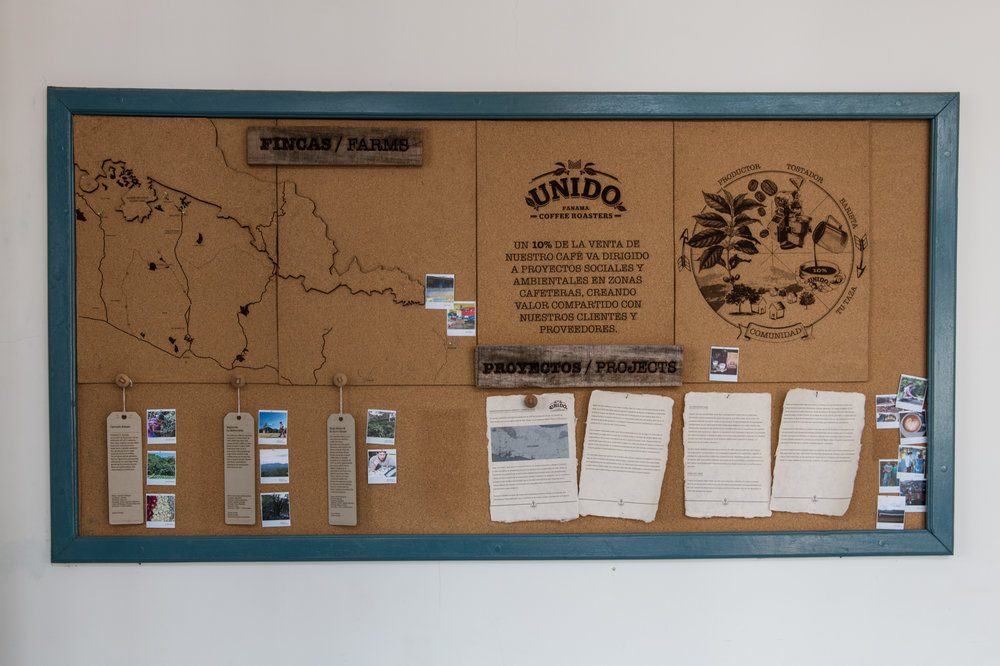 Two other farms that have been providing Unido with Geisha coffee are El Burro Estate from Boquete at 1,575m – 2,000m altitude and Don Pachi Estate at 1,500m altitude.
In 1,700 – 2,500m altitude the farm Elida Estate, highest coffee farm in Panama and owned by the same family that owns El Burro Estate, is growing Catuai coffee plants in the Boquete region, whose beans bring to the cup a great balance and notes of berries, red fruit and cacao. Their dry processed coffee has received numerous awards in Panama and worldwide.
The farms Eleta Bourbon (growing Bourbon at 1,800m altitude) and Carmen estate (growing Caturra at 1,700m altitude) are located in Volcán, a province of Chiriqui where the rich volcanic soil, cool nights and sunny days make this a great location for growing high quality coffee. Altitude is a predominant factor profoundly influencing the flavour of the coffee. Elevations above 1200m and below 1800m are considered best for growing high quality coffee.
I visited two of Unido's locations, the one in Marbella (close to a number of hostels) and the one in Casco Viejo (one of the main tourist attractions of Panama City). Featured in these photos is the Café Unido located at the ground floor of the American Trade Hotel in Casco Viejo, a beautiful white colonial house that has a very special flair. Here, elegance is paired with simplicity and a slight touch of lumberjack. The bright and friendly light goes well with the high ceiling and the view of a beautiful old church from colonial times round up the pleasant experience. My café latte was great and I warmly recommend to add Café Unido to your list of things to do in Panama City!
Address: Calle 10A Oeste, Panamá City, Panama
http://cafeunido.com/
Open:
MO – SA 6:30-19:00
SUN 08:00 – 18:00