A guide to specialty coffee shops and cafes in the center of Prague
My recent weekend getaway to Prague with fellow blogger Harriet who runs Fräulein Anker has been a fantastic experience! In 48 hours we sipped all the specialty coffee we could drink, photographed from sunrise to sunset, had delicious food and found the most creative accommodation on top of that! Let me share my favourite discoveries with you from this weekend of wonder, starting from third wave coffee shops and cafes!
Check out my guide to specialty coffee shops in Prague off the beaten path here.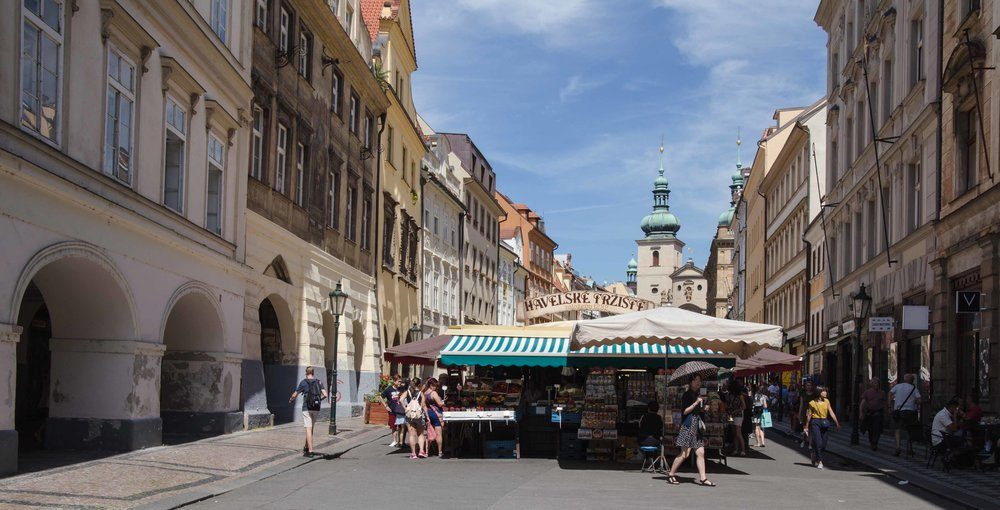 Discovering old town and central Prague one specialty coffee shop at a time
When thinking of the local coffee culture three words come to mind: thriving, diverse and inspiring! On my speed date with Prague's coffee scene I managed to visit 10 specialty coffee shops that I can wholeheartedly recommend. While a fair amount of coffee places can be found in the center Prague, it is well worth it to wander through some of the up and coming surrounding neighbourhoods. As you are most likely to start your visit in the old town though, let me begin by recommending the closest ones.
Onesip Coffee

Onesip is located close to the Church of St. Castulus in the historic center of Prague since April 2016. And one sip is all it takes to fall in love with this place! Starting from a great selection of beans roasted by Round Hill Roastery (from Midsomer Norton in the UK) to its pronounced essentialism, it is a place to indulge in the flavours of coffee without any distractions.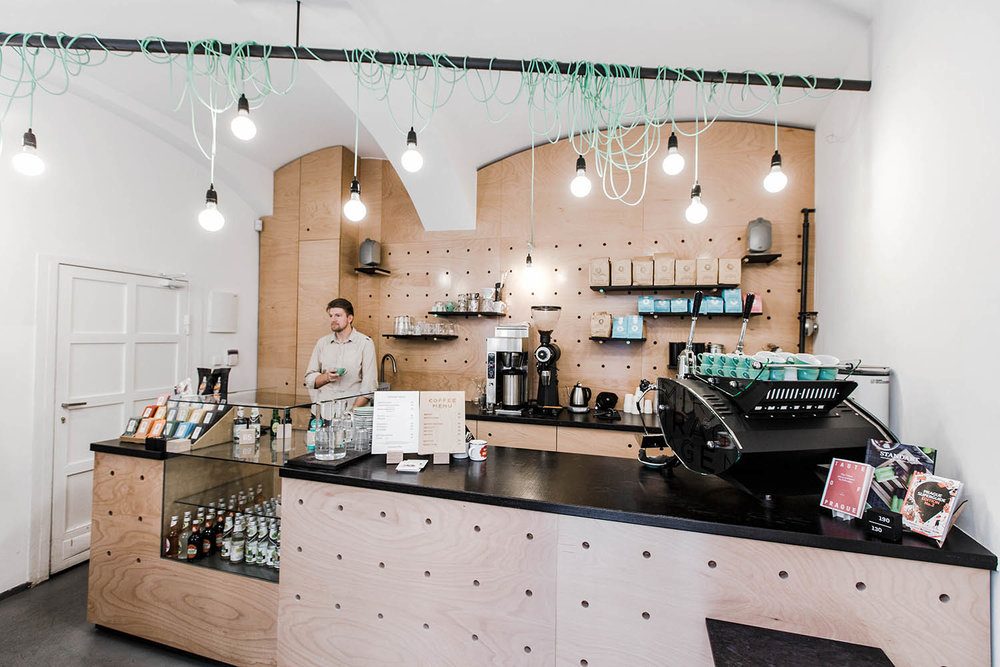 The two friends Adam and Zdenek who own Onesip worked with Roundhill from the start and brought in a killer Kees van der Westen to bring out the best of the beans. Apart from espresso based drinks, hand brew and batch brew filter coffee is also available. We shared a batch brewed Ethiopian natural with distinct notes of dried fruit and plum but I couldn't stop eyeing the ice cold espresso tonic most people were ordering that day. A must-try summer special!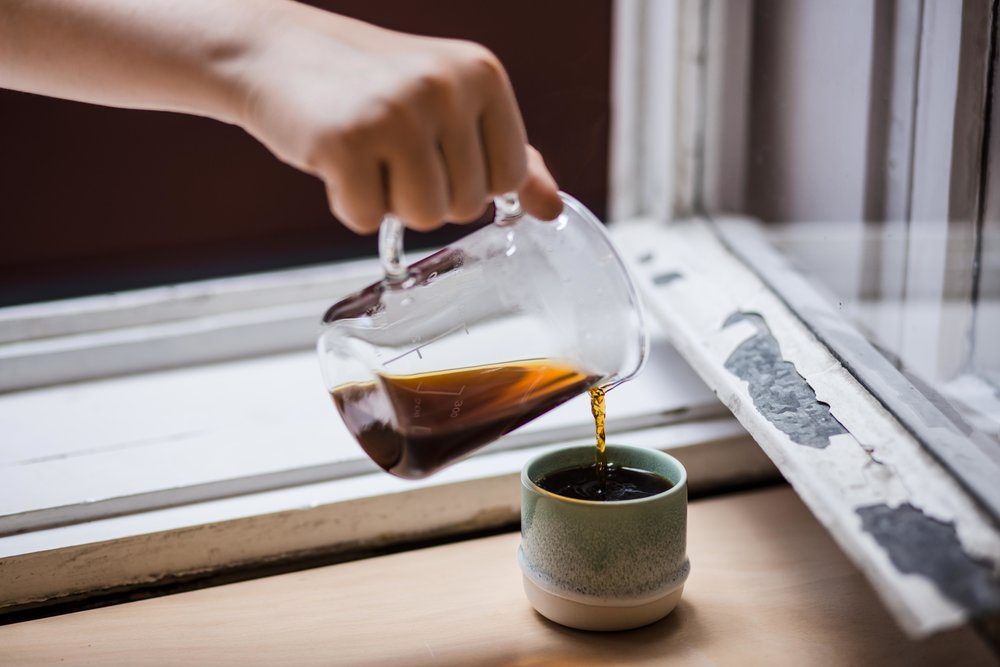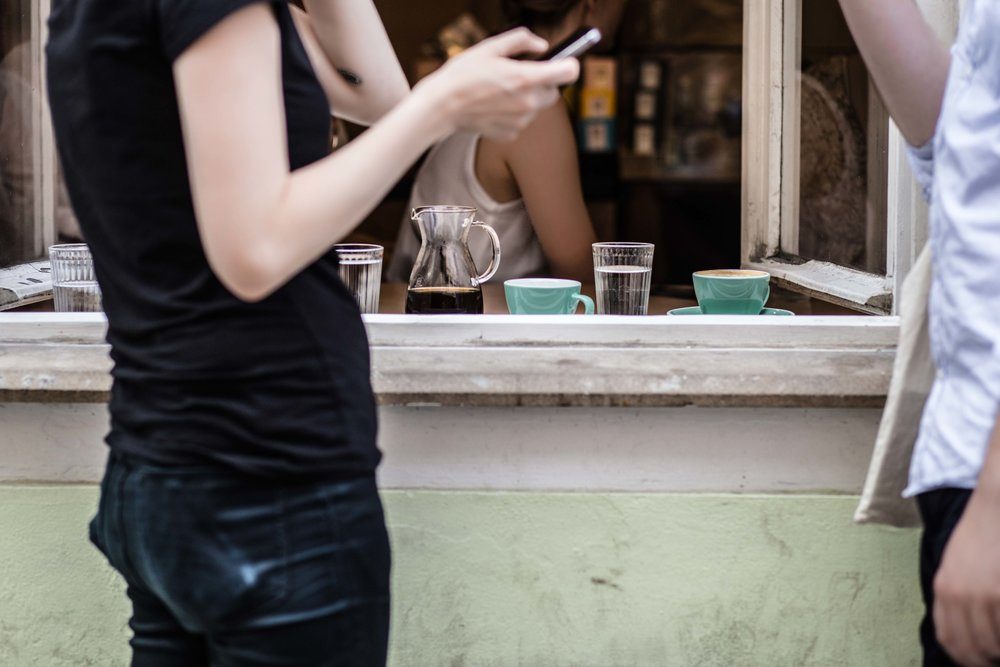 You may linger on one of the few stools by the window or just join the barista at the counter for a chat. The compact space makes it easy to communicate with other guests too. Community is very important to them, Jaroslav tells us. He was working the counter the day we passed by. "Even if it is just for 30 seconds, while we steam milk for instance, we'll always have a few words for our customers." Jaroslav is a great guy to encounter at Onesip! He runs the local blog 365 Cups of Coffee and knows the city like the back of his hand. Jaroslav is also starting a new roastery with some friends by the name Candy Cane. They'll be roasting their first samples in a couple of weeks.
Address:
Haštalská 755/15
110 00 Prague
Super Tramp Coffee

If you don't mind getting lost in the mysterious courtyards of Prague, then Super Tramp Coffee is your place! It has been hiding in the plain center for 18 months now and its discovery is an adventure on its own. We entered through the passageway from Opatovická street (not before walking by at least a dozen times) and discovered an oasis of calm with exactly the right soundtrack playing. Only few places give me goosebumps when I enter, but Super Tramp was definitely one of them. While sipping on a cappuccino, I listened to Replica by the XX and thought for a moment that this is what heaven on earth must look like! Plus, the cappuccino with espresso from El Paraiso, Colombia, roasted by the Hungarian favourite Casino Mocca, convinced with delicious black tea, orange blossom and caramel notes.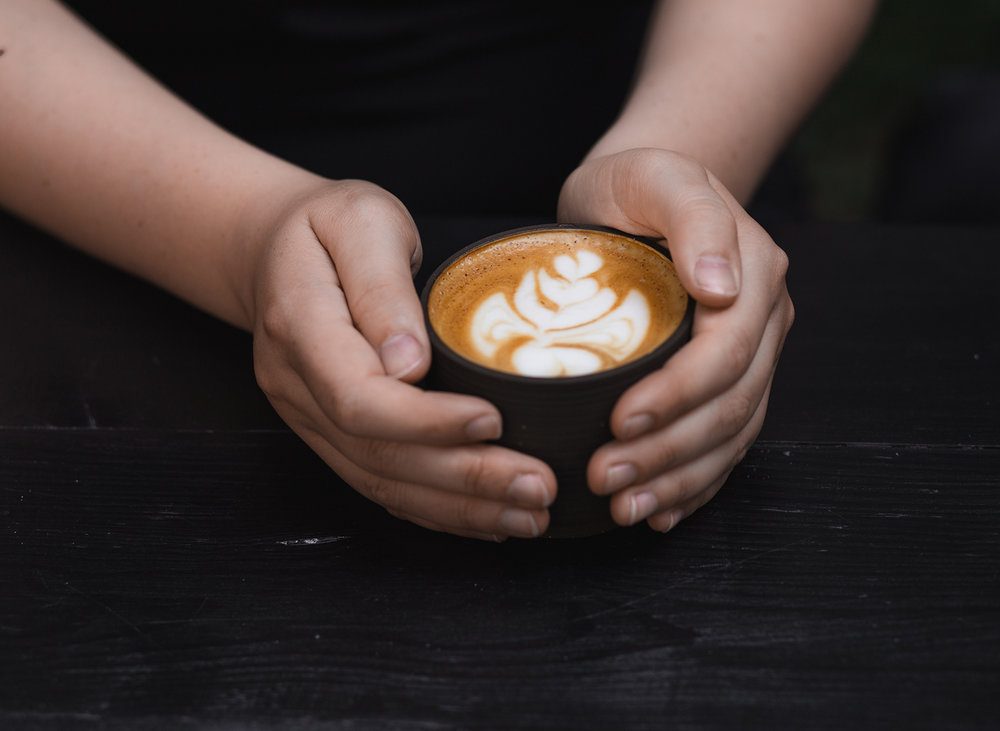 Super Tramp has a bigger sister called 'I Need Coffee' and while I didn't manage to check it out, I was told that it is also a loyal fan of Casino Mocca.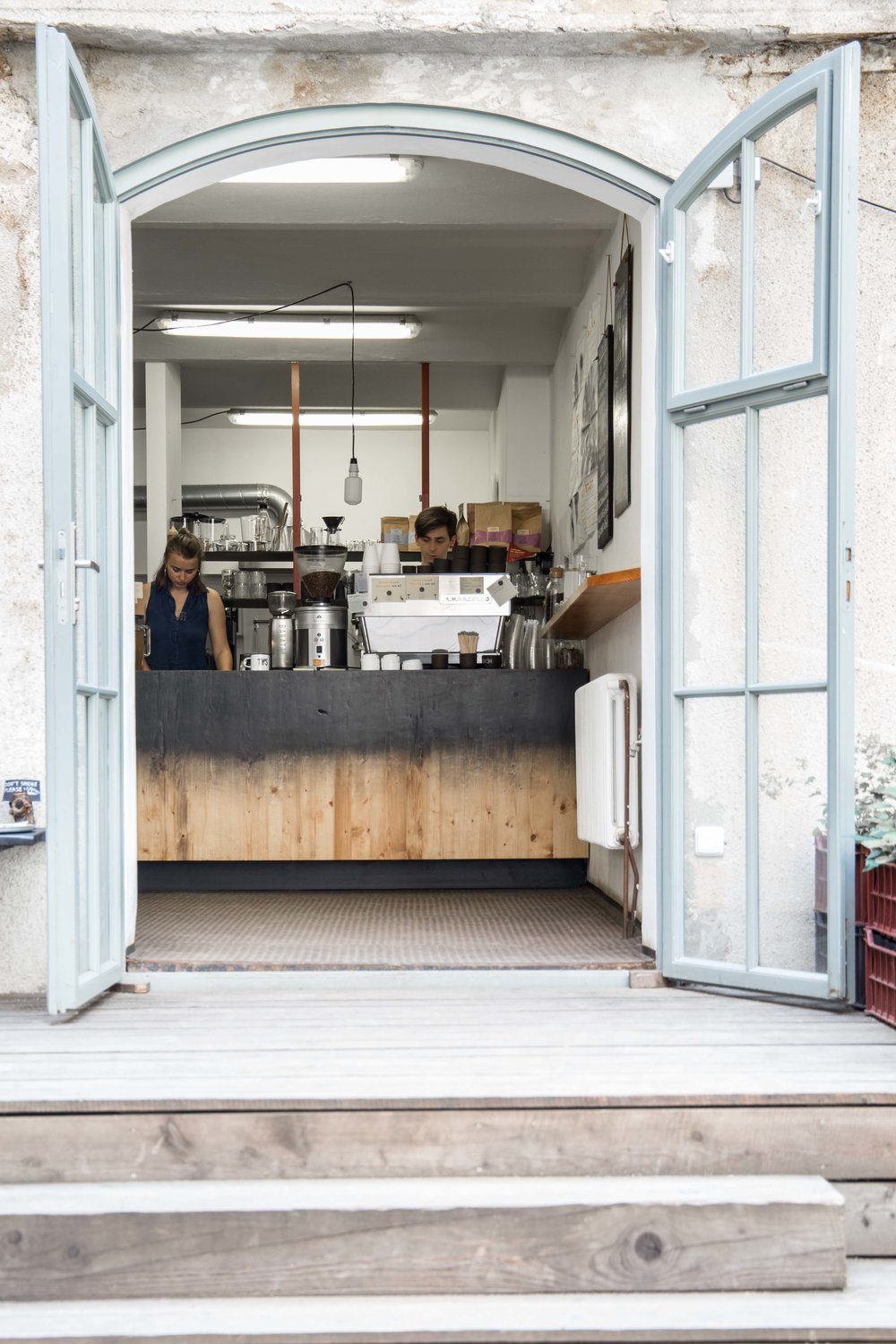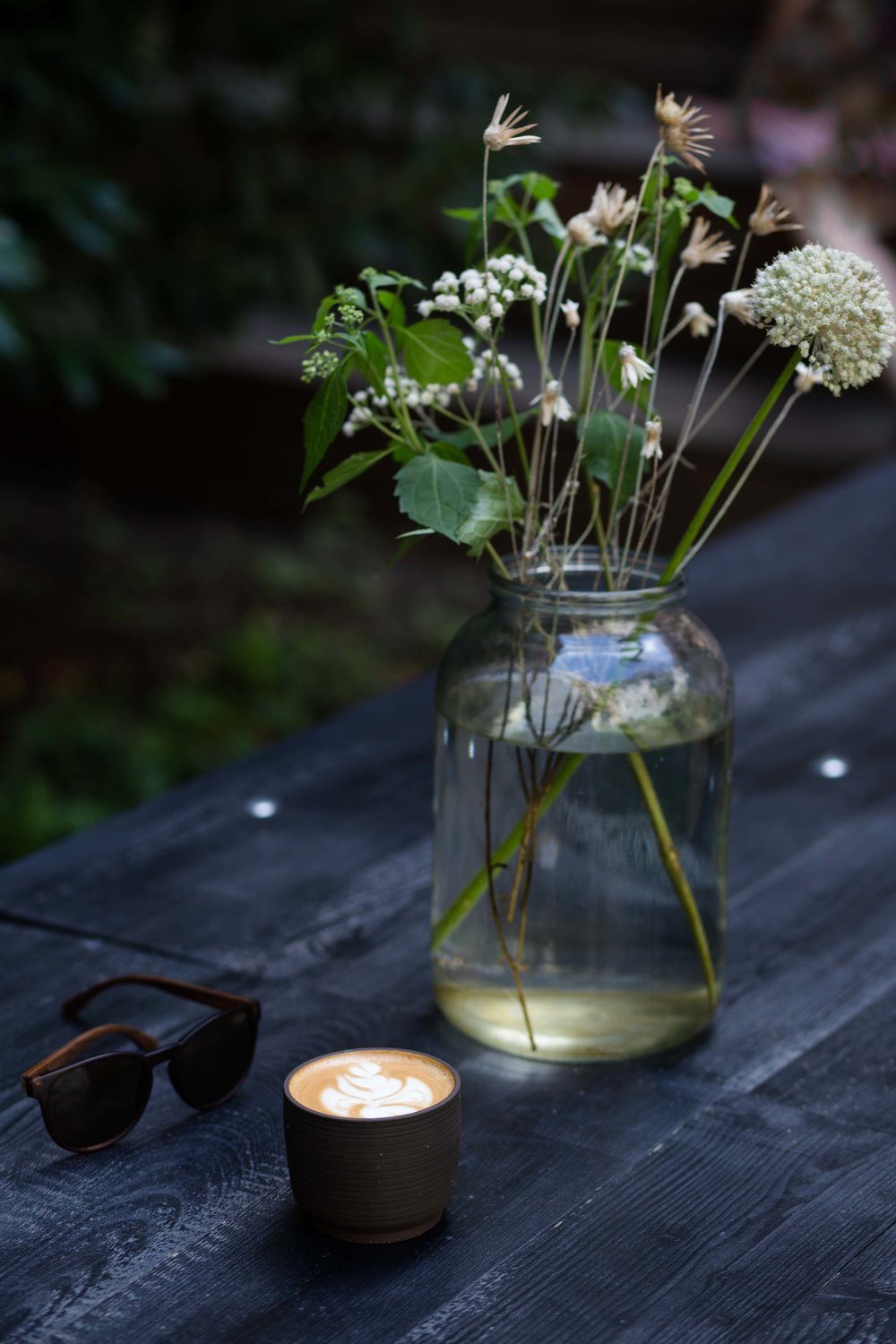 Address:
Opatovická 160/18
110 00 Prague
EMA Espresso Bar

EMA has been around since 2013 and is located a 10 minute walk from the central train station. Working the counter you'll see skilled, highly professional and communicative baristas that don't shy away from sharing their passion with customers through meaningful interaction. The coffee shop has a cosmopolitan vibe to it without being pretentious. The modern interior and communal setup with a long table in the middle of the room are definitely state of the art!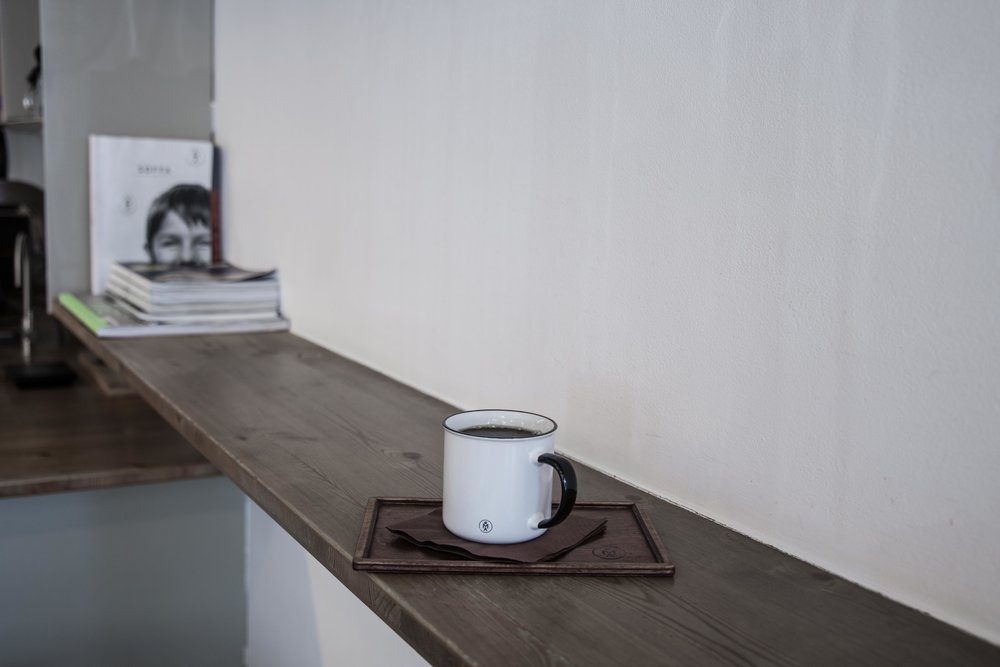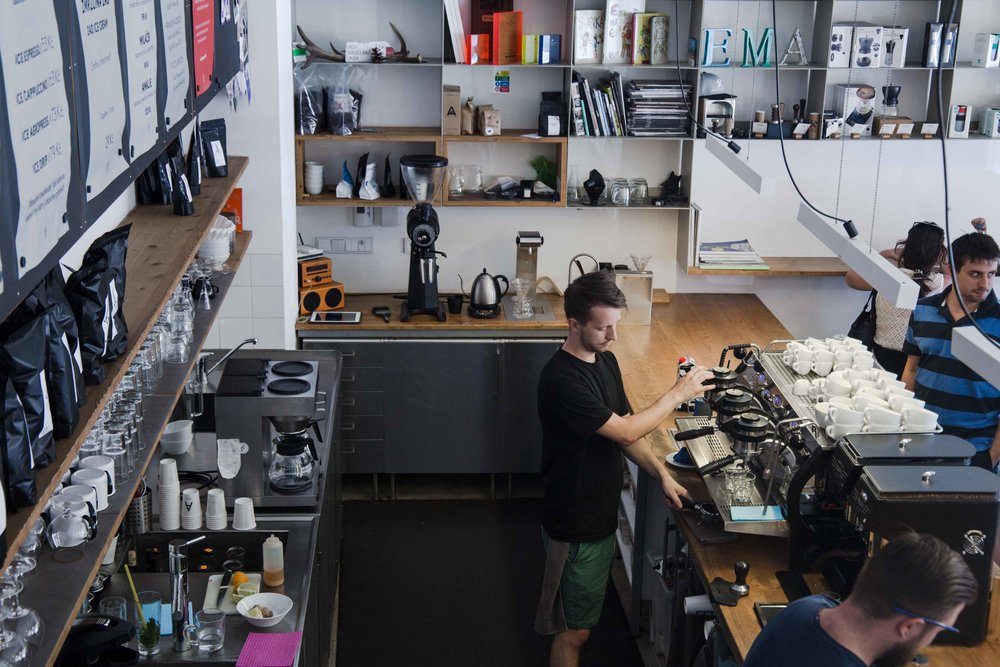 Surprisingly, we discovered that EMA has been featuring JB Kaffee from Dachau, Germany, from the start. To keep things interesting, almost every month a different guest roaster brings a fresh smell of ground coffee to the espresso bar. Among them were popular names such as Drop Coffee, Casino Mocca and Koppi. At the moment Craft House Coffee from the UK are occupying the second grinder. Your cravings for drip coffee will be satisfied by either batch brew, V60 or Aeropress while espresso is made on a La Marzocco 3-group Strada EP. Now all you have to do is to order your favourite, stretch out your legs and enjoy!
Address:
Na Florenci 1420/3
110 00 Prague
Brewbar at Náplavka farmers market

Every Saturday, no matter the weather, you'll find Radek and Jiri running a stand called Brewbar at Náplavka farmers market. And they've been doing so for the last 5 years! They are inseparable, Jiri tells me, and what brings them together is a deep appreciation for coffee in its purest form. Needless to say you won't find any milk based drinks or espresso! Instead, the duo will hand brew the finest filter in town and fully include you in the process. From smelling the freshly ground coffee to immersing in a conversation about what's in your cup, it is all part of the experience!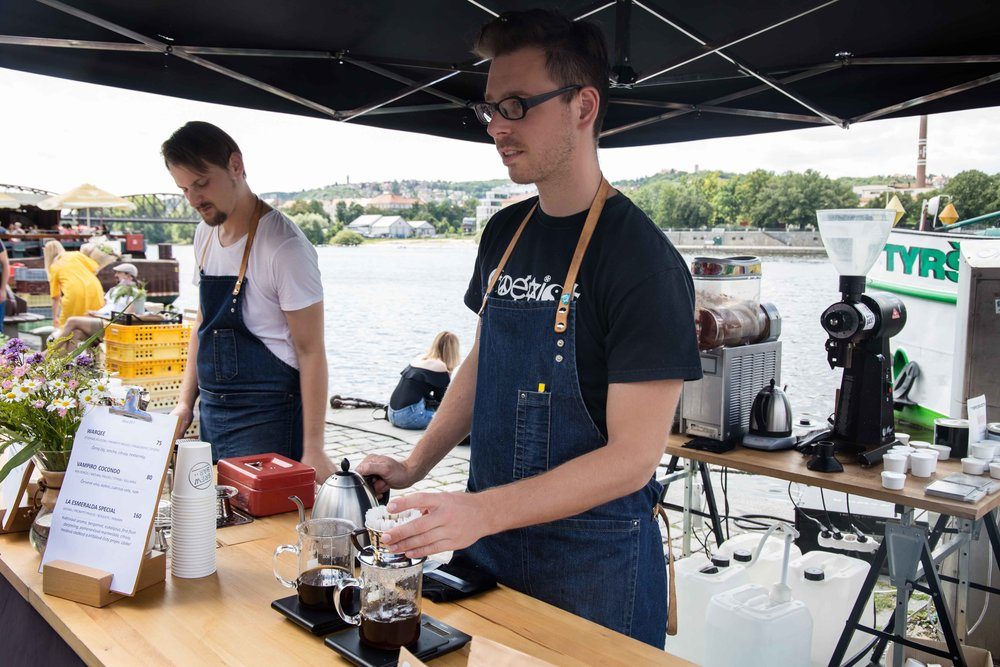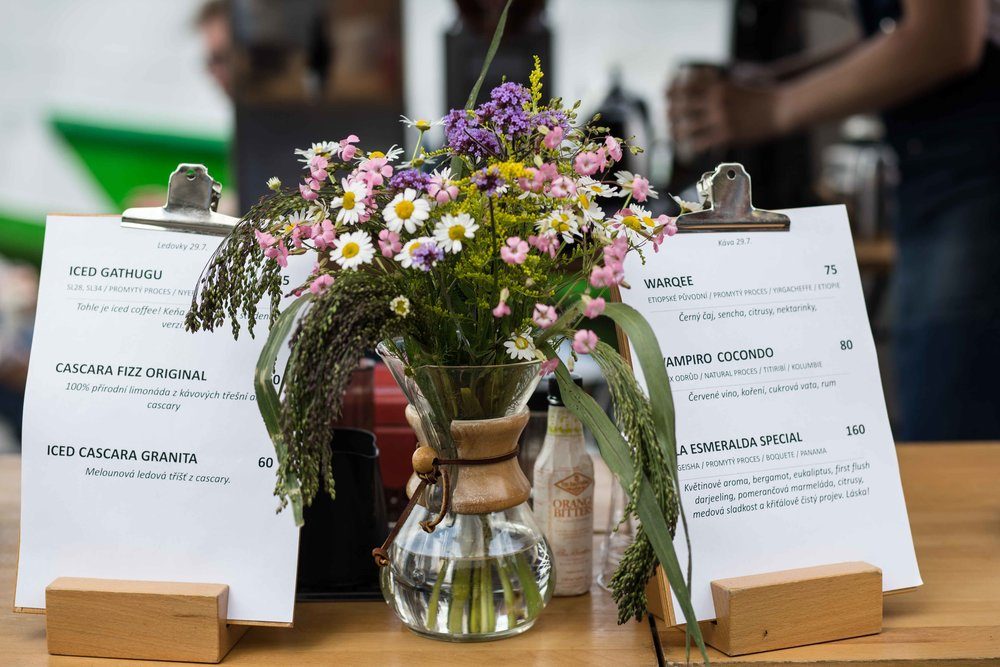 Jiri won the Czech Aeropress Championship in 2015, while Radek followed in his footsteps one year later in 2016. Rest assured, that you are in very capable hands! There is always something new to discover as the featured roasters are changing on a weekly basis. Since the duo's mission is to spark the curiosity of customers, there's always one premium on the menu. I had the pleasure to share a Panama Geisha from Hacienda La Esmeralda roasted by Coffee Collective with Jiri, which is not a coffee you easily come by in Europe!
While hipster coffee shops pop up all over Prague, Radek and Jiri prefer to go against the current and focus on what is really important to them: quality coffee that excites people! And while there is a trend towards batch brew, you'll never ever find it here. Infact, Jiri tells me he hates it. "There is beauty in inconsistency and inefficiency!" I definitely agree and forget all about time as we sip on the sweet, floral Geisha and continue our discussion.
Address:
Náplavka
128 00 Prague
Saturdays 08:00 – 14:00
Where to stay in Prague
Chill Apartments
Chill Apartments is the perfect place for a stay in Prague as it feels like a home away from home. After being on our feet for 14 hours and longer we loved to come back here to take a rest. The beds were so comfy that we had a hard time to get out 😉 From the gorgeous design, the fully equipped apartments that come in different sizes and the central location: if you're ready to treat yourself to the coolest apartment hotel in Prague, then this is it! Check here for the latest offers and availability!
Address:
Sokolská 1614/64
120 00 Nové Město, Prague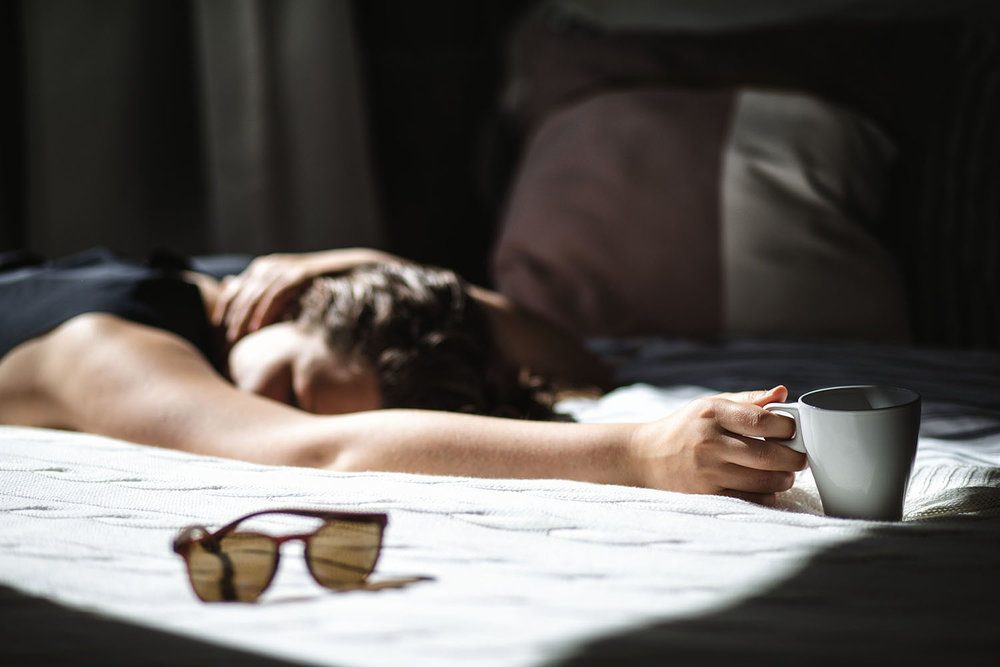 Check out my other travel and coffee guide for Prague off the beaten path!