Prague off the beaten path – Specialty coffee shops and more
As Prague has one of the most beautiful historic centers in the world, you'll never be wandering the streets alone. Trust me, I've tried! Not even at 5:00 in the morning I had Charles Bridge or Old Town Square to myself. When you get tired of walking with the masses take the opportunity to venture onward for a more local experience! Neighbourhoods such as Vršovice, Vinohrady, Karlín and Holešovice have transitioned into hangout spots for local hipsters and artists who enjoy having a quality cup of coffee in creative and distinct spaces. In this article I'll share my favourite specialty coffee discoveries and a foodie hotspot off the beaten track.
You can find my recommendations for specialty coffee in the center of Prague here.
Vnitroblock

Prepare yourself to be completely blown away by the creative and contemporary atmosphere of Vnitroblock! Yes, it is located off the beaten track in the Northern district Holešovice, but so worth the extra mile! The industrial complex opened in November 2016 and is concept store, dance studio, cinema, exhibition space and coffee shop in one. Fashion lovers will appreciate the carefully curated collection of pieces by local and European designers and for the environmentally conscious (hopefully that is all of us) there is a great selection of natural and sustainable products displayed. You could easily spend your entire holiday here! And while these are already good enough reasons to visit, the coffee exceeds every expectation!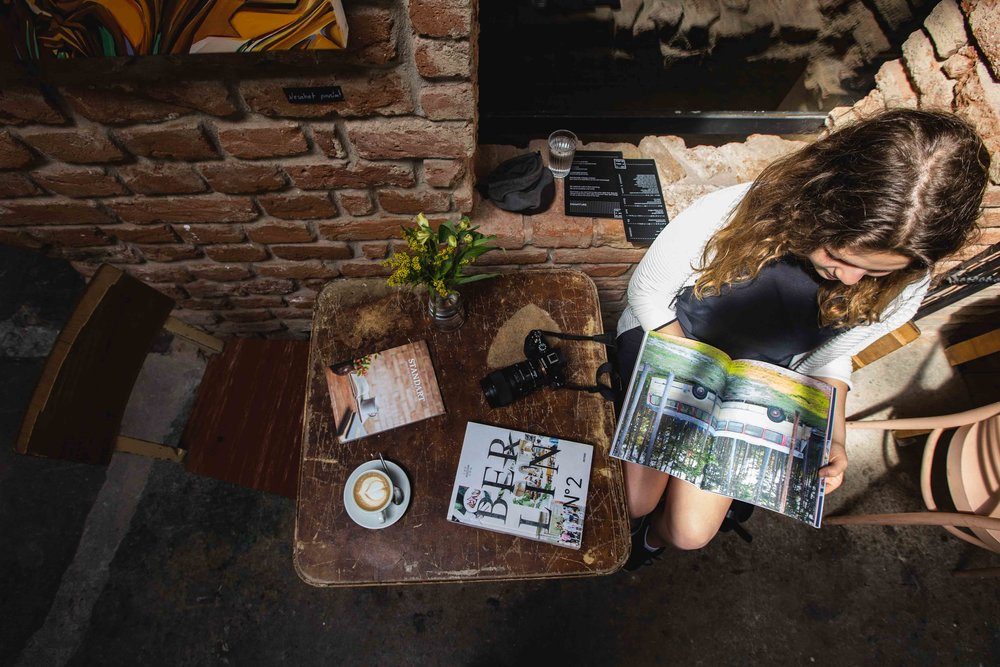 Vnitroblock are working together with Nordbeans, a coffee roastery based in Liberec in the north of the Czech Republic. The espresso beans Ondas da Mantiqueria from Brazil make a mean cappuccino boosting chocolate and nutty flavours. But what did I spot behind the counter? A selection of Caffènation's finest beans all the way from Antwerp. Vnitroblock are going to feature Caffènation as a guest roaster soon, the barista told me.
Interestingly, Vnitroblock was opened by the same people that run one of Prague's hippest coffee spots, Kavarna Co Hleda Jmeno, in Smíchov district. We had to see it, of course, but it didn't strike the same nerve with me as Vnitroblock did. They too serve coffee roasted by Nordbeans.
Address:
Tusarova 791/31
170 00 Prague
Ye's

Just a few tram stops from Vnitroblock, Ye's is located in Letna, a part of Holešovice that is nestled on top of a hill. Ye's is the kind of place that allows you to reconnect with your inner child while doing grown up things like sitting down for a coffee on what looks like grandma's old armchair. During our visit pieces of playful art were plastered along washed out walls that still carry a hint of colour. The art displayed is changing from time to time and you might have a completely different impression. But what stays is the vintage look coupled with a contemporary approach to making coffee.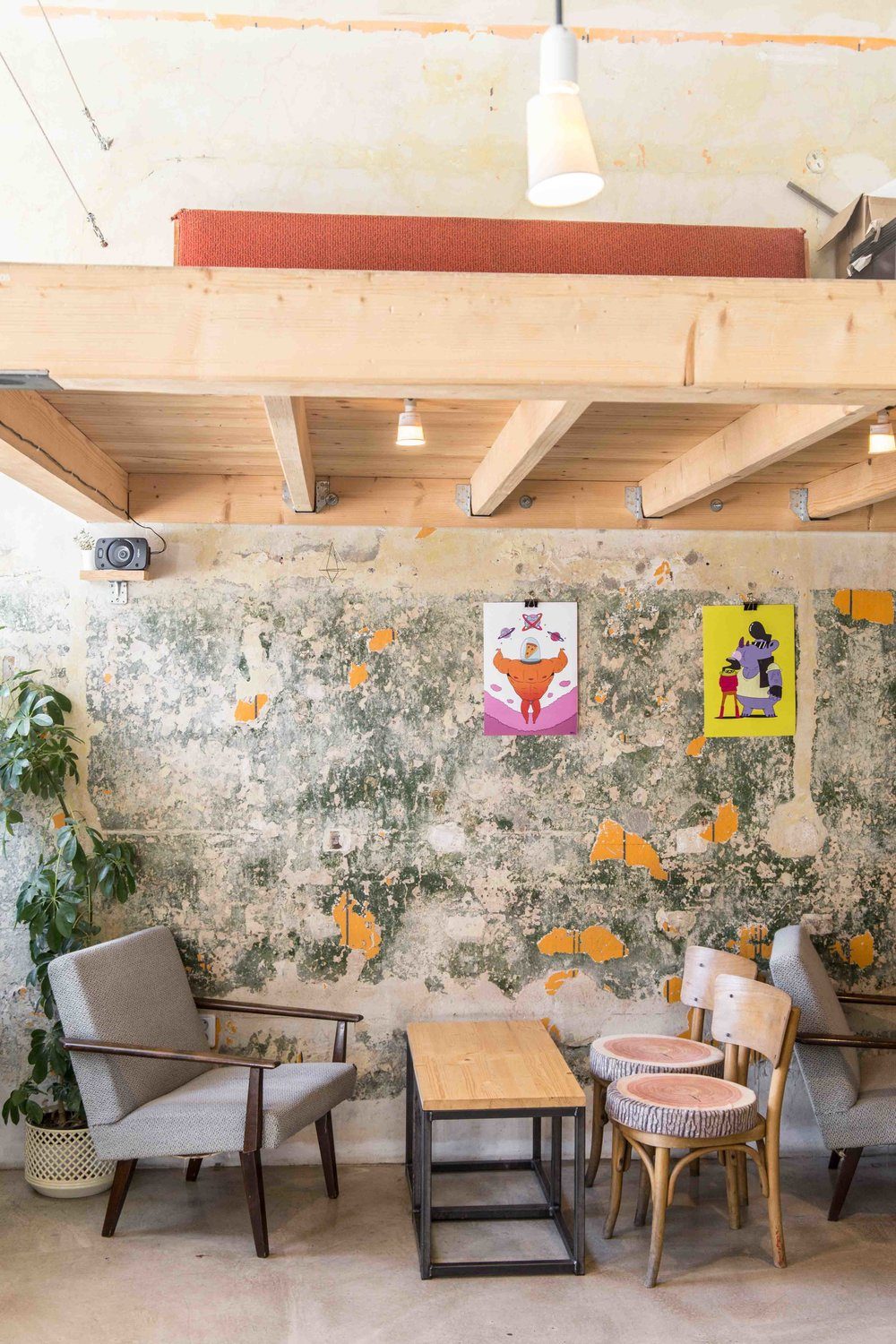 A friendship between the owners and staff of Bonanza has inspired their choice of beans. Since it opened in spring 2015 Ye's is solely featuring Bonanza Coffee Roasters. Apart from espresso based drinks there is batch brew on the menu as well as the V60 and Aeropress.
Address:
Letenské nám. 5
170 00 Prague
Kavárna Místo

Místo is a breakfast mecca and coffee temple run by the oldest specialty coffee roastery in Prague: Doubleshot Coffee Company. It is located in Dejvice, a neighbouring district of Letna. When we were asked about places on our list by locals, absolutely everyone agreed that Místo is a must! And they were right. The menu pairs traditional Czech cuisine with international favourites, such as pancakes, avocado toast and English breakfast. As far as specialty coffee goes you're definitely in good hands! The summer espresso Tam Dem that is currently in the grinder consists of two microlots from Bella Vista beneficio, a farm located in Antigua, Guatemala. And for filter the choices include a Panamanian Geisha from the Santa Clara region that will feel like an explosion of tropical fruit in your mouth.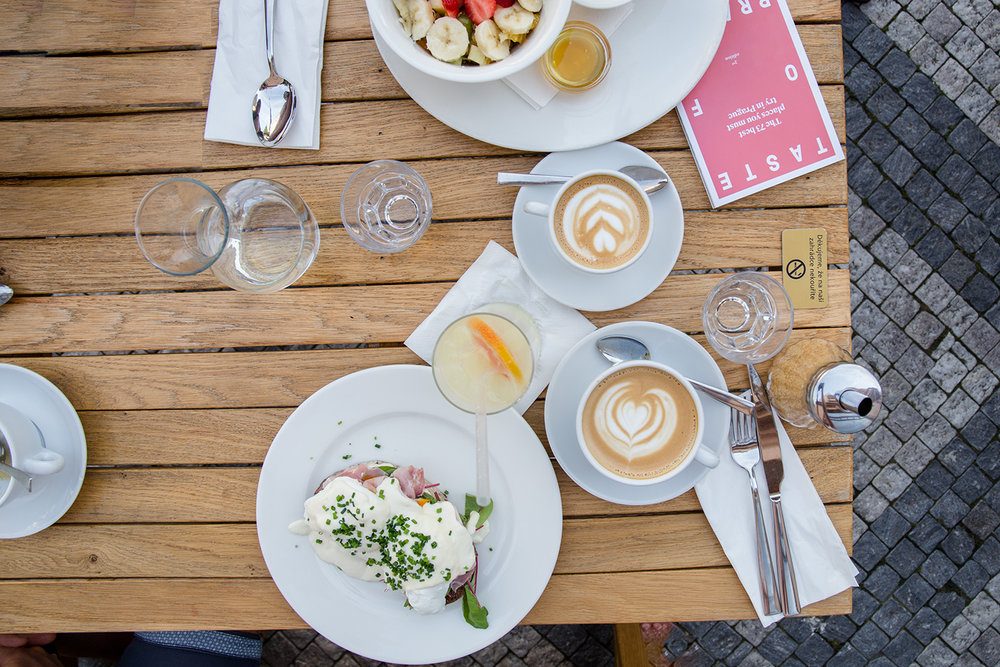 Bring some patience on weekends, Místo is very popular with locals and expats, and therefore especially crowded during brunch hours. While the great food and coffee selection make every wait worth while, the interior is definitely something for the eye too. The concrete floors and counter paired with wooden cladding and furniture create a sophisticated atmosphere. Even though the coffee shop is huge, you can still find a cosy corner to unwind.
Address:
Bubenečská 12
160 00 Prague
Můj šálek kávy

The sister café of Kavárna Místo is Můj šálek kávy in the heart of Karlin district. It is another favourite run by Doubleshot Coffee Company and offers a similar selection of great breakfast and coffee options. The outfit is a different one though, characterized by a yellow counter and a large mural on the inside.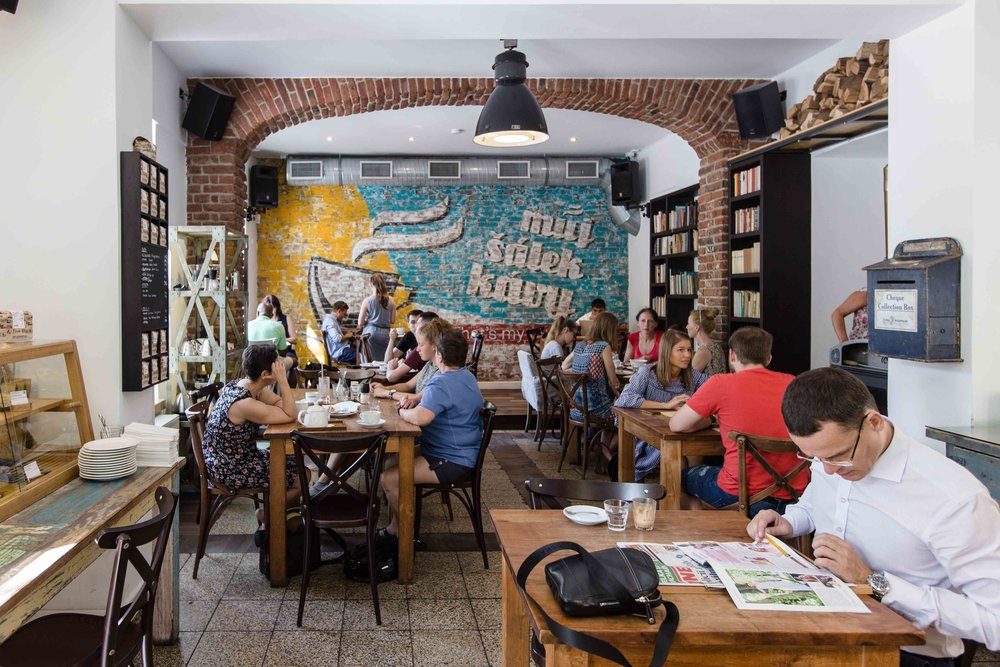 Even though Můj šálek kávy featured roasts by Doubleshot from the start, it was initially run by Roland Lodr. When he decided to move on to other projects, the guys from Doubleshot took over, further contributing to the transformation of Karlin district. Today, the former blue-collar neighborhood sees factories converting into art and design spaces, making it a popular place for students and young people to reside.
Address:
Křižíkova 386/105
186 00 Prague
Eska – for cafecionados who are also foodies

Combining a specialty coffee shop, bakery and a fine dining restaurant into one concept? Why not? The Ambiente Restaurant Group has dared what is still hard to find in other European capitals. With the opening of Eska in a former factory building in Karlin they've made a point: if you serve coffee in a restaurant, shouldn't it receive the same attention as your food? The standard for quality is set equally high for all three parts of the hybrid structure, which is why the brewing equipment at Eska is top notch. A Victoria Arduino Black Eagle is guarding the downstairs counter together with a couple of cold drippers, while the upstairs brew bar is equipped with Areopress and V60. Eska is featuring Nordbeans, a roastery from the North of the Czech Republic, that I had already tried and loved at Vnitroblock. I cannot tell you about the brunch, although I hear it is fantastic, but the dish I had for dinner (Roasted rabbit, beetroot, currants and mead) was s-p-e-c-t-a-c-u-l-a-r! Come here for the coffee but make sure you do come hungry!
Address:
Pernerova 49
186 00 Prague
Check out my other travel and coffee guide for the center of Prague!