Best Cafes in Athens: A Guide to New and Established Specialty Coffee Shops
Specialty coffee has become quite the buzzword in Greece's coffee crazy capital. I've got to witness the growth of the coffee scene first hand, while cafe hopping in Athens the summer of 2016, 2017 and 2018. I am excited to present you the results of these caffeinated adventures: a specialty coffee guide featuring the real deal – new and established cafes in Athens.
Handpickers Coffee Roasters
In August 2016 I met Alexandros at Nomad, where he was working as a roaster at the time. One year later I had the pleasure to see him again at his newly opened specialty coffee shop and roastery in Tavros district. Handpickers is a passion project he runs together with his partner Natalie and friend Dimitris. Both Alexandros and Dimitris have won several national coffee competitions and bring many years of experience to the table. I could really feel that they put their hearts into this place and have seldom experienced such hospitality!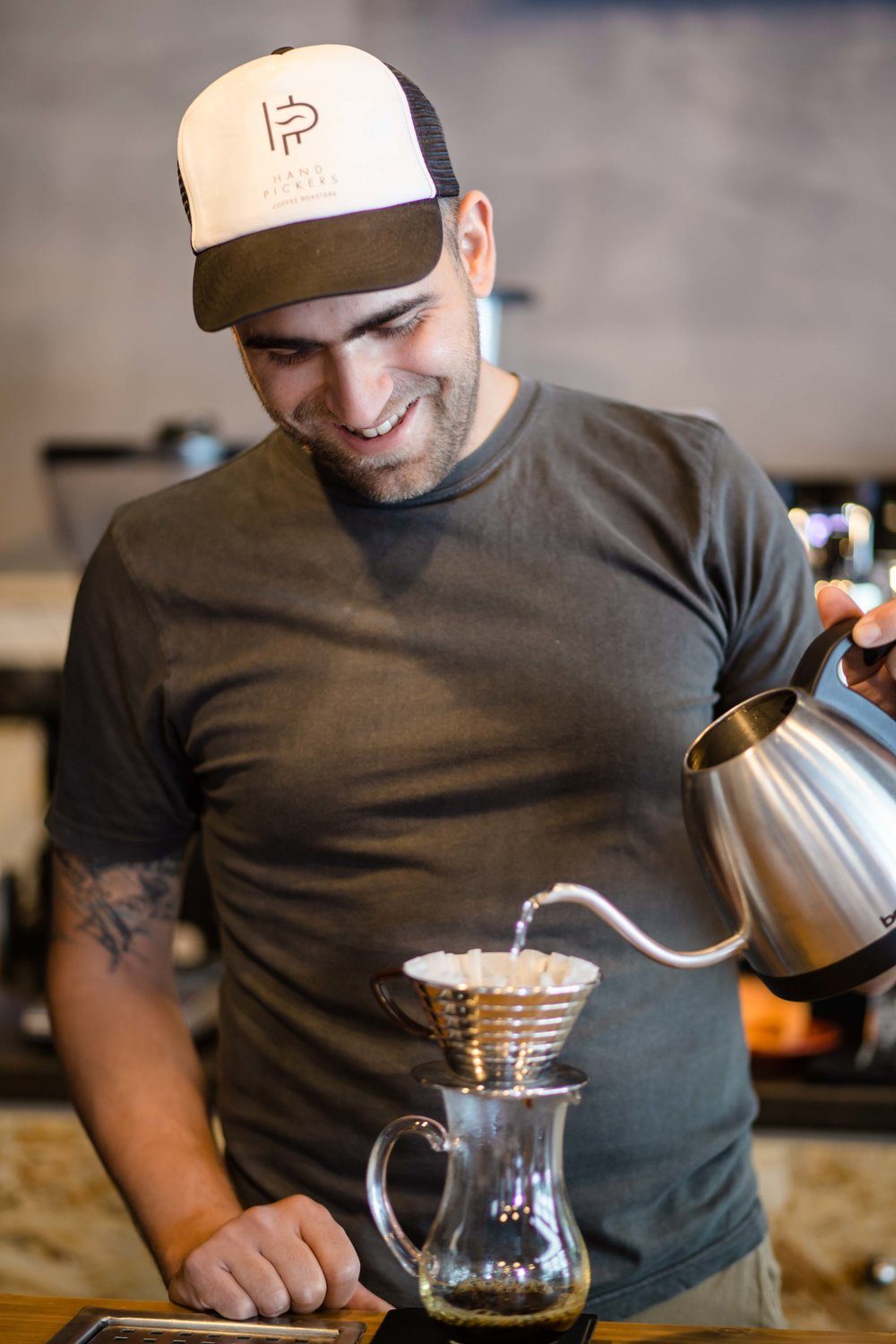 The idea for the name of the cafe came about when Alexandros visited Kenya in November 2016 together with Nordic Approach. It reflects the deep appreciation he has for the hard work that coffee growers and pickers carry out at origins. A beautiful painting on the outside wall of a women picking coffee confirms this! The inside space holds a couple of stools by the bar, and while you'll be in extremely nice company, lot's of folks drop in to take away. Now let's talk coffee! The signature espresso is a blend with 60% Brazil and 40% Colombia but there was also an option for a single origin Costa Rica natural. For filter Handpickers are sticking to a fully washed Kenya Nyeri with a natural sweetness and citric acidity, which is what I opted for. Even though Tavros is probably not on your list of places to visit in Athens, you could easily stop by on your way from or to Pireaus port by simply getting of the metro for a quick refuel at the Handpickers cafe.
Address:
Anaxagora 45
177 78 Athens Tavros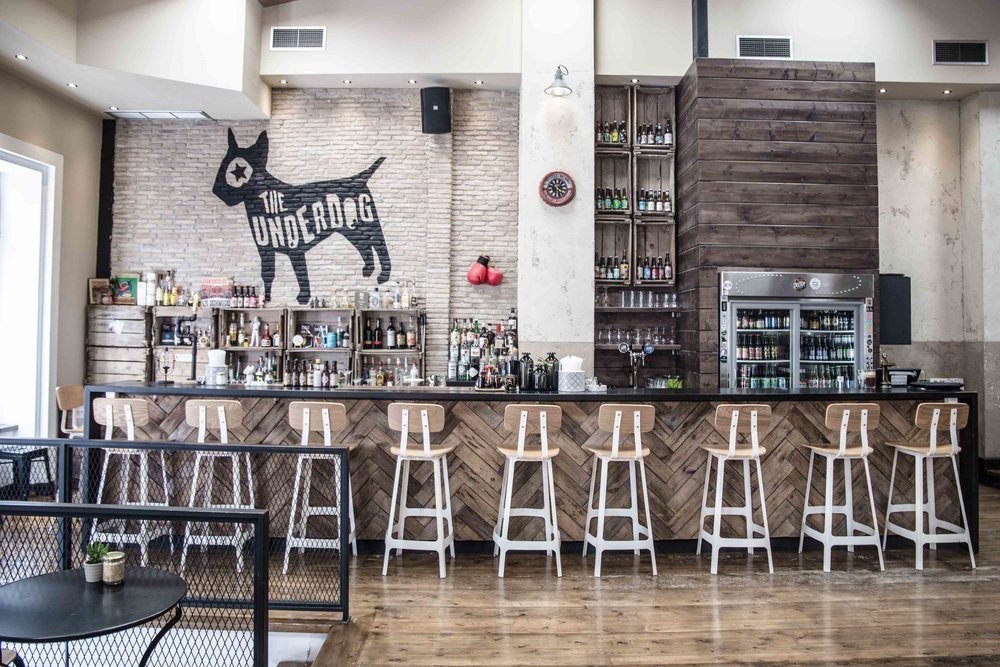 Come day, come night – The Underdog has got you covered! Set in a picturesque pedestrian street close to Thissio metro station, it's not only coffee shop, roastery and bar all in one, but also home to 3 World Coffee in Good Spirits Champions and one Runner-Up! There is really no limit to the professionalism and innovation you'll encounter at the Underdog cafe.
I met the 2016 champion Michalis Dimitrakopoulos during midday hours and given the heat I felt it was best to stick to coffee. He charmed me with a really tasty flat white, followed by a delicious cold brew. Their shop currently holds 9 different espresso roasts and 5 for filter. Depending on the day you'll be enjoying single origins from Brazil, Colombia, Panama, Ethiopia or Kenya. If you come by the cafe hungry an extensive brunch menu will take care of your cravings!
Address:
Iraklidon 8
118 51 Athens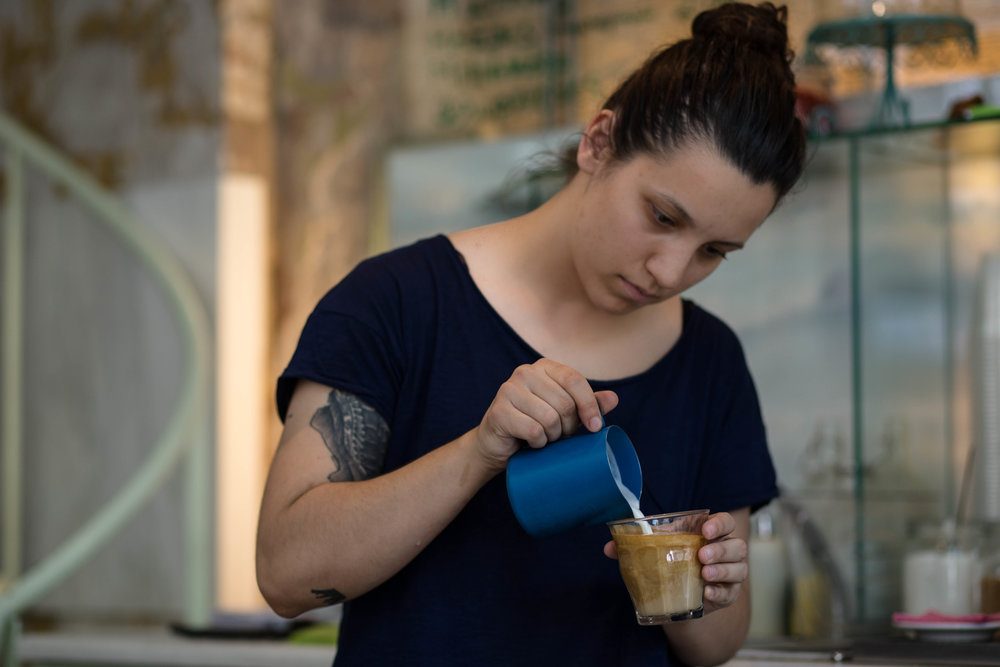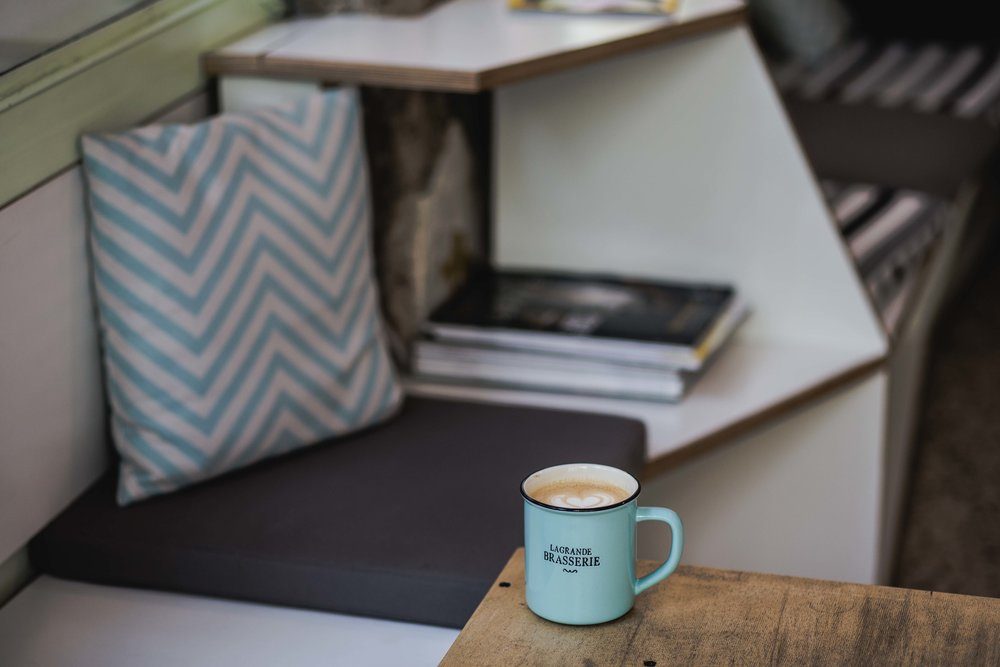 This coffee shop underwent several changes in recent years. At the time of my first visit to Athens in 2016 it was still associated with Kudu Coffee Roasters, later Mr. Bean, and now runs under the name MOTIV. THe specialty cafe prides itself on its excellent coffee, which is made from beans that are sourced from local and international roasters. The coffee menu offers a variety of options, including espresso, cappuccino, and drip coffee, as well as alternative brewing methods such as Chemex and V60.
What stayed the same is the gorgeous cafe interior and great location in Exarcheia! Lot's of natural light and outside seating make this coffee shop a great hang out spot. Apart from espresso there are plenty of brewing options available, including cold brew, as well as sweet treats to accompany the coffee. And if you want to try my next recommendation, you just have to cross the street!
Address:
Emmanouil Mpenaki 20
106 78 Athens
Even though I feel like Taf Coffee needs no introduction, a guide to specialty coffee shops in Athens wouldn't be quite right without featuring them. The roastery was found by Yiannis Taloumis already in the 90's. It evolved from roasting the traditional Greek way to becoming a pioneer in bringing third wave coffee to Greece and finally to the capital Athens. Taf was actually the first specialty coffee shop to open in Athens as early as 2009.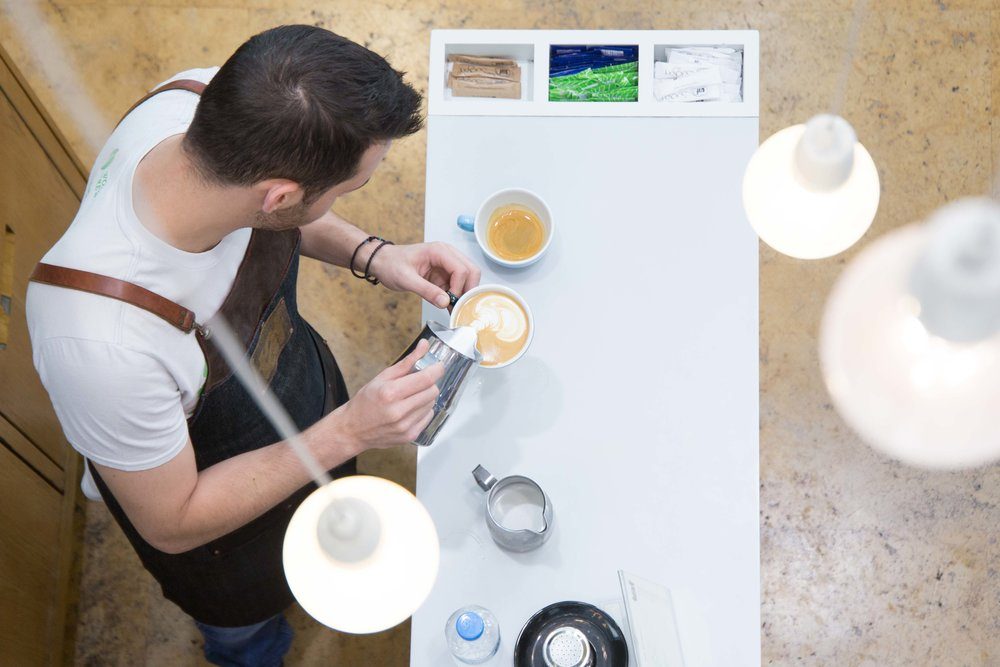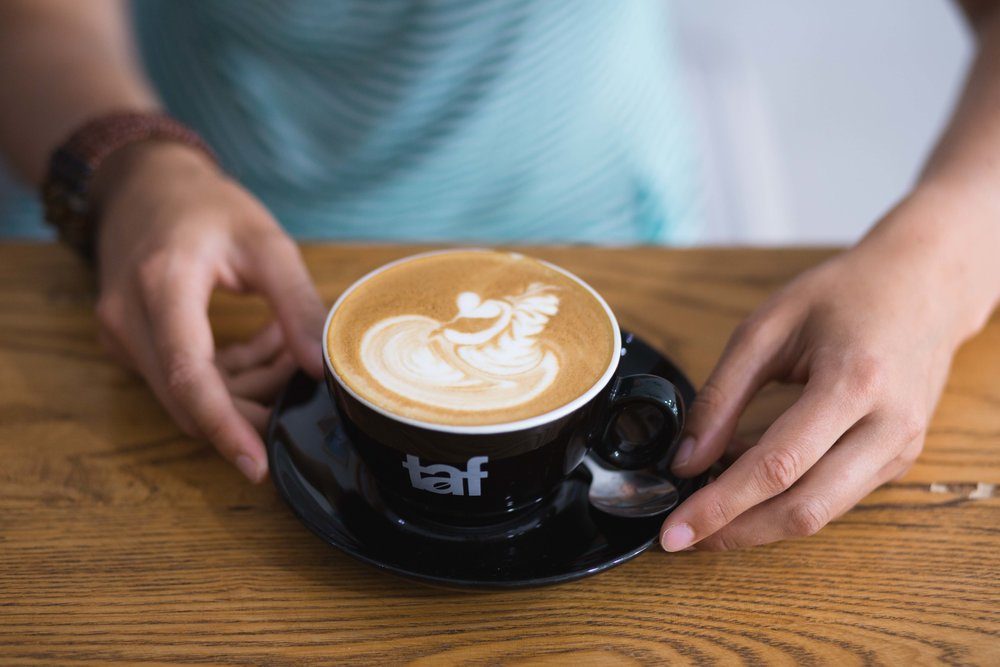 With such a longstanding tradition and experience it is no wonder that Taf received recognition way beyond the Greek borders. Just this year their house espresso blend Rosebud won the bronze medal for the category espresso blend at the Australian International Awards 2017. It has a creamy feel and smooth body with caramel, chocolate and nutmeg aroma. Give it a try when you pass by the cafe! But not only the coffee is excellent! During my visit Konstantinos Iatridis, the winner of the Hellenic Barista Championship 2017, did a great job explaining the different coffees and helping me choose. 🙂
Address:
Emmanouil Mpenaki 7
Athens 106 78
At Cultivos Coffee, you'll find more than just a coffee shop in various locations across Athens – you'll find a whole vibe. This relaxed spot is the perfect place to hang out with friends or buckle down for some work. The interior combines industrial and Nordic elements, complete with cozy seating and stylish decorations that make you feel right at home. With their in-house roasted, high-quality coffee, Cultivos Coffee caters to both casual drinkers and coffee enthusiasts. Come for the coffee, stay for the good vibes.
Duo Goulies & Duo Mpoukies
For those who want to try Taf coffee closer to the center of Athens, Duo Goulies & Duo Mpoukies is the perfect place! The cafe is located close to Panepistimio metro station and serves exclusively coffee roasted by Taf. Their quality standards as well as professionalism are equally high and not even the humidity in the room is left to chance. I found their baked goods and Greek yogurt to be excellent as well.
Address:
Dragatsaniou 8
Athens 105 59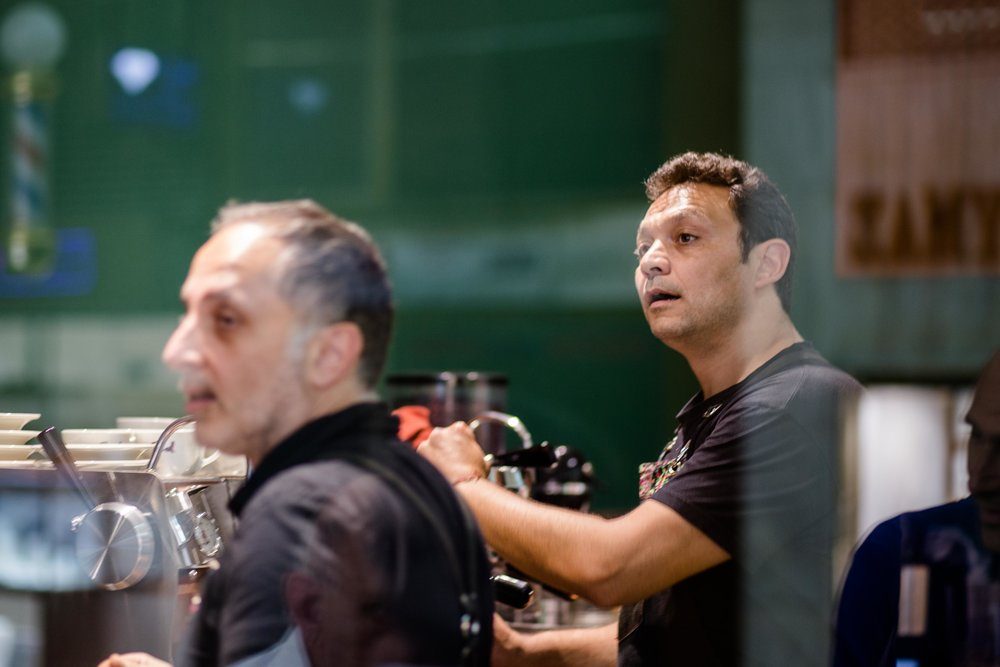 Kaya is definitely not an easy cafe to track down. It is located inside a shopping complex called "Stoa Bolani" close to Syntagma and is a take away espresso bar run by a nice bunch of coffee professionals. You'll not only find that the coffee is very inexpensive, Kaya also has the highest number of grinders for espresso I have ever seen in one shop. Apart from their house blend, a nice range of local roasters and their single origins is rotating in a total of five grinders. It is the perfect place to drink yourself through Athens specialty coffee scene in just one afternoon!
Address:
Voulis 7
105 62 Athens
DOPE Roasting Co. is more than just a coffee shop, it's a journey through time and a harmonious blend of old and new. Nestled in a 19th century neoclassical building at the heart of Athens, this espresso bar, coffee roasting shop, and bakery boasts two levels of rustic charm. The interior's worn facade bears the marks of the building's storied past, adding to its character and appeal. The designers maintained these charming details while creating a space that caters to modern urbanites.
In this city guide I've introduced the most central coffee places, many of them are easy to reach from Syntagma Square. There are more great specialty coffee shops not featured here, such as Mind the Cup and Manor House in the Peristeri neighbourhood or Nomad Roastery in Chalandri neighbourhood.
Manor House
Emiliou Veaki 36
12134 Peristeri
kokkos
Spirou Merkouri 25
11634 Athens
Nomad
Thoukididou 3
15232 Chalandri